Rapid-fire frames in Destiny 2 have always been a part of the meta inside PvP. Whether it's a Pulse Rifle or Scout, players usually go for whichever has the optimal TTK (Time To Kill) value.
Over the years, both the PvE and PvP have seen many rapid-fire Scout Rifles outperform their other framed variants. However, there are two weapons in Season 15 that stand out the most.
Servant Leader and Contingency Plan have taken the Destiny 2 community by surprise with their performances inside PvP. With both being rapid-fire frames, these weapons can outshine specific exotics paired with the correct perks. This article focuses on the Contingency Plan and its god rolls.
---
A god-roll Contingency Plan can shred opposing players in Destiny 2 PvP
The Contingency Plan is the VEIST arc rapid-fire Scout Rifle in Destiny 2, with a full-auto feature. It can be acquired via the World Drop, which means players will have a chance to get it by turning in materials to Banshee. However, the main issue isn't getting the weapon itself but getting the ideal perks.
Scout Rifles aren't the most-used weapons in the PvP, except for the rapid-fire frames. The Contingency Plan ensures a high RPM, leading to quick damage to players in a shorter time frame. Players need to be extremely lucky to have this weapon paired with the best perks in the world drop pool.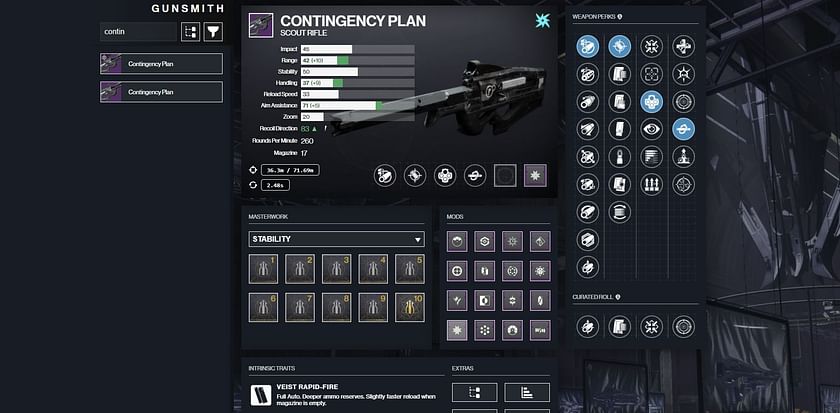 Rapid-fire frames come at the cost of recoils. However, certain perks can reduce this. Destiny 2 players should go for vertical recoil, as precision is essential for Scout Rifles.
The god rolls for the Contingency Plan include:
Arrowhead Brake for improved recoil and handling.
Accurized Rounds for range, or Steady Rounds for stability.
Outlaw for a significant increase in reload speed after precision kills.
Kill Clip for increased damage on reload after a kill.
Destiny 2 rapid-fire frames also have a lower range compared to other archetypes. Since the Contingency Plan has been programmed to be a Scout Rifle, it hits at approximately 70 meters of range. This weapon can also deal 47 damage to the head and 28 to the body with basic stats.
Disclaimer: This article is subjective and solely reflects the opinion of the writer.