Ernesto Valverde was the former manager of the Catalonian heavyweights FC Barcelona. Enrique managed the Catalans between 2017 and 2020 and managed to win two La Ligas, one Copa del Rey and Supercopa de España.
Little is it known that he is a Spanish former footballer who played as forward for prominent teams like Athletic Bilbao and FC Barcelona. During his time at FC Barcelona, he had won the Copa del Rey and European Cup Winners' Cup as a player.
Managerial Career
After retiring in 1997, Valverde started his managerial career with the youth department of his former club Athletic Bilbao. In 2002, he acted as head coach when he took over the B-side, being promoted to first-team duties. In the following year, they finished fifth, thus qualifying for the UEFA Cup.
In 2006, Valverde joined another old acquaintance, Espanyol, and guided the Catalans to reach another UEFA Cup final, but lost to Sevilla.
Valverde was appointed coach at Superleague Greece club Olympiacos FC in 2008 and won the championship in his debut campaign, along with Greek Cup.
Even after backing from players and fans to continue at the club, the management decided not to renew his contract the following year because of a financial disagreement.
Spanish club Villarreal CF announced that Valverde would succeed Manuel Pellegrini on a one-year deal in 2009. He was sacked within the first year, following club's poor performance.
In 2010, Valverde returned to Olympiacos and guided the Piraeus side to the league championship, and also reaching the last eight in the domestic cup. After helping Olympiacos renew its league supremacy, Valverde announced his decision to leave due to family reasons in 2012.
He returned to Spanish football after being appointed at Valencia until the end of the season. He left after losing to Sevilla in June 2013, as the club failed to qualify for the Champions League.
He returned to Athletic Bilbao in the same month, qualifying for the UEFA Champions League in his first year whilst also reaching the final of the 2015 Spanish Cup the following season.
He declared in May 2017 that he would be stepping down and replaced Luis Enrique as the new Barcelona manager. With the Spanish giants, he won 97 out of 145 games, losing just 16 games. Over his 3 year stint with Barcelona, Valverde received major criticism over his side's performance in the Champions League as the Catalans were knocked out by Roma and Liverpool after winning the first tie in two back to back seasons.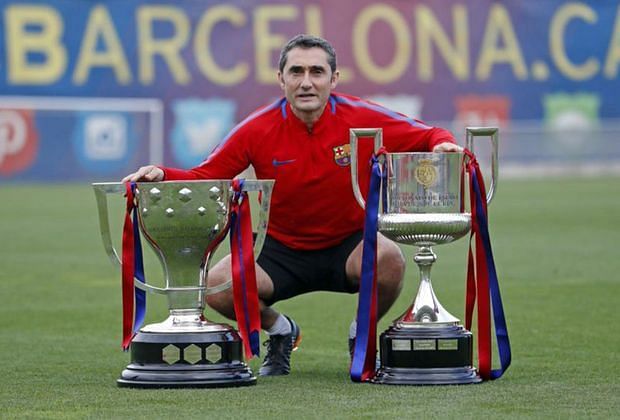 These defeats really made his future at Barcelona a question mark and his eventual sack came when his side failed to defeat Atletico Madrid in the Spanish Super Cup semi-final. currently he doesn't work for any club.
Tactics and Coaching Style
Valverde, after joining Barcelona, declared his interest in promoting Barcelona B players onto the senior team, something that has always contributed to the success of Barcelona, especially under Guardiola.
Sides under Valverde look to play a bold, attacking brand of football. Valverde over his time at Bilbao and in Spain has shown a clear preference for a 4-2-3-1 formation. However, Valverde is tactically flexible. His 4-2-3-1 formation transitions into a 4-2-2-2 when the opposition has possession in their half. This allows for Valverde's side to press high up the pitch and disrupt any play from the back.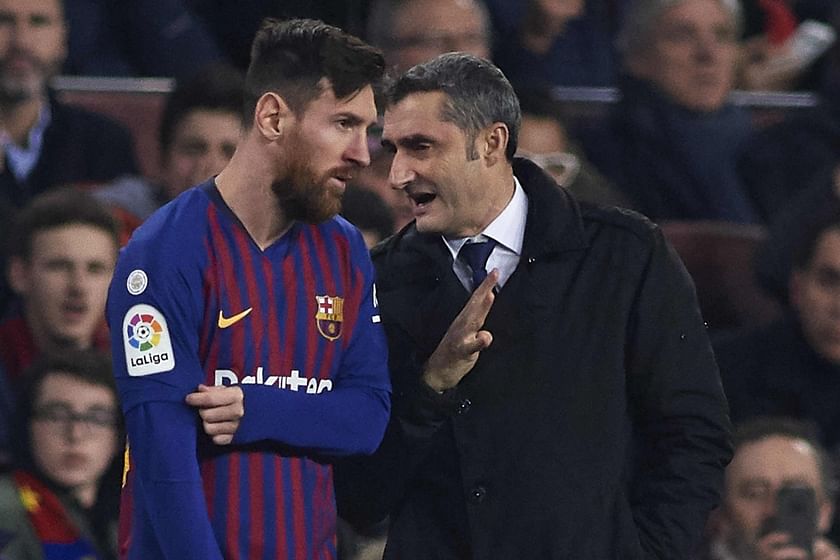 What makes Valverde special as a coach, especially for Barcelona, is that he has played under Johan Cruyff, something that gives him a special edge. That coupled with the Basque influence due to his spells at Bilbao make Valverde a force to be reckoned with.