GTA San Andreas Definitive Edition has been available on major gaming platforms for nearly two years. Fans are eagerly awaiting its arrival on the Google Play Store.
The remastered trilogy was first released on November 11, 2021, and Rockstar Games later re-released it in early 2023.
Although the original Grand Theft Auto: San Andreas is already available on all mobile platforms, including Android and iOS, the gaming studio has yet to release a mobile port for the Definitive Edition.
However, Rockstar Games insiders have previously shared some details that tell us about the whereabouts of the Android version of the game.
Note: Parts of this article are subjective and solely reflect the writer's opinions.
---
GTA San Andreas Definitive Edition APK version is still a long way from making its Play Store debut
Rockstar Games released Grand Theft Auto: The Trilogy - The Definitive Edition on Steam on January 19, 2023, and on February 15, 2023, it made the game available on the Epic Games Store.
Both Rockstar and its parent company, Take-Two Interactive, held their Q3 earnings conference on February 7, 2023, where they talked about their future plans.
While speaking about the mobile port of the remastered trilogy, the parent company said that it hasn't fixed a release date for the game yet.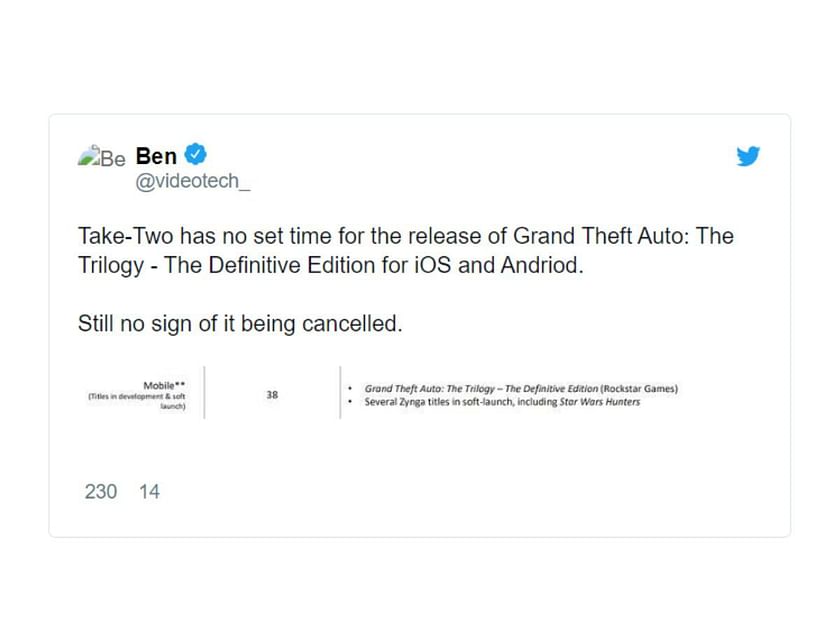 Ben, a well-known insider, shared a tweet confirming that the gaming studio is indeed planning to bring GTA San Andreas and other remastered games to mobile platforms.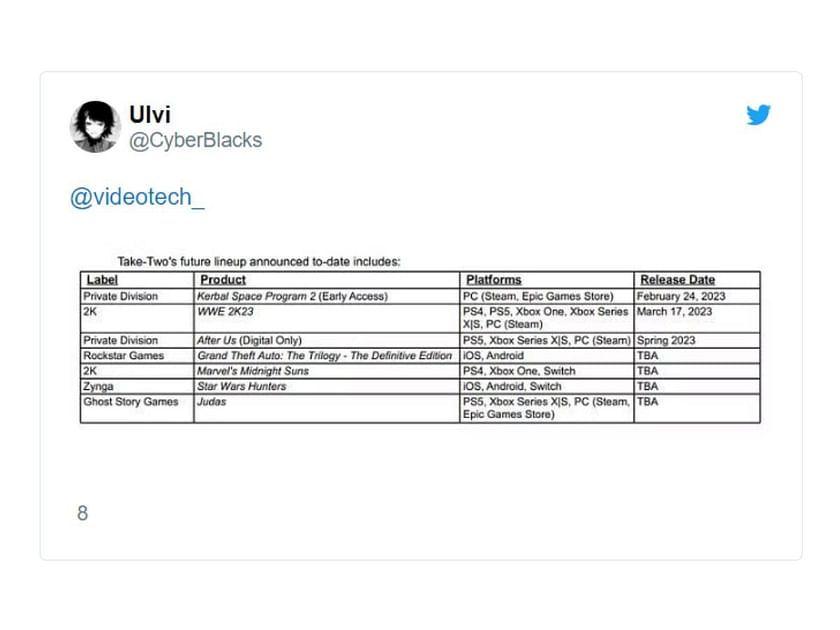 A Twitter user named Ulvi (@CyberBlacks) replied to Ben's tweet with a detailed sheet revealing Take-Two Interactive's upcoming projects. The sheet featured several game titles under the parent company and their release dates.
Most of the games are from other developers. However, Rockstar Games also has an entry for GTA Trilogy Definitive Edition's Android and iOS release with a TBA label under the Release Date column. TBA is an acronym that stands for "To Be Announced".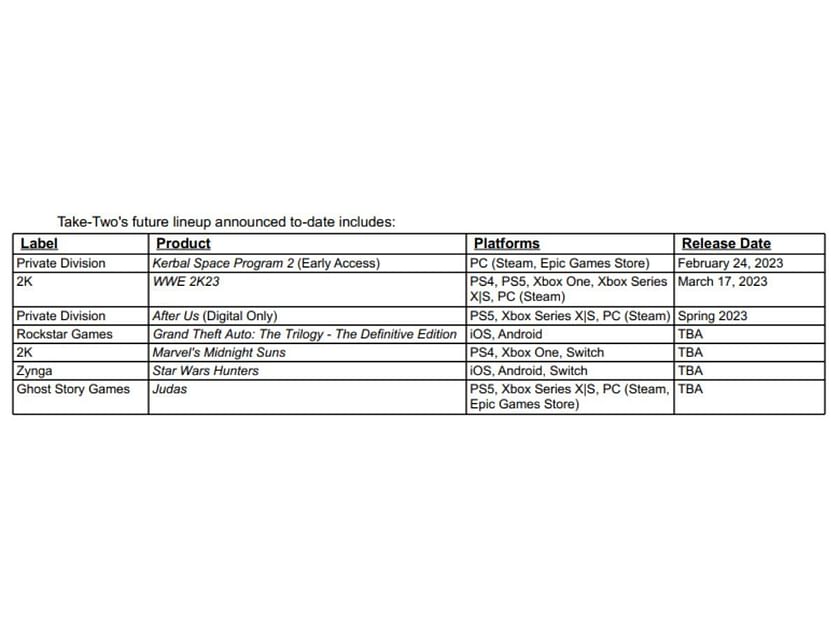 Based on the list, each game with a fixed release date has a chronological order. The last game to have a release date is After Us (spring 2023).
If we follow the timeline, it can be assumed that the Android version of GTA Trilogy: Definitive Edition could arrive at any time after spring.
While this gives fans hope, Gaming Detective (Twitter: @that1detectiv3), another well-known informer, stated that Rockstar may focus on the release of the GTA 6 trailer rather than engaging resources to develop mobile ports.
San Andreas fans should also keep an eye on Rockstar Games' Newswires for any official information about the remastered trilogy's Android release.
Poll : Are you excited for GTA Trilogy Definitive Edition's Android release?
218 votes