All GTA Online players are eligible to earn a free Pink and Green Camo livery for their Avenger this week. Best of all, there isn't any serious requirement involved in getting it. All you have to do is log into this title any time after June 1 but before the June 8 update to automatically get this item. Note that you don't get the Mammoth Avenger for free. The only thing you can obtain for $0 by logging in this week is the Pink and Green Camo livery.
Unfortunately, Mammoth Avenger is not available at a discount this week, meaning GTA Online players still need to pay $3,450,000 to get that plane. If gamers don't want the free livery, they aren't required to get or equip it and can instead use something else.
---
GTA Online players can get the Pink & Green Camo Mammoth Avenger livery for free in this week's update
Rockstar Games explicitly states the following in its recent GTA Online Newswire article:
"Play this week to outfit your airborne base of operations with the rare Pink & Green Camo Mammoth Avenger livery and loom over the city in style."
That basically means this reward can be obtained just by logging in this week. Anybody playing this game should know how to do that, so make sure to boot up GTA Online to receive this gift automatically. Chances are, you might have already unlocked the Pink and Green Mammoth Avenger livery without knowing about it.
---
Notes on the Mammoth Avenger in GTA Online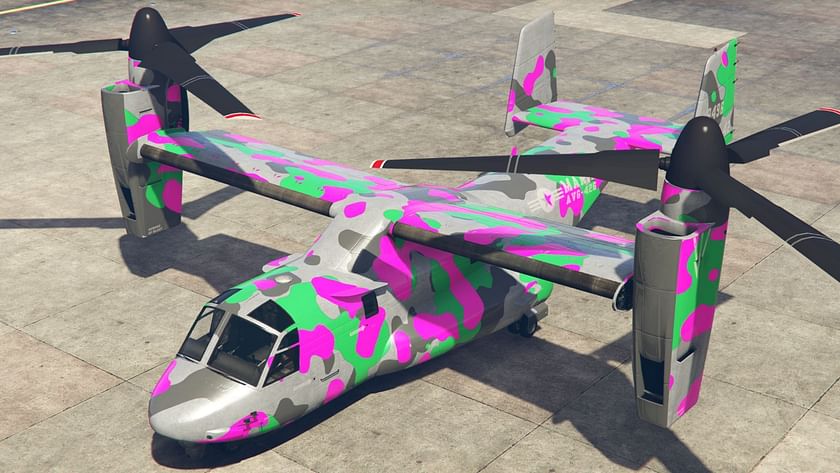 Here are some recorded stats regarding this plane:
Top Speed: 178.5 mph
Number of missiles to destroy it: 23
Number of Explosive Rounds to destroy it: 19
Vehicle capacity: Five
Weapons: Gun Turret and Bombs
This aircraft is the most durable in its vehicle class. The Mammoth Avenger also has VTOL, giving it good vertical mobility relative to other planes. Gamers can also install a vehicle or weapon workshop in it.
---
Other weekly update news
Here is a summary of everything else happening on the June 1 weekly update:
2x cash and RP: Freemode Events and Challenges, Flight School, Stockpile, Junk Energy Skydives, The Data Leaks, and Time Trials
Premium Deluxe Motorsport Showroom: Baller ST, Gang Burrito, Chimera, Virgo Classic, and Banshee
Luxury Autos Showroom: Ignus and Adder
Lucky Wheel: Drift Tampa
Test Rides: Sentinel Classic, Calico GTF, and Specter
Prize Ride: BF Weevil (win a Pursuit Race Series in three consecutive days)
Here is a list of all discounts:
15% off: Throwables (Gun Van)
20% off: Armor (Gun Van), Hangar, Hangar Upgrades and Modifications, and Buckingham Pyro
25% off: Precision Rifle
30% off: Volatol, Buckingham Nimbus, Dewbauchee Specter, and Truffade Adder
Obey 10F: 30% off
35% off: Grotti X80 Proto
35% off (GTA+ members only): Widowmaker (Gun Van)
There are plenty of discounts and cash bonuses happening this week. If any of the above content interests you, try to take advantage of them before June 8, 2023. In the meantime, make sure to log in at least once to get the Pink and Green Camo Mammoth Avenger livery.
In related news, a new set of GTA+ bonuses is also slated to launch on June 8, 2023.
Edited by Soumyadyuti Ghosh