Minecraft is one of the most popular games in the world, and it's easy to see why. There are so many different types of Minecraft servers for you to play on. However, not all servers are good or fun. Some servers are boring and don't have much going on, while others can be so overpopulated that you can barely find anything you need.
Luckily for us, plenty of excellent Minecraft roleplay servers out there provide us with endless hours of entertainment and fun. This article will list five great Minecraft roleplay servers.
---
Minecraft roleplay servers are incredibly entertaining
5) PurplePrison
IP address: purpleprison.net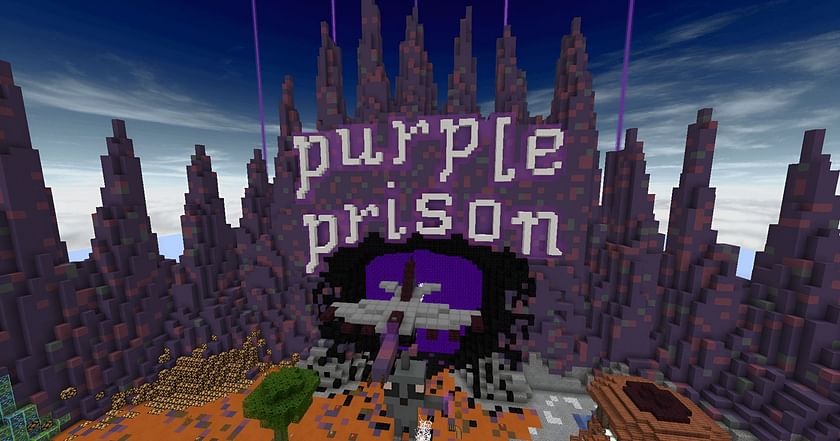 PurplePrison is a Minecraft prison server, meaning players will be in prison with others and can fight, sell items, make money, and much more. Like most prison servers, the main objective is mining, but you can do so much on this server. Another huge aspect of the server that is extremely loved by the community is the ability to PvP and gamble.
You'll find many custom plugins on PurplePrison that make gameplay more fun and engaging than on other servers. These include a custom roleplay plugin that allows you to create your own story within Minecraft. There are also numerous minigames available for everyone to enjoy whenever they like--koth PvP events, envoy events, and more.
With so many people playing this game (thousands of players almost always), there's plenty of opportunity for roleplay between fellow players. You also can explore around until something catches your eye.
The Purple Prison universe is not without its challenges. Rival gangs are continuously at war in this brutal and cruel prison. Either form your gang and enlist members or join an established gang.
The server also has a fully operational economy where you can launch your black market enterprise and server moderators who are welcoming and eager to assist new players.
Average player count: 500-2000
---
4) Pixelmon Realms
IP address: play.pixelmonrealms.com
Pixelmon Realms is a server with hundreds of Pokemon spanning the eight series generations. This Pixelmon server has several quests, some of which have NPC roles based on the first Pokemon games. You can even battle Pokémon on your journey.
It features trainers, gyms, and wild Pokemon to replicate the anime experience exactly. One of the most intriguing parts is that you can access various guilds and world boss fights. The server contains modified maps, Pokemon gyms, brawls, and a lot of active trainers in terms of gameplay. You can explore a variety of Pokemon universes to discover distinct worlds and various game styles.
All you have to do to use this server's Pixelmon mod is install it. This process can be complicated for some people, but it's relatively easy, especially with a guide. For a fantastic tutorial, check out this article here.
Average player count: 300-1000
---
3) PotterworldMC
IP address: play.potterworldmc.com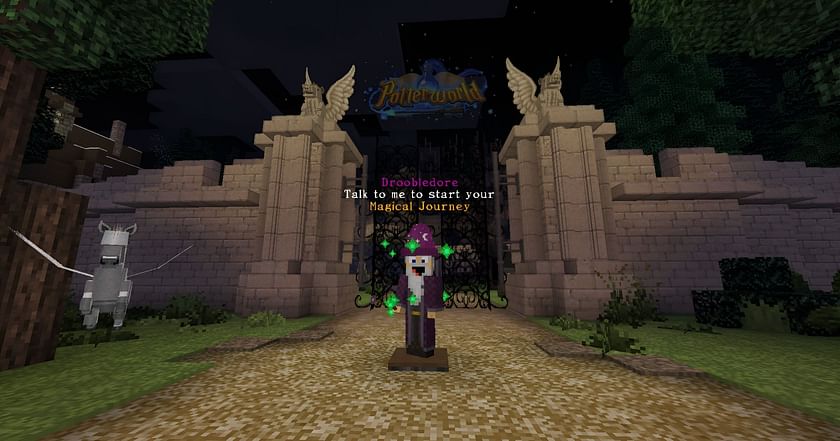 PotterworldMC is a Minecraft server that is themed around the Harry Potter universe. The server has been around for many years and consistently has over 100+ members online. You can expect it to be well-maintained and regularly updated as the staff is brilliant and helpful.
You will start as a new Hogsworth School of Witchcraft and Wizardry student. You will then sort into one of the four Houses: Serpents, Ravens, Honeybadgers, or Griffins. The rest of your journey is up to you; whether you're an adventurer exploring a vast universe, looking for rare magical animals, quidditch players, or a potion maker, you'll be able to get all the crucial information to support your success.
The official PotterworldMC roleplay plot is not a part of independent roleplay. As a result, players are free to be as imaginative and creative as they like when coming up with plots for their characters or even creating an entirely new world and universe. Independent roleplays frequently take the form of RP at the Dwelling, RP as Hogsworth students, etc. To qualify as independent roleplay, each must be distinct from and uninfluenced by the PotterworldMC official roleplay storyline.
Average player count: 50-300
---
2) Wynncraft
IP address: play.wynncraft.com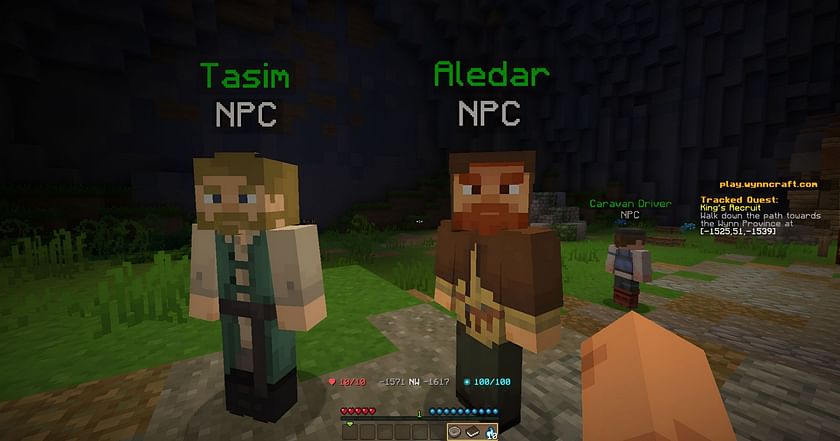 Wynncraft is a roleplaying server that offers players a great community and an excellent selection of custom content. It has millions of all-time joins and consistently many online players, so you won't have trouble finding people to play with.
In addition to its large player base, Wynncraft has many plugins which add interesting new features to your gameplay experience. These include a customizable experience system that lets you level up your character by completing quests or defeating enemies in combat (or both) and an inventory management system that allows you to carry more than one item at once.
To level up and gain experience, Wynncraft pushes players to explore the vast plains, cities, and oceans. After leveling up, a player's character can employ armor, weapons, and accessories. The experience gained from completing quests will also rise; each quest has a level prerequisite. The five playable classes are Warrior, Archer, Mage, Shaman, and Assassin, each with unique equipment and abilities.
With an RPG twist, this server is intended to be more of a custom server than anything else and is extremely good at coming up with new content. Anyone interested in joining this server should do so, and you will not be let down.
Average player count: 750-1500
---
1) Roleplay Hub
IP address: mc.roleplayhub.net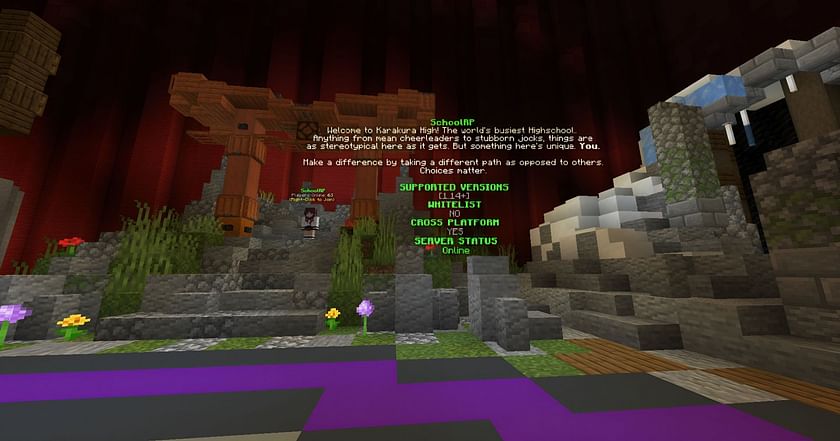 Roleplay Hub is an incredible Minecraft server that welcomes seasoned and novice players. They have two main roleplays, one centered on the fictional fantasy land of "Enarion" and the other on a secondary school in Japan. With them, you'll enjoy an exceptional roleplaying experience and see all of their incredible models and plugins.
The roleplay community on this Minecraft server is intelligent and driven to give every player the greatest experience possible in all genres. They also support systems like Minecraft Bedrock and Java Edition, enabling you to play wherever you are.
Players will start by completing the tutorial for whichever roleplay they want to enjoy. On the server's school roleplay, you'll be at the Plaza after the tutorial. This is where everyone congregates and engages in cooperative roleplay. When you do, you'll see that everyone has a tag over their heads that lists their role and RP name, and you are not an exception.
All players begin in Grade 7, and as long as they continue to play, they can progress through Grades 7 through 12. By typing /grade in chat, you can check your grading status.
Anyone looking to participate in a fun and engaging roleplay will love this server as it's tons of fun to enjoy with friends or even solo. The staff are accommodating and will always help you with any questions. Roleplay Hub is the server you should join today.
Average player count: 150-500
---
Minecraft roleplay server tips and tricks
Tip 1
You'll probably need to download the server resource packs to enjoy many of the servers. It should typically provide you with the option to do so automatically. You can often download the texture pack from the server website if that doesn't happen. Players can always contact the server staff via Discord or in-game if there are any problems.
Tip 2
Assemble a fair Minecraft skin. This will take care of the physical component of your character. Your peers will notice your Minecraft skin first, and it will also be how they remember you. It is even more crucial to construct the proper skin. Check out SkinsMC for great skins.
Tip 3
Learning your way around the map early on is one of the best things you can do. Learn where common areas are, like your residence or employment. You'll need to know the best places and fastest routes to get there. Although you may not need to do this because most servers will provide you with a map to look over, it is still a good habit to get into.