Genuine crowd pullers of Modern Day Cricket!
Modern day cricket is no more a game of conventional batting and bowling. Traditional five day games and 50-over endurance has taken a back seat. Style, money, sponsors, celebrities, cheerleaders, music, late night parties have become the basic ingredients of 21st century cricket. Gone are the days when a punch down the ground, cover drive on the knees, late cuts, elegant leg glances were duly acknowledged by the crowd. Now the cricket lovers want smart cricket, fast cricket, smaller boundaries, mammoth sixes, slower ones, cheeky chips,  flying catches, adrenaline rushing crunch games, last ball finishes, no pavilions just the dug outs. Kids, ladies, men, guys and girls all want the new spicy cricket. Cricketers also try and stand up to the expectations. Here are some of the Genuine fan favorites as the IPL is set to take off next week:
1. Virat Kohli (India, Royal Challengers Bangalore)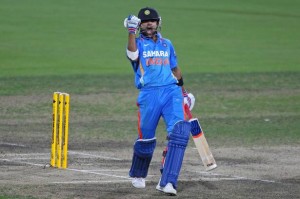 Virat Kohli is the new and fresh face of Indian cricket. He has the style, the exuberance and great finesse in striking the cricket ball. He is a vibrant fielder and an impulsive young prodigy. He is one of the best  game changers around. He sparks the cricket field with lightning energy and the crowd go berserk at every action of his. Kohli uncorked his best with an astonishing 133 to help India chase down 321 in under 40 overs and more recently, he showed his nerves of steel in the Asia Cup encounter versus Pakistan scoring a belligerent 183. Virat has also contributed significantly to Royal Challengers Bangalore's cause in the IPL as he single-handedly took  them to the Champions League final in 2011.
2. A B De Villiers (South Africa, Royal Challengers Bangalore)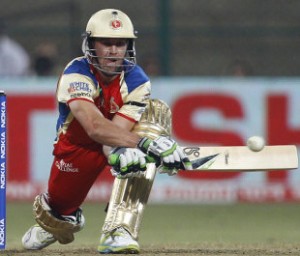 AB is also one of those stunning cricketers who run the crowd rampant with their style and valor. He is one of a kind when it comes to improvisation and switching gears. He doesn't need an invitation to unleash his batting prowess. He is the South African captain for ODIs and T20s. He has justified comparisons with Jonty Rhodes due to his remarkable fielding. In the fourth season of Indian Premier League, he was contracted to Royal Challengers Bangalore for a whopping US$1.1 million.
3. David Warner(Australia, Delhi Daredevils)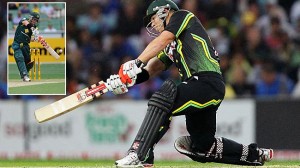 David Warner is a lethal name for any international bowler. This hard hitting cricketer punctures the cricket field with deadly weapons like the 'switch hit' ! He has no respect for any delivery whatsoever and can hit good deliveries 20 rows back. Warner became the first cricketer to score consecutive Twenty20 hundreds when he followed up an unbeaten 135 against Chennai Super Kings with a 123 against Royal Challengers Bangalore.  He can pull off dramatic catches and saves and can bowl both off spin and leg spin.Warner was signed by IPL team Delhi Daredevils for the 2009–11 seasons.
4. Suresh Raina(India, Chennai Super Kings)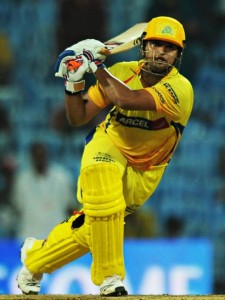 Suresh Raina is one of those members of a team who can solely win you games. Raina has a crazy armory of shots. He has the most flourishing bat swings one would ever find in the game of cricket. He is only the third player to score a T20 international century. He is a  tremendous fielder, quick like a fox. He also was awarded the "best fielder award" by the BCCI. Raina has won a lot of hearts thanks to his match winning partnerships in crucial games. He has had a huge hand in the success of his IPL team Chennai Super Kings. Suresh Raina is the only player in the history of the Indian Premier League to score more than 400 runs in all four seasons.
5. Kieron Pollard (West Indies, Mumbai Indians)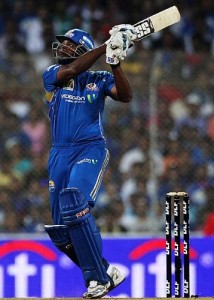 Kieron Pollard is the most devastating all-rounder of recent times. Pollard generates so much power in his bat swing, even a miss-hit travels miles. The monstrous structure of the 23 year old, 6 ft 5″ tall is scary enough for his counterparts. Pollard was signed by South Australia shortly after his all-round heroics which was followed by an IPL contract with Mumbai Indians for a massive $750000. He was the joint highest paid player in the 2010 Indian Premier League.
6. Yusuf Pathan (India, Kolkata Night Riders)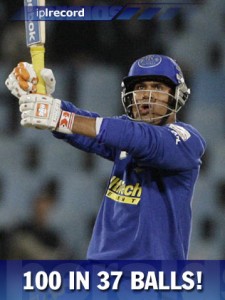 Yusuf Pathan is a flamboyant striker of the cricket ball. He is one of the cleanest hitters in cricket. Yusuf has tremendous potential with the ball too. His carnage in batting drew attention of many IPL franchises. He was eventually signed by Rajasthan Royals for the inaugural season. The swashbuckling hitter scored a century off 37 balls in a match against the Mumbai Indians. The innings also included a record 11 consecutive hits to the boundary (6, 6, 6, 6, 4, 4, 6, 4, 4, 4, 4). In the 2011 IPL auction, he was bought for a whopping $2.1 million by Kolkata Knight Riders.
7. Chris Gayle (West Indies, Royal Challengers Bangalore)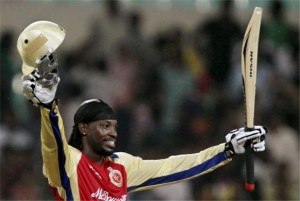 Chris Gayle is considered as the hardest hitting openers of the game. Standing tall with negotiable footwork, he has delivered some unbeatable knocks for both country and clubs. He is one of only six players in One Day Internationals history to have three or more scores of 150. He is one of only four players who have scored two triple centuries at Test level. The Jamaican also bowls brisk off spins. Gayle was the first to score a T20 international century. Now he is signed by the Royal Challengers Bangalore and is the most loved of all the  foreign players in the bunch.
8. Sachin Tendulkar (India, Mumbai Indians)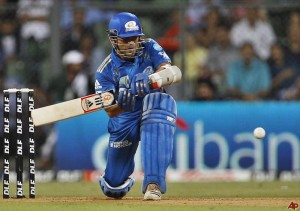 People will always find a way to watch this masterpiece of God at any given time. Sachin has achieved more than everything in his cricketing career of 22 years. Although he doesn't fulfill all the criteria that 21st century cricket demands, he's such a master of cricket that his elegance, his commitment, his class will always be acknowledged by cricket fans all around the globe. Besides that he's the one who has adapted to the new era of cricket in the best possible manner. He's the captain of the Mumbai Indians. This gentleman has nothing left to prove  to anybody.
Sachin Tendulkar is the biggest crowd puller one could ever be. He was born to play cricket, people love cricket and people love him. One can just watch him and watch him more and more. A true gentleman of  'The Gentlemen's Game'.
9. M S Dhoni (India, Chennai Super Kings)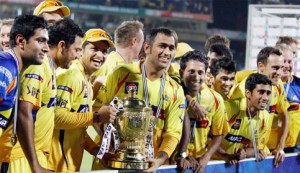 M S Dhoni, the most successful captain in the history of Indian cricket is a highly adored cricketer around the world. He is one of the most prolific hitters in the game and has a huge fan following. He is an advertiser's first preference and the face of India's revival in cricket. Dhoni also holds the tag of the best finisher in the game. During his reign, India has been crowned the World  T20 champions and the World Champions in ODI. India claimed the No.1 spot in test ratings under his captaincy. M S Dhoni has led his IPL team Chennai Super Kings to the pinnacle by winning its 3rd and 4th season back-to-back.  The man with the Midas touch is ought to be a fan favorite.