How much do you hate Ravindra Jadeja?
17.71K //
23 Mar 2013, 21:43 IST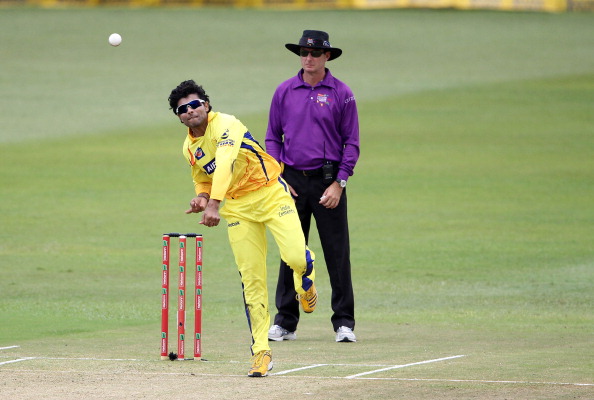 How much do you hate Ravindra Jadeja? "Hate" is a strong feeling to have towards someone you don't know, but still, how much? For full effect, picture him in his IPL avatar: CSK jersey, team initials carved into his hair, and the smirk of a man who was once banned for a whole season for trying to earn more money, but now has a $2 million contract anyway.
Whatever your answer may be, "not as much as I did a few weeks ago" would be a somewhat accurate summary, despite the aforementioned visuals.
No Indian cricketer has accumulated more hatred in recent times than Ravindra Jadeja, although Ishant Sharma still toils manfully in the hope that he may one day be worthy of this honour. Perhaps unfairly, it was Jadeja's performances in the World T20 matches in 2009 that drew the ire of fans towards him. Whether it was his sluggish batting against England in a must-win game, his hit-out situation or his concession of six consecutive sixes to Australia, his individual performances were terrible enough to warrant blaming India's woes on him.
Here's why it was unfair – for a player who earned recognition through the IPL and was considered a limited overs specialist, his T20 numbers are quite modest. He doesn't have a T20 fifty yet, and his strike rate is below 120. His economy rate is 7.5 and he only has 38 wickets from 82 matches. What were we expecting?
The Indian selectors dropped him (amidst great joy) just before India's successful World Cup campaign. Then, things turned sour for a Jadeja-less India.
While India was busy being punched in the throat, Jadeja packed on some muscle (bench-pressing his IPL money), worked on his game, and practised a new form of alchemy, where he turned all the hatred towards him into more gold – all in an uplifting montage set to 'Eye of the Tiger'.
Two first-class triple centuries in the same Ranji Trophy season for Saurashtra suddenly put Ravindra Jadeja in the frame for a Test spot honourably vacated by Suresh Raina and Yuvraj Singh. Put his bowling into the mix and just like that, Jadeja was in the Test team in a must-win match against England.
And that's something you've got to respect, even as you put the finishing touches on that effigy you're making.