IPL 6: Match 7 - SHR Vs RCB: Royal Challengers Bangalore Preview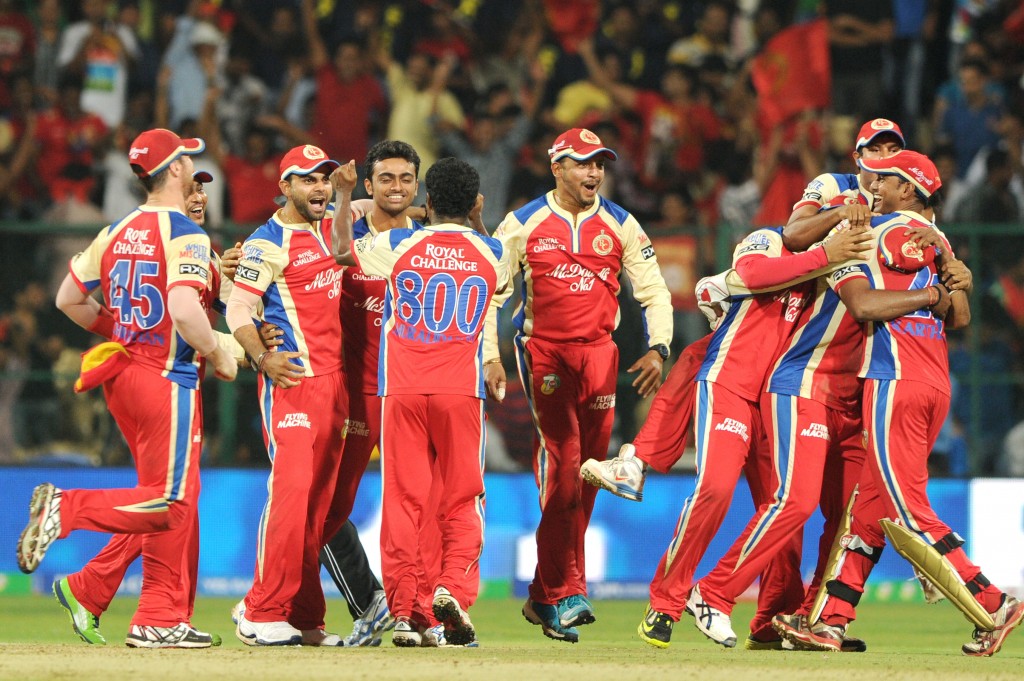 The team of Royal Challengers Bangalore resembles the Indian cricket team of 90s in every sense, due to a striking similarity which binds the two. Just like the "Men in Blue", who were totally dependent on Sachin Tendulkar for getting them past the victory line in almost all the matches, Dr. Mallya's men seem to have their hopes rested entirely on the shoulders of Chris Gayle to have a feel of the IPL trophy, which has been eluding them for the last five seasons. Having scored 60% of his team's total in the very first match of this year's IPL against Mumbai Indians, the Jamaican batsman has once again proved to the whole world how badly the Virat Kohli led RCB require him to fire every time. One must wait and see how serious his injury is, which was caused by Harbhajan Singh's collision as he was standing in the non-striker's end. So important is his presence in the middle that even if he is half fit, the Bangalore team would still like to have him in the playing XI for their match against the Sunrisers.
If you take Gayle's performance out of the equation, there was nothing to boast about the way the other batsmen have fared against Mumbai Indians, who, by the way, took the field without the "Toe Crusher" Lasith Malinga. This mediocre show by the top order players of RCB should give them very little hope as they prepare for their next big game due to be played in Hyderabad on Sunday. Against a team which comprises bowlers of the caliber of Dale Steyn, Ishant Sharma and Amit Mishra, it is imperative for the RCB batsmen to be pull up their socks and ensure that the wickets are not lost in a hurry. Sunrisers have proved yet again, just like they did last year, that they are capable of defending any score with Steyn spearheading the attack. Leave alone others, even Gayle would be circumspect facing the South African, who, right now, is rated as the best fast bowler in the world.
The Royal Challengers did miss AB De Villiers in their first match against Mumbai as it was evident from the way their inexperienced middle order struggled after losing a couple of wickets. Dilshan, admittedly, was out bowled to a false shot and so were a few young Indian batsmen, including Mayank Agarwal, who left the field without disturbing the scorers much. RCB should right away include De Villiers in the playing XI which, I hope, they would. Last year, it was he who ripped his fellow countryman, Dale Steyn, apart with the help of some bizarre hitting, never seen before. Being the fellow South African, the expert of "Vilscoop" should ideally be preferred batting against Steyn, anyway. His presence could do wonders to the batting line up, which looked rather ordinary in the first game.
Again, if De Villiers is available, then who should he be replacing is the next big question to be answered. Well, if I were Kohli, I would not take even a split second to decide that. Daniel Christian had been a big liability for Deccan Chargers during IPL 5 last season and so it came as a real surprise to learn that Bangalore decided to have him in their squad this year. Very nearly, in fact, Kohli's men paid the price for their mistake. That one over which he bowled to Dinesh Karthick turned the match in Mumbai's favour altogether. As a result, the match, which Bangalore should have otherwise won very comfortably, went right down the wire, with the host team, thanks to Vinay Kumar's efforts, pulling it off with a margin of just 2 runs. Therefore, if the South African batsman comes back for this match, he should be replacing Daniel Christian right away.
The Bangalore team can make one more change by bringing in seasoned campaigner Saurabh Tiwary into the team in lieu of Karun Nair. Tiwary is a powerful southpaw who has the potential to find boundaries at will. If one of the top three overseas batsmen fails to fire, then this Jharkhand cricketer may just be the man who could provide a proper backup.
The wickets in Hyderabad have always been slow and low where the ball may not come on to the bat. So, free flowing strikers like Gayle and Dilshan may not enjoy their stint playing there. They both should make a slow but steady start before cutting loose. If they are able to do that and see off the initial outbursts of Steyn, then tons of runs will be scored by the batsmen to follow. It would be interesting to see what decision Kohli takes if he wins the toss. Should Royal Challengers win it, they should be opting to bat first, because even a decent score like 140 to 150 will be hard for Sunrisers to chase down. But for their captain Sangakkara, the batting order looks totally fragile. Same way, Bangalore, in turn, may struggle chasing down decent scores, when pit against Steyn & Co. All said and done, it should be a good toss to lose.
From the bowling point of view, it would be better for Kohli to opt for Daniel Vettori instead of Muralitharan. Since Sangakkara has a fair idea of how to face the world record holder for most number of wickets in Tests and ODIs, Bangalore can just think of replacing him with Vettori, who can bat a bit too.
Strengths: Batting of Chris Gayle and De Villiers (should he play)
Weaknesses: Innocuous bowling attack, over dependence on Gayle.
RCB's probable XI against Sun Risers Hyderabad:
Chris Gayle, Tillakaratne Dilshan, Virat Kohli(C), AB De Villiers, Saurabh Tiwary, Mayank Agarwal, Arun Karthik (Wk), Murali Kartik, Jaidev Unadakt, Vinay Kumar and Daniel Vettori.