IPL 6 Team Preview: Rajasthan Royals
4.61K //
28 Mar 2013, 21:47 IST
No matter which end of the table they end up on, Rajasthan Royals are one of the IPL's most entertaining teams. They do not boast of the big names but the colour and entertainment that its players bring to the IPL platter with their natural ability and talent make them the team to watch out for. In keeping with its tradition of nurturing and promoting new talent, Rajasthan Royals have enrobed four young colts for IPL 6, Harmeet Singh, Sachin Baby, James Faulkner and Kushal Perera. Experienced Fidel Edwards, fast bowler from West Indies, has also been bought to bolster an ordinary attack. In order to do better than they did in the last IPL, the onus lies on skipper Rahul Dravid to inspire the new and the old in the squad to give their best.
Competent batting order
Under the tutelage of an accomplished player like Rahul Dravid, Rajasthan Royals have the potential to make IPL 6 a memorable outing for themselves. His individual contribution in the IPL 5 is worthy of praise, given the kind of international player he had been. Scoring at a strike rate of 116.25, he made a difference to the side with his consistent performance in the last IPL. With Rahane's pure cricketing shots and Watson's attacking style at the top, Rajasthan Royals have quality batsmen down the order too. Brad Hodge and Owais Shah have it in them to stand up and deliver in demanding situations. With more than 4000 runs under their belt individually in T20 games, Hodge and Owais Shah are the stand-out players in this format of the game and are a big plus for Rajasthan Royals. Adding to it are the two local lads, Ashok Menaria and Dishant Yagnik along with Sreevats Goswami, and the batting order looks pretty stable and strong.
Deprived of Shane Watson's bowling, Rajasthan Royals are now left with two all-rounders, Stuart Binny and James Faulkner. Given his recent form, Faulkner will easily make it to the playing XI.
Not so competent bowling line-up
Bowling unit has been unpredictable and inconsistent. With a pool of bowlers like Shaun Tait, Siddharth Trivedi, Sreesanth, Kevon Cooper, Samuel Badree, Harmeet Singh, Brad Hogg, Ankeet Chavan, Ajith Chandila and Fidel Edwards, the playing eleven needs to be selected wisely. Otherwise, like last year, the team would not be able to bring down the number of losses over wins. Bowling in the death overs is also a concern, something that can cost the Royals dearly as it did in the last IPL. This time over, Dravid will have a larger pool to choose from. Sreesanth's availability and the new buys, Harmeet Singh, Fidel Edwards and James Faulkner widen the scope of experimentation, depending upon who the opposition is.
Failure to capitalize on the initial victories in the IPL 5, the Dravid led outfit needs to avoid complacency as the tournament progresses, and also devise a plan to keep the players fresh by appropriately rotating them.
THE DEPENDABLES
Ajinkya Rahane - A conventional stroke player, Rahane with his proper cricketing strokes, competed well with the likes of Chris Gayle and Shikhar Dhawan in the IPL 5. Scoring at a strike rate of 129.33, he was amongst the top 5 batmen last season. Once again, RR will rely upon him for solid starts that will set the stage for others in the team to follow.
Shane Watson - Every season he joins the team when half of the tournament is already over. Luckily, this season he has no immediate international commitments to comply with and RR can fully utilize him this time around. A T20 specialist, he is blessed with the ability to change the game single handedly. A recipient of Allan Border Twenty20 International Player of the Year 2013 and man of the tournament in the T20 World Cup 2012, he is a force to reckon with.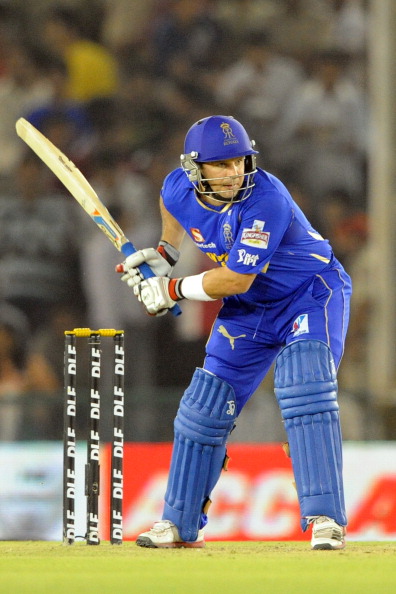 Brad Hodge – He is one of the most prolific run-scorers in T20 internationals and the only player to reach 5000 runs in the Twenty20 cricket. Given his recent form in Bangladesh Premier Leagut and Big Bash League, where he scored 410 runs at a strike rate of 135.76 and 342 runs at a strike rate of 144.91 respectively, Hodge ended up making to the list of top 5 batsmen in both the leagues. He will be Royals' biggest asset.
Harmeet Singh – A budding cricketer from Mumbai, he is a spin prodigy. He can prove to be RR's one of the most sensible buys. This left-arm orthodox spinner with his natural flight and guile will be tough to play. With 25 wickets in just 5 first class matches, he will be a big boost to the spin department comprising Brad Hogg, Ankeet Chavan and Ajith Chandila.
James Faulkner – What a right time to bring this ex-Kings XI Punjab player into the side! His recent all-round show in the Australian domestic Sheffield Shield games, which took Tasmania to winning the title, makes him a potential threat.
THE PITCH
The pitch at Sawai Mansingh Stadium, Jaipur is low and slow. It offers an even contest between the bat and the ball. Though, in the second innings, some movement off the pitch is expected, thus aiding the spinners. A target of 150 would makes for a stiff competition between the two teams.
THE SQUAD
Rahul Dravid (c), Shane Watson (WC), Ajinkya Rahane, Brad Hodge, Owais Shah, Stuart Binny, Ashok Menaria, Shreevats Goswami, Dishant Yagnik, James Faulkner, Stuart Binny, Sachin Baby, Shaun Tait, Kevon Cooper, Ankeet Chavan, Brad Hogg, Fidel Edwards, Harmeet Singh, Siddharth Trivedi, Kushal Perera, Samuel Badree, Ajith Chandila, Sreesanth, Sanju Samson, Rahul Shukla, and Pravin Tambe.