IPL 2014: Fantasy Guru unveils toss-trick
5.82K //
19 May 2014, 10:52 IST
If you think that you have started too late for the official IPL Fantasy League 2014, you can always play this alternative version of fantasy cricket where you can win cash prizes daily - SportskeedaFantasyLeague. The next round has two matches featuring four teams: Rajasthan Royals, Mumbai Indians, Delhi Daredevils and Kings X1 Punjab.
In this type of fantasy cricket, while assembling your playing 11 for the two matches, make sure you don't miss out on players like Yuzvendra Chahal, Manish Pandey, Ravindra Jadeja  and Ravichandran Ashwin  who could prove to be the differential at a comparatively lower rate. While you can play for free, if you choose to play with an entry fee to Rs 35, you can win Rs 300. You can pay up to Rs 1,150 and win Rs 10,000 in cash for every round.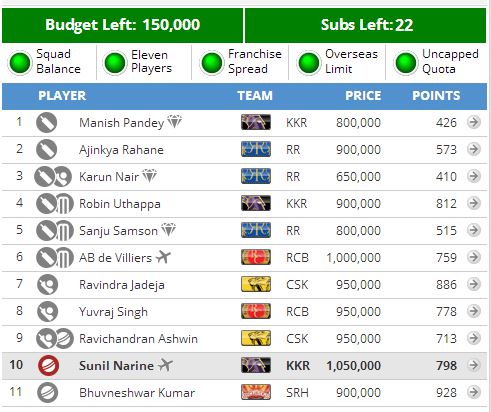 A lot many have shown their interest in knowing my points, which is understandable: 12,715 points with 22 transfers remaining. You can always join my league to monitor it closely.
League Name – FantasyMatters
League Code – 59270
Looking at the points in fantasy cricket is the least sensible thing to do anyway, more so with the last quarter of the tournament to go. I keep on repeating that the process matters, and you would more often than not get the results at the end of the tourney.
My team has jumped 20,000 ranks in the last 18 games, and I have no doubts it will continue to scale up, as I see more and more teams making illogical decisions, basing it on just intuitions and the faulty form-logic.
Fantasy cricket is more about being consistent. Sometimes you make it to the top 200, and sometimes you don't. But you can almost always breach the top 750-1000 mark if you play sensibly. As long as the difference between the top 200 and the next 700-odd players isn't more than 150-300 points, it doesn't matter.
Rajasthan Royals vs. Mumbai Indians:
Transfers made – 1; Transfers remaining – 21
Robin Uthappa out – Rohit Sharma in
Manish Pandey out – Pravin Tambe in
Captain – Ajinkya Rahane/Rohit Sharma
Shane Watson will be taken in if the Royals bat first and captain my team, as well
Rajasthan Royals next play only after a span of 7 matches, which rules out any new inclusions. With Ajinkya Rahane, Sanju Samson and Karun Nair already in my team and one of Pravin Tambe/Rajat Bhatia coming in through the uncapped transfer, it doesn't matter for my team actually.
Royals, in the last 3 years, have been a complete nightmare to fantasy players for a multitude of reasons: shuffling their batting order, surprise team selections, weird bowling changes, etc.
This, by any means, doesn't mean that Shane Watson won't steal the show, like he often does in limited overs cricket on supporting conditions. If any of their first choice bowlers misfire, he will be the go-to man with the ball, too. The fact that he can easily give you 150 points necessitates his inclusion despite the cost of a transfer. So the decision to whether or not include him will depend on the toss factor and, to an extent, team combination.
Enter, the toss-trick.
Toss-trick:
Toss-trick is a ploy by which you pick players based on the outcome of the toss. It is a calculated risk, as, on a particular day, anything can happen and there are no assurances. You can't account for all those, and hence you go by what you have seen so far and the factors like pitch, opposition, etc., to predict the most probable outcome and base your 50-50 picks on it. It needs expertise, and any half-baked attempt will result in heavy loss of points.
If the Royals bat first, Watson, simply put, has to be there. If they chase, though, chances are quite high that Mumbai Indians won't give them a daunting target, and the Royals top 3 (plus a pinch hitter) will see it through. Mumbai have been struggling to set up big scores, and, when up against a effective bowling unit, they will only struggle more. So, I have decided to wait till the toss to make this move. Getting Watson in involves some chopping and changing.
Lasith Malinga going back home means I have one less concern. Unlike many believe, I don't think opening with Rohit Sharma is a great option, for any team. If there is any point he appears susceptible in a T20 game on standard wickets, it is when the ball swings around. Why then do you make him open and reduce the impact he can have on the game?
I would plan it in a way that Rohit gets to bat after the first 5/6 overs match in match out, which would mean that there is no fixed position. He can come at 1-down or 2-down depending upon how the openers play.
With Mumbai playing him at 4, it fits my requirements perfectly. While he may be delayed by 4-5 overs, chances are very less for him to get exposed to quality bowling, which means he stands a good chance to score plenty. Adding to all these, he has been in reasonable form and hence makes his way into my team at the cost of Robin Uthappa.
Kieron Pollard hardly gets enough deliveries to do the damage, while Harbhajan Singh, despite being in the midst of one of his best IPL seasons, doesn't bowl at the death, thereby reducing his wicket-taking chances.
Uncapped player pick:
With Nair and Samson in, I go for Tambe. Bhatia needs batsmen to go after him, while the 42-year-old leggie can buy wickets. Also, Bhatia can easily not bowl his quota of 4 overs. Dhawal Kulkarni can't have a say on matches played in these decks, and Jasprit Bumrah needs the match to be close, with his specialised ability to bowl at the death, to rake in points.
Delhi Daredevils vs. Kings X1 Punjab:
Transfers made – 2; Transfers remaining – 19
Ajinkya Rahane out – Glenn Maxwell in
Bhuvneshwar Kumar out – David Miller in
Pravin Tambe out – Sandeep Sharma in
Captain – Glenn Maxwell/ David Miller
Delhi Daredevils play next only after a span of 6 matches. Unlike in the case of the Royals, they don't have a player of Watson's class to demand an inclusion despite the extended time off. While Dinesh Karthik and JP Duminy stand a good chance to be amongst points, since I don't have them, I can't use up a transfer to get them in at this stage of the game.
They can easily return nothing, and, with Manoj Tiwary demonstrating what he is capable of in the last game, Duminy could go back to No. 5. Their batting is totally unreliable to bank on, too.
Glenn Maxwell slots in, and the other choice is between Virender Sehwag and David Miller. Sehwag has the tendency to throw away starts, and he bats at the most testing of situations, as well. Miller against a vulnerable Daredevils bowling attack is hard to ignore. Even when you consider the next match against Mumbai Indians, with Malinga not in the 2014 IPL set-up any more, it holds true.
Regarding captaining Maxwell, he has been getting out to leg-spinners quite consistently, which is worrying. But then if he gets past Tahir, who is quite skilful, there is no one stopping him on that deck.
Johnson has been far from threatening a place in fantasy teams.
Uncapped player pick:
Manan Vohra is one hell of a prospect. While he showed glimpses of his potential last season, he perished in trying to attempt one too many shots. I haven't seen much to say that his shot selection has improved this year, but he is surely worth considering against the weak Daredevils bowling attack.
Of the bowlers, Sandeep Sharma's success depends on the amount of swing he gets up top, given he is just another mediocre death bowler. Daredevils top order has been anything but solid, so he could bag a couple of wickets with little assistance from the deck. Rishi Dhawan is the next on the line; the issue with his inclusion is the fact the middle order of the Daredevils has been in fine touch and could nullify whatever little influence he can have.
Akshar Patel and Shivam Sharma will find it difficult to not leak runs on a placid strip, but then this is more of a lottery here. Any one of the 4 can fire, and Sandeep looks the most assured bet.