IPL Records : Part - 1
Records are a very significant part of any sport – cricket too; there have been some splendid performances by teams and individual players who have contributed to the same by their distinction.
With another season of the IPL approaching, let us take a look at some of the records that have been set over the past 4 seasons of the competition.
Top 3 largest margins of victories:
1.       Kolkata Knight Riders: Won by 140 runs
This game was the opening match of the inaugural season of the IPL, in 2008, in which McCullum scored a spectacular ton to take KKR to a massive score of 222. It proved to be way too much for the Royal Challengers Bangalore who ended up being 82 all out.
2.       Kings XI Punjab: Won by 111 runs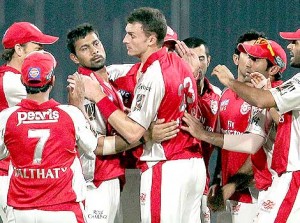 Another instance when RCB have been on the receiving end. On this occasion in 2011, Gilchrist went berserk and scored a long-pending ton to power KXIP to 232 for the loss of just 2 wickets. In reply to that intimidating score, RCB managed a paltry 121 before being bowled out.
3.       Rajasthan Royals: Won by 105 runs
With this colossal victory, the Rajasthan royals cruised into the finals of the first season of the IPL. Rajasthan posted a harsh total of 192, to be bowled out for 87.Shane Watson, who scored a 29-ball 52 and picked up 3 wickets for 10 runs in 3 overs was instrumental in seeing the Royals through to the finals, which they eventually managed to win beating the Chennai Super Kings.
Top 3 highest team totals:
1. 246/5, by the Chennai Super Kings vs Rajasthan Royals in 2010 at the MA Chidambaram stadium in Chennai. Murali Vijay who scored a magnificent ton along with support from Albie Morkel, took the Super Kings to a humungous total of 246 with their 152-run stand for the third wicket.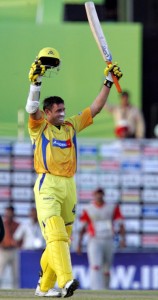 Result: Chennai Super Kings beat Rajasthan Royals by 23 runs.
2. 240/5 by Chennai Super Kings vs Kings XI Punjab in 2008 at the Punjab Cricket Association Stadium, Mohali. The Super Kings were at it again and this time, it was Michael Hussey who plundered 116 off only 54 balls, with 10 sixes and 7 fours, only one day after McCullum scored that brilliant 158.  With contributions from the top order, Hussey powered the team to a massive 240.
Result: Chennai Super Kings beat Kings XI Punjab by 33 runs
3. 232/2 by Kings XI Punjab vs Royal Challengers Bangalore in 2011 at the Himachal Pradesh Cricket Association Stadium, Dharamsala. RCB, only too familiar with the feeling of being pounded by certain wicket-keeper batsmen – first McCullum and then Adam Gilchrist; took another hammering that tore them apart from the onset. Gilchrist along with Shaun Marsh scored a tremendous 232 for the loss of only 2 wickets in a record 206-run stand for the second wicket.
Result: KXIP beat RCB by 111 runs.
Top 3 lowest team totals:
1.  58/10 by Rajasthan Royals vs Royal Challengers Bangalore in 2009 at Newlands, Cape Town.
RCB having scored a nominal 133/8 in 20 overs, wouldn't have thought they had much of a chance against a fairly decent Royals' batting line-up. But Kumble's legendary spell of 3 overs for 5 wickets and 5 runs, along with Praveen Kumar's 7 runs in 3 overs with 2 wickets ensured they had bowled Rajasthan out for the lowest total in the IPL.
Result : Royal Challengers Bangalore beat Rajasthan Royals by 75 runs.
2.  67/10 by Kolkata Knight Riders vs Mumbai Indians in 2008, at the Wankhede Stadium in Mumbai. Only 3 players from the Knight Riders managed to score double figures, with Pollock leading the attack. KKR was eventually bowled out for 67 in the 16th over, which was the lowest total in the first edition of the tournament.
Result : Mumbai Indians beat Kolkata Knight Riders by 8 wickets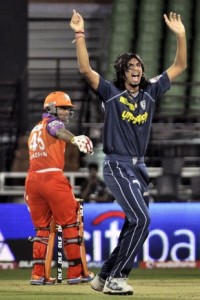 3.  74/10 by Kochi Tuskers Kerala vs Deccan Chargers in 2011, at the Nehru Stadium, Kochi. In an attack being led by former Deccan Charger – R.P. Singh, he and Vinay Kumar with their clever and effective spells ensured the Chargers didn't get away and restricted them to a minimal total of 129, which should have been a cake walk for KTK. However Ishant Sharma had other plans and picked up 5 wickets in 3 overs, giving away only 12 runs. Kochi Tuskers Kerala fell like pawns to the pace of Steyn soon after and were bundled out for 74 – the third lowest total ever.
Result : Deccan Chargers beat Kochi Tuskers Kerala by 55 runs.