In the last three decades, India have been blessed to have both Sachin Tendulkar and Virat Kohli play for them. Sachin started playing in the late 1980s and continued till 2013. He made India victorious in both Tests and ODIs on numerous occasions. He carried India's hopes on his shoulders and was the lone warrior in the side often. It seems like the baton has now been passed to Virat Kohli. In last two series against South Africa and England, he has been the only batsman from Indian who has performed consistently. He is the only hope India has on overseas tours.
Sachin's role model was Sunil Gavaskar, and he broke some of his records. Gavaskar held the record of most centuries (34) in Tests, Sachin equalled it in December 2004 when he scored 248* against Bangladesh. He overhauled Gavaskar exactly a year later on December 10, 2005, when he scored 109 against Sri Lanka in Feroz Shah Kotla. He went on to score 51 centuries in Test cricket.
Now with Kohli scoring so many runs in all the formats, it looks like he might break a few records of his own role model Sachin. He already has broken a few records like most centuries while chasing and looks in some mode to break quite a few, if not all.
---
1) Most Centuries in ODIs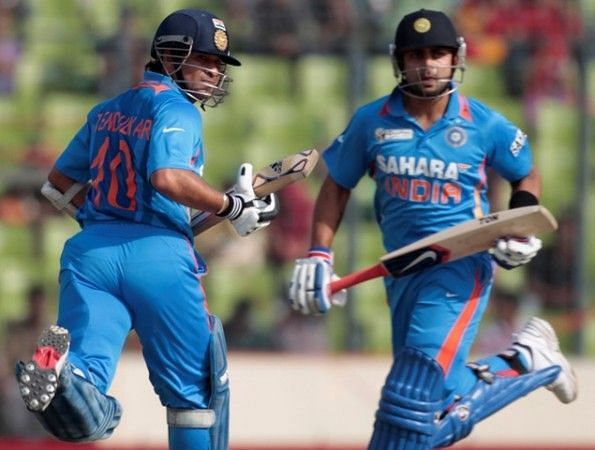 Like Sachin, Virat is best in the ODI format. Sachin scored a total of 49 centuries in 463 ODIs. Virat has already scored 35 in ODIs in just 211 matches. He is just behind Tendulkar in terms of centuries in ODIs. With the way he is playing especially in this format, it looks like he will definitely cross this record.
2) Fastest to 10000 runs in ODIs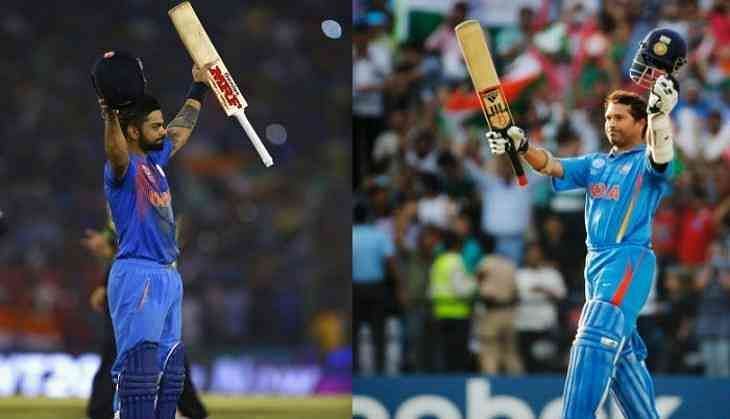 Sachin Tendulkar is currently the fastest to score 10000 runs in ODIs as he did it in 266 matches. But, this record will most likely be broken by Virat Kohli very soon as Kohli has 9779 runs in just 211 matches. Basically, he will be fastest to each run now as there is a big margin between the two. He could be the fastest to 11000, 12000 and so on.
3) Most Centuries in international cricket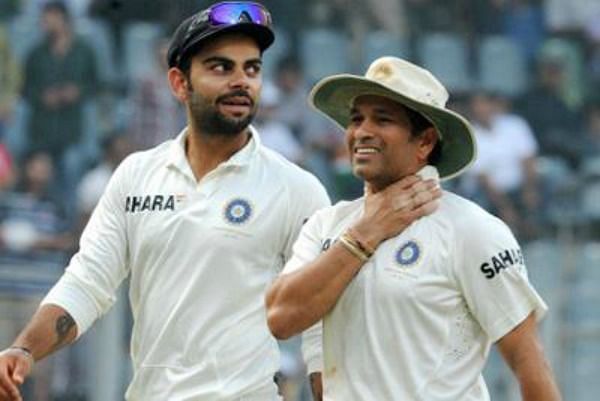 Sachin scored 49 centuries in ODIs and 51 in Test matches, in total 100 centuries in international cricket. Virat currently has 35 in ODIs and 23 in test matches in total 58. He needs 43 more to overhaul Sachin's tally which is highly likely if he keeps on batting the way he has been so far.
Virat has an added advantage as he plays T20 internationals and has chances to score centuries in this format also, which he hasn't done so far. His current best in T20 Internationals is 90*.