Satire: Sachin Tendulkar announces retirement
4.34K //
09 Dec 2012, 16:19 IST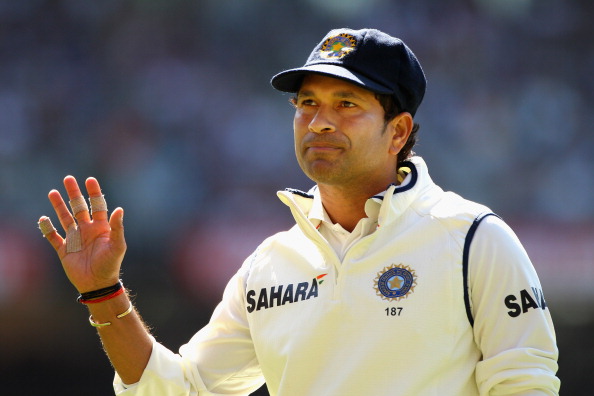 An emotionally disturbed Sachin Tendulkar has announced his retirement from cricket, his best man Sunil Gavaskar has revealed.
The decision comes only an hour after India's crashing loss at the hands of England at the Eden Gardens, following which the Indian selectors dropped an iron fist and have taken matters into their own hands.
"Yuvraj, Harbhajan and Zaheer Khan have been dropped from the test team with immediate effect.", chief selector Sandip Patil revealed at the press conference.
On being questioned about this decision, Patil said, "It is time Indian cricket is run the way it should be. We have been carrying around some baggage for a while now and it's time we let go of them and begin things afresh after this embarrassing defeat."
Sources in the dressing room have said that Patil's use of the word "baggage" might have been the reason behind Sachin's emotional agitation, as he is generally very conscious about the way he looks. However, these suggestions seem to be baseless, considering the infamous haircut he had got a couple of months ago.
Ex-cricketers said that Sachin might have announced his retirement as he was afraid he would be the next one to be dropped due to some poor performances, putting him on par with VVS Laxman and Ricky Ponting who retired this year as well.
But all rumours were put to rest by Sunil Gavaskar, "Sachin's decision has nothing to do with the language used by the selectors or his performances off late. Things like poor performances have never bothered him in the past and it would be silly to say they do now."
He continued, "The real reason he retired is because he was asked to chase the ball while practicing slip catching, instead of his junior. It was the same reason I retired."
This revelation left the room bewildered as several people were caught off-guard.
Sunil Gavaskar produced his classic lopsided grin and said, "Was that a pen I heard? I knew my statements would produce a pen-drop silence," managing a wink at the end, "pen intended."
This statement left the room more silent than the last and, reportedly, led to a couple of journalism interns quitting their jobs to join the Cyrus Broacha Comedy School.
"Haha, just kidding guys. It's Ravindra Jadeja. Ravindra Jadeja's inclusion in the test team is the reason. Sachin says he cannot imagine watching cricket ever again, leave alone playing it."
Ravindra Jadeja was unavailable for a comment as he was stuck at the tailor, getting '331′ printed on the back of his new test jersey.
A sly tweet read, "Jersey numbers are traditionally not allowed in test cricket; but then again, neither was Ravindra Jadeja."
Yuvraj Singh chose his words wisely when asked what he felt about Sachin's retirement, "Oh teri pehn di!"
Virat Kohli, who was with him at the moment, said,"It's a sad day for youngsters from my generation. We idolized Sachin when we grew up and it's a tough reality to digest. However, I'm happy that Jaddu is finally getting a chance to prove his talent at the highest level."
"Jaddu made it to the test team? That's fantastic!", a seemingly happy Yuvraj shouted – an emotion which quickly went away when Kohli revealed to him that he was the one being replaced; it was followed by another "pehn di!" but we cannot confirm which one of them said it.
This retirement marks the end of a dominant era in Indian cricket where Sachin Tendulkar conquered every last bit of mastery that batting has to offer and discovered many more. It also marks the end of some ravishing sponsorship deals and puts Nita Ambani at a loss, as Harbhajan Singh is now the only person she can recognize in the Mumbai Indians dressing room.
Thus far, only a small bit of the Mumbai has seen any sort of rioting but it is said to be spreading at a rapid rate of 613 people/bus and is expected to push barriers and spread into neighbouring states. The Sena however, has guaranteed safety to Bangladeshi citizens, for obvious reasons.
An ex-cricketer spoke, on condition of anonymity,"It looks like the selectors tried to play with the sentiments of the nation. They thought they could get away with it, but Sachin Tendulkar has had the last laugh."
To which, a furious Navjot Singh Sidhu retaliated by tweeting,"ROFLMAO".
DISCLAIMER – This content is purely fictional, and should be taken in jest.