Draft Feature: Introducing CB Dexter McDougle
Image: The Star-Ledger With great shame, I admit my immediate reaction to the announcement of the Jets third round selection: "What's a [Dexter] McDougle?" To me, the name 'Dexter McDougle' had the ring of a Hollywood surgeon; not a hopeful stick-to-you like elmers cornerback. It wasn't until a few minutes after the selection that I understood […]
1.75K
With great shame, I admit my immediate reaction to the announcement of the Jets third round selection: "What's a [Dexter] McDougle?"
To me, the name 'Dexter McDougle' had the ring of a Hollywood surgeon; not a hopeful stick-to-you like elmers cornerback. It wasn't until a few minutes after the selection that I understood why I processed this as so. 'McDougle' had a familiar tone to it; a goofy pronunciation similar to 'Doogie Howser' (the late 80′s, early 90′s television series of a teenage MD).
A culmination of the unexpectedness of the pick, joint with the fact I vaguely even recall watching Dexter at Maryland, prompted my mini-tantrum. That's not to make excuses; there's just an excessive amount of vulnerability felt in that moment, especially when you bleed green.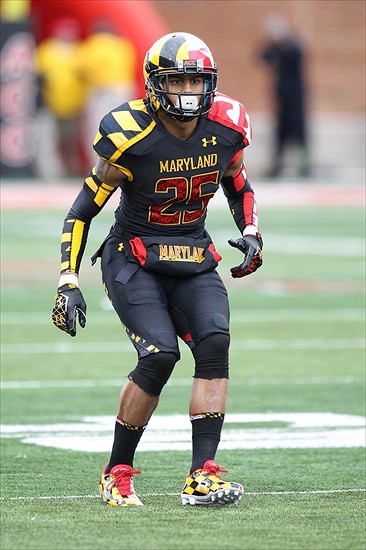 Projected by NFL.com as a 6-7th rounder, the 5'10 195 pound McDougle was considered quite the reach when the Jets selected him in the 3rd round. Wide receiver remained a glaring need to this point in the draft, and there were guys like Josh Huff, John Brown, and the popular Donte Moncrief, floating around the talent pool.
Maybe the Jets had a hunch. Perhaps there were several other teams ready to make that same reach. Even at the 80th selection overall, Jets coaches and execs all had a common undertone of theivery.
On the call to Dexter informing him he'd be selected, Jets owner, Woody Johnson said,
"We couldn't be happier to have you; we're so lucky. We were just waiting for you to drop to us. And, you know, we're blessed to have you. You're our guy, and now you're a New York Jet."
The methodical, patient approach we witnessed Idzik and the Jets take to free agency may have tipped us off a bit entering the draft. There wasn't a free-for-all in free agent signings. Frankly, the exact opposite is true. We are all familiar with the phrase, "Play Like a Jet." Idzik wants to build through the draft, hand-picking high character guys with leadership qualities. A prudent approach to putting a cohesive unit on the field on Sundays.
Some will detest this notion, referencing the signing of Michael Vick or perhaps Chris Johnson, but every FA acquisition this offseason saw to a hard-working, consistent guy known to be a quality teammate.
This is a McDougle
?
Dexter's speedy 40 yard dash and 37 inch vertical — according to the Jets — hold a lot of weight in the evaluation process. We all know that passion and likeability alone aren't going to get it done in the NFL. But, like many others of the Jets 2014 haul, Dexter has a mental skillset to accompany his physical.
A large part of the reason the now Jet soared so far beneath the radar is because he suffered a season-ending injury in Maryland's third week of play, last year. The defensive leader dislocated his right shoulder and fractured his scapula (shoulder blade), one play after pulling in his second interception—this one returned for a touchdown. The injury would curb Dexter's physical contributions, but it wouldn't sideline his character.
Following the injury, Dexter traveled to every road game and attended all team practices and meetings. He left such a impression on his coaching staff that they inaugurated him with the first annual 'Dexter McDougle Ultimate Team Player Award,' during Maryland's end of the year banquet — an acknowledgment created to commemorate his steadfast loyalty to his team.
Alright, enough of the gushy stuff. Can the kid play football?
Some may grade the Jets poorly for their third round selection, but have a look at McDougle's film. You'll see a playmaker.
Dexter displayed a mutifaceted skill set—playing on either side of the field, in press and off coverages, and inside and outside. His coverage skills jump out at you, as well. He runs well with receivers, using quick feet and hip fluidity to match them stride-for-stride.
Dexter also shows that he grasps the fundamentals. As the play unfolds, he remains conscious of the quarterback, reading recievers to gauge when to get his eyes back for the football. That will help him greatly at the next level. The versatility that Dexter employs could warrant him play time sooner than later. He could definitely use some work with his tackling technique, as he often throws himself at receivers feet, rather than wrapping them up. But it's encouraging to see his willingness to help in run support. He never shys away from contact.
In response to NewYorkJets.com Reporter Eric Allen, who asked Dexter in Rookie Mini-Camp how he was acclimating to everything, he replied,
"I love this defense. I love it… You know Coach Rex, you know, he's a defensive mastermind. He's a fun guy to play for. I can already tell I'm going to love it here..I'm just ready to get out there, and get in the system, and start playing."
As our readers know, it takes just One Jet at a Time to support in the fight; adding Dexter has given the organization that much more excitement in their air defense.