2023 NFL Depth Charts - Starters and Backup Players
Updated Sep 26, 2023, 04:08 PM ET
About 2023 NFL Depth Charts - Starters and Backup Players
NFL is an extensive league and requires the utmost fitness from players to keep performing at the highest levels, week in and week out. Over the 18-week game season teams need to be prepared with a variety of strategies to counter their opponents and players need to stay sharp. However, it is difficult not to expect injuries in the high-octane sport and players often have to sit out a whole season due to injuries. This is where the depth of a squad comes into play. Teams with a strong depth of players can maneuver injuries to any players and even stick to plays by replacing them. Let us get to know all about the NFL Depth Chart and how it affects each team in the league.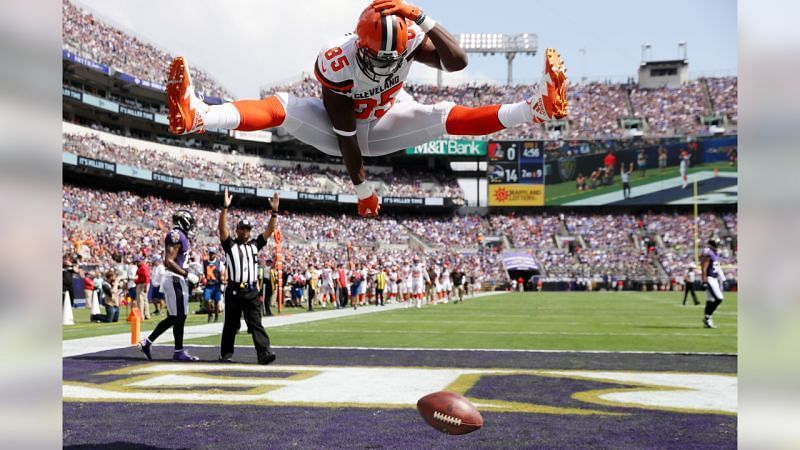 Source: nfl.com
Position Breakdown
The depth chart acts as a crucial blueprint in the intricate world of the National Football League (NFL), arranging the team's roster and outlining the hierarchy of players at each position. It gives a graphic depiction of player assignments for coaches, players, and spectators, highlighting the team's depth and potential lineup combinations. Players are ranked according to position and are arranged according to the likelihood that they will play. The reason starters are placed first is that their coach believes they are the best in their position.
Let us get into a detailed positional breakdown of each position in an NFL team:
Quarterback
The quarterback is undeniably one of the most crucial positions in an NFL team. Often considered the leader of the offense, the quarterback's responsibilities extend beyond simply throwing the ball. They serve as the primary decision-maker, orchestrating plays, reading defenses, and executing strategies. The quarterback is responsible for commanding the offense, communicating play calls, and making split-second decisions based on the defensive alignment. Their ability to read defenses, analyze situations, and adjust plays accordingly is critical for offensive success. Quarterbacks are typically known for their throwing prowess. They must possess the arm strength, accuracy, and timing to deliver accurate passes to receivers, tight ends, and running backs. Their ability to distribute the ball effectively allows them to exploit defensive weaknesses and move the offense down the field. The best quarterbacks are also some of the most able leaders on the field. They are responsible for making tough play calls and getting the team out of sticky situations.
Running Back
Running backs are responsible for carrying the ball, gaining yardage on the ground, and keeping the offense moving forward. They possess speed, agility, and vision, allowing them to find running lanes, evade defenders, and gain valuable yardage. A strong ground game helps control the clock, wear down defenses, and maintain offensive balance. Running backs are also valuable in pass protection, helping to shield the quarterback from blitzing defenders. They must be adept at recognizing defensive schemes and blocking assignments to provide the quarterback with a clean pocket. Additionally, running backs are often used as receivers, catching short passes or serving as safety valves for the quarterback. The pivotal role of a running back is to provide versatility to the offense.
Wide Receivers
Wide receivers are playmakers who create opportunities in the passing game, stretching defenses and providing game-changing moments. Their speed, agility, and catching abilities make them integral components of a team. Wide receivers excel at stretching defenses vertically, using their speed and route-running skills to gain separation from defenders. Their ability to catch long passes and create big plays downfield adds an explosive element to the offense, forcing defenses to respect their deep threat. Wide receivers must be precise in their route running, ensuring proper timing and synchronization with the quarterback. Their ability to create separation from defenders through crisp routes and sharp cuts is crucial for successful passing plays. Additionally, wide receivers must possess strong hands and exceptional catching abilities to secure the ball and make difficult catches in tight coverage. Wide receivers are often involved in short and intermediate passing plays. Their agility and elusiveness allow them to gain yards after the catch, extending plays and creating additional offensive opportunities. Wide receivers are also expected to contribute to run-blocking, using their physicality to help spring running backs for successful runs.
Tight End
Tight ends serve as versatile playmakers in an NFL team. They play a crucial role in the passing and running game, making them valuable assets for offensive success. Tight ends use their size and athleticism to create mismatches against linebackers and defensive backs. Their ability to run precise routes, find openings in the defense, and make tough catches contributes to the passing game's effectiveness. Tight ends also provide essential blocking support for running plays. Their physicality and technique help create running lanes, seal off defenders, and contribute to the success of the ground game. Due to their size and catch radius, tight ends are prime targets in the red zone. Their ability to outmuscle defenders and make contested catches makes them valuable assets when scoring touchdowns and converting critical plays.
Offensive Line
The offensive line is the backbone of any attack as they are the primary protectors of the quarterback. Offensive linemen create a secure pocket, using their strength, technique, and awareness to fend off pass rushers and prevent sacks. Their ability to provide the quarterback with time and space to make throws is crucial for offensive success. The offensive line's run-blocking skills are vital in opening holes for running backs, allowing them to gain yardage and move the chains.
Defensive Line
The defensive are the key defensive players who have the primary task of putting pressure on the opponent quarterback. Defensive linemen apply pressure on the quarterback, aiming to disrupt passing plays and force hurried decisions. Their ability to generate sacks, pressures, and quarterback hits can significantly impact the outcome of a game. Defensive linemen anchor the defense against the run, using their strength, technique, and gap discipline to shut down running lanes. Their ability to control the line of scrimmage and make tackles for loss helps stifle opposing rushing attacks. Their ability to push the pocket and collapse the offensive line disrupts the timing and rhythm of the opposing offense.
Linebacker
Linebackers hold a crucial role as the backbone of the defense. The importance of linebackers stems from their versatility and impact on the game. They are often tasked with defending against the run, covering tight ends and running backs in pass coverage, and rushing the quarterback on blitzes. Linebackers must possess exceptional athleticism, intelligence, and instincts to read and react to plays swiftly. They serve as the linchpin of the defense, orchestrating communication, aligning teammates, and making critical decisions on the field. Their ability to diagnose plays, shed blocks, and make tackles not only helps stifle opposing rushing attacks but also disrupts passing plays by providing coverage and applying pressure.
Cornerback
Their primary responsibility is to cover wide receivers and disrupt the opposing team's passing game. Cornerbacks must possess exceptional speed, agility, and coverage skills to shadow receivers, anticipate routes, and defend against passes. By effectively locking down receivers, cornerbacks limit the opponent's passing options and force quarterbacks into making difficult throws. They play a vital role in preventing big plays, breaking up passes, and intercepting the ball. Additionally, cornerbacks contribute to run defense by setting the edge and making open-field tackles. Their ability to excel in coverage and create turnovers can swing the momentum of a game, making them indispensable assets in any defense.
Safety
Safeties are versatile and impactful players in the defensive lineup. They are responsible for deep coverage, run support, and playmaking. They excel at defending against long passes, using their speed and ball-hawking skills to limit big plays. Safeties contribute to running defense by filling gaps, making tackles, and setting the edge. They also can blitz, disrupt the quarterback, and create turnovers. Safeties play a crucial role in communication, ensuring the secondary is aligned properly and executing defensive assignments. With their athleticism, instincts, and playmaking abilities, safeties have the potential to change the game with interceptions, forced fumbles, and game-altering plays.
Starting Lineup
In an NFL team, the starting lineup typically consists of 11 players on each side of the ball, totaling 22 players. These 11 players are divided into offense, defense, and special teams, with specific roles and positions assigned to each player. Here's a breakdown of the typical starting lineup:
Offense:
Quarterback: The leader and decision-maker of the offense.
Running Back: Carries the ball, catches passes, and blocks when necessary.
Wide Receivers: Primary targets for passing plays.
Tight End: Provides blocking and receiving abilities.
Offensive Line: Consists of left tackle, left guard, center, right guard, and right tackle. They protect the quarterback and create running lanes.
Defense:
Defensive Line: Composed of defensive ends and defensive tackles. Their role is to stop the run and rush the passer.
Linebackers: Responsible for run defense, pass coverage, and blitzing.
Cornerbacks: Cover wide receivers and defend against passing plays.
Safeties: Provide deep coverage and run support.
Special Teams:
Kicker: Responsible for field goals and extra points.
Punter: Kicks the ball to the opposing team on fourth downs.
Long Snapper: Performs the snap for punts and field goals.
Return Specialists: Field punts or kickoffs and attempt to gain yards for the offense.
The starting lineup is devised based on a combination of factors, including player skills, performance, game plan, and coaching decisions. Coaches analyze player abilities, matchups against the opponent, and specific game strategies to determine the best combination of players for the starting lineup. It's important to note that the starting lineup may vary from game to game, and adjustments can be made based on injuries, performance, or situational requirements.
Ultimately, the starting lineup is designed to maximize the team's strengths, exploit the opponent's weaknesses, and execute game plans effectively. It aims to create a cohesive unit of skilled players who work together to achieve success on the field.
Position Battles and Depth Chart Changes
The depth chart of an NFL team ultimately impacts the performance of a squad for the whole season. Several factors like player performance, preseason performances, and injuries impact the depth chart.
Preseason games provide an opportunity for players to showcase their skills and compete for roster spots. Standout performances during these games can lead to players moving up the depth chart, earning starting roles, or solidifying their positions as backups. Coaches evaluate preseason performances to assess player abilities, potential, and fit within the team's game plan.
When a starter gets injured, a backup player often steps into the starting role. This rearranges the depth chart, with other players moving up to fill the void. The severity and duration of the injury can determine how long a player remains in their new position, as well as the potential for other players to earn increased playing time or move up in the depth chart as additional backups.
Player performances throughout the season heavily influence the depth chart. Consistent outstanding performances can propel a player up the depth chart, leading to increased playing time and potentially a starting role. On the other hand, a decline in performance may result in a player being demoted or losing their spot in the starting lineup or even the roster. Coaches closely evaluate player production, execution of assignments, and impact on the game when making depth chart decisions.
Standout performances, injuries to starters, and consistent performances affect the positioning and roles of players, leading to adjustments in the depth chart as coaches seek the most effective lineup to maximize success on the field. Adaptations to the depth chart based on these factors ensure that the team's composition reflects the current capabilities and potential of its players.