| | |
| --- | --- |
| Full Name | DeAndre Rashaun Hopkins |
| DOB (Age) | 06-06-1992 (31 yrs) |
| Height | 6 ft 1 in (1.85 m) |
| Weight | 212 lbs (96 kgs) |
| Born | Central, SC |
| College | Clemson University |
| Draft | 2013 - Rd: 1, Pick: 27 (HOU) |
| Debut | September 9, 2013 |
| Nickname | Nuk |
Game Log
RECEIVING
Date
Opp
Result
REC
YDS
AVG
LNG
TD
TGTS
YDC
YDC/A
YAC
YAC/A
Y/G
Sun 12/03

@

IND

L

28-31

5
75
15.0
27
1
12
67
13.4
8
1.6
0
Sun 11/26

@

CAR

W

17-10

3
49
16.3
19
0
5
38
12.7
11
3.7
0
Sun 11/19

vs

JAX

L

14-34

4
59
14.8
43
1
5
47
11.8
12
3.0
0
Sun 11/12

vs

TB

L

6-20

3
27
9.0
15
0
9
24
8.0
3
1.0
0
Thu 11/02

vs

PIT

L

16-20

4
60
15.0
29
0
11
28
7.0
32
8.0
0
CAREER STATS
RECEIVING
Season
Team
GP
GS
REC
YDS
AVG
LNG
TD
TGTS
YDC
YDC/A
YAC
YAC/A
Y/G
2023

TEN

12
12
50
774
15.5
61
5
95
607
12.1
167
3.3
64.5
2022

ARI

9
9
64
717
11.2
33
3
96
510
8.0
207
3.2
79.7
2021

ARI

10
10
42
572
13.6
55
8
64
445
10.6
127
3.0
57.2
2020

ARI

16
16
115
1407
12.2
60
6
160
897
7.8
510
4.4
87.9
2019

HOU

15
15
104
1165
11.2
43
7
150
800
7.7
365
3.5
77.7
Career
157
157
903
12072
13.4
76
76
1463
9023
10.0
3049
3.4
76.9
DeAndre Hopkins: A Brief Biography
DeAndre Rashaun Hopkins is an NFL Wide Receiver who last used to play for the Arizona Cardinals. Nicknamed "Nuk", Hopkins was born on June 6, 1992. He played college football at Clemson and was drafted in the 2013 NFL Draft by the Houston Texans in the first round. He was the 27th overall pick. Hopkins signed a four-year contract of $7.68 million with the Texans with a guaranteed $6.18 million including a signing bonus of $3.98 million. He is a five-time Pro Bowler and has also been named to five All-Pro teams. DeAndre Hopkins is currently a free agent after being released by the Cardinals in 2023. The star wide receiver may be a free agent now but should be selected by one of the major NFL teams soon.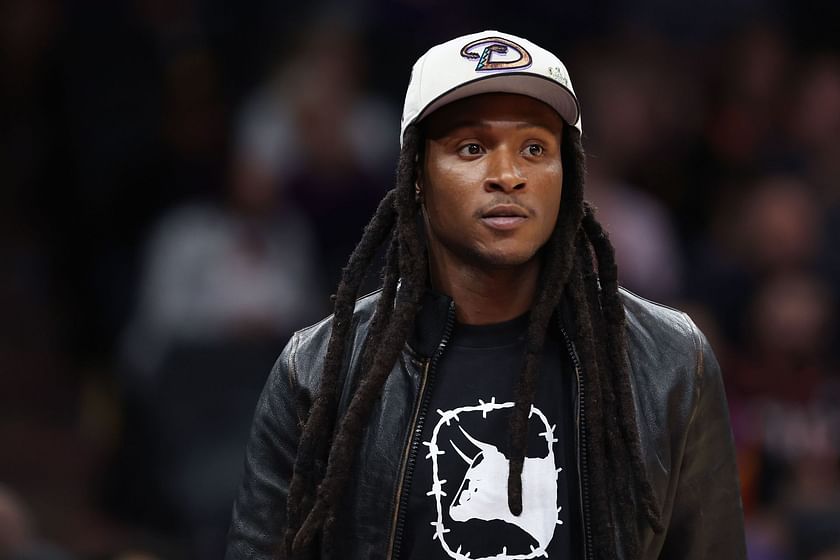 Deandre Hopkins' Early Life and Background
As an infant, Hopkins was given the nickname Nuk by his mother because he frequently chewed through NUK pacifiers. It is pronounced, "nuke" (although the pacifier brand is pronounced "nook").
Hopkins attended D. W. Daniel High School in Central, South Carolina, where he played football, and basketball, and ran track and field for Lion's athletic teams. During his high school football career, Hopkins had 57 receptions for 1,266 yards and 18 touchdowns on offense and 28 interceptions, and five touchdowns on defense. While on the basketball team, he played as a shooting guard and point guard, scoring 1,453 career points. His senior season, 2009–10, the Lions won their third South Carolina State Championship, and Hopkins was named the Independent Mail's player of the year. He was rated as the 12th-best wide receiver in the nation and the State of South Carolina. He received various rankings from reputable sports organizations, and ESPN ranked him the 29th best athlete. He earned an All-State first-team from the state and The Charlotte Observer.
Deandre Hopkins' College Career
Hopkins enrolled in Clemson University and played for their team, the Tigers, from 2010-2012. Hopkins was an immediate impact player as he became a massive contributor to their offense as a freshman. He was the team's leading receiver with 52 receptions for 637 yards and four receiving touchdowns. He also played basketball after his freshman season, where he played seven games for the Tigers basketball team. The team took a major leap in his sophomore campaign, improving from 6-7 to 10-4, and Hopkins tallied numbers of 72 receptions for 978 receiving yards and five receiving touchdowns. In his junior year, Hopkins was simply phenomenal. He led the team to their first 11-win season since 1981. Hopkins set the school record for most touchdowns in a quarter with 3, against Ball State. In his junior season in 2012, Hopkins had one of the best receiving seasons in ACC history, with a conference-best 1,405 yards on 82 catches and a school-record 18 touchdowns earning First-team All-Conference honors. Hopkins, along with junior quarterback Tajh Boyd and wide receiver Sammy Watkins, combined to make one of the most prolific passing offenses in college football and broke many individual and career school records. He scored a touchdown in each of the last ten games of the season, doubling the previous school record for consecutive games with a score. Hopkins left Clemson with a career record for receiving yards (3,020) and career touchdown receptions (27). His 206 career receptions were the most by a Clemson receiver since Aaron Kelly had 232 from 2005–2008. On January 10, 2013, Hopkins decided to forgo his senior season at Clemson and enter the NFL Draft.
Who Drafted Deandre Hopkins?
Coming out of Clemson, Hopkins was considered a top prospect and received an invitation to the NFL combine. He completed nearly all of the combine drills, but was unable to finish the three-cone drill after suffering an apparent calf injury. After the combine, the hotel room Hopkins shared with Rutgers wide receiver Mark Harrison was found to be left in a state where "urine and feces were found around the bathroom, toothpaste was left on the mirror and partially eaten food was on one of the beds," per ESPN. Both players denied responsibility.
On March 7, 2013, he participated in Clemson's pro day. Hopkins attended private workouts or visits with the Dallas Cowboys, Carolina Panthers, and New England Patriots, and had two with the St. Louis Rams.
At the conclusion of the pre-draft process, Hopkins was projected to be a first or second-round pick by NFL draft experts and scouts. He was ranked as the third-best wide receiver prospect by NFL.com draft analyst Josh Norris, the fourth-best wide receiver by Sports Illustrated, and was ranked the fifth-best wide receiver by NFLDraftScout.com and NFL analyst Mike Mayock.
The Houston Texans selected Hopkins in the first round with the 27th overall pick in the 2013 NFL Draft. He was the second wide receiver selected, behind Tavon Austin (St. Louis Rams, eighth overall). Hopkins was the second wide receiver in franchise history to be drafted in the first round, the first being Andre Johnson who was selected third overall in 2003. It was also just the second time in 10 years that the Texans selected an offensive player (the other selection was left tackle Duane Brown) in the first round. He became the highest wide receiver out of Clemson since Rod Gardner went 15th overall in 2001.
Deandre Hopkins' NFL Journey
Deandre Hopkins, over the course of his 10-year career, has made a name for being a steady, reliable wide receiver in the league. He's been a constant shoe-in for the All-Pro teams, having made either the first or second team every year from 2015 to 2020, barring his relatively disappointing 2016 campaign. Similarly, he's been a constant presence at the Pro Bowls, making them in all the years he was an All-Pro team member. He's also been an NFL receiving touchdowns leader and was immediately impactful as a rookie, with an All-Rookie Team selection under his belt.
Hopkins was released by the Arizona Cardinals in the 2023 NFL offseason after spending 3 seasons with the team. The Cardinals made an announcement that they had released the star wide receiver after being unable to find a trade partner for him. Hopkins officially became a free agent on May 26, 2023.
Deandre Hopkins teams
Houston Texans (2013-2019)
The Houston Texans selected Hopkins in the first round with the 27th overall pick in the 2013 NFL Draft. It was just the second time in 10 years that the Texans selected an offensive player (the other selection was left tackle Duane Brown) in the first round. He became the highest wide receiver out of Clemson since Rod Gardner went 15th overall in 2001. On July 24, 2013, Hopkins signed a four-year, $7.62 million contract with the team. The first three years of the contract were fully guaranteed. Hopkins started off his career strong, even receiving NFL Rookie of the Month honors for September.
In his first season, he finished with 52 receptions for 802 receiving yards and two touchdowns, rounding out with an NFL All-Rookie Team selection. His rookie season was marred by inconsistent quarterback play by Matt Schaub that led to Schaub's benching after nine interceptions in five games. Hopkins returned as a starting wide receiver alongside Andre Johnson under new head coach Bill O'Brien to begin the 2014 season. Hopkins was the Texans' leading receiver in 2014, recording 76 receptions for 1,210 yards and six touchdowns in 16 games and 16 starts. Hopkins was solidified as the Texans' number one receiver to begin the 2015 season after veteran Andre Johnson departed to the Indianapolis Colts in free agency. In Week 6, he recorded 10 receptions for 142 yards and 2 touchdowns enroute to earning his first career AFC Offensive Player of the Week award. In Week 13, Hopkins broke the Texans' franchise record for most receiving touchdowns in a single season, previously held by Andre Johnson, with his tenth score. Hopkins finished the 2015 season with then-career highs in receptions (111), receiving yards (1,521), and touchdowns (11), despite playing with four different quarterbacks. He earned his first career Pro Bowl nomination and was named second-team All-Pro. He was also ranked 19th by his fellow players on the NFL Top 100 Players of 2016. On July 30, 2016, Hopkins did not report to training camp after he announced he was holding out for a new contract. In the 2016 season, Hopkins suffered through some small regression as the quarterback play of Brock Osweiler lacked positive consistency. Hopkins had 78 receptions for 954 yards and four touchdowns in the 2016 season, all his lowest totals since his rookie season in 2013.
On August 31, 2017, the Houston Texans signed Hopkins to a five-year, $81 million contract extension with $49 million guaranteed and a signing bonus of $7.5 million. On December 19, 2017, Hopkins was named to his second Pro Bowl. Hopkins finished the 2017 season with 96 receptions for 1,378 yards and a league-leading 13 touchdowns. He led the league in scoring among wide receivers with 78 points. He was named a First-team All-Pro for the 2017 season and was ranked 13th by his fellow players on the NFL Top 100 Players of 2018. Hopkins finished the 2018 season with a career-high 115 catches for a career-high 1,572 receiving yards and 11 touchdowns. He finished third in the league in receptions and second in receiving yards. He was named to his third Pro Bowl and his second straight First-team All-Pro. He was ranked 11th by his fellow players on the NFL Top 100 Players of 2019. Hopkins finished the 2019 season with 104 receptions for 1,165 receiving yards and seven receiving touchdowns. He was ranked 8th by his fellow players on the NFL Top 100 Players of 2020.
Arizona Cardinals (2020-2022)
On March 16, 2020, the Texans traded Hopkins and a fourth-round pick in the 2020 NFL Draft to the Arizona Cardinals for running back David Johnson, a 2020 second-round pick, and a 2021 fourth-round pick. Reception to the trade was highly critical of the Texans, as well as the head coach at the time, Bill O'Brien, with many sportswriters calling it one of the worst of all time from their perspective, while simultaneously praising the Cardinals for "robbing" the Texans. On September 8, 2020, Hopkins signed a two-year, $54.5 million contract extension with the Cardinals.
In Week 10 against the Buffalo Bills, Hopkins recorded seven receptions for 127 yards and the game-winning touchdown on a 43-yard Hail Mary pass thrown by Kyler Murray with one second left in the 32–30 win which would later be referred to as Hail Murray. Hopkins leaped over three defenders to catch the touchdown. Hopkins was named the NFC Offensive Player of the Week for his performance. On November 19, 2020, Hopkins became the youngest player to reach 700 catches, a record that was held by his teammate, Larry Fitzgerald. In Week 17, against the Los Angeles Rams, Hopkins went over 10,000 receiving yards for his career. He became the youngest player in NFL history to eclipse the mark. Overall, Hopkins finished the season with 115 receptions for 1,407 receiving yards and six receiving touchdowns. His 115 receptions set a new franchise mark for a single season, breaking Larry Fitzgerald's marks in 2015 and 2017. He was ranked 8th by his fellow players on the NFL Top 100 Players of 2021. He was named to his fifth Pro Bowl. His 2021 season was cut relatively short due to a hamstring injury, which further intensified into a torn MCL in Week 14, leading to him amassing 42 catches for 572 yards and 8 touchdowns through 10 games for the season. On May 2, 2022, the NFL announced that Hopkins would be suspended for the first six games of the season for a violation of the league's performance-enhancing drugs policy.
The Arizona Cardinals pulled off a very surprising move where they decided to reelease DeAndre Hopkins at the offseason. He was released after the Cardinals could not find a suitable trade partner for the wide receiver.
Player Awards and Honors
| | |
| --- | --- |
| Year | Awards/Honors |
| 2017-2019 | First-team All-Pro |
| 2015,2020 | Second-team All-Pro |
| 2015,2017-2020 | Pro Bowl |
| 2017 | NFL Receiving touchdowns leader |
| 2013 | All-Rookie Team |
| 2012 | First-team All-ACC |
Deandre Hopkins NFL Records
One of four players in NFL history (Torry Holt, Marvin Harrison, Antonio Brown) to record 750+ receptions, 10,500+ receiving yards, and 65+ TDs in his first nine seasons.

Since entering the NFL in 2013, ranks first in receptions (789), second in receiving yards (10,581) and fourth in TD receptions (68).

Dating back to 2017, his 6,094 receiving yards and 325 receiving 1st downs rank third in the NFL. In that same span, he ranks third with 711 total targets, fourth with 472 receptions and fourth with 45 TD receptions.

His 789 career receptions are the most in NFL history by a player prior to his 30th birthday (turned 30 on June 6, 2022). That also represents the fifth-best total in NFL history in a player's first nine seasons behind only Marvin Harrison (845), Antonio Brown (837), Torry Holt (797) and Julio Jones (797).

In the 2020 finale against the Rams, surpassed 10,000 career receiving yards. At 28 years, and 211 days old he became the youngest player in NFL history to reach 10,000 career receiving yards.

In his Cardinals debut (Week 1 @ SF in '20), established a franchise record for the most receptions in a season-opener with a career-high 14 catches for 151 yards.

Was the only NFL player to have 100+ receptions every season between 2018-20.
Texans franchise records
Most receiving yards in a single postseason: 208 (2019)

Most receptions in a single season: 115 (2018)

Most receiving touchdowns in a single season: 13 (2017)
Deandre Hopkins's Net Worth
Hopkins is estimated to have a net worth upwards of $40 million, owed largely to the three lucrative deals he has signed during his NFL career so far, along with various endorsements from the likes of various startups like Beyond Meat, Therabody, etc while also agreeing to a deal with the Jordan Brand.
Deandre Hopkins Contract
DeAndre Hopkins signed a 2-year, $54,500,000 contract with the Arizona Cardinals in 2020. The contract included a $27,500,000 signing bonus, $60,050,000 guaranteed, and an average annual salary of $27,250,000. DeAndre Hopkins is currently a free agent.
Read more abbout Deandre Hopkins Contract.
Deandre Hopkins family
Due to the public nature of his sport and the relatively infamous family that he's a member of, Hopkins' family history is very well known.
Hopkins was raised by his single mother, Sabrina Greenlee, with whom he has a strong relationship. He credits her for his success. She held two jobs throughout his childhood and worked at an automotive factory.
In July 2002, Greenlee had a boiling concoction of lye and bleach thrown on her by Savannah Grant, age 24. Greenlee had caught her boyfriend having an affair with Grant. The attack resulted in the skin rapidly peeling off her neck, face, and back. Her boyfriend picked her up, placed her in his vehicle, and dropped her off at a nearby gas station. The gas station attendant called 911, and Greenlee was rushed to a hospital and later flown to Augusta, Georgia, where she was placed in a medically induced coma for three weeks and had skin grafts applied to her face. Greenlee suffered burns over 17 percent of her body. Her attacker was charged with assault and battery with intent to kill and received a 20-year sentence. She has been incarcerated since 2003. Hopkins' mother was left completely blind as a result of this attack.
Hopkins' father, Harris Steve Hopkins, died in a car accident on I-85 when DeAndre was five months old, leaving his mother to raise him and his three siblings. The November 1992 car accident happened when DeAndre's parents were returning from visiting family in Atlanta. The elder Hopkins' Ford Mustang GTS hydroplaned on the rain-soaked road after making a turn and flipped three times before striking a guardrail on the driver's side. While DeAndre's mother escaped with minor injuries and a concussion, the elder Hopkins succumbed to his injuries eight days later. At the time of his death, Harris Hopkins was 25 years old.
Hopkins' uncle on his mother's side, Terry Smith, played wide receiver at Clemson and went undrafted before having a brief professional career with the Indianapolis Colts on their practice squad from 1995–1996. His time in the NFL was marred by knee injuries that ended his career. In 1997, Smith was shot and killed by Atlanta police after forcing his way into his estranged wife's home and stabbing her. Police opened fire after Smith defied multiple orders. Close friends and former teammates said Smith was nonviolent but that his behavior had changed in the months leading up to his death. Smith played for Clemson from 1990-1993 and finished his collegiate career as the all-time leader in catches (162) and receiving yards (2,681). He was named the Tigers' MVP for the 1993 season and was known for his game-winning touchdown in the 1993 Peach Bowl, defeating Kentucky with seconds left.
Another uncle on his mother's side, Russell Smith, died before DeAndre was born, at age 12 in 1985. He died in a car driven by his newly-wed uncle when it flipped while Russell was standing up in the open sunroof. His uncle and other passengers in the car survived.
Hopkins also has three siblings, two sisters and one brother. His two older siblings, Kesha and Marcus, are from a previous relationship his mother had. His older sister, Kesha Smith, is a Southern Wesleyan University graduate. In 2014, she moved to Houston where she is a basketball trainer and a slot receiver for the Houston Energy of the Independent Women's Football League. His younger sister, Shanterria Cobb, signed a letter of intent in the spring of 2016 to play basketball at Texas Southern University. She was a three-time all-region selection in basketball at D.W. Daniel High School. His older brother, Marcus Greenlee, was a standout football and basketball player in high school and briefly attended Georgia Military College.
Hopkins is a Christian. He grew up going to church with his mother and was baptized one day after practice at Clemson in 2012. Hopkins has said, "My faith is a big, big thing for me. It is a major part of my life ..." and "No matter how hard life can get, you can never give up. Just work hard, live right, and have faith in the Lord."
DeAndre Hopkins was suspended from the league In May 2022 as he violated the performance-enhancing drugs (PED) policy.
DeAndre Hopkins is 30 years old as of 2022.
He has a height of six feet and one inch, which is 1.85 m.
DeAndre Hopkins has an estimated net worth of $40 Million.
As an infant, Hopkins was given the nickname Nuk by his mother because he frequently chewed through NUK pacifiers. It is pronounced "nuke" (although the pacifier brand is pronounced "nook").