| | |
| --- | --- |
| Founded | 1933 |
| Ground | Lincoln Financial Field |
| Owner(s) | Jeffrey Lurie |
| City | Philadelphia, Pennsylvania |
| Nickname | Eagles |
| CEO | Jeffrey Lurie |
| General Manager | Howie Roseman |
| Head Coach | Nick Sirianni |
| Mascots | Swoop |
| NFL Championships | 1 Super Bowl Championship: 2017 (LII) |
| Playoff Appearances | 1947, 1948, 1949, 1960, 1978, 1979, 1980, 1981, 1988, 1989, 1990, 1992, 1995, 1996, 2000, 2001, 2002, 2003, 2004, 2006, 2008, 2009, 2010, 2013, 2017, 2018, 2019, 2021, 2022 |
| Division | NFC East |
Philadelphia Eagles Videos
Fly The Philadelphia Eagles, a team with wings of determination and grit, have soared to remarkable heights in the NFL. Established in 1933, these fierce aviators have earned three NFL Championships and one Super Bowl victory in 2018, when they triumphed over the New England Patriots. Led by their devoted fans, known as the passionate "Eagles Nation," they take flight on the field with relentless energy and an unyielding spirit. The Eagles' legacy is one of perseverance, and their talons have left a mark on the NFL that won't soon be forgotten. Ready to conquer the skies, the Eagles continue to strive for greatness, fueled by their unwavering commitment to achieve glory.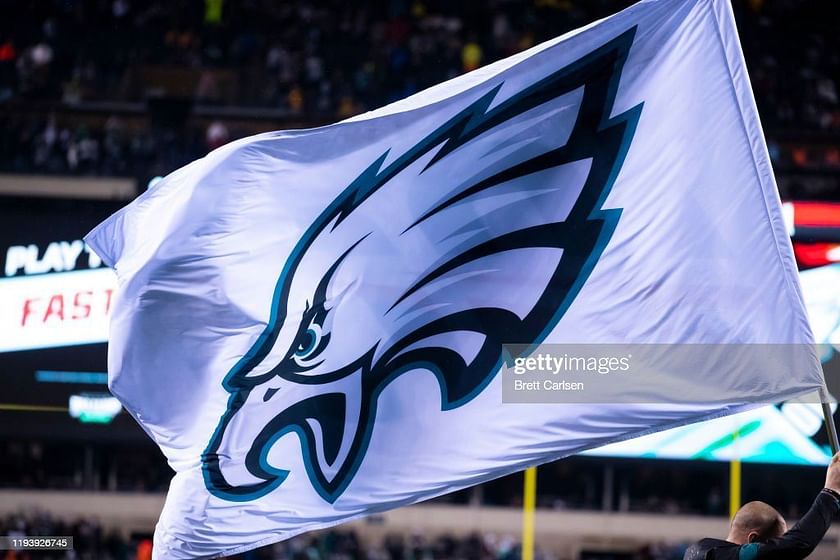 Philadelphia Eagles Next Game
The Philadelphia Eagles have an action-packed schedule ahead for the regular season, filled with exciting matchups against formidable opponents. They kick off their campaign with an intense battle against the New England Patriots at Gillette Stadium. Following that, they face the Minnesota Vikings at Lincoln Financial Field, showcasing their talent on a prime-time slot. The Eagles will also face tough contenders like the Tampa Bay Buccaneers, Los Angeles Rams, and Kansas City Chiefs on the road, promising exhilarating clashes. Returning to their home ground, they will engage in compelling matchups against the Miami Dolphins, Dallas Cowboys, and San Francisco 49ers, among others. Philadelphia Eagles' fans can look forward to an intriguing season filled with thrilling football action and the potential for playoff contention.
Read More about Philadelphia Eagles schedule
Philadelphia Eagles Roster 2023-24
The Philadelphia Eagles have one of the strongest rosters enetering the upcoming season. Their run till the Super Bowl in 2023 is an ode to the depth and strength of their current roster. They have a number of notable players like Jalen Hurts, Lane Johnson, A.J. Brown, Jason Kelce and Darius Slay. In 2022, Hurts soared to new heights, guiding the Eagles to a remarkable 14-3 record and a Super Bowl appearance. His outstanding performance earned him Pro Bowl, All-Pro, and MVP nominations. As a starter, he led Philadelphia to an impressive 14-1 record, completing 66.5% of his passes for 3,701 yards, 22 TDs, and 6 INTs, with a stellar 101.6 passer rating. Additionally, he showcased his dual-threat prowess, rushing for 760 yards and 13 TDs, accumulating a total of 4,461 yards and 35 TDs. Now, with a lucrative contract extension, Hurts is the franchise's face and stands among the NFL's elite quarterbacks.
Read more about Philadelphia Eagles depth chart
Philadelphia Eagles Record- Last 10 Years

| | | | |
| --- | --- | --- | --- |
| Season | Division Finish | Record | Playoffs |
| 2022 | 1st NFC East | 14-3-0 | Lost Super Bowl |
| 2021 | 2nd NFC East | 9-8-0 | Lost Wild Card Playoffs |
| 2020 | 4th NFC East | 4-11-1 | Did Not Qualify |
| 2019 | 1st NFC East | 9-7-0 | Lost Wild Card Playoffs |
| 2018 | 2nd NFC East | 9-7-0 | Lost Divisional Playoffs |
| 2017 | 1st NFC East | 13-3-0 | Won Super Bowl |
| 2016 | 4th NFC East | 7-9-0 | Did Not Qualify |
| 2015 | 2nd NFC East | 7-9-0 | Did Not Qualify |
| 2014 | 2nd NFC East | 10-6-0 | Did Not Qualify |
| 2013 | 1st NFC East | 10-6-0 | Lost Wild Card Playoffs |
| 2012 | 4th NFC East | 4-12-0 | Did Not Qualify |
Read more to get a detailed look into the Playoff appearance and history of the Philadelphia Eagles
Philadelphia Eagles Championships
The Eagles have won four NFL titles and one Super Bowl. Their prior victories occurred before the Super Bowl era (1948, 1949, 1960). In Super Bowl LII, the Eagles defeated the New England Patriots by a score of 41-33 to win their first championship. Nick Foles, who replaced injured starting quarterback Carson Wentz, was voted Super Bowl MVP. In a 41-to-33 victory, the Eagles defeated the New England Patriots at Minnesota's U.S. Bank Stadium. Even in the fourth quarter, the Patriots had a 33-32 advantage against the Eagles when they scored a touchdown from 11 yards out. The Eagles, one of the more established NFL clubs, had been without a championship until their Super Bowl victory. The Philadelphia Eagles have won 15 Divisional Titles and 4 Conference Championships apart from their Super Bowl trophy.
Read all about: Philadelphia Eagles Super Bowl wins