| | |
| --- | --- |
| Full Name | Marquez Valdes-Scantling |
| DOB (Age) | 10-10-1994 (29 yrs) |
| Height | 6 ft 4 in (1.93 m) |
| Weight | 206 lbs (93 kgs) |
| College | University of South Florida |
| Draft | 2018 - Rd: 5, Pick: 174 (GB) |
Game Log
RECEIVING
Date
Opp
Result
REC
YDS
AVG
LNG
TD
TGTS
YDC
YDC/A
YAC
YAC/A
Y/G
Sun 12/03

vs

GB

L

19-27

2
25
12.5
16
0
5
25
12.5
0
0.0
0
Sun 11/26

vs

LV

W

31-17

1
-1
-1.0
-1
0
1
-1
-1.0
0
0.0
0
Mon 11/20

@

PHI

L

17-21

0
0
0
0
0
0
0
0
0
0
0
Sun 11/05

@

MIA

W

21-14

2
22
11.0
21
0
3
17
8.5
5
2.5
0
Sun 10/29

vs

DEN

L

9-24

2
27
13.5
14
0
4
17
8.5
10
5.0
0
CAREER STATS
RECEIVING
Season
Team
GP
GS
REC
YDS
AVG
LNG
TD
TGTS
YDC
YDC/A
YAC
YAC/A
Y/G
2023

KC

12
9
17
273
16.1
46
1
33
201
11.8
72
4.2
22.8
2022

KC

17
11
42
687
16.4
57
2
81
559
13.3
128
3.0
40.4
2021

GB

11
7
26
430
16.5
75
3
55
276
10.6
154
5.9
39.1
2020

GB

16
12
33
690
20.9
78
6
63
451
13.7
239
7.2
43.1
2019

GB

16
10
26
452
17.4
74
2
56
298
11.5
154
5.9
28.3
Career
88
59
182
3113
17.1
78
16
361
2143
11.8
970
5.3
35.4
Marquez Valdes-Scantling News
Marquez Valdes-Scantling: A Brief Biography
Marquez Valdes-Scantling often referred to as MVS is an NFL player who currently plays as a wide receiver for the Kansas City Chiefs. The 6 foot 4 inch, 206-pound receiver is currently in his sixth season in the league and is looking to have a breakthrough year with the number one wide receiver post mostly up for grabs in Kansas City.
Growing up in Florida, Valdes-Scantling was a huge Tampa Bay Buccaneers fan as his father and grandfather both were Bucs fans themselves. As a die-hard Bucs fan, getting a chance among the best of the best to be able to play in the NFL is nothing short of a dream come true. If, however, he can one day play for his hometown team then that will be the icing on his cake.
Already a Super Bowl Champion with the Chiefs in his very first season with the team, he will be looking to be a bigger part of the offense and make noteworthy contributions on the field going forward. The 29-year-old's best season came in 2020 when he led the league in average receiving yards with 20.9 after hauling in 33 receptions for 690 yards on the year.
Marquez Valdes-Scantling personal information
| | |
| --- | --- |
| Name | Marquez Valdes-Scantling |
| Age | 29 |
| DOB | October 10, 1994 |
| Nationality | American |
| Mother's Name | Tahisia Scantling |
| Father's Name | Marcellus Scantling |
| Profession | Wide receiver in the NFL |
| Net Worth | Approximately $5 million |
| Height | 6 ft 4 in (1.93 m) |
| Weight | 206 lb (93 kg) |
| Education | Degree in communication |
| Relationship status | Single |
Marquez Valdes-Scantling Early Life
MVS was born on October 10, 1994, in the city of St. Petersburg, Florida. This city is the second largest one in the Tampa Bay area behind Tampa. Growing up, he and his family especially his father and grandfather were very much into American football and they are all fans of the Tampa Bay Buccaneers.
Valdes-Scantling went to Lakewood High School which is a school in the same area of his hometown. He played on the school's football team as a receiver and caught 50 receptions for 800 receiving yards while adding 14 receiving touchdowns in his senior year. There is no additional information regarding his high school football.
In 2013 MVS attended college at North Carolina State University for his freshman and sophomore years and then transferred to the University of South Florida in 2015. However, due to the transfer rules, he was not allowed to participate on their football team that year. He finished his junior and senior years at South Florida.
Overall in his four years of college football, he had 1,832 receiving yards and 12 receiving touchdowns.
Marquez Valdes-Scantling Personal Life
There is not a whole lot of information regarding Valdes-Scantling's personal life. He was born in Florida to parents Marcellus and Tahisia Scantling. As far as siblings are concerned, it has been reported that he has two brothers.
During his spare time, he loves to play video games such as NBA 2K, Fortnite, and more. Being around friends and family is very important to him and loves spending time with them. In addition to this, he enjoys traveling during the off-season and is big into fashion as can be seen from his social media posts.
Marquez Valdes-Scantling Family Background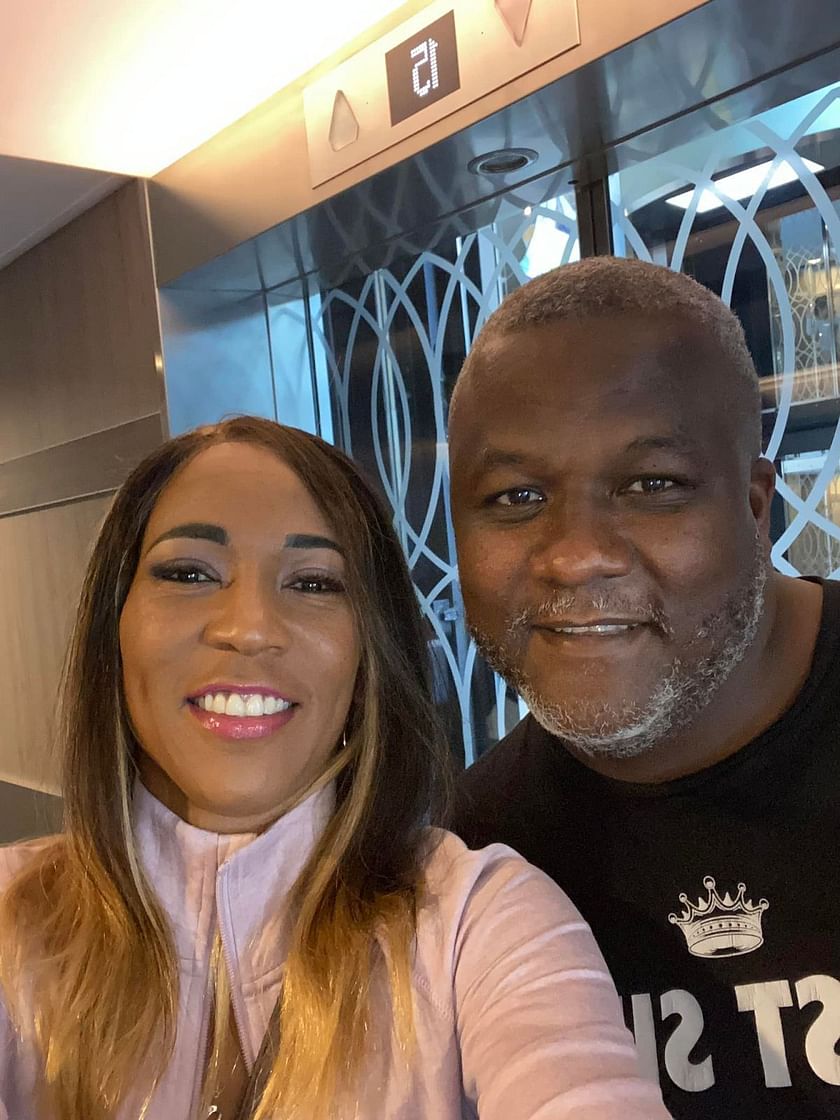 Marquez was born to parents Marcellus and Tahisia Scantling. As per sources and Tahisia Scantling's Facebook account, MVS has two brothers, one older and one younger than him. His parents are residents of Tampa Bay and the family grew up being fans of the Buccaneers.
Marquez Valdes-Scantling Mother
Valdes-Scantling's mother is a very hard-working woman who is a real estate specialist at Right Turn Realty according to her LinkedIn bio. She has had a fundamental education completing her bachelor's degree from St. Petersburg College in Florida and her Masters from the University of North Florida.
She has been a wonderful mother to her children and is proud of what they are accomplishing in life, especially her two older sons who have started their careers. Her support can be seen through her social media accounts where she posts quite frequently. Overall, she seems to have a very happy and friendly personality and is caring towards her family.
Marquez Valdes-Scantling Father
Marcellus Scantling, the father of MVS graduated with a degree in Engineering from Tampa College. Wanting to pursue a business career, he later earned a degree from the University of Phoenix. He is an electrical engineer and got the opportunity to work at the Kennedy Space Center.
Marquez Valdes-Scantling Siblings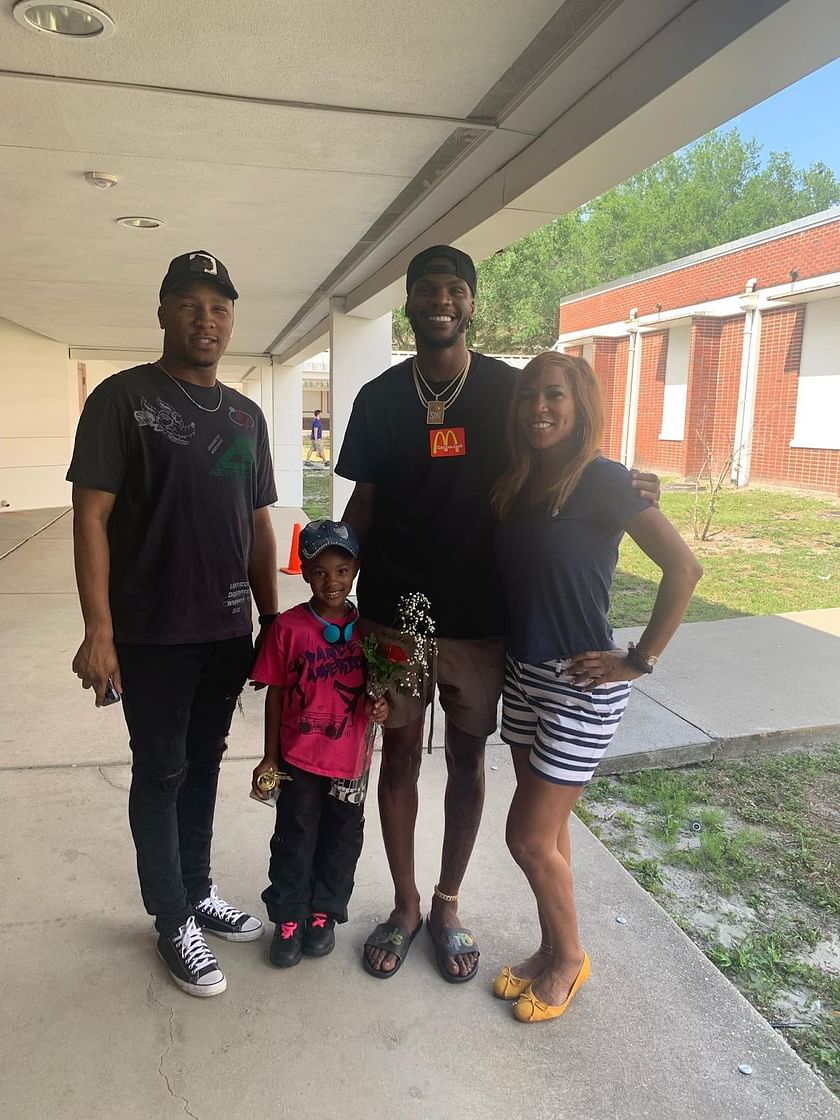 As per sources, the Super Bowl Champion has two brothers named TJ and Aiyden Scantling. TJ is the eldest sibling and has a sense of fashion. He is very much referred to as his mother's twin since they have similar facial features. He is very much into social service and has worked through various channels to educate people about the AIDS condition in the African-American and LGBTQ+ community.
The youngest brother is Aiyden who is still a minor and enjoying his school life.
Marquez Valdes-Scantling Wife
As per various sources, MVS has not been married and is currently single with no girlfriend. It seems that for the moment he has his eyes firmly set on his football career. Having already won one Super Bowl, he seems to be hungrier for more success on the turf rather than off it.
Marquez Valdes-Scantling Kids
There is no evidence to suggest that the Chiefs' wide receiver has any kids. He has not been married and is also not linked with anyone.
Marquez Valdes-Scantling Social Media
Marquez Valdes-Scantling has a good social media presence. He has active accounts on Instagram and Twitter which are followed by 173K and 115.6K respectively. He also has a YouTube channel with 297 subscribers and has his own website. MVS can be followed on the below handles:
@MVS__11 - X (formerly Twitter)

mvs__11 - Instagram

MVS__11 - Youtube
His website is: https://marquez83.com
Marquez Valdes-Scantling Draft
After completing his college career Valdes-Scantling entered the NFL draft in 2018. He was selected in the fifth round with the 174th overall pick by the Green Bay Packers.
This draft is filled with some great players in the modern game such as the number one overall pick, Baker Mayfield, quarterbacks, Josh Allen and Lamar Jackson, linebacker Fred Warner, running backs Saquon Barkley and Nick Chubb, and more.
Marquez Valdes-Scantling NFL Journey
The current Chiefs receiver began his career with the Packers when they drafted him in 2018 and spent the first four seasons of his career at Lambeau Field. As a rookie, he played in 10 games and caught 38 receptions for 581 yards finishing seventh on the list of receiving yards amongst all rookies. In the next three years, he had consistent performances but never really stood out.
In 2022, he then signed a three-year deal with the Chiefs where he caught 42 receptions, his career high till now. He was an important factor in the wide receivers' room of the Chiefs as they went on to win Super Bowl LVII over the Philadelphia Eagles. The 2023-24 season will be his second in Kansas City and sixth overall in the league.
Marquez Valdes-Scantling Net Worth
The exact net worth of Valdes-Scantling is not known. However, several sources reportedly place his net worth around $5 million dollars. He has earned most of his wealth on the football field but has also made some investments which will reward him in the future.
Marquez Valdes-Scantling Brand Ambassador
There are no known endorsement deals that are linked with Valdes-Scantling. Being a wide receiver there is always a chance that he may get some deals in the future but that would depend a lot on his upcoming performances. Brands generally target those players who have and are contributing significantly on the field and who have a large fan following.
Marquez Valdes-Scantling Investments
Off the field, MVS has made quite a bit of investment. The major investment he makes is in the real estate business especially as his mother is a specialist in the field. He is known to own multiple rental properties.
He has also co-founded and invested in a clothing line with his friends known as Sik Selection. The merchandise includes streetwear from shorts, accessories, hats, t-shirts, bags, and more.
Moreover, he has also invested in an esports franchise called Trench Made Gaming and in SPEEDE fitness with other athletes.
Marquez Valdes-Scantling Achievements
MVS is still finding his feet in the professional league. Although he is in his sixth year in the league, he still has much to do in order to be recognized as one of the best and to achieve more on the field. As of now the only real accolade he can boast of is the Super Bowl win from Super Bowl LVII which took place in February 2023.
Still, if he keeps working hard and improving his game, there is no need to believe that he won't finish his career with a few more achievements under his belt.
Marquez Valdes-Scantling Super Bowl wins
With the Kansas City Chiefs, Valdes-Scantling made his only Super Bowl appearance to date in the 2022-23 NFL season. They were able to come out on top after a hard-fought victory over the Eagles and won the game 38-35.
As for MVS, up until the Super Bowl, he had 687 receiving yards in the regular season and 2 receiving touchdowns. He picked up pace in the playoffs catching seven balls for 122 yards and 2 touchdowns.
Unfortunately in the Super Bowl, he was targeted only once but he couldn't come away with the catch. Apart from that he had no significant contribution to the game but luckily for him the team won and he got his first ring.
Marquez Valdes-Scantling Career Stats
Regular season
Year
Team
Games
Receiving
GP
GS
Rec
Yds
Avg
Lng
TD
2018
GB
16
10
38
581
15.3
60
2
2019
GB
16
10
26
452
17.4
74
2
2020
GB
16
12
33
690
20.9
78
6
2021
GB
11
7
26
430
16.5
75
3
2022
KC
17
11
42
687
16.4
57
2
2023
KC
1
1
2
48
24
34
0
Total
77
51
167
2888
17.3
78
15
Postseason
Year
Team
Games
Receiving
GP
GS
Rec
Yds
Avg
Lng
TD
2019
GB
2
0
1
8
8
8
0
2020
GB
2
2
8
148
18.5
50
1
2022
KC
3
2
7
122
17.4
29
2
Total
7
4
16
278
17.4
50
3
Marquez Valdes-Scantling Contract
When MVS joined the Chiefs in 2022, he signed a 3-year deal worth $30,000,000. The contract has $15,000,000 guaranteed money and includes a $6,000,000 signing bonus. His average annual salary comes out to $10,000,000.
Marquez Valdes-Scantling Diet
Being a professional athlete and playing in the NFL means every player has some sort of diet to which they adhere. It must be a similar case for the current Chiefs' receiver but his exact diet plans are not available and thus there is no way to tell what type of diet he follows.
Marquez Valdes-Scantling House
Marquez Valdes-Scantling is believed to have his residence in Liberty, Missouri. His four-bedroom house was listed at $434,900 but the price he actually paid is unknown. The house is known to have a large kitchen and open space for hosting get-togethers.
Apparently, MVS also owns a couple of properties in Tampa, Florida. In 2019 he purchased a fixer-upper in St. Petersburg, his birthplace for $154,600. He also has a $265,000, three-bedroom house in Tampa which he bought in 2020.
Marquez Valdes-Scantling Cars
The car collection of Marquez Valdes-Scantling is unknown as of now. But he did make headlines when he purchased a brand new BMW i8 as a gift for his mother. As per MVS, his mother never asked him for anything even after he made it big in the NFL. She works very hard and he wanted to give her her dream car to show his gratitude for all her support and what she has done for him over the years.
Marquez Valdes-Scantling is a 6-foot 4-inch tall receiver.
Marquez Valdes-Scantling has one ring which he won with the Chiefs in Super Bowl LVII.
Marquez Valdes-Scantling is a member of the 2018 NFL Draft class. He was selected in the fifth round by the Packers.
Marquez Valdes-Scantling is a wide receiver in the NFL currently playing for the Chiefs.
Marquez Valdes-Scantling is popularly known as MVS.