'Good Guy' John (Idzik) drafts 'Good Guys'
In John Idzik's second draft as New York Jets General Manager, he had the blessing of 12 picks bestowed upon him, and was able to show his true colors with the bounty. This weekend we learned much more about Idzik's preferences, or a least a confirmation of what are his. Competition at every position on […]
1.72K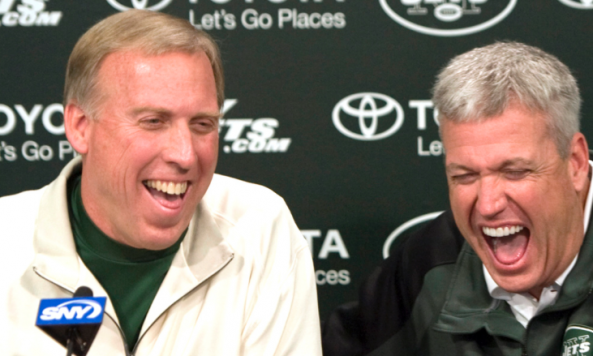 In John Idzik's second draft as New York Jets General Manager, he had the blessing of 12 picks bestowed upon him, and was able to show his true colors with the bounty. This weekend we learned much more about Idzik's preferences, or a least a confirmation of what are his. 
Competition at every position on the field
The first thing a passerby will see, reading the Jets' selections, is the addition of three wide receivers. Going into Day Three, some fans questioned the lack of a first or second round wide receiver, even after an oversized one, TE Jace Amaro, was selected.
The receivers come in different molds. Jalen Saunders (Oklahoma) looks in-size and plays like, Jeremy Kerley. Shaq Evans (UCLA) is a 6'1? receiver that can make space at the line-of-scrimmage, to help get a good jump on a go-route. Quincy Enunwa is the largest of the bunch (6'2?, 225 lbs) and potentially has the highest upside, but comes in with a lacking route understanding.
The Jets drafted a talented offensive guard, Dakota Dozier, to help push last year's three round selection, Brian Winters, who struggled early and often, in 2013. His small school beginnings might not soon matter, if he comes into Florham Park ready to work.
Two cornerbacks are added to the fold at the position, where starting spots are up-for-grabs. Dexter McDougle (Maryland) and Brandon Dixon (NW Missouri State) join the Jets, adding to a loaded depth chart, but perhaps not-as-much in the way of talent—for what we know now.
Character check, please!
Failed drug test? Bye. 
Domestic violence charge? Bye. 
Disrespect towards elderly people? Bye.
The undertone, carried through until John Idzik's final selection, was one of high-character and will-to-be-great. There are fast guys, there are strong guys, but the best guys often rise out of those with humility and leadership. Kurt Warner was an undrafted free agent who worked his tail off, was a severely competitive player, but never forgot his humble beginnings.
The except to the rule perhaps comes in TE Jace Amaro, whose confidence can come off as cocky, and has a mug shot under-his-belt. But, as I'm not psychologist, I'll appreciate him as an 'edge' added to the offense.
The remaining eleven players, at this point, portray hard workers, who may not be flashiest players, but when it comes down to the 4th quarter and someone can will the team to win, anyone can step into that role. QB Tajh Boyd is one of these men.
Other Feelings 
None of these 12 players will allow themselves to lose an arm wrestling math—they're very tough. This is seen from Calvin Pryor's big hits on tape to Dozier's great lower body strength.
To sum it up so far… mentally, they're focused and determined, and physically, they'll push themselves to the edge. 
Finally, speed seems to be on the 2014 menu, from even before the draft in WR Jacoby Ford. McDougle and Dixon were highly regarded in the stopwatch department during their pre-draft workouts. Saunders can burn by you on Special Teams, and Enunwa has deceptive straight-line quickness.
I applaud Idzik sticking to his guns—selecting all twelve picks and drafting guys that fit his image of the team. Nothing here to criticize, just yet, which is swell.