Interview: NFL Network's Ian Rapoport on New York Jets' 2014 Offseason
NFL Network's Ian Rapoport was nice enough to chat with us again, recapping the Jets' offseason, thus far, as well as evaluating the moves that have been made.
Exclusive
04 May 2014, 23:51 IST
1.82K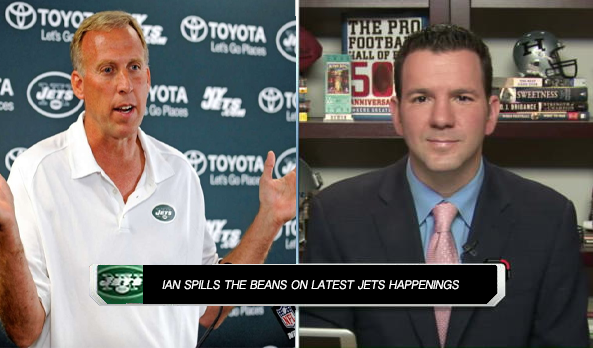 NFL Network's Ian Rapoport was nice enough to chat with us again, recapping the Jets' offseason, thus far, as well as evaluating the moves that have been made. Follow him on Twitter for breaking news and rumors. 
When we last spoke, we talked on what record/performance may 'save' Rex Ryan's job. Did the Jets make the right choice in retaining Ryan? Why or why not? 
– To me, the Jets obviously made the right choice in retaining Rex Ryan. I'm not sure what more he could've done to receive confidence from the ownership. The Jets last year had little talent and a QB who wasn't quite ready. And Rex had them competitive. That being said, I thought they should've signed him to a real extension, rather than the phony one-year extension that only looks like a long-term deal. He deserves better.
The Jets looked to make upgrades at wide receiver this offseason, signing top free agent, WR Eric Decker. In your opinion, can Decker handle a number one wideout role? If not, are the Jets in a position to find a number one in the draft (at 18th overall or otherwise)?
– I liked the move of signing Decker, though they paid a ton for him. That's OK. Not bad to see the Jets overpay every once in a while, breaking free from their league-wise characterization. And to get elite talent in free agency, overpaying is basically expected. Is he a No. 1? I don't know. In Denver, he never had to be. I think he'll get a lot of touches, but may not be doubled like a true 1. That's why the Jets will target exactly that in the draft this year, likely very early.
Fan Question via Ron Pickett: With a deep draft at wide receiver, and less depth at cornerback, could you see the Jets [selecting] CB Darqueze Denard or CB Kyle Fuller [with the 18th pick]?
– I don't hate the idea of selecting a CB in the first round, especially with Rex probably loving that idea. (Side note: I think Fuller will be gone at 18.) But if the Jets have a chance at a truly elite WR at 18 — or even by trading up — I think they have to do it. Rex can make it happen defensively. You can't create out of nothing on offense. Get Geno Smith some playmakers.
We've heard that Marty Mornhinweg may be pushing for a larger role in the offense, prehaps noted by the signing of QB Mike Vick and the apparent interest in WR DeSean Jackson. What were your takeaways from Mornhinweg's play-calling in 2013 and do you think he deserves a greater say?
– If the offensive coordinator isn't the main cog in the offense, I'm not sure what the Jets are doing. He should have a say. I thought he did a nice job developing Geno Smith last year. I also thought Mornhinweg made a bold and correct move, benching Geno Smith when he did, and the way the rookie played at the end was the result of that. I think he deserves to be able to have a strong hand in how the offense is run. But it's clear—as was the case last year with the benching of Geno—that he makes the call on offense.
Continuing on the Vick signing: do you like move for the Jets? Also, do you believe he is here to be a backup QB, or is he truly a 50/50 competitor with Geno Smith?
– Vick is with the Jets to backup, push, and teach Geno Smith. That's how Vick has evolved in his career, to being a savvy veteran who can teach. The Eagles saw that and loved him in the locker room last year. That said, the Jets owe it to themselves to play Vick if he's better. And if Geno falters, he knows Vick is there. So count that as motivation. I don't know who'll bring the Jets home next year at QB. But I know if Vick is better, it'll be him.
Question via OJT writer Jared Chubb: At this stage in free agency, who's pulled ahead in the AFC East—of the Jets, Phins, and Bills? Do any of the three pose a real threat to the Patriots?
– I think they all pose a threat to the Patriots. Absolutely. A lot more depth than last year. Now, will anyone supplant them? It's been years and years since it happened. So I'll say probably not. But we shall see.
Finally, If you had to the rate the Jets' offseason, thus far (and we're making you)—via the 1-10 scale (10=best), where do they fall and why?
– Um… tough one. I guess 6? The Chris Johnson signing was a nice addition. Liked Decker. Missing on DRC stung. And they continue to be difficult to negotiate with and extremely disciplined. But if they pull something big in the draft, it would add to the grade. However, that doesn't account for players currently on the team getting better, which makes this grade not worth much.
Thanks again to Ian for taking the time out to answer our questions, and make sure to catch him on NFL Network and follow him on Twitter for breaking news/rumors: @RapSheet