NFL Draft: Jets grab three more in Sixth Round, including QB Tajh Boyd
Image: Fox Sports Jets continued the Sixth Round, after grabbing CB Brandon Dixon, with three out of five selections, starting at #209 overall. Pick 209: WR Quincy Enunwa (Nebraska) You may not be able to pronounce his last name, but Enunwa (6'2″, 225 lbs) was invited to the NFL Combine, so he's got that over all […]
News
11 May 2014, 02:43 IST
1.71K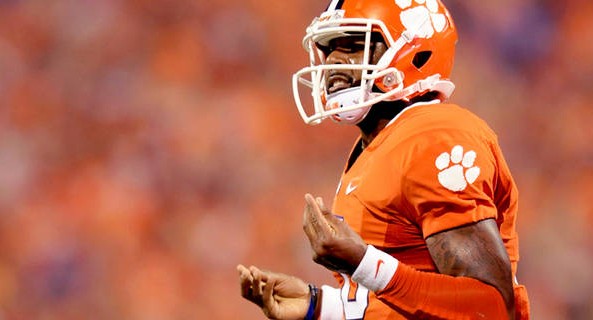 Jets continued the Sixth Round, after grabbing CB Brandon Dixon, with three out of five selections, starting at #209 overall.
Pick 209: WR Quincy Enunwa (Nebraska)
You may not be able to pronounce his last name, but Enunwa (6'2?, 225 lbs) was invited to the NFL Combine, so he's got that over all of us. Enunwa is an eye-talent, as he's built to play the wide receiver position.
NFL.com:"Big, tough, athletic, West Coast receiver who broke out as a senior. Has a mixture of "Z" and "X" traits and could even be viewed as a developmental H-back prospect."
He looks the part, and was a team captain at Nebraska. Jets continue to draft high-character players, a nice change from the toxic atmosphere that recently flooded the locker room. He loves being physical, and he may have the largest upside of any WR drafted by the Jets, this weekend.
---
Pick 210: DE/OLB IK Enemkpali (LA Tech)
IK Enemkpali (EYE-KAY IN-em-PALL-ee) is a Nigerian-born athlete, who is one of those players where you need to know how to use him, before you draft him, a la Michael Sam.
He takes sporting pads and a helmet very seriously, and will give full-effort on most plays. Don't believe me…? Watch the clip.
I'm sure Rex will find some creative ways to let him 'go eat.'
---
Pick 213: QB Tajh Boyd (Clemson)
And boom goes the dynamite. The Jets nail one of the most exciting college players to watch from 2011 and 2012, Clemson's Tajh Boy (6'1?,222 lbs). We had the pleasure of interviewing him before his 2013 season.
Tajh Boyd is a very high-character guy (recurring theme here), with the desire to be great. He's been inconsistent on the college level, mainly due to inaccuracy, but flashes excellence on the run via read-option and bootleg plays. He's able to throw via any arm angle.
Boyd recently participated in Jon Gruden's QB Camp. Gruden said that he plays like a gunslinger, at times, which can be positive, like Matt Stafford on his good days, but can also get a player in trouble with careless mistakes.
Boyd's upside is huge, but, for now, he'll look to compete for the third-string role on the depth chart. Still, with John 'Competition Czar' Idzik at the helm, Boyd has a chance to start whenever he's ready to play. He's in a great scheme to grow in, as Mornhinweg prepares his playbook for Geno/Vick.
---
Having trouble managing your football team? TeamSnap's mobile and web based application makes life easier for players, coaches, and parents. Get organized and spend more time playing.