NFL Draft: Jets select CB Brandon Dixon (NW Missouri St) in the Sixth Round
Image: NW Missouri State Official Site The New York Jets blast off the sixth round (195th overall), by drafting CB Brandon Dixon, out of well-known [not] Northwest Missouri State. Dixon had the fifth-best 40-yard dash time among cornerbacks, at the NFL Combine (4.41 secs). He stands at 5'11″, weighing 203 lbs. That provides for a durable build—a […]
News
11 May 2014, 01:44 IST
1.71K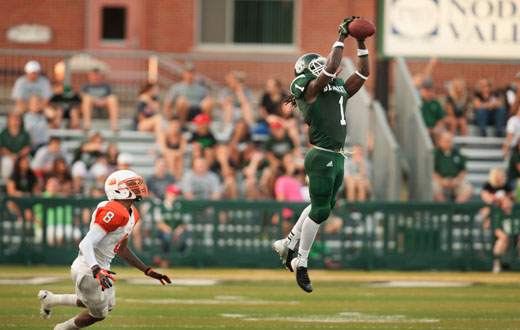 The New York Jets blast off the sixth round (195th overall), by drafting CB Brandon Dixon, out of well-known [not] Northwest Missouri State.
Dixon had the fifth-best 40-yard dash time among cornerbacks, at the NFL Combine (4.41 secs). He stands at 5'11?, weighing 203 lbs. That provides for a durable build—a surprise in a speedier player. Enters the draft as a top-notch Division II player, with the 'level of competition' mantra as his worst weakness.
Thoughts: 
Another very smart play from the Jets. This is a player that plays with Rex Ryan-style toughness. Quick to shed blocks. Recovers quickly on any misstep. He needs to improve his angles and overall football IQ. Idzik type of draft pick—hard worker who may be unfairly undervalued.
We'll group together the next three selections. Dixon's junior college highlights below.