NFL Draft: Jets select OG Dakota Dozier (Furman) in the Fourth Round
Image: AP "Trades…what's a trade?" – John "Laying the Competition Smackdown" Idzik The Jets keeps the offensive wheels rolling, drafting Guard Dakota Dozier with their 137th overall selection. The team will look to groom a guard or two for the future, as Willie Colon is not a young man anymore, and last year's third round […]
News
10 May 2014, 23:09 IST
1.70K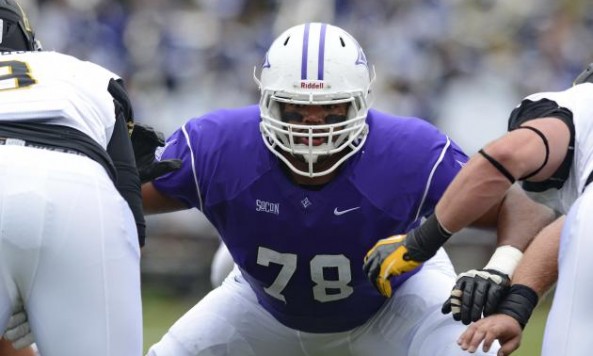 "Trades…what's a trade?" – John "Laying the Competition Smackdown" Idzik
The Jets keeps the offensive wheels rolling, drafting Guard Dakota Dozier with their 137th overall selection. The team will look to groom a guard or two for the future, as Willie Colon is not a young man anymore, and last year's third round selection, Brian Winters, still has a lot to prove.
Dozier (6'4?, 313 lbs.) is a small-school prospect (Furman?), who is extremely athletic for his size. His weight is well-proportioned, as he's able to get a good base on his strong lower body.
In college, Dozier played left tackle, but projects as a NFL guard.
Thoughts: 
I really like this pick. Great time to address the offensive line, finding a massive guy who uses his weight successfully. Most lineman have a learning-curve, entering the NFL, and luckily Dozier can be afforded that luxury. However, I wouldn't dismiss his ability to find himself on the starting roster at some point this season. His upside is beautiful.