NFL Draft: Jets select WR Jalen Saunders (Oklahoma) in the Fourth Round
Image: AP The Jets start Day Three off by selecting Oklahoma WR Jalen Saunders (5'9″, 165 lbs), 104th overall. The team finally addresses the wide receiver position, with a player that has only gotten better and bigger, throughout his college career. NFL Network Reaction: Mike Mayock: "He knows when to get down. He's quick. Can […]
News
10 May 2014, 21:28 IST
1.69K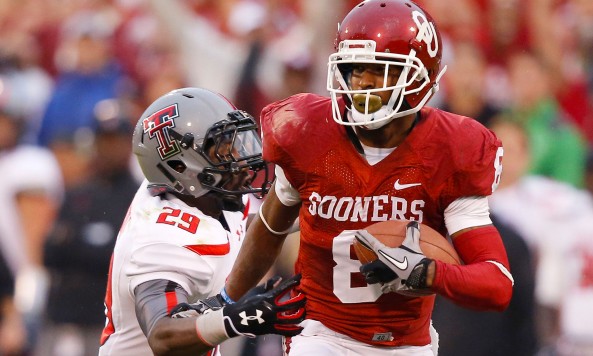 The Jets start Day Three off by selecting Oklahoma WR Jalen Saunders (5'9?, 165 lbs), 104th overall.
The team finally addresses the wide receiver position, with a player that has only gotten better and bigger, throughout his college career.
NFL Network Reaction
Mike Mayock: "He knows when to get down. He's quick. Can play in the slot or on the outside.
Charles Davis: "Best thing about him: the return game."
My Thoughts
I like that Saunders is always looking for the ball. Smaller receivers can sometimes be afraid to go across the middle of the field, but Saunders is not. Could stand to continue to add bulk to his frame. Nice student for Jeremy Kerley—I see similarities in their play, beyond stature.
This is the selection that the Jets received in the Darrelle Revis trade with the Tampa Bay Buccaneers, closing that chapter in Jets Nation.
We will have a lengthier analysis on each of today's picks, later today.