NFL Draft: Jets select WR Shaq Evans (UCLA) in the Fourth Round
Image: AP Their second selection of the fourth round (115th overall), the Jets add another wide receiver, Shaquelle Evans (6'1″, 213 lbs), out of UCLA. Evans was considered one of the better remaining wide receivers left on the board, by many outlets. CBS Sports on Evans: Controlled off the line of scrimmage and understands how to […]
News
10 May 2014, 22:00 IST
1.69K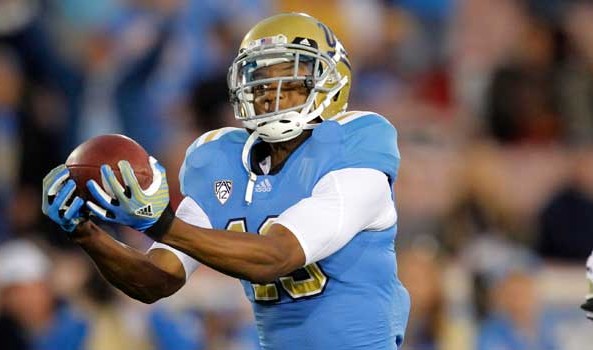 With their second selection of the fourth round (115th overall), the Jets add another wide receiver, Shaquelle Evans (6'1?, 213 lbs), out of UCLA.
Evans was considered one of the better remaining wide receivers left on the board, by many outlets.
Controlled off the line of scrimmage and understands how to beat press coverage with quickness and strength. Not afraid to get physical in his routes. Extends well to pluck and will corral off-target throws. Needs a few steps to reach his top-end speed and won't be a guy who can consistently separate with average route quickness.
Thoughts:
Evans is a solid pickup for Gang Green, as they continue to look for support for young Geno Smith. Refreshing, honestly. Evans is a reliable target, with the potential to be the downfield threat that the Jets are looking for.
Look for more analysis on all Day Three picks, later today.