NFL 2017/18: Taysom Hill seeing playing time with Saints
The story of Taysom Hill is the most interesting one in the National Football League right now. Here's why.
Feature
07 Dec 2017, 10:21 IST
1.03K
Taysom Hill had not seen the field until the New Orleans Saints' 31-21 win on Sunday against the Carolina Panthers. The injury-prone quarterback out of Brigham Young (BYU) recorded two tackles in the game.
The undrafted rookie was originally picked up by the Green Bay Packers. Hill saw little but consistent playing time in the preseason for the Packers, averaging 50 passing yards and 24 rushing yards per game.
With a 70% completion percentage, Hill looked like a steady practice squad player or possibly even a third-string option. When all was well for Hill, the press was surprised to hear that the Packers decided to drop the 27-year-old rookie.
Hill's hopeful return
Hill's success did not go unnoticed during his time with Green Bay. Shortly after coming up short of making the team's final roster, the Saints picked him up. Although #7 seemed to be a promising young talent, Drew Brees, obviously, had the starting quarterback role, and Chase Daniel seemed to be the next best option.
Sean Payton's surprising decision
It was Sunday night in the Mercedes-Benz Superdome during the second quarter when Taysom Hill, the third-string quarterback, walked out with the punt team. Unknown to the public, Saints head coach Sean Payton supposedly had been looking for an opportunity to give Hill some time during a special teams play, as he has a huge frame. He stands 6'2" and weighs 221 pounds. Plus, he runs a 4.44-second 40-yard dash.
Hill made sure he could prove himself when given this small shot. The rookie followed up his first tackle with another during the kickoff to start the second half and came close to blocking two punts. 
Not only did Hill's tackles show off his athleticism, but they resulted in explosive hype from himself, players, and announcers. FOX broadcaster Troy Aikman expressed his love for Hill during the game when he said, "We've had the Saints two of the last three games, and in our production meetings with Sean Payton, we've spent more time talking about Taysom Hill than any other player on this roster," according to NOLA.
It's not hard to fall in love with Hill, especially after witnessing the emotion he expressed after his big tackles. His teammates, coaches, and the announcers were all over him after his milestones.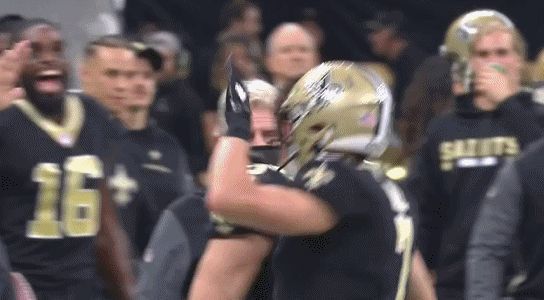 Everyone in the Saints organization can see Hill's dedication and hard work during practice, which makes it hard to not be happy for him. Drew Brees showcased his respect for Taysom during the post-game conference (video from NOLA).
"Taysom Hill, man, what a stud," Brees said, according to NOLA. "I was really happy for him. You always say, the more you can do, right?"
Hill's response to his first NFL action
If you were watching the game on December 3, you could not miss how electrified Hill was after making the stops on kick and punt coverage. The special teams fill-in shared his experience during the post-game conference.
"I showed up Wednesday morning to a team meeting, and everyone was kind of laughing at me, 'Hey, you're on special teams.' I looked at the card and sure enough my number made the special teams depth chart," Hill said, according to NOLA.
What's next for Taysom Hill?
Barring a devastating injury to Drew Brees, Sean Payton stated that Hill will most likely return to special teams. Even so, the coach also stated that Hill is the team's future quarterback, has immense potential, and will take over once the "Drew Brees Era" concludes.
Brees is approaching 39 years of age, which means Hill's future may be here faster than expected. For now, let us hope he keeps the same energy on special teams, affecting the team on and off the field.