The Idzik Touch: A review of Jets GM John Idzik's previous draft involvement
Hey @nflcommish, we're running on fumes here! Rich Cimini's so pressed for material, he put out an article on the history of the 18th pick, yesterday. It was dreadful to put it mildly — the poor guy. It's draft week, and Thursday kicks off the first round — which I'm quite sure will be from […]
Feature
07 May 2014, 18:51 IST
1.73K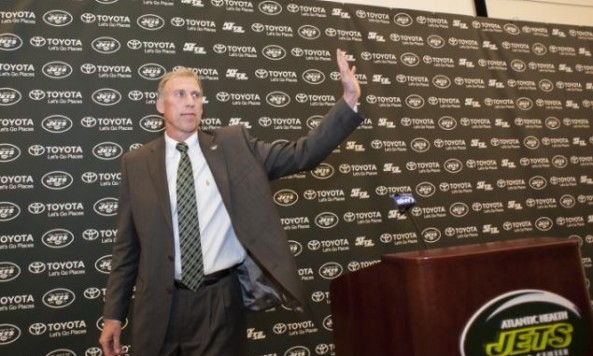 Hey @nflcommish, we're running on fumes here! Rich Cimini's so pressed for material, he put out an article on the history of the 18th pick, yesterday. It was dreadful to put it mildly — the poor guy.
It's draft week, and Thursday kicks off the first round — which I'm quite sure will be from the 35 yard line, though the tentative nature of the NFL leaves room for uncertainty. Friday will hold rounds two and three, followed by rounds four through seven to wrap up festivities on Saturday.
With just days until teams turn in first round draft cards, let's slide John Idzik under the microscope to see if any observations can be made in twisting the 'fine adjustment knob' of his draft history into focus. If not to draw any definitive conclusions, John Idzik's history may unveil a greater assimilation to his thought process and ability to evalutate talent at the NCAA-NFL juncture.
Most of you Jets fans who follow the team, to at least a moderate degree, know the name John Idzik. You're probably even aware that John was previously of the Seattle Seahawks — the newly crowned Super Bowl Champions, Seattle Seahawks. If this holds true, it may be safe to further assume that the extent of his involvement in Seattle's personnel decision making is not fully understood.
John Idzik was the VP of Football Administration with the Seattle Seahawks from 2007 through 2012. In this position he hosted a lengthy list of job responsibilities including, but not limited to, player personnel transactions, player evaluations, and day-to-day football operations. John also played a key role in draft-time decision making, though there's no instrument to measure how deep of an imprint he left.
But I do think it's safe to say the Ivy Leaguer — who earned his undergraduate degree from Darmouth (magna cum laude) and master's degree from Duke — has the wits about him to observe, interpret, and apply his experience in Seattle effectively.
Hence, the quick turn around of the Jets and newfound salary cap comfort.
Seattle Seahawks notable draft selections from 2007-2012
---
2007 Draft- 8 Selections
Brandon Mebane (3rd round)- DT; eigth season.
---
2008 Draft- 7 Selections
Red Bryant (4th round)- DE; six seasons with the Seahawks; will play in Jacksonville in 2014.
---
2009 Draft- 7 Selections
Max Unger (2nd round)- C/G; sixth season; All Pro in 2012; Pro Bowler 2012, 2013.
---
2010 Draft- 9 Selections
Russell Okung (1st round)- OT; fifth season; Pro Bowler in 2012.
Earl Thomas (1st round)- FS; fifth season; All Pro in 2011, 2012, 2013; Pro Bowler 2011, 2012, 2013.
Golden Tate (2nd round)- WR; spent four seasons with Seahawks; will play in Detroit in 2014.
Walter Thurmond (4th round)- CB; spent four seasons in Seattle; will play with the Giants in 2014.
Kam Chancellor (5th round)- SS; fifth season; All Pro 2013; Pro Bowler 2011, 2013.
---
2011 Draft- 9 Selections
James Carpenter (1st round)- OG; fourth season.
Richard Sherman (5th round)- CB; fourth season; All Pro 2012, 2013; Pro Bowler 2013.
---
2012 Draft- 10 Selections
Bruce Irvin (1st round)- OLB; third season.
Bobby Wagner (2nd round)- LB; third season.
Russell Wilson (3rd round)- QB; third season; Pro Bowl 2012, 2013.
Robert Turbin (4th round)- RB; third season.
---
At first glance, you may notice each and every draft consists of at least one player on the current roster, if not multiple. Seattle's volume of selections may also jump off the page—huh Jets Nation? We can't exactly say the same for ourselves.
Of his six years in Seattle, John Idzik never had fewer than 7 selections. And aside from his first season, the Seahawks had as many or more draft picks than the year prior. Not to say this trend was intentional, but it screams of the theme, 'the more picks the better!'
Now look a little deeper (Beckham and Cooks fans, please look away)
Sorry to be the bearer of bad news, but John Idzik hasn't been part of the drafting of a first round wide receiver since 2004, when Arizona selected Larry Fitzgerald. That's not to say that a receiver is out of the realm of possibility on Thursday. Just don't get your hopes up, because you know better. The decision-making process is simple.
Which player makes the team instantly better?
And here's to the junkies: What do Russell Wilson, Bruce Irving, Bobby Wagner, and even our own Sheldon Richardson all have in common?
They excel through tremendous skillsets without possessing ideal/prototypical size. There is a consistency here in the way that John Idzik drafts players. The evaluating is geared in favor of the skill-set, rather than the fitting of a physical mold. Seattle is also notorious for having large defensive backs, with the likes of Kam Chancellor and Richard Sherman. This against-the-grain approach has become the newest paradigm of the NFL, precipitating the reevaluation of the current how-to-build-a-team blueprint.
And as the saying goes, 'where there's a will, there's a way'…
Well, 'Where there's a 'hole', there's John pulling up in a dump truck full of draft picks!' — of course the dump truck has limo-tint because that's how John rolls. Stealthily.
---