Mortal Kombat is a "bloody" good gaming franchise for many players, making the fact that a fair share of GTA 5 mods are dedicated to it unsurprising. The better modifications are usually tied to the series' features and beloved characters.
Some quality options are locked behind a Patreon, while other lesser ones are available for free elsewhere. This listicle will feature some pretty nifty GTA 5 mods that can be used for whatever hardcore ideas the player has in connection to Mortal Kombat. These entries won't just focus on a single title within the series.
Note: This list will only feature modifications tied to the MK franchise. Useful peripheral mods won't be prioritized since they're more general and not necessarily tied to this series. Some aspects of this article are subjective.
---
Five cool GTA 5 mods related to Mortal Kombat (2023)
1) Scorpion GrandMaster(W/MetallicEffect) MK11
The character model for the Scorpion GrandMaster(W/MetallicEffect) MK11 GTA 5 mod was made by MTN 4456, but some of the other modifications shown in the above video came from JulioNIB. Both modders have Patreons, which is where gamers can get some of these cool Mortal Kombat mods.
Scorpion is one of the faces of the franchise. His "Get over here" catchphrase is incredibly iconic, although you won't hear him say it a bunch of times in Grand Theft Auto using this Scorpion GrandMaster(W/MetallicEffect) MK11 mod. There are F2P variants of the popular character's model that can be found online. However, it's likely that their quality will be lower than this Patreon version.
---
2) SubZero - Mortal Kombat X
GTA5-mods.com has several free modifications that some players might be interested in. This one features Sub-Zero, a rival of Scorpion. More specifically, it's a model swap that shows off his MKX outfit.
Since this is just a character design, players are highly encouraged to get some add-ons that feature gore or other relevant features connected to Sub-Zero since this one won't include those things. Even if one decides not to do that, every fan of Mortal Kombat will likely appreciate having Sub-Zero's chilling model in GTA 5, especially when it looks good by the game's standards.
---
3) Noob Saibot Mortal Kombat [Add-On Ped / FiveM]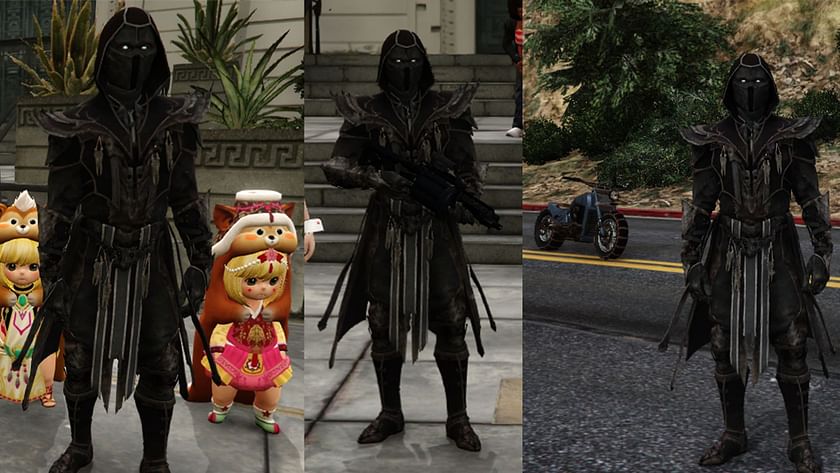 Noob Saibot, Bi-Han, and Elder Sub-Zero are all aliases that some fans might recognize for this character. He was the original ice user in the first game but would later become more popularly known as Noob Saibot. Either way, he's easily recognizable based on his edgy outfit.
This modification is tied to the Lost Sensei Discord group, although joining it is not required to receive this Noob Saibot model from GTA5-mods.com.
---
4) RoboCop MK 11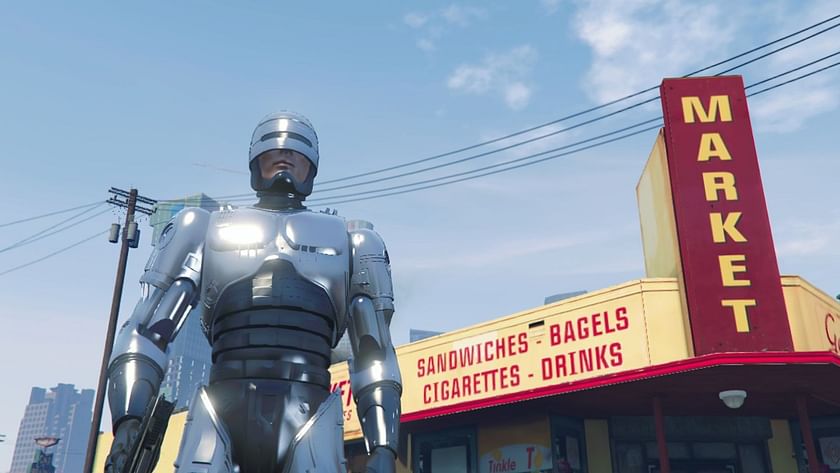 GTA 5 mods often feature weird collaborations. This one presents RoboCop. This makes it a crossover of another series' crossover character, which can be a bit strange to think about. Besides that, it's worth noting this model was imported from MK 11, and it looks great.
RoboCop was a playable character in the Aftermath DLC of that game. Outside Mortal Kombat 11, he was an iconic figure in the popular RoboCop trilogy. Like many other modifications, players are recommended to use OpenIV to install MK 11's RoboCop.
---
5) Fatality Sound Clip
One of the most famous sound effects in the Mortal Kombat series is the announcer stating, "Fatality." It would be repetitive if this clip was played every time the gamer eliminated an NPC, so that's why this mod only plays it when the player gets Busted or Wasted.
It makes a lot of sense to hear that word when you get Wasted, although it feels off hearing it as you're getting Busted. Nonetheless, it's easy to avoid getting arrested in this game, meaning that this GTA 5 mod should still be pretty simple to use.
Edited by Soumyadyuti Ghosh