The final installment of GTA Online's Los Santos Drug Wars DLC The Last Dose is just a few days away from release. In the drip feed system of this update, it was revealed that there would be 13 cars released under the DLC's umbrella. These include:
Declasse Tulip M-100 (Muscle)
Declasse Tahoma Coupe (Muscle)
Toundra Panthere (Sports)
Weeny Issi Rally (Rally)
Zirconium Journey II (Vans)
BF Surfer Custom (Vans)
Overflod Entity MT (Super)
MTL Brickade 6x6 (Acid Lab)
Manchez Scout C (Motorcycle)
Ocelot Virtue (Supercar)
Karin Boor (Off Road)
Willar Eudora (Muscle)
Karin Hotring Everon (Sports)
Interestingly, Rockstar Games took their own sweet time with the process of releasing these vehicles into GTA Online. So far, 10 cars have been introduced to the game from the aforementioned catalog, with one of the three unreleased vehicles being the Ocelot Virtue.
---
Everything about GTA Online's upcoming Los Santos Drug Wars car, the Ocelot Virtue
The Ocelot Virtue is an armored supercar that seats two people. It's based on the real-life hypercar Lotus Evija and boasts a sleek and stylish design.
On March 9, 2023, Rockstar Games released a 30-second teaser on all of their social media accounts to inform the community about the upcoming release of the second part of the Los Santos Drug Wars DLC, The Last Dose.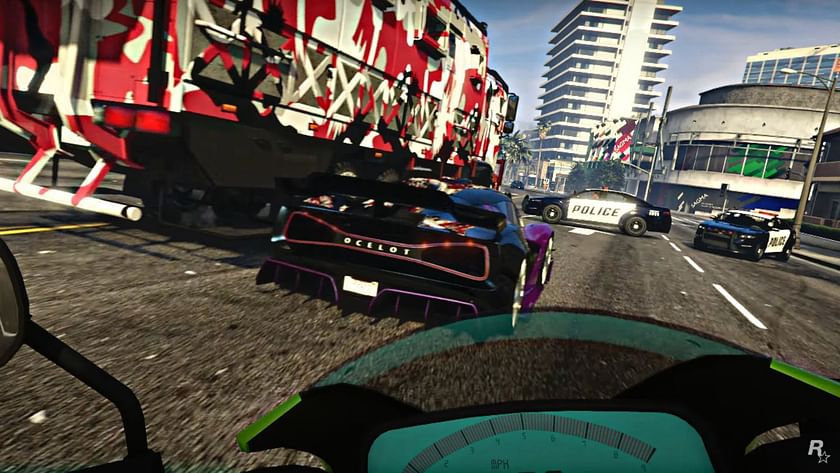 In a short clip for the update, the Ocelot Virtue was featured for a brief period of time riding alongside the MTL 6x6 Brickade. This made fans hopeful about the inclusion of the supercar in the upcoming GTA Online update.
According to the game's files, the Ocelot Virtue is capable of reaching a top speed of 99.82 mph or 160.65 km/h. However, the actual speed of cars released in-game tends to be much faster, so players can certainly expect those numbers to increase.
Furthermore, the Ocelot appears to be an Imani Tech vehicle. This means that it can be customized at the Agency Workshop, allowing players to fit Missile Lock-On Jammers in this car to shield it from Homing and other missile locking systems. Additionally, the Ocelet has an option for extra Armor-Plating and can even be turned into a Remote-Controlled vehicle.
---
When it's officially released, the Ocelot Virtue can be purchased from the in-game website of Legendary Motorsport for a sum of $2,980,000. Although there's the availability of a lower Trade Price of $2,235,000 as well, the unlocking method for this option is currently unknown. It's widely speculated that completing all of The Final Dose missions will grant players access to the car's discounted price tag.
After obtaining this vehicle, if players want to sell it for some reason, the Ocelot Virtue can be sold for $1,788,000 in its base version and will fetch you $1,916,050 if you sell it with with maxed-out upgrades in GTA Online.