The GTA Online Smuggler Sell Missions, popularly known as Air Freight Cargo, is one of the most profitable businesses in the game. While it has been in the multiplayer title since August 2017, many players despised it for being too slow and tedious. However, Rockstar Games has been frequently improvising the Hangar business, and it became the highest rewarding business in the game after the San Andreas Mercenaries DLC.
While most veteran players have already set up their Hangar businesses, newcomers are still skeptical about its functionalities. This article provides a brief guide on GTA Online Smuggler Sell Missions and how to earn maximum profits from them.
Note: Some parts of this article are subjective and only reflect the writer's opinions.
---
Everything to know before starting the Smuggler Sell Missions in GTA Online in 2023
The Smuggler Sell Missions are the primary source of income from the Hangar business in Grand Theft Auto Online. These are sourcing and selling jobs that players can do solo or with associates under their organizations. Rockstar Games offers eight different types of cargo that can be traded through the Free Trade Shipping Co. portal. They are as follows:
Narcotics
Chemicals
Medical Supplies
Animal Materials
Art & Antiques
Jewelry & Gemstones
Counterfeit Goods
Tobacco & Alcohol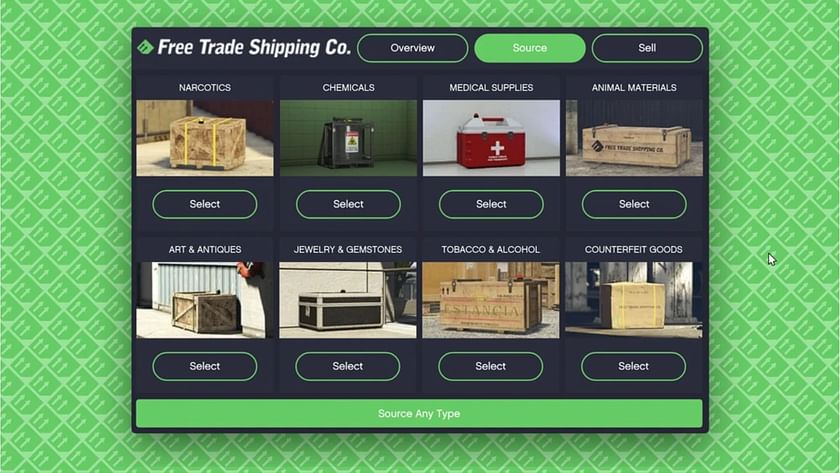 GTA Online players can store and sell up to 50 crates of each type of cargo. While any type can be sourced and sold randomly, the community strongly recommends gathering only one type to maximize profits. Rockstar Games added a hidden bonus to each variant of cargo that applies when players gather certain amounts of it. The following table will help you understand the bonus amount associated with each type: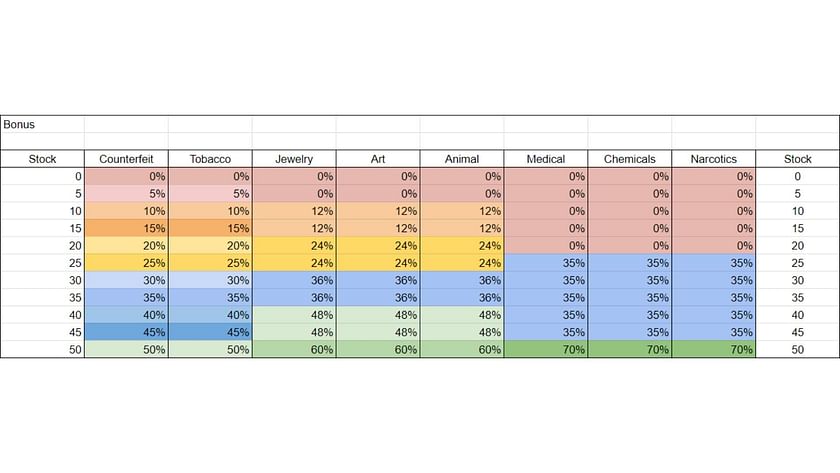 As per the table, Medical, Chemical, and Narcotics are the most profitable types of cargo that offer an additional 70% bonus for full stock. Therefore, players should try to collect these three as fast as possible. Rockstar Games permanently tripled the crate values after the GTA Online December 2022 update, and they now pay the following amounts: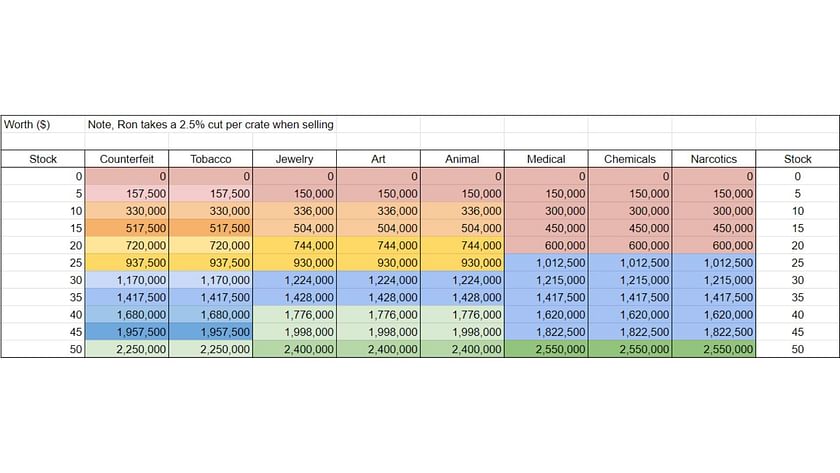 It should be noted that Ronald "Ron" Jakowski takes a 2.5% cut from each Sell Mission. Therefore, players are advised to sell their stock only in higher quantities. Rockstar Games is also offering double money and RP reward on Smuggler Sell Missions after the GTA Online Independence Day update. Those who have enough stock in their Hangars must sell them this week to grab the deal.
While some resort to GTA Online money glitches to make profits in the game, the Smuggler Sell Missions are a genuine and harmless alternative that can make you a millionaire.
Many Grand Theft Auto 6 fans are also expecting to see the business in the upcoming title.
Poll : Do you own the Hangar business in GTA Online?
15 votes