With a professional MMA record of 8-5-0, Paige VanZant is currently under contract with Bare Knuckle Fighting Championship. Raised in Dundee, Oregon, VanZant revealed was bullied as a child. Her tomboy instincts led her to martial arts, as she wanted to have the ability to defend herself.
"At first, I didn't think there was a correlation, but now I look back at the bullying as one of the reasons I did like fighting. If that happens again, I can defend myself. I guess I have to thank the people who did those things to me because without them I don't think I would have become a fighter." -" VanZant said to RGJ's Chris Murray
In 2011, "12 Gauge" as nicknamed by her father started her MMA career training at former UFC champion Ken Shamrock's gym. She was signed by the UFC in 2013 and made her promotional debut as one of the thirteen women in the newly created strawweight division. Her debut got pushed back multiple times due to injuries as she finally marked her presence in the promotion by a TKO victory over Kailin Curran.
In 2017, after VanZant suffered a submission loss to Amanda Ribas, it was announced that she would be signing a four-fight exclusive contract with Bare Knuckle Fighting. The contract was reported to be over $1 million. She lost her debut bout against Britain Hart via unanimous decision.
Outside of the cage, the grappler also appeared on season 22 of Dancing with the Stars where she was paired with Mark Ballas.
Also Read: Why did Paige VanZant get cut from the UFC?


Who is Paige VanZant's husband, Austin Vanderford?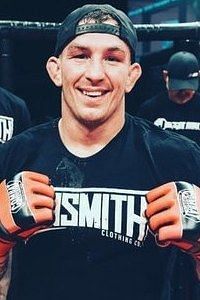 Source -
Sherdog.com
Like Paige, Austin Vanderford is a Mixed Martial Artist. Currently, under contract with Bellator, he is a purple belt under Fabiano Scherner. "The Gentleman" has a perfect 11-0 professional MMA record. His last fight was against Fabian Edwards at Bellator 259 where Vanderford won via unanimous decision.
Raised in Santa Rosa, California, Vanderford started wrestling at the age of five and has been an NAIA All-American and a National Champion. UFC fans might've spotted Vanderford when he got a win against Angelo Trevino in the 2018 edition of Dana White's Contender Series.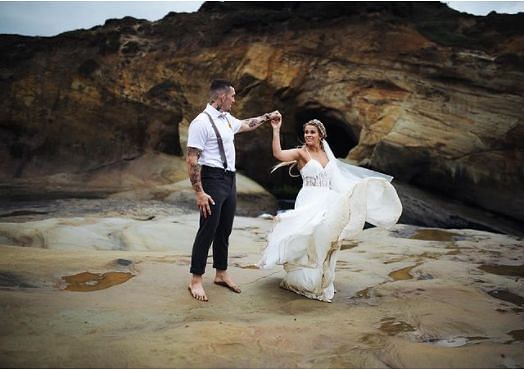 Source: Paige VanZant's Instagram
In an interview with Ariel Helwani, Paige VanZant revealed how Chael Sonnen set the couple up
"That is absolutely true and Chael was one of the instigators behind the wedding,"
"I don't know if he was trying to set us up but he said 'hey, there's an extra seat, to sit next to your teammate', I knew about him, cause we were on the map periodically together, but yeah we sat next to each other and I tricked him into going out to eat afterwards,"
Austin Vanderford revealed his side of the story to MMADigest,
"Chael kinda helped out and set us up with kind of a date sort of thing and it's history ever since"


Check out: What is Paige VanZant's BKFC contract?
How long have Paige VanZant and Austin Vanderford been together?
The couple met in 2017 and have been dating since. To let the world know, Vanzant posted the following photo on her Instagram with the caption "Mine…. @austinv170"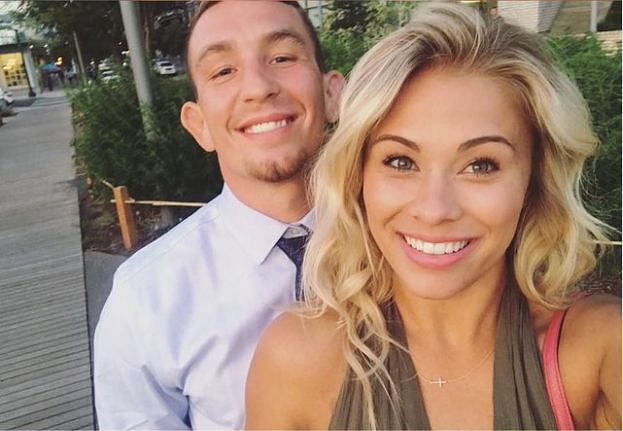 Source: Paige Vanzant's Instagram
The two walked down the aisle in September 2018 and have been together ever since.
FAQs
Q. Where is Austin Vanderford from?
Austin Vanderford is from Portland, Oregon, United States.
Q. How tall is Austin Vanderford?
Austin Vanderford is 5 ft 11 in (180.34 cm) feet tall.
Q. How old is Austin Vanderford?
Born 21st March 1990 Austin Vanderford is 31 years old.
See here: 5 current MMA stars who are in relationships with fellow fighters
Last Updated: July 20, 2021