Draft Feature: Analysis of TE Jace Amaro, the Jets' second round pick
Tight End Jace Amaro is a college stand-out, who hopes his size can continue to cause mismatches in the NFL. Analysis is broken-up into four pages (3 Games, Final Thoughts). I?ve reviewed three games worth of film on Jace Amaro with Texas Tech (2013), in which he faced the tougher defenses of his collegiate career. [?]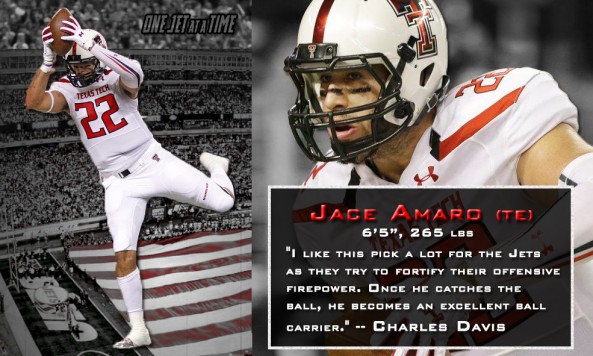 Tight End Jace Amaro is a college stand-out, who hopes his size can continue to cause mismatches in the NFL.
I've reviewed three games worth of film on Jace Amaro with Texas Tech (2013), in which he faced the tougher defences of his collegiate career. I use this sample to illustrate the type of player Jace Amaro has been, and he how projects at the next level. Stats can help illustrate messages, but they don't always tell the entire message. We'll be focusing our attention on how he plays.
Tape reviewed via DraftBreakdown.com, so a big shout-out to them for great content.
Game One: University of Oklahoma – Oct 25, 2013
The first game I chose to review happens to be against the team that finished the season best in Total Defense (20th, NCAA.com), of the four. 
My notes From Jace Amaro vs OU
- Physical: Amaro was a physical presence in the game, daring opposing defenders to try to bring him down or jam him at the line of scrimmage.
- Big Play Machine: Texas Tech got a spark when he caught the ball, as Amaro made good use of his receptions—fighting for extra yardage. He did extend one ball into the end zone for a called no-score, even though he was clearly in (see above image). So add one TD to his college production, if you wish.
- Blocking: He needed to get lower on his blocks, despite showing good core strength.
- Routes: His blocking mechanics were still better than his route-running execution, which was surprising to me, to say the least. I constantly saw Amaro get bullied by double coverage; he had a lot of trouble with finding space.
- Arm Strength: Amaro had one ball stripped with him in the game; that really doesn't need to happen. You wrap the ball up, and fall to the ground. This isn't a fragile guy—any turnovers in the NFL will be inexcusable. He needs to get stronger, which shouldn't be that hard with his build.
- Temperament: Amaro played the game frustrated. The quarterback play was pathetic, and, as a result, he seemed to stop trying to free himself in coverage if he couldn't get open after a few ticks on the clock. This could be the offensive equivalent of the questions surrounding J.D. Clowney and his motor. Will Jace Amaro rise to the occasion when things fall apart or fall with them? That, I have concerns with. But the talent is there and he looks the part.
Overall takeaways
I was honestly disappointed in the way Amaro played. I saw an inconsistent player with a size advantage that was not being utilized as much as possible. However, I was pleasantly surprised about his will to find people to block.
Game Two: Texas Christian University (TCU) – Sept 16, 2013
TCU is another school that possesses a formidable defence (ranking 24th in Total Defense, this past season).
My notes from Jace Amaro vs TCU
- Durability: Amaro took two back-to-back big hits (the first being the larger of the two) with bout 5:30 to go in the 2nd Quarter. Despite showing some shortness of breath, Amaro sucked it up and played the rest of the game. He's a tough cookie.
- Quitting: Once again, I saw Amaro giving up on plays. His QB was be dancing around (for no reason) in the pocket, but Amaro would refuse to adjust his route to help make a play out of the mess. However, I saw his teammates doing the same thing, so maybe this is a flaw in coaching that will change as he is coached-up by Rex and company. You're not always going to like how your QB plays, but you can help get him out of his cold-streak.
- Adjustments to the ball: This is both a positive and negative. At 6'5″, 265 lbs, Amaro gives QBs a wide radius to throw the ball to. He demonstrated this 'window' as his QB often threw to him when in-traffic. Amaro was not being throw open, yet he was still catching some of the balls thrown his way. However, he shares in the blame for not positioning himself in the best places to make a catch. Don't cut routes short in-between defenders!
- Laying the Smackdown: Jace Amaro becomes a bulldozer when he gets momentum going downfield. His ability to burst through opponents' secondaries (a la Jimmy Graham), makes up for a good portion of his deficiencies within the Front-7′s territory.
Overall takeaways
Again, we see Jace Amaro encounter some fundamental struggles in this game. The stat books say Amaro had a good game, with nine receptions for 97 yards, but the game tape shows that he was being contained by the opposing defence. I just don't like seeing potential left on the field, but he continues to show the flashes.
Game Three: Arizona State – December 30, 2013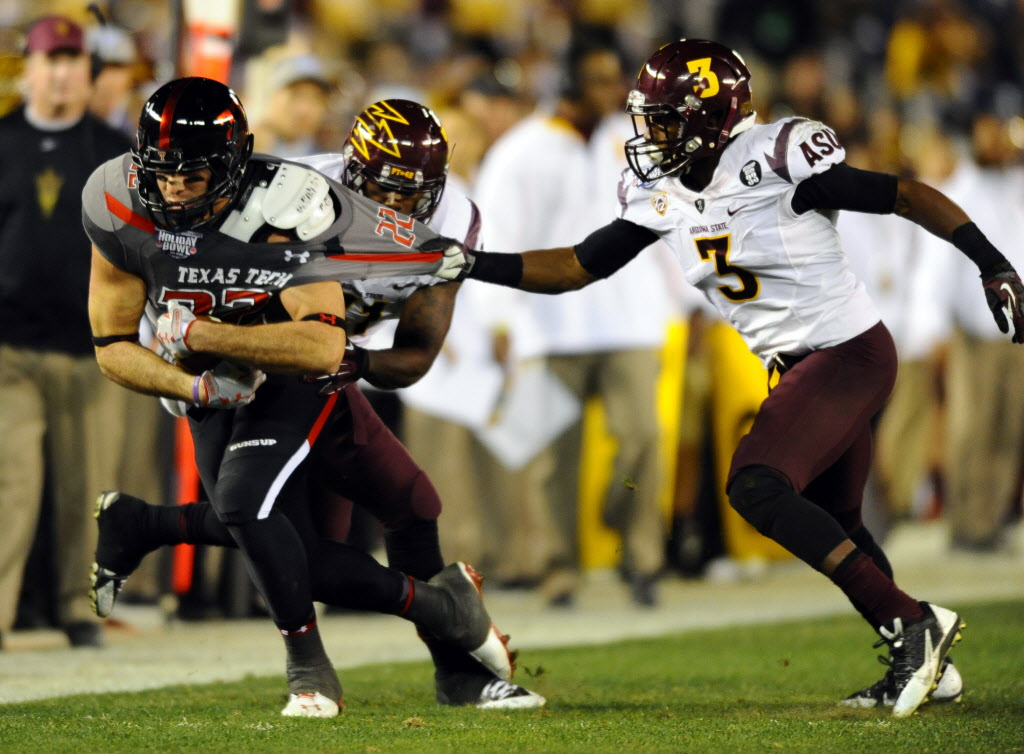 The final game I watched came against Arizona State, not as defensively talented as the previous two, but still ranked in the top-50 in Total Defense.  Also, this game provided higher stakes: Amaro's last game at TTU—the Holiday Bowl. 
My notes from Jace Amaro vs Arizona State
- Toughness: The Holiday Bowl was a great showcase of Amaro's notable fortitude. Whether fighting for space along the sidelines, constantly looking for people to block, or just pulling defenders away to free up other receivers, Amaro played great in the spotlight.
- Don't rely on the mismatches: Yes, Amaro towered above Arizona State's defence, but showed his affinity for trusting in his size above fundamentals. Being the biggest guy on the field won't cut it in the NFL; there's a reason for all the practice time.
- Single coverage? You'll pay: Arizona State use the least amount of Tony Gonzalez-type double coverage among the three sample teams. The result came in eight receptions for 112 yards. These stats were earned more-so than versus TCU. Amaro's routes were crisper, and his temperament was more consistent, while not sacrificing aggressiveness.
Overall takeaways
This was Jace Amaro's best game on tape of the three I studied. He showed the physical, passionate brand of football that we hope to see with the Jets. While too heavily relying on size as opposed to technique, Amaro did show progression in his play, a nice bookend to a productive college career.
What I think of the Jets' second round selection
As a second round pick, I am more than happy with the value he brings in falling to the Jets. However, the tape leads me to stay away from Amaro Brand Kool-Aid. I'll at least drink it very minimally, knowing I have to drive home later.
In 2014, I expect that Amaro may put on one of his better season performances, in that he will have better QB play than he did with Red Raiders (keeping the college vs NFL perspective in mind), and should benefit from not being the number one feature of an offence.
Still, I see a lot of flaws in the way that Jace Amaro runs and ends routes, and gets top-heavy – falling down after catches and blocks with his upper arms. I also think he could stand to be injected with some humbleness, which this new-look Jets locker room may be able to provide.
I believe he needs refining in more areas than his appearance would give off.
All negatives aside, though, I love his aggression and passion for the game, which can definitely bring "Play Like a Jet" to the forefront on offence.