It's time to talk about the AFC. We went through the NFC in depth last week, going through the four divisions and pointing out one area each team could/should still be looking to address. Today we will run through the 16 franchises on the opposite side of the table and explain how I was led to my choice for each of them.
Once again, this can be a proven starter, specific role player or general depth at a position, depending on what the state of the roster looks like and how ready they are to compete. However, since you're not going to find a franchise quarterback or star pass-rusher at this point of the calendar year, I wanted to stay realistic here and point out an asset they could actually still acquire via trade or among the few veteran names available on the open market.
If you haven't done so yet, make sure to also check out my divisional draft and roster review series, where I broke down every single pick made by all 32 teams, laid out what role they would fulfill for their new squad and discussed the classes as well as their approach to roster construction as a whole.
•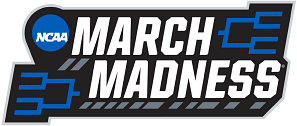 So, let's get into it:
Considering moving for De'Von Achane? Fire up our Trade Analyzer to get a fair deal
Baltimore Ravens, AFC North – Hybrid safety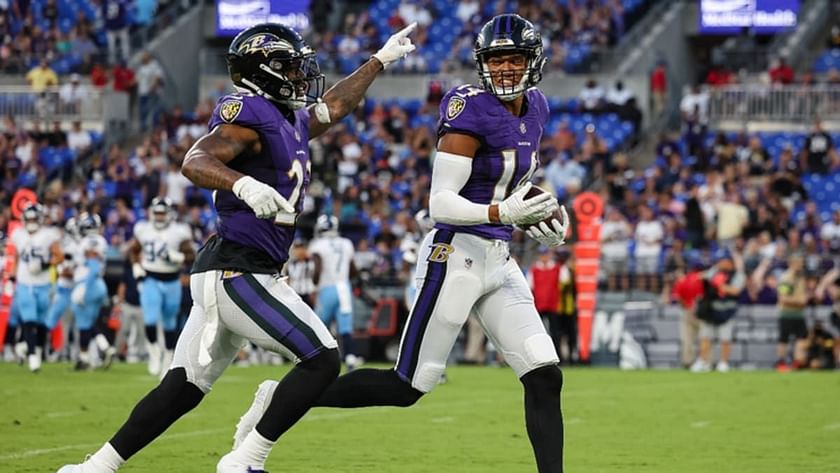 Looking at the Ravens' defense last season, they improved from 28th in EPA per play across the first eight weeks all the way to number five (after they traded for All-Pro linebacker Roquan Smith and started moving around their personnel a little bit).
Kyle Hamilton was by far at his best when he was a designated nickel as a rookie. Looking at PFF's metrics through the first seven games compared to the final ten – from which point onwards he spent the majority of snaps in the slot – his average grade improved from 65.6 to 72.4, ending the season on a couple of elite ones (although somehow his final grade was at 87.6). His length to crowd the underneath passing windows and defeat blockers from that spot was a major plus.
Considering that, I was very surprised to see Baltimore basically gift one of the most underrated safeties in the league in Chuck Clark to the Jets for a 2024 seventh-round pick. The reasoning behind it was that the veteran was in the final year of his contract.
Marcus Williams was a tremendous addition this past season, outside of missing seven games with a hand injury, as a rangy ball-hawk. However, now you're looking at Brandon Stephens having to step up from a solid rotational piece to starting at nickel potentially, while last year's fourth-rounder Damarion Williams really struggled when asked to fill in there.
If they did want to keep Hamilton down low, Geno Stone with less than 700 snaps through his first three years (even though his workload and quality of play have gradually increased) and Ar'Darius Washington (with a measly 32 snaps across his two seasons in Baltimore) would be the designated options at safety.
So I think another piece with the versatility to be moved around in the secondary and the mental fortitude to operate in a split-safety-based system would be a welcome addition.
Cincinnati Bengals, AFC North – In-line tight end
This is a position that has certainly benefitted in Cincinnati from being part of an offense that features the best trio of receivers league-wide and one of the top-tier quarterbacks.
C.J. Uzomah and Hayden Hurst have averaged over 450 receiving yards these past two seasons as the clear number four options in that passing attack, but I'd say those were more useful players than what they have at their disposal heading into 2023.
The Bengals did sign Irv Smith Jr. for this year at $1.75 million, after the Vikings let his rookie contract run out (having traded for T.J. Hockenson mid-way through last season once Irv got hurt and they really wanted to upgrade anyway).
Drew Sample – who Cincy somewhat surprisingly drafted in the second round back in 2019 – will be back for the final year of his rookie deal, after missing all but two games this past season. Yet, he's been almost a pure blocker for this group, with a career mark of just 0.75 yards per route run.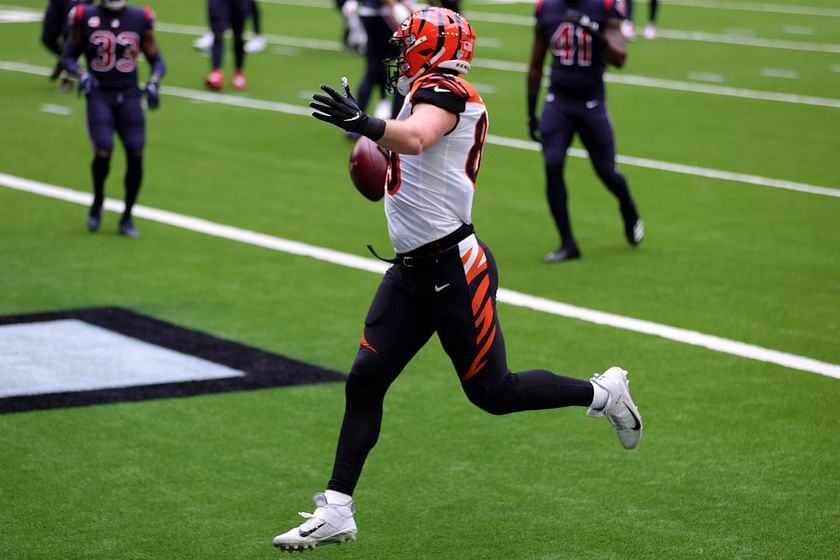 Mitchell Wilcox fulfilled basically that same role in his place, as more of an extra offensive tackle when they went to two-TE sets, before they embraced the identity of much more of a spread-out 11-personnel team. He's now gone, while Devin Asiasi is a fringe roster candidate by NFL standards.
The idea of getting their collection of Chase, Higgins and Boyd out there at the same time is still based on being multiple in the ways they can attack defenses, indicated by the fifth-best rushing success rate league-wide (45.1%) from week five onwards, when we saw that shift in personnel usage. Since they don't have a tight end on the roster who's been a valuable blocker AND receiver, that's a position they should still be looking for opportunities to upgrade at.
Cleveland Browns, AFC North – Backup cornerback
These Browns have quietly had a really strong offseason, making several key under-the-radar signings and putting together one of the better draft classes, considering the capital available.
Along with adding more weapons to what was a fairly shallow receiving corp, acquiring Elijah Moore from the Jets for a day-two pick swap and drafting Tennessee's Cedric Tillman 74th overall, they brought in some beef. A couple of legit shade nose-tackles should help boost one of the softer run defenses in the league and they addressed that edge spot across from Myles Garrett through multiple avenues.
Therefore, as I look through their starting 22 and even their depth in the trenches and now also WR, there isn't much to worry about. A position group that could become an issue in case of injury is the cornerback room. They had already invested a couple of first-round picks and found themselves a potential gem early in the third round in last year's draft with Martin Emerson, to form an excellent starting trio.
I believe they made a good value pick in the top 150 this past April in Cameron Mitchell from Northwestern, who could ultimately back up all three spots or just slide in as the fourth man, along with doing some shuffling around. However, that's quite a bit to ask of the rookie to immediately perform and really beyond that, there's not much they can rely upon, between Mike Ford, A.J. Green III, Thomas Graham Jr. and Chris Westry.
Despite being part of teams that weren't rich on corners, Mike Ford has combined for basically the same amount of snaps over the last four years across three different cities as he had as a rookie (slightly above 300) and the others have combined for just 659 snaps over the past two seasons. Considering they mostly performed up to those expectations, I'd define all of them more so as fringe roster candidates.
Pittsburgh Steelers, AFC North – Inside linebacker
The Steelers may be the least interesting team in the AFC North for general NFL fans and they're currently the betting favorite to finish fourth. But looking at how they addressed their areas of need this offseason, they should be a lot more solid.
With at least two new starters on the O-line most likely and quality depth behind it, top-50 pick Keeanu Benton (Wisconsin) being another worker-bee to firm up the interior D-line and a nice combination of youth and experience at cornerback, all three of those position groups clearly look better on paper.
Putting together what I believe was one of the top three draft classes across the league was a major factor in that. The one unit on the team I'm still pretty worried about is the second level of their defense.
They swapped out the tandem of Myles Jack and Devin Bush, whose heads were spinning quite a bit last year as I watched them try to ID keys and put themselves in the according position on tape, for maybe a little more solid, but also not overly inspiring duo of Cole Holcomb and Elandon Roberts.
The former of those has graded between 56 and 67 by PFF's metrics in each of his four seasons in Washington. He's missed less than seven percent of his tackling attempts over the latter two of those, whilst playing 99% of snaps across the 23 games he's been available for, but he's not been a plus as a coverage- or pressure-player on passing downs.
Meanwhile, Elandon Roberts is this thumping inside backer, who has helped the Dolphins get to third-and-long, after being brought over from New England by his former DC and then HC Brian Flores, but once they got to those situations, this guy was consistently subbed off the field.
So while I would like them to bring in a more rangy option to that group, I think we probably see them move down Keanu Neal as a dime backer in passing situations.
Buffalo Bills, AFC East – Reliable number-two receiver
They may be relying on up to three rookie starters this year, but I'd say what has held them back in crucial playoff moments is not having that second guy who can win in the passing game.
I outlined Gabe Davis as a breakout candidate last offseason, because a lot of the underlying metrics suggested his growth over the second half of the year was a sign of things to come and I envisioned a more multi-faceted role for him. In particular as a power slot, where his blocking skills and ability to work the middle of the field could really shine.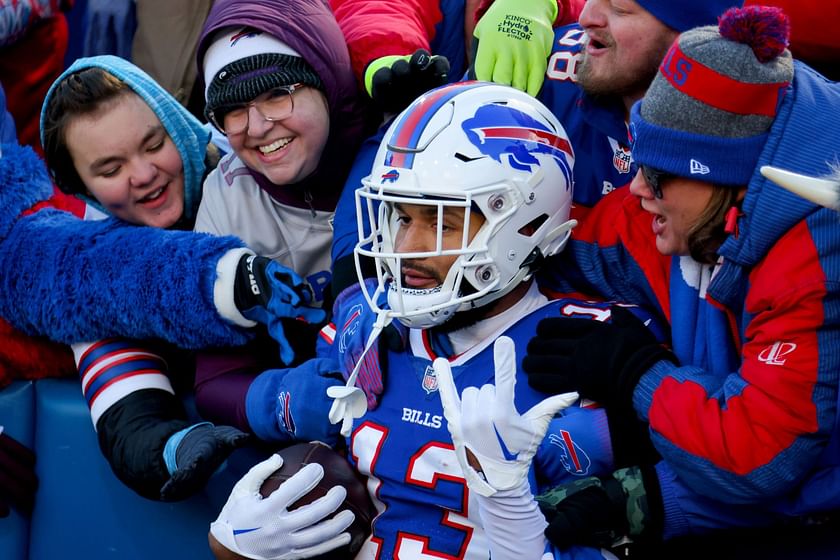 However, he actually only spent 10.2% of snaps lined up on the inside in 2022 and was largely a clear-out guy, who they'd basically send on wind-sprints on the perimeter for large stretches of games. Plus, he didn't always come through when needed either, dropping nine of 57 catchable targets.
They did sign free agent Deonte Harty, who quietly put up 570 receiving yards with the Saints in 2021, before missing almost all of last season with turf toe. And I was a big fan of last year's fifth-round pick Khalil Shakir at Boise State, who showed some real signs late in the season, once they started phasing out Isaiah McKenzie. There were some impressive moments of body control and toughness through contact, but he also had a couple of bad drops, even though I expect him to be their starting slot in three-wide receiver sets.
You'd just like Buffalo to find another guy they can rely upon to win his matchups with consistency and be a potential high-volume target if defensive coordinators give extra attention to Stefon Diggs. Right now, I'd feel best about first-round tight-end Dalton Kincaid (Utah) being that guy, but I was thinking more in the mold of somebody who forces opponents to stay honest with not being able to leave a secondary outside receiver singled up.
Miami Dolphins, AFC East – Right tackle
The Fins are in the process of going all-out during this window where they still have quarterback Tua Tagovailoa on his rookie deal. With the additions of Bradley Chubb, Jalen Ramsey and David Long Jr. since November, combined with a drastic schematic shift with Vic Fangio taking over play-calling duties on defense, that unit has a chance to be one of the best in the league.
Meanwhile, Mike McDaniel's attack was top-five in EPA per play with a healthy Tua and by adding Texas A&M running back Devon Achane in the third round, this is undoubtedly the fastest collection of skill-position players this game has ever seen.
On paper, tight-end is a position that leaves things to be desired, but understanding how they use Alec Ingold as a move-blocker who often starts in-line, even though he's tagged as a fullback, that's the reason a player like Mike Gesicki simply didn't have a role in the system.
Where I do believe they're hoping for better collective play is the offensive line, which thanks to the heavy focus on RPOs and play-action that looked very similar was protected to a large extent, but the individual pieces are underwhelming. A healthy Terron Armstead is by far the best of the bunch, with Connor Williams at center and Robert Hunt at least being average starters.
Left guard is certainly in question, where I'm assuming either third-year player Liam Eichenberg settles in after a couple of pretty rough seasons, being asked to fill in at three different spots, or they move recently signed Isaiah Wynn there. The latter spent 83% of his snaps in New England during his rookie deal at left tackle, with a little bit of run one spot over and then having by far his worst year in 2022 when asked to step in at right tackle.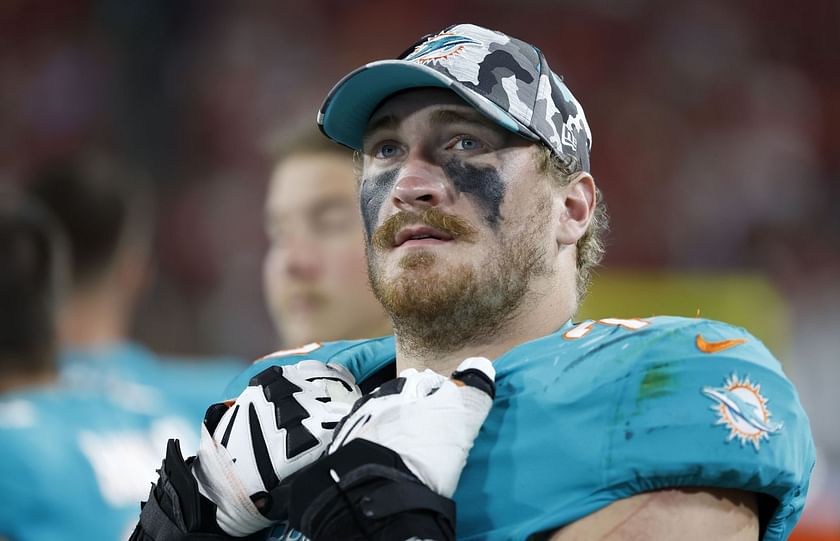 He could be in competition for that job yet again in Miami, but right now it appears Austin Jackson is the preferred option, who had three catastrophic seasons so far since being drafted in the first round of 2020, with just two total games with a PFF grade of at least 70.
New England Patriots, AFC East – Separation-type outside receiver
If you browse through the Pats draft class, having Oregon's Christian Gonzalez fall to them at 17th overall allows them to move down everybody else on that depth chart and gives them a legit boundary corner to complement those shorter guys with great click-and-close ability.
Beyond that, obviously selecting two new starting kicking specialists and spending three early day three picks on the offensive line to replenish the depth up front stand out as Patriots-typical moves, along with a couple of sixth-round receivers. However, while I like a bunch of the guys they did end up bringing in, the lack of investment in that last position is what had me scratching my head a little bit.
Transitioning to the current WR depth chart, DeVante Parker is as close to a pure "ball-winner" as we have in the NFL today probably, Juju Smith-Schuster is who they wanted to replace Jakobi Meyers with, in order to lean even more into the skill set of a power slot and we know one of their five or six receiver spots on the active roster goes to special teams captain Matthew Slater.
Kendrick Bourne is as close as you're going to get in the mold of an early separator, looking at how productive he was for stretches in San Francisco as a Kyle Shanahan-style of X receiver, but there's a reason they inevitably wanted to upgrade to Brandon Aiyuk, to give themselves more of a YAC threat.
So it'll be up to how much growth a healthy Tyquan Thornton can show in his second season as a former round-two selection and if they can get anything from those two sixth-rounders this year in Kayshon Boutte and DeMario Douglas.
They actually lost their top separator according to Next Gen Stats, among WRs with an average depth of target above ten yards per, in Nelson Agholor (3.3 yards average). Meanwhile, DeVante Parker actually finished dead-last in their databank in that metric (1.7), which lists everybody with 45+ targets.
New York Jets, AFC East – Backup linebacker
What matters most for Gang Green this upcoming season is how dramatic of an upgrade they might get in terms of quarterback play, as they made the big trade for Aaron Rodgers shortly before the draft.
The offense was at least competent last season until they lost two rising stars at guard and running back with Alijah Vera-Tucker and Breece Hall. Ultimately, Garrett Wilson was still able to win Offensive Rookie of the Year despite highly inconsistent quarterback play.
So with Rodgers bringing a couple more pieces with him, the offense should go to another level, in order to complement what was a top-six defense in DVOA and EPA per play this past season.
Depending on what MRIs show on Chuck Clark's knee, it should at worst be a lateral move to him or the subsequently signed Adrian Amos in place of Lamarcus Joyner, they are bringing back the rest of the starting eleven and added Will McDonald IV out of Iowa State to boost their edge pass-rush.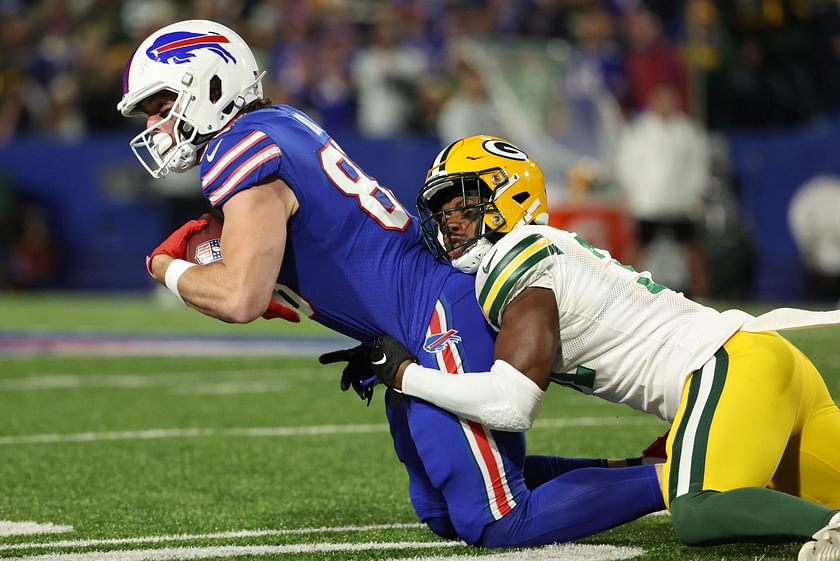 The one widely-known name missing is Kwon Alexander, who played just under half of the defensive snaps in their three-LB rotation. With him gone, they've got lots of big safety or dime backer types beyond the starting duo of C.J. Mosley and Quincy Williams. You're looking at Jamien Sherwood and Hamsah Nasirildeen as similar player profiles in that mold, who have combined for slightly over 200 snaps across their first two seasons.
Chazz Surratt is a former quarterback convert at UNC, whose ability to make plays in coverage is far superior to making any reads between the tackles, plus then Zaire Barnes was a guy they picked in the sixth round largely based on his athletic testing to project as an impact special teamer.
I believe they have some solutions on passing downs, but if either of the two starters goes down, I'm concerned with their run defense and how that'll affect everything else.
Houston Texans, AFC South – Swing tackle
With DeMeco Ryans coming back to Houston in order to run the show there, the big move in the draft to secure themselves cornerstone pieces on either side of the ball in quarterback C.J. Stroud (Ohio State) and edge defender Will Anderson Jr. (Alabama), the Texans have set the baseline for turning around the franchise.
They've created a nice balance between veterans coming in and players they've drafted over the last couple of years. Before we see exactly how this shakes out and if the young guys can step up when called upon, I don't believe any of their likely starting-22 is a definite minus. However, what I can identify as a potential issue is an injury to their book-ends on the offensive line in Laremy Tunsil and Tytus Howard.
Greg Little is a former big-time disappointment as an early second-round pick for the Panthers in 2019, who's landed on IR each of the past three seasons, missing all of 2021, before seeing time on either end of the O-line for a tackle-desperate Dolphins team. Yet, he put up an abysmal PFF grade of just 35.1 on the year.
Meanwhile, Charlie Heck has been a pretty consistent backup option, with seven sacks and 40 total pressures surrendered across just under 700 career pass-blocking snaps, but he's a minus in the run game and has never played a single snap anywhere but right tackle. Then last year's sixth-rounder Austin Deculus didn't get onto the field on offense once as a rookie.
Especially with more of a traditional pocket-passer in Stroud, making him comfortable at the top of his drop and not asking him to move sideways will be key to a solid debut campaign.
Indianapolis Colts, AFC South – Established offensive line depth
This is a unit that was supposed to be the biggest strength of the team in 2022, but turned out to be an absolute nightmare. This was due to a turnstile-like affair on the blindside for about half the year, an offensive system that lacked clarity on who they were and a general drop-off in quality of play even from accomplished veterans such as Quenton Nelson and Ryan Kelly.
Braden Smith at right tackle to me as the only constant. Bernhard Raimann they hope can take a significant step forward as their starting left tackle as a third-round pick from last year and right guard appears to be battled out between Danny Pinter, Will Fries and I believe even undrafted free agent Emil Ekiyor (Alabama) could be part of the competition (as somebody I had inside my top-100 overall prospects this past April).
No matter who starts there – even though it may not be as drastic to compensate for as one of the tackle spots, because you have those bumpers to either side of you, with condensed space to manage – it has the potential to be a legit weak link yet again. And even more so, you won't have proven alternatives to veer towards.
That three-name pool will likely also be chosen from in case of an injury at the pivot and you might be looking at a developmental tackle project in Blake Freeland (who they made one of the first selections of day three in the draft this year) as your primary option in case of injury to either edge of the line.
With his athletic gifts, this is not somebody you can actually hope will stick on the practice squad – yet I believe he has plenty to fix before surviving in the NFL. The outlook in case of any injury might not be very rosy.
Jacksonville Jaguars, AFC South – Flexible backup interior D-lineman
While Roy Robertson-Harris has been a high-impact performer anywhere between the tackle and guard for his career and really took over stretches of games late this past season, something I believe could be key for this Jacksonville defense is their duo of true defensive tackles in DaVon Hamilton and Folorunso Fatukasi.
In particular, I believe their interchangeability of lining up in the A- or B-gap and making those late shifts depending on facing motion and how key it could be for their ability to stop the run is something I'll be tracking. With that being said, I'm interested in what will happen if they face teams that force them to stay in base personnel largely or how comfortable they are generally in rotating in the second-string pieces.
Adam Gotsis had three really strong outings last season for Denver as I look at his weekly grades by Pro Football Focus, but otherwise, that number was almost exclusively between 50 and 60. Michael Dogbe has less than 700 career snaps across his four years in Arizona – for good reason – with this past season being his worst yet.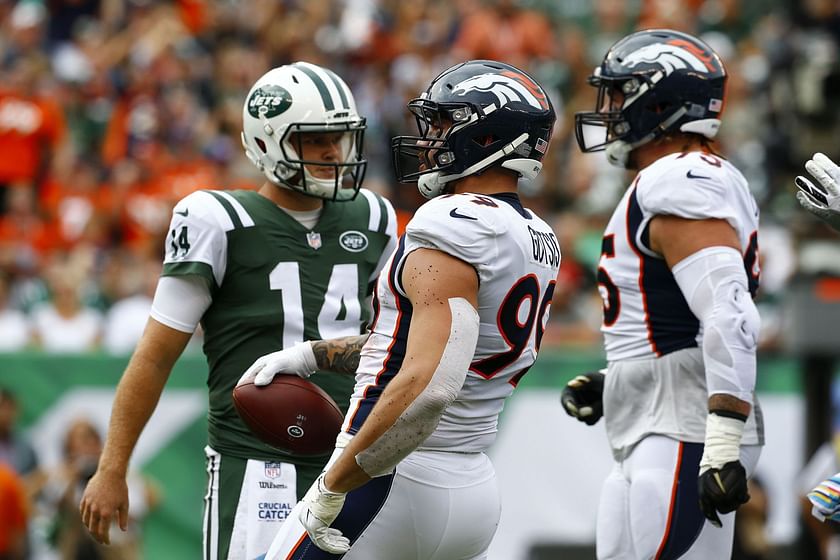 They did draft Tyler Lacy out of Oklahoma State in the fourth round, but to me, he's basically an insurance policy for Robertson-Harris getting banged up or just needing some snaps off to stay fresh, as somebody who in college almost purely lined up between 4i- and 6-technique.
There's really nothing to rely upon if one of their two starters on the interior goes down and that could force them into a pure even-front unit. Robertson-Harris is a true three-technique and you need to switch him and the nose shortly before the snap based on the offensive picture changing – or some other creative ways to utilize gap exchanges.
Tennessee Titans, AFC South – Z receiver
I could have easily gone backup linebacker here, since the Titans swapped out their duo on the second level defensively for two potential breakout players with extended playing time in Monty Rice and Azeez Al-Shaair. But they're banking on Ben Niemann coming off his first season of any quality play to be a band-aid in case of injury, with nothing else behind it.
However, it's more fun to talk about wide receivers here and dynamic play from that position is what this group is lacking the most right now. Last year's first-round pick (and basically direct replacement for A.J. Brown) Treylon Burks showed in sparks that he can excel in similar ways, as a big-bodied vertical threat and run-after-catch specialist over the middle.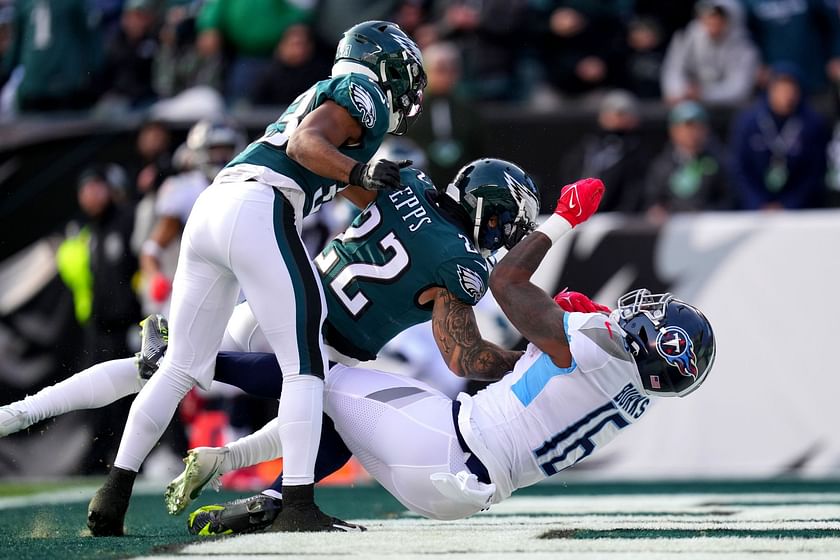 They were able to bring back Nick Westbrook-Ikhine for another year at $1.25 million, as another guy who can win through contact and be an option as a big slot. Plus, I do like Kyle Phillips as more of a quick-footed separator underneath and who can win on more intricate routes, as somebody who was off to a promising start as a fifth-round pick before having his rookie season cut short by hamstring injuries.
He can play the Z to some degree but isn't your typical off-set flanker that forces defenses to play somebody over the top in order to provide one-on-one opportunities on the backside. Nor is he someone you want to set up run-after-catch opportunities for as you motion him into stacks and provide free access on crossing routes for example.
They just don't really have anybody on the roster in that mold and it makes it easier for defenses to box you into some degree, as you don't attack all areas of the field.
Denver Broncos, AFC West – Interior O-line depth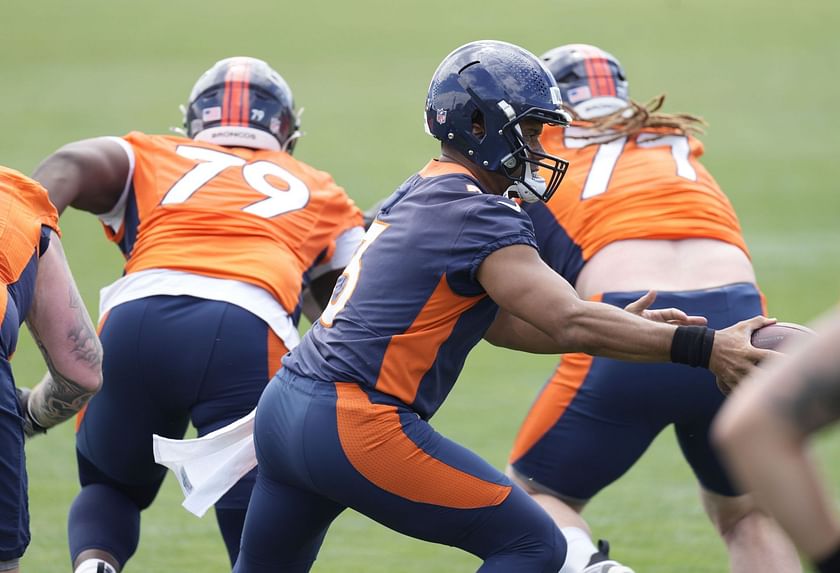 The Broncos are experiencing a dramatic shift defensively, going from Vic Fangio leading into one of his disciples in Ejiro Evero, who wants to base things around a lot of split-safety structures and light boxes, to the aggressive mindset of Vance Joseph, who wants to dictate terms to his opponents by bringing extra bodies in the passing game.
While there may be a bit of an adjustment period and they'll need some of their young guys to step up, they have all the pieces there to continue playing at a high level.
Once Sean Payton took over head-coaching duties, he immediately took the reigns away from general manager George Paton and invested major financial resources into the offensive line with left guard Ben Powers and right tackle Mike McGlinchey (who they're paying nearly $140 million combined to over the next four years).
However, looking at the rest of the depth chart, while Julian Fleming I'd label as a quality backup with extensive experience at either tackle spot, they don't have anybody of note to back up one of those three interior spots.
Quinn Bailey and Luke Wattenberg have combined for just over 300 snaps in their young careers so far (five combined seasons) and Kyle Fuller – not the former Bears Pro Bowl cornerback – has logged triple-digit snaps in just one of his five seasons as a pro.
With the third-to-last selection of this year's draft, they did add Oregon's Alex Forsyth, who I actually looked at as one of the bigger sleepers at that position. However, considering the makeup of this Broncos O-line, a more gap-heavy approach seems likely based on the personnel at hand.
While I looked at the rookie as a pure wide-zone center, unless you facilitate a role that enhances his blocking on the move, which creates a pretty stark contrast to their current starter at the pivot in Lloyd Cushenberry III.
Kansas City Chiefs, AFC West – Big-bodied pass-catcher
As I said in my AFC West draft and roster review, I wasn't a huge fan of the class Kansas City put together in late April or the way they've approached the departure of their starting tackle duo.
While they paid a steep price for Jawaan Taylor at 20 million annually, if they keep him at right tackle, I think that's a definite upgrade over Andrew Wylie. But for the reason to feel comfortable with that move to be signing veteran Donovan Smith to protect Patrick Mahomes' blindside is worrisome to me. Not only did he allow six sacks last season, but he was also tied for a league-high 13 penalties called against him – and there could have easily been even more.
Considering they still have Lucas Niang as the primary backup and selected a developmental player in Wanya Morris at the end of the top 100, I trust them for now. And while Frank Clark now having signed for a year with their division rivals in Denver means they don't have the high rusher and finisher-type off the edge, they did re-stock that group and I will instead focus on the pass-catching group offensively.
The Chiefs have a couple of potential young breakout candidates among it in Kadarius Toney and Skyy Moore, along with a designated threat vertically and horizontally in Marquez Valdes-Scantling and a reliable over-the-middle-of-the-field target in Richie James Jr.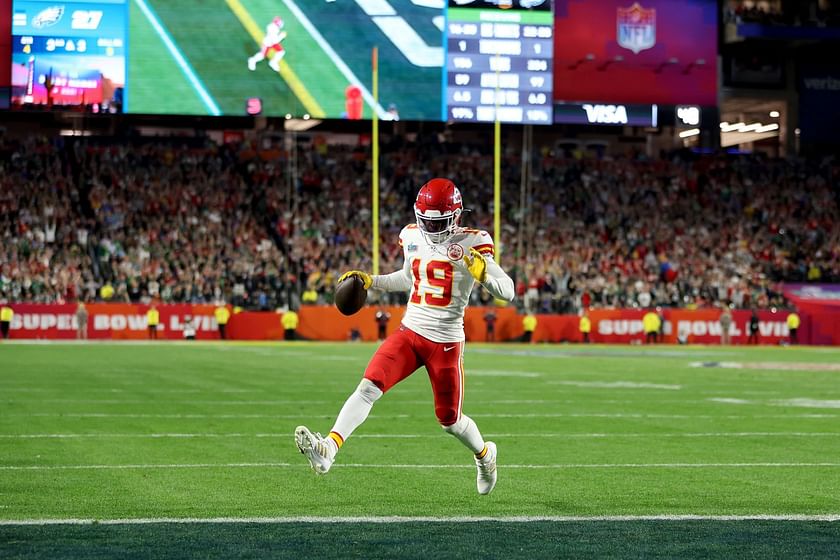 However, with the loss of Juju Smith-Schuster as their power slot, unless you consider MVS anything like a "big" receiver other than having a long build, the only receiver with any pro experience is Justin Watson, who saw the field a lot, but more so as a blocker and sporadic deep threat.
They don't have anybody other than Travis Kelce, who they consistently like working between short-to-intermediate zones with the frame to lend itself to that role. Maybe they expect fifth-rounder Cornell Powell or UDFA Justyn Ross from last year to actually contribute, as they combined for just three snaps due to injury so far. Otherwise, DeAndre Hopkins would almost be a perfect fit.
Las Vegas Raiders, AFC West – Right guard
Even the most optimistic Raiders fans have to be concerned about this defense, which other than an under-the-radar superstar in Maxx Crosby has maybe two other players who would start on half of the other teams across the league.
I could see a bunch of recent draftees step into prominent roles fairly quickly, but if this pass-rush can consistently get home without sending extra bodies (with the addition of a freak of nature in seventh overall pick Tyree Wilson), DC Patrick Graham has shown that he can muddy up the picture on the back-end enough to give the front some time to win.
I'd rather look at the offensive side of the ball, however, where Josh McDaniel will continue building around more of an old-school 21-personnel rushing attack spearheaded by Josh Jacobs. But despite the lack of a traditional deep-threat receiver, they also have enough pass-catchers who can win matchups and understand how to attack space, when they want to spread defenses out.
Assuming Jimmy G's foot is fine by the season opener, the O-line is the one unit that really worries me. In particular, if Dylan Parham stays at left guard in his second season, the right side could end up being a major problem. Alex Bars and Jermaine Eluemunor are currently slated to start at guard and tackle respectively.
The latter has a track record that would suggest this past season was more so an outlier, but he did earn by far his best PFF grade of his career (75.3) and might have settled in at one spot. Bars on the other hand has never graded above 53.3 in his four seasons as a pro, with 50 total pressures across 965 pass-blocking snaps.
Behind him, Netane Muti and Hroniss Grasu have combined for just 750 snaps over the last three years and Greg Van Roten has always been a replacement-level option. The only name I'm somewhat excited about is UDFA McClendon Curtis, who has tremendous natural power but will face a drastic learning curve coming from UT-Chattanooga in the FCS.
Los Angeles Chargers, AFC West – Combo tight-end
The big story for the Bolts heading into 2023 is the fundamental shift from the areas they want to attack on offense. Going from the least vertically-oriented and pretty static offensive coordinator in Joe Lombardi to a much more diverse play-caller in Kellen Moore, and drafting TCU's Quentin Johnston in the first round, opponents will need to account for a downfield passing attack and yards-after-catch threats to a far larger extent.
However, looking at the underlying numbers for the Moore-coordinated '22 Cowboys (in neutral game-script situations), they were the most efficient out of 12 personnel. Now, by drafting Johnston to give that receiving corp more run-after-catch dynamism, to add to a ball-winning vertical target in Mike Williams and a slippery route-running master in the slot in Keenan Allen, you'd think they want to get those three guys out on the field together quite a bit.
Yet, their OC has generally worked with more traditional Y tight-ends and in order to still have that run-pass balance, a guy at that spot with the ability to be a plus contributor in both facets should be something they're looking for in order to complete that skill-position group.
Gerald Everett is more so a glorified slot receiver and H-back, who should benefit from getting the ball thrown to him on the move with space to work with on RAC opportunities, but he's not somebody you want to run behind at the point. Donald Parham is your typical former basketball player converted to an oversized flex TE, who can win over the heads of defenders and in particular on the goal line.
Finally, Tre' McKitty has the profile for that role, but he's been almost a pure blocker and he's been questionable at that. For his two-year career, he has a yards-per-route-run mark below 0.5 yards and last year he literally ranked dead-last among the 103 tight-ends with at least 50 blocking snaps in terms of PFF grade (32.2).
If you enjoyed this breakdown, please consider checking out the original video and feel free to check out all my other written content here!
Twitter: @ halilsfbtalk
Instagram: @ halilsrealfootballtalk
Austin Ekeler or James Conner? Fire up our Start/Sit Optimizer to make the right call in Week 13