IPL Fantasy Guru: Why KXIP players are not worth it
5.98K //
02 May 2015, 13:53 IST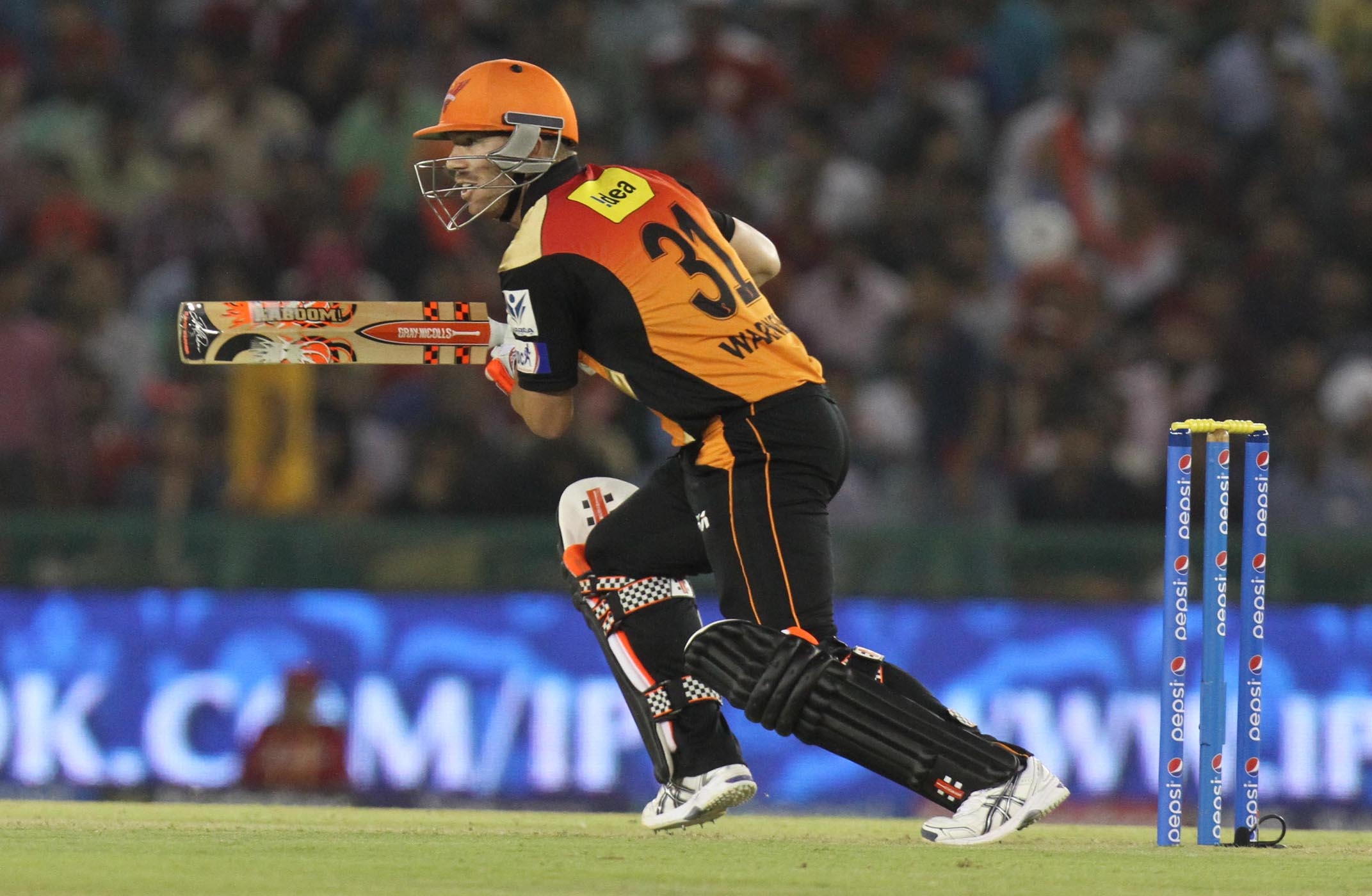 Royal Challengers Bangalore vs Kolkata Knight Riders
Transfers made – 1; Transfers remaining – 38
Yuzvendra Chahal in – Shane Watson out
AB de Villiers in – Deepak Hooda out
Captaincy pick – AB de Villiers (RCB bat first)/Mitchell Starc (RCB bowl first)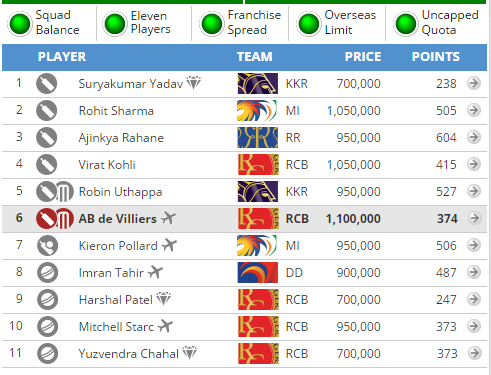 With Robin Uthappa, Mitchell Starc and Virat Kohli already in my team, the other players who are worth considering for this match are AB de Villiers, Chris Gayle, Andre Russell and Brad Hogg. It's simple as far as de Villiers is concerned: when he bats in the top 4, you get him in, no messing around with the best in the business on one of the flattest decks in the world. 
Morne Morkel should be back into the team after the hammering Pat Cummins received in the last match, and he has an exceptional track record against left-handers – which rules Gayle out. Umesh Yadav has been in decent form as well, so there is support for Morkel from the other end too.
Hogg has been top class, but one shouldn't forget the fact that the decks at Chepauk and Eden Gardens have played a crucial role in his success so far. The deck at Bangalore, however, won't provide so much assistance, and him bowling to a star-studded line-up will only make his job even more difficult. The shorter boundaries don't help as well. So, I wouldn't pick Hogg for this game.
Russell cashed in on some friendly bowling in the game against Chennai Super Kings. With Varun Aaron back in form, the Royal Challengers bowling unit looks a different kettle of fish. Starc and Yuzvendra Chahal are quite capable of getting rid of the Caribbean big-hitter as well. I don't see him making a big impact with the ball either. 
Sarfaraz Khan bats at No.6, which doesn't help from a fantasy perspective – so I would settle with Chahal as my uncapped player. I already have Harshal Patel and Suryakumar Yadav in my team. 
Starc will be my captaincy pick for the match if RCB bowl first. If they bat first, however, I will go with de Villiers.  
Sunrisers Hyderabad vs Chennai Super Kings
Transfers made – 2; Transfers remaining – 36
David Warner in – AB de Villiers out
Brendon McCullum in – Imran Tahir out
Ronit More in – SK Yadav out
Captaincy pick – David Warner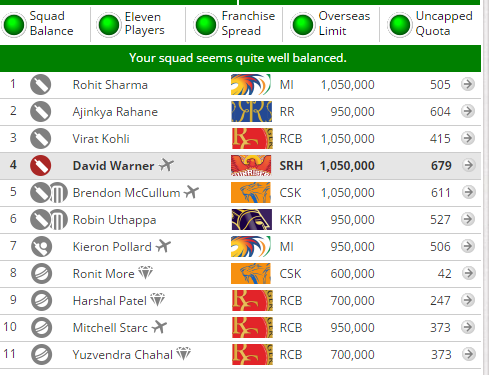 The deck at Hyderabad is usually good for batting and the Chennai Super Kings have one of the weakest bowling attacks in the IPL. And with Ravichandran Ashwin ruled out of the match, you better not go into this match without David Warner. Apart from him, I don't see any player in the Sunrisers side worthy of a fantasy team spot.
The real challenge, however, lies in predicting who among the Super Kings players will return the most number of points in this match. While the MS Dhoni-led team plays twice during a span of 4 matches, that the second match will be played on a totally different deck makes sure there is no double game advantage. Somebody like a Brendon McCullum could go hammer and tongs at Hyderabad, but succumb meekly to Chahal and Iqbal Abdulla at Chepauk. 
Suresh Raina would be the first pick in such a scenario usually, but he looks lost at the moment. I don't plan to get him in again till he shows signs of regaining form. The choice is between Dwayne Smith and McCullum for me. Smith looked like a fish out of water against the Knight Riders at Chepauk, but that was a totally different deck. In the return match, he lasted only a single ball to make anything out of it.
McCullum, though, looks better equipped to play the pace heavy attack than Smith. Spin has been McCullum's Achilles heel in the tournament so far, but the Sunrisers have only one spinner in their ranks – Karn Sharma, who is more of a container than an attacking bowler. Therefore, McCullum gets the nod ahead of his opening partner, Smith. 
Ashish Reddy, although quite capable of slogging this Super Kings attack, bats too low to be picked. Hanuman Vihari hasn't done anything of note yet. So, the choice for the uncapped player is between Pawan Negi and Ronit More. I would go with More, as there is not much for spinners on this deck.
Kings XI Punjab vs Mumbai Indians
Transfers made – 0; Transfers remaining – 36
Sandeep Sharma in – David Warner out
Captaincy pick – Rohit Sharma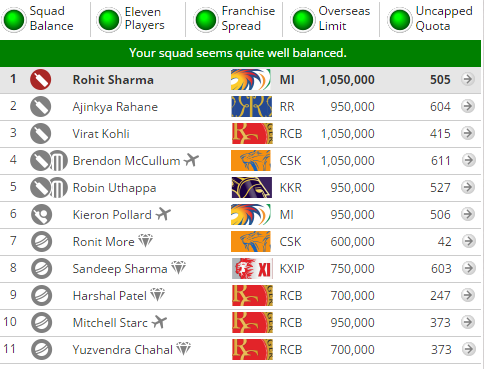 As I said in my previous article, the state of turmoil that Kings XI are in, I wouldn't pick any capped player from their team. The issue with a team in decline is that you can't even pick its most in-form player.
Consider you draft in one of their batsmen, he will not only have to deal with the opposition bowlers, but also adjust his game according to the team's situation: it could be wickets falling continuously at the other end or coming in with the scoreboard reading, say, 30-4. These are not ideal for a player. Similarly, a bowler won't have enough runs on the board to defend; even if there is and he bowls well, the pressure will be let off from the other end, courtesy of some ordinary bowling. 
Coming to the Mumbai side of it, there shouldn't be better scoring options than Rohit Sharma and Kieron Pollard for this match. I really hope the Mumbai Indians team management promotes Pollard back to No.5, although with Ambati Rayudu doing well in the last match, I don't see it happening.
Sandeep Sharma would be my uncapped player pick for this match. Against a brittle Mumbai top order, he could come in handy. 
Rajasthan Royals vs Delhi Daredevils
Transfers made – 1; Transfers remaining – 35
JP Duminy in – Kieron Pollard out
Shreyas Iyer/Sanju Samson in – Sandeep Sharma out 
Captaincy pick – JP Duminy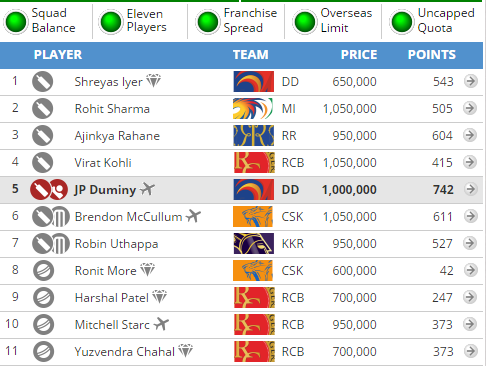 With Ajinkya Rahane already in, JP Duminy will be the only other capped player I will get into my team. Shane Watson and Imran Tahir are two eyebrow-raising omissions. While Watson won't find it easy handling the Daredevils leg-spin duo, Tahir will be bowling to batsmen who are adept in playing slow bowling. 
It appears that Steve Smith will continue to bat at 4, which reduces his fantasy potential considerably. Sanju Samson played some sublime strokes in the match against Mumbai Indians, and with Deepak Hooda's demotion to No.6, he along with Shreyas Iyer would be my first choice uncapped player picks for the match. Who I will get in depends on what happens in the upcoming matches. If I can, I will get both of them in.