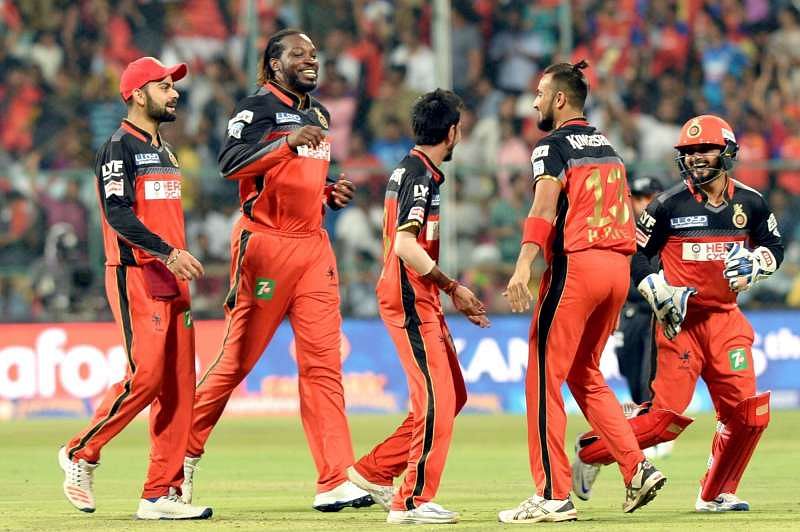 KKR 189-5 after 20 Overs
Arvind comes to bowl the last over and Suryakumar Yadav flicks him away for four first ball to notch up the winning runs for Kolkata. Brilliant innings from Pathan and Russell.
KKR 185-5 after 19 overs
Shamsi into the attack and Pathan hits him for a six first ball to bring up his fifty and edges the second ball for a four. Yadav joins the party and sweeps Shamsi for four. 2 needed now from 8 balls. Shamsi ends with 51 with no success at the end of 4 overs. KKR need 1 from the last over
KKR 169-5 after 18 Overs
Chahal to bowl his last over. Russell is caught at cover by Stuart Binny, RCB gets the break through they wanted. Suryakumar Yadav to partner Pathan. Brilliant from Chahal, he ends with 2 for 27 from his 4 overs
KKR 163-4 after 17 Overs
Watson is back into the attack and Pathan welcomes him with a boundary. Pathan is dealing in boundaries, back to back boundaries for him. Hat-trick of boundaries for him. Three boundaries followed by a six over long-off from Pathan. The Required run rate is down to 8. 24 runs from the Watson over.
KKR 139-4 after 16 Overs
Aaron to bowl his last over. Yusuf Pathan digs out a yorker for a boundary towards square leg. Russell is muscling the ball away, another six for him. Peach of a last delivery from Aaron, Russell somehow manages to keep that yorker out.
KKR 123-4 after 15 Overs
Shamsi is back into the attack. A huge six from Russell and followed by another huge one. He should have got 12 for the second six. Russell is on fire, two sixes followed by a four through extra cover. 18 runs from the over. KKR need a few of them
KKR 105-4 after 14 Overs
Chahal continues for RCB. Russell walks down the pitch completely misses the bowl luckily for him Rahul behind the wicket does the same and the ball runs down for 4 byes. Another mistake from Rahul, doesnt gather a wide ball and it runs down for 4.
KKR 93-4 after 13 Overs
Pathan slogs Aaron for a six first ball of the over. Pathan and Russell are looking to script a comeback for KKR here. Brilliant comeback from Aaron, 3 back to back dot balls as Russell just keeps on swinging his bat without making contact.
KKR 84-4 after 12 Overs
Chahal is back into the attack. Brte force from Russell as he pulls a bowl outside off stump from Chahal for a six over mid-wicket. 11 runs came from the over yet the rquired run rate keeps on increasing for KKR.
KKR 73-4 after 11 Overs
Another set back for KKR, Manish Pandey is out caught by Sachin Baby from Watson's delivery. KKR in deep trouble. Another good over from Watson, the pressure keeps on piling on KKR. Russell and Pathan are out in the middle for them
KKR 69-3 after 10 Overs
Yusuf Pathan joins Manish Pandey in the middle. Brilliant over from Shamsi, only 3 from it. The required run rate is almost 12 for KKR and things are looking pretty good for RCB right now
KKR 66-3 after 9 Overs
Sreenath Arvind is back into the attack. Gambhir is taking the attack to the RCB bowlers. Slogs him away for a four through mid wicket and Arvind gets the perfect revenge, Gambhir is adjudged LBW very next ball. KKR is in trouble in this chase
KKR 59-2 after 8 Overs
Aaron continues from the other end. Another animated appeal from RCB turned down this time by Erasmus. Another good over from Aaron only 7 from it
KKR 52-2 after 7 Overs
The chinaman Shamsi comes into bowl his first over. Great shot from Gambhir, dispatches Shamsi for a six. And he follows it up with a boundary, sloppy fielding at deep square leg. 50 comes up for KKR. 15 runs from the over.
KKR 37-2 after 6 Overs
Varun Aaron to bowl the fianl over of the Powerplay. Excellent fielding from de Villiers at square leg, simply brilliant, saves a sure boundary. Another good over for RCB only 3 runs given.
KKR 34-2 after 5 Overs
Chahal into the attack and his googly almost caught Lynn off guard, S Ravi rules the decision in the favour of the batsman. Lynn is knocked over, the ball turns and Lynn doesn't read it and sees his stumps broken. Manish Pandey is the next batsman in. Great over, 2 runs and wicket. Things are looking bleak for KKR right now
KKR 32-1 after 4 Overs
Shane Watson is given the responsibilty with the bowl now. Lynn is lucky, he skies one but the ball falls safe in between two fielders due to lack of communication between them. Last ball of the over and Gambhir dances down the pitch to hit Watson over the infield for a boundary toward mid-wicket
KKR 22-1 after 3 Overs
Stuart Binny to continue. A huge hit from Lynn, the ball travels a few rows back into the stands, first six of the KKR innings. 11 runs from the over. A good one as far as KKR is concerned
KKR 11-1 after 2 Overs
Chris Lynn comes in at number 3. Sreenath Arvind to bowl the 2nd over. Tidy over from Arvind barring a couple of wides. Just 5 runs from it
KKR 6-1 after 1 Over
Sturat Binny to open the bowling for RCB as Uthappa and Gambhir take strike for Kolkata. Short from Binny and the KKR captain pulls him away for a four. The ball is doing a bit for Binny moving around and he strikes. Uthappa gets a leading edge and is caught at point. Not the ideal start for KKR.
RCB 185-7 after 20 Overs
Umesh Yadav to bowl the last over and he will hope this one will be less expensive for him. Binny facing his first ball judges the slow ball well and hit Yadav for six over Long-Off.Follows the six up with a upper cut resulting in a boundary. Yadav is proving to be expensive again, A huge six from Binny to follow the four. Binny 16 from 3 balls. And his cameo comes to end, he is caught at Long-On. Umesh Yadav proves to be expensive again he finishes with 1 for 56. RCB ends with 185 for 7. KKR will need 186 to win
RCB 167-5 after 19 Overs
Russell to bowl the penultimate over. Watson slogs him for a four over short thirdman. Another boundary, another slog from Watson and another boundary down to thirdman. Hat-tricks of boundaries, this time at mis wickets 35 runs has been scored from the last 10 balls. Sachin Baby is out last ball, caught and bowled, Russell ends with 24-1.
RCB 154-4 after 18 Overs
Yadav into the attack and he bowls two high full toss no-ball and one more from him he wont be allowed to ball. Watson clubs the Free-Hit which was also a full toss for a boundary. Yadav seems to have lost his line and length, another extra from him, this time a wide. Sachin Baby hits Yadav straight back over the bowlers head for a four. Baby pulls him away for another boundary this time at square leg. Back to back boundaries Baby and he follows it up with a Six. A very expensive for KKR, Yadav all over the place
RCB 131-4 after 17 Overs
Morkel to ball his last over and Kohli woks him away for single to bring his 50. Kohli mistimes a shot but is lucky as Gambhir dropsa sitter. It seems Kohli luck has run out, he is caught at cover by Russell the very next ball. Morkel is chipping in with the wickets for KKR. Sachin Baby is the new man in. Morkel finishes his quota of 4 over and end with 28-2
RCB 125-3 after 16 Overs
Narine into attack for his last over and it keeps getting worse for him. Watson slogs sweeps him for a six over mid-wicket and again slog sweeps for a four in the same area. Expensive from Narine today. He ends with 45-0 in his 4 Overs
RCB 112-3 after 15 Overs
Morne Morkel is back in the attack for KKR. Brilliant from the South African just 3 runs given away. Another great over for KKR
RCB 109-3 after 14 Overs
Chawla to his ball his 4th over and the leggie delivers again, AB de Villiers is adjudged LBW and KKR will be pleased see the back of him. Shane Watson comes into bat. Excellent from Chawla gives just 3 runs away. He finshes with 32 for 2 from his 4 overs
RCB 106-2 after 13 Overs
Sunil Narine continues and it hasn't been his day today, Kohli first hits him through extra cover for a four and through midwicket. The mystery spinner goes for 9, there is nothing mysterious about his bowling today. 100 up for RCB
RCB 97-2 after 12 Overs
Rahul gets too greedy, he tries to hit Piyush Chawla for six but mistimes it and gets caught at deep cover by Pathan. AB de Villiers joins Kohli in the middle. A very good over from the leggie going for just 5 runs and picks up a wicket
RCB 92-1 after 11 Overs
Narine into the attack and Rahul sweeps him away for a six and then reverse sweeps him for a four to bring up his 50 from only 29 balls. Great Batting from KL Rahul. Another expensive from KKR's perspective going for 13
RCB 79-1 after 10 Overs
Piyush Chawla to ball the 10th over. A huge six. Chawla pitches the ball up and Rahul walks down the pitch to hit him for six down long off and follows it up by piercing the gap between point and short thirdman for a four. Expensive over from Chawla he went for 15
RCB 64-1 after 9 Overs
Umesh Yadav continues, he was expensive in his first over giving away 11 runs. A very good comeback from him gives away only 4 runs.
RCB 60-1 after 8 Overs
Piyush Chawla into the attack for KKR. A short ball from Chawla and Kohli dispatches it past mid-wicket for a boundary. Kohli is timing the ball really well and finding gaps in the field. 50 partnership between Kohli and Rahul
RCB 51-1 after 7 Overs
Umesh Yadav into the attack and Kohli welcomes him with a boundary. He pitches the ball short and this time it is Rahul who pulls him away for a four. 50 comes up for RCB in the 7th over
RCB 40-1 after 6 Overs
Rahul welcomes Narine to the attack with a couple of boundaries. Narine makes a comeback and concedes only 2 from the remaining 4 deliveries
RCB 30-1 after 5 Overs
Another good over from Russell and only concedes singles
RCB 25-1 after 4 Overs
A boundary and very good running between the wickets from Rahul and Kohli
RCB 15-1 after 3 Overs
Russel continues for KKR and only concedes 3 singles
RCB 11-1 after 2 Overs
A six from Chris Gayle but he falls prey to a short from ball Morkel in the very next delivery. Virat Kohli walks into join Rahul
RCB 2-0 after 1 Over
A couple of single from the first over by Andre Russell. Avery good begining by KKR
Royal Challengers Bangalore Playing 11: Virat Kohli, Chris Gayle, Lokesh Rahul, AB de Villiers, Shane Watson, Sachin Baby, Stuart Binny, Sreenath Aarvind, Yuzvendra Chahal, Varun Aaron, Tabraiz Shamsi
Kolkata Knight Riders Playing 11: Gautam Gambhir, Robin Uthappa, Suryakumar Yadav, Yusuf Pathan, Manish Pandey,Chris Lynn, Andre Russell, Piyush Chawla, Umesh Yadav, Sunil Narine, Morne Morkel
Royal Challengers Bangalore will host Kolkata Knight Riders in a crunch game for both sides for different reasons. After a strong start, Kolkata have stuttered a wee bit, and would love to get on the winning track. Royal Challengers Bangalore on the other hand, are languishing at the bottom half of the table and have once again only flattered to deceive. They need a win to revive their campaign. Follow live IPL cricket scores for today's match between RCB vs KKR
ROYAL CHALLENGERS BANGALORE: With the batting firepower and the star quotient at their disposal, RCB should be ideally winning all the matches, but their dismal run so far can be attributed mainly to dismal bowling attack and sometimes to being overambitious with the bat. In Virat Kohli they have at their disposal one of cricket's hottest property at the moment, and he has lived up to the billing, but Virat Kohli the captain can just not finish on the winner's podium on a more frequent basis.
AB de Villiers is an able ally, and if someone can overshadow Kohli, it has to AB on his day. He too had been in sizzling form this tournament and yet the results are not in his favour.
KL Rahul has found some blistering form in the previous matches and has provided a good start to his team along with Kohli, his presence has calmed down proceedings.
Chris Gayle has come back from his paternity break and he is too tempting a prospect to be left out. He should make a comeback at the expense of a bowler.
The bowling attack has come under fire on more than one occasion, and ideally Chris Jordan, who is a brilliant death overs bowler, should walk into the side. But then Tabraiz Shamsi has been bowling well, and in the presence of Shane Watson, there will be a toss up between Jordan and Shamsi.
KOLKATA KNIGHT RIDERS:
This team is perhaps the most balanced team in the tournament and have almost all bases covered. They started off in a promising manner, but two successive losses can stagnate proceedings, and this is what Gautam Gambhir and his team will guard against.
Gambhir himself has been in sparkling form at the top of the order and he hass played the anchor's role, and is a consistent run-getter. He is perhaps the most astute skipper in the league too, and this is a big bonus forKKR.
Robin Uthappa has been the more expressive of the two, and has impressed one and all with his timing and stroke-play. On a flat Chinnaswamy track, the dup will have to once again step up and deliver.
Suryakumar Yadav has sizzled on occasions, and would ideally want to contribute more on a more consistent basis.
Manish Pandey might be fit for this match and should get his place back and this will only bolster the batting line up.
Andre Russell has been fairly good with both bat and ball, and he would remember that his dismissal in the game against Delhi Daredevils stalled the chase. He is very critical to the cause.
The bowling attack is well rounded and they should hold their own on any surface and on any conditions.
According to previous form and considering the teams, KKR just sneak ahead of RCB, but then RCB enjoy playing at home and this should then make things even.
PITCH AND WEATHER:
The pitch has always been a batting paradise and with short boundaries, bowlers cringe to even step out into the park. More of the same should be expected in this match too, and hence it will all boil down to which team contains the best.
Bangalore is hot at this time of the year, but the evenings cool down a touch, and this should soothe the players.
STAT ATTACK:
Chris Gayle reserves his best for KKR, he has scored 469 runs in nine innings, at an imposing average of 67 and a hefty strike-rate of 160.
The Royal Challengers Bangalore host the Kolkata Knight Riders at the M Chinnaswamy Stadium, Bengaluru.
---