1) Who won Gold Cup 2019?
Mexico won Gold Cup 2019 tournament
2) When is Gold Cup Final 2019?
The Gold Cup 2019 Final will be held on the 8th of July, 2019 at 6:30 am (IST)


3) Who has won the most Gold Cup Final matches?
Mexico has Won 8 Gold Cup trophies in total
About Gold Cup 2019
The 2019 CONCACAF Gold Cup will be the 15th edition of the tournament and this summer's edition was held in the United States, with Costa Rica and Jamaica also hosting two games. The tournament began on 15th of June and conclude on the 8th of July, with games played across 17 different venues in 16 host cities.
This year's edition of the Gold Cup saw the teams expanded from 12 to 16, broken into four groups of four teams each. The winner and runner up of each group will automatically progress to the knockout stages, with the bottom two group finishers being eliminated.
The six teams that participated in the final round of qualifying for the 2018 World Cup will qualify for the 2019 Gold Cup automatically. The remaining 10 teams will qualify based on their performances in qualifying for the 2019/2020 CONCACAF Nations League.


CONCACAF Gold Cup 2019 Final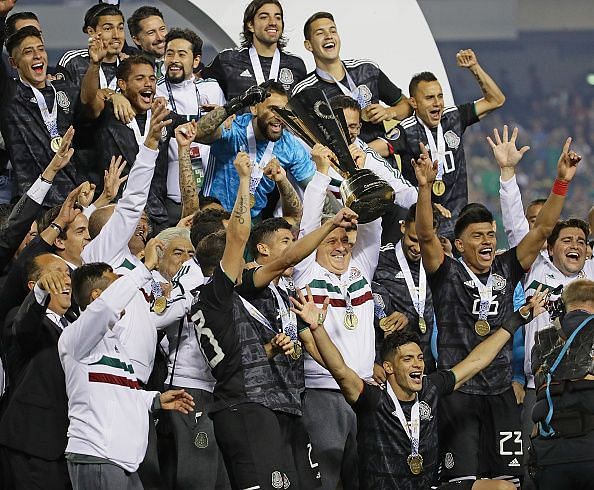 Mexico beat USA 1-0 in the Gold Cup Final 2019, J. Dos Santos scored the only goal of the game to seal victory for Mexico.
The game was played in Soldier Field Stadium, Chicago which has a capacity of 61,500 and has previously served as the home venue for major sports teams like the Chicago Cardinals, MLS side Chicago Fire and NFL's Chicago Bears. The 2019 tournament was the third time Soldier Field has hosted the Gold Cup Final, having already done in 2007 and 2013. The venue set a record by hosting Gold Cup matches for the sixth time.
Chicago's premier event venue hosts over 200 public and private events annually. The historic stadium has been part of the fabric of the city since 1924 and has hosted some of the biggest events in entertainment and sports including Gold Cup Final and Copa America games. Soldier Field has also played host to the Copa America Centenario in 2016 as well as games from the 1994 World Cup and the 1999 Women's World Cup.