NFL Draft: Ravens trade Boldin to 49ers, Harvin goes to Seattle
642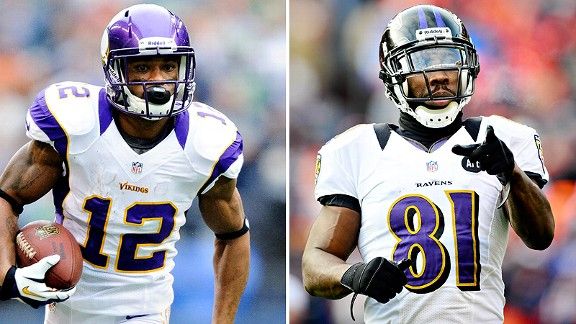 With all the trade talk centering around Darrelle Revis in recent weeks, the NFL world was pleasantly surprised on Monday as two wide receivers were traded to new teams.
San Francisco caught everyone off-guard by sending a 6th round pick to the Super Bowl champion Baltimore Ravens to bring in Anquan Boldin. John Harbaugh's side are looking to replace the 37-year old Randy Moss, who said goodbye to Niners fans in a tweet weeks ago.
Boldin wanted to remain a Baltimore Raven, and had previously threatened to retire if he couldn't play for the Ravens in 2013. However, after refusing to take a pay cut to stay in Baltimore, the 32-year old now prepares to don the red and gold. It seems the talk of retirement was simply an empty threat.
Joe Flacco was upset to see one of his favourite targets leave the Super Bowl winning franchise:
"Anquan was a great receiver for myself and for our football team for this whole organization. It's sad to see a guy like that go, but at the same time you want what's best for him and you just wish him the best of luck."
The Minnesotta Vikings, meanwhile, finally proved the rumours were true and shipped star receiver Percy Harvin off. That wasn't a surprise. Harvin's destination, however, was a surprise. He's going to Seattle.
The Seahawks gave up their first round draft pick this year as well as their seventh rounder, and a mid-round pick next year to obtain the wide receiver's services.
Rich Eisen pointed out that a trade involving a wide receiver and a first round pick is a rarity in the NFL:
How rare is the Harvin trade? Last 3 WR trades involving a 1st round pick: Roy Williams, Deion Branch and Peerless Price.

— Rich Eisen (@richeisen) March 12, 2013
Seahawks fans and staff alike will be hoping Harvin turns out to be a better trade acquisition than Williams, Branch and Price turned out to be. It seems he is poised to make a big impact in Seattle, as he joins up with his former Vikings offensive co-ordinator Derrell Bevell. Bevell was with Minnesota from 2006-2010.
While the Seahawks are surely very happy to see one of the league's most dynamic pass catchers join their team, Vikings' star and reigning League MVP Adrian Peterson felt very differently:
The best all around player I ever seen or you'll ever see! Goes to Seattle! I feel like I just got kicked in the stomach. Several times!!!

— Adrian Peterson (@AdrianPeterson) March 11, 2013
It seems that both the Seahawks and the 49ers are taking strides to take the NFC West Crown in 2013. Boldin and Harvin mark significant upgrades to both team's offences, and both sets of fans should be excited about their impact moving forward.
Harvin finished 2012 with only 62 receptions for 677 yards, after only playing 9 games because of an ankle injury. He would have posted 110 catches for 1,200 yards if he'd have kept up that pace for a full 16-game season. That would have been good for the 11th most yards and the 5th most catches of anyone in the league. He also managed to score in three different ways; rushing, receiving and kickoff return.
Boldin finished the season with 921 yards and 4 touchdowns on 65 receptions. His performance in the playoffs, however, was what made Boldin stand out this season. He led all receivers in receptions, yards, first downs and touchdowns, and was a crucial part of the Ravens' Super Bowl winning run. The veteran wide out proved on the national stage that he still has what it takes to succeed at the top level. And he might have the strongest hands in football.
With free agency only hours away, let's hope the trades mark the beginning of an exciting and active period in the days to come.