NFL Teams be warned: Don't reach for these players!
756
The NFL Scouting Combine is in the rear view mirror. Free agency is sneaking up on us and minds are turning slightly away from the college talent and towards Mike Wallace and Jake Long. Before we give in to the free agency talk, let's give another look to this year's draft prospects.
Every year there are countless players that get drafted too early. Guys who are taken before where their value is best suited. That is a fact stamped in NFL history. It's called 'reaching' for a pick.
Scouting is an inexact science and very subjective. It is not surprising, therefore, that sometimes teams reach for a guy and just get it wrong. It's impossible to know what a player's value is until maybe two or three seasons into his career.
That's why all we can do at the moment is guess. So here is my best educated guess at which players, based on their current projected grade, are going to be taken too high in the 2013 NFL Draft.
Ezekiel Ansah, DE, BYU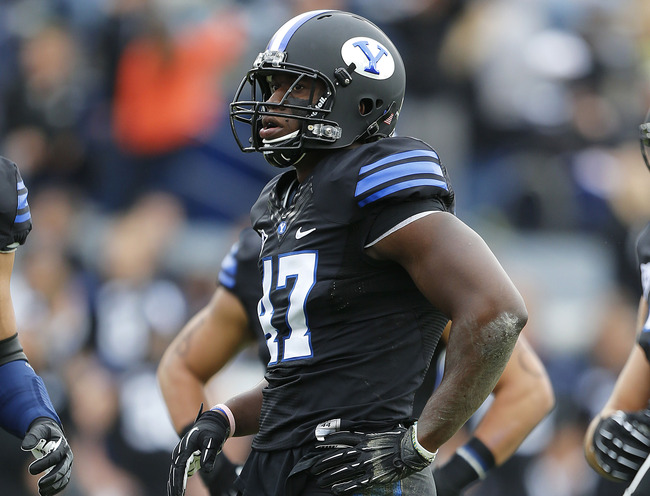 A native of Ghana, Exekiel "Ziggy" Ansah grew up playing Soccer and Basketball. He eventually transferred to the Football programme from the Track and Field team in 2010, after some persuasion by coaches.
Ansah plays with length and a ferocious combination of speed and power. His pad level is consistently low for such a raw talent, and his foot speed is almost unparalleled. His lack of experience on the football field, however, has left his technique in need of a lot of work.
These characteristics have led many to make comparisons between Ansah and Giants defensive end Jason Pierre Paul, who was drafted out of South Florida in 2010. Pierre Paul has similar physical measurements to Ansah, and was also a relative newbie to football.
Many believe Ansah will excel in the same way Pierre Paul has with the Giants. I've seen him get taken in the top ten or even the top five picks in some mock drafts. This makes me very uneasy.
To all NFL personnel departments: please, please, don't draft Ansah until at least the bottom of the first round.
Ansah is a project player, and a big risk. The comparisons to Jason Pierre-Paul are getting everybody hot under the collar and it might lead to some over enthusiastic GM pulling the trigger on Ansah way too early.
Yes, he was impressive in the Senior Bowl (although the week of practices before tghe actual game did not go well for Ansah). Yes, he put up predictably excellent numbers at the NFL Combine. Yes, his college career, while short, was very impressive.
But really, we don't know a whole lot about Ziggy Ansah.  Some people aren't even sure how enthusiastic he is for the game, having only played Football since 2010 after giving up on Basketball. He is a very raw player. According to NFL Network Draft guru Mike Mayock he is even more raw than Jason Pierre Paul was in 2010. And that is very raw.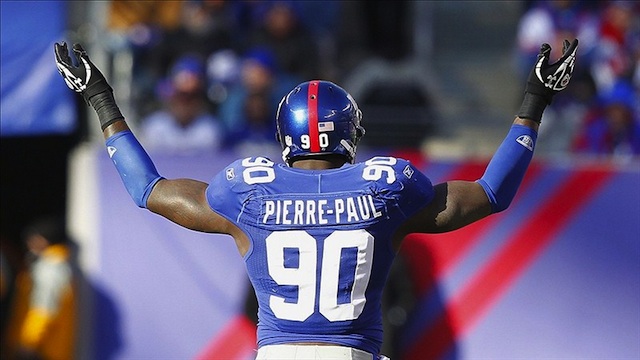 Maybe in a weaker draft class teams would need to gamble and take him, but frankly defensive end is so deep this year that it is a risk that teams don't need to take. Damontre Moore, Bjoern Werner, Datone Jones, Sam Montgomery, Barkevious Mingo, Margus Hunt, Cornelius "Tank" Carradine, Alex Okafor and Dion Jordan are all projected to go in the first two rounds.
Instead of gambling on Ansah, teams that really need a defensive end can take one of those quality pass rushers high in the draft with more peace of mind about what they are getting. Ansah's value is more in the top of the second round for me, where a draft flop becomes a more acceptable mark on a personnel department's resume.
Denard Robinson, WR/ST, Michigan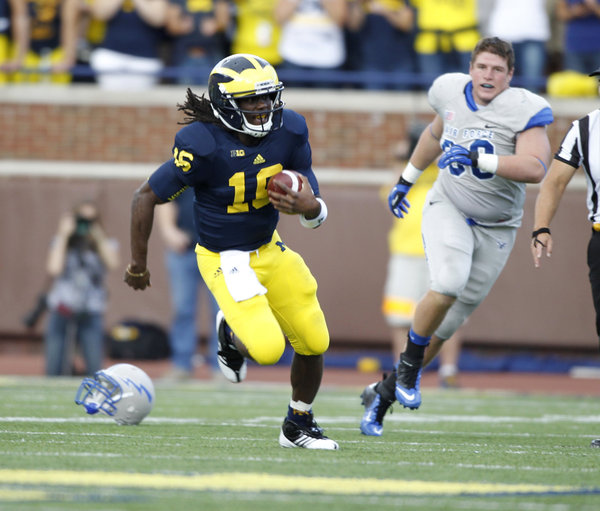 Denard Robinson was Michigan Wolverines' electrifying dual-threat quarterback over the past few years. He has broken records for rushing yards by a quarterback in Division I FBS, and won the Sugar Bowl in 2012 over Virginia Tech. Now, he's trying to convert to wide receiver in the NFL. I'm a Wolverines fan, but I don't have any love for Denard Robinson as a wide receiver at the pro level.
If I was playing Madden, I'd want him on my team without a doubt. He has video game athleticism. The kid is fast. When Madden 14 comes out I'll probably trade for him, the way I used to for Devin Hester and Orlando Scandrick back in the day.
Unfortunately, back in the world of real life, being fast isn't good enough. A pro wide receiver needs to know how to catch, how to run routes and double moves, find the soft spots in zone coverage and sit in them, release from cornerbacks at the line of scrimmage, and block. Robinson hasn't shown he can do any of those things to the level that he will need to to be successful in the NFL.
I wish that wasn't the case. The guy is a very tough, determined football player and everything you read about him paints him as a great locker room presence. I hope he makes it, I really do. I hope he proves me wrong.
But his performances at the Senior Bowl speak for themselves. He showed everyone that he will struggle as a pro wide receiver. Unfortunately, we can't even turn to the tape to prove otherwise. Robinson was a quarterback at Michigan and barely played wide receiver (he only caught 3 passes in 2012, and none before that). The evidence that he can play the receiver position just isn't there, no matter how hard you look for it.
That's why it baffles me that some analysts are suggesting the Robinson is worth a third or even perhaps a second round selection.
Sure, Robinson had a pretty solid Combine, catching everything thrown at him and excelling in the physical tests as expected. But what does that really prove? It proves that he can catch the ball wearing shorts and a t-shirt. And on an empty field with nobody around him.
What about in full pads with a cornerback on his hip? What about making an adjustment to his route based on the coverage of the defence?
I'm not saying the answer to these questions is that he won't be able to do it. All I'm saying is that it is impossible to know what the answer is. And without knowing, can you really justify using a second or a third round pick to bring him to your roster?
I can see it happening. I can see some GM drooling over his athleticism, a-la-the late Al Davis, and drafting on pure potential alone. But honestly, my advice would be to let Robinson go to at least the fifth round. There may not be a tougher kid in the entire draft, but there are better and more tested receivers avaliable, and they should all be drafted ahead of Denard Robinson.
Sam Montgomery, DE, LSU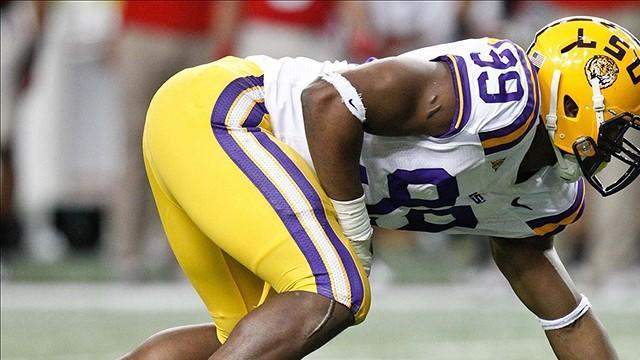 There isn't a player in this draft that I have more of a problem with than Sam Montgomery. First of all, he was stupid enough to admit that he has made bets with Barkevious Mingo, his fellow defensive end at LSU. The NFL does not like gambling. In any form. Yet he decided that to admit placing bets with a teammate was a good idea.
Personally I don't care that he's making bets. But regardless, coming out and admitting that he did it, and that he thought it was a good thing, was a stupid thing to do when he's entering a league that seriously frowns upon any type of sports betting. General Managers and coaches have to be worried about him because of this. Is he going to be a liability in the media spotlight? It's an image league, and Montgomery hasn't been smart enough to try and promote his.
That's problem #1. Problem #2 is much worse:
It isn't that often that a player's college coach calls him out and jeopardizes his chances of a high draft selection. Meet LSU Strength coach Tommy Moffitt.
Moffitt put up a sign in December. This is what is said:
"Dear NFL Scouts: The following athletes miss workouts and always have an excuse. These men lack the self discipline and the motivation to take care of their responsibilities. I will not answer questions regarding their performance numbers or character as they care only about themselves."
A list of names appeared next to the sign. Guess whose name is on the list? This is much worse than the gambling thing, as a failure to work hard in the weight room can translate to a lack of production on the field. It could also mean the player has an uncompetitive attitude. Compare Montgomery to someone like Ray Lewis, who pretty much worked out every day of his 17 year NFL career. It's obvious which guy would have the competitive edge on the field. Coaches don't want slackers, and Montgomery is gathering that reputation. Slackers don't make it in the NFL, just ask Albert Haynesworth and JaMarcus Russell.
What's worse than having that label is how he's responded to it. When asked about displaying a lack of effort in some games in college, Montgomery gave this answer:
"You know, some weeks when we didn't have to play the harder teams, there were some times when effort was not needed," he said."But when we had the big boys coming in — the Bamas or the South Carolinas — I grabbed close to those guys and went all-out."
He told everyone, including NFL Coaches who are some of the most dedicated and hard working men in all of sports, that he didn't work hard on the field because sometimes he felt like he didn't have to. Montgomery's agent must be pulling his hair out! Who says something like that? Trust me, coaches remember that sort of thing. They want players that are going to give everything, all of the time, to make the team successful. Players who show that they are going to put in the effort.
An extreme example comes from Bill Polian's experience at the 1998 Combine. He had to decide which quarterback the Colts were going to pick #1 overall, Peyton Manning or Ryan Leaf. As part of that process, he asked them both the same question: "If we make you the #1 overall pick, what's the first thing you're going to do?" This is what they said in response:
Peyton: I would immediately ask for the playbook so I can learn it as fast as I can. I would do everything in my power to be the starting quarterback as soon as possible so the Colts can start winning again.
Ryan Leaf: I'm calling up my buddies and we're going to Vegas!
Montgomery is more Ryan Leaf than Peyton Manning, and history has shown that that is not a good thing. One is a future first ballot hall of famer and the other is one of the biggest draft busts in history.
All of that stuff is all a big turn-off for me with Montgomery. I wouldn't want to see my team take him until about the third round. How can you draft a player with a high pick when you don't know how hard he is going to work for you? The answer is you can't.