San Francisco 49ers draft Jimmie Ward: A head-scratching pick or a clever move?
By Ryan Rodriguez I took a break from the NBA playoffs last night to take in the nearly four hour NFL draft extravaganza, hoping to see the Niners trade up for my favorite player in the draft, Odell Beckham, Jr., … Continue reading →
1.70K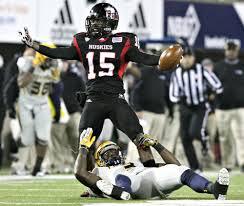 By Ryan Rodriguez
I took a break from the NBA playoffs last night to take in the nearly four-hour NFL draft extravaganza, hoping to see the Niners trade up for my favourite player in the draft, Odell Beckham, Jr., or possibly Darquez Dennard or Kyle Fuller. We all know now that no trade took place for the Niners, but in drafting Jimmie Ward, they didn't drop the ball on a head scratching pick either.
He might be considered to be head-scratching because he's from a small school, Northern Illinois, or because his primary position, safety is already filled with projected starters, or because there wasn't much draft buzz around him, but taking a look through several big boards, I found him to have a low first round/high second round grade and what I've read, I've liked.
I remember hearing, back in February, that he was someone the Niners could draft due to his versatility as both a run player and coverage man, but when the team signed Antoine Bethea, I figured he was out of the question because he was a safety and the team didn't need one. However, what I remembered about him that always stuck in my mind was his projection to be a nickle corner, someone comfortable playing man to man in the slot, and a clear position of need since none of the corners on the Niners roster project to being a good slot corner. (In my eyes, Perrish Cox was the only viable option to play in the slot and he's not that good.)
So as I looked at my friend last night as Goddell was walking up to the podium I said, "They (Niners) are going to draft someone unexpected." And then when I heard the name Jimmie Ward, I fell back on the early scouting reports of him as a nickle corner and felt comfort.
Google searches of various big boards, better known as the ones not seen on NFL Network or ESPN, gave me even greater peace of mind. Of the nine big boards I looked at, five placed him among the top 32 players and the lowest board had him at 43. Clearly this guy is a talent, and I'm not so sure the team could have found a trade back partner where they felt Ward would fall to them. Trent Baalke has clearly shown that he identifies a guy he is comfortable taking at the Niners' predetermined spot in the draft by taking him despite the hype around him by the media.
This worked out with Aldon Smith and not with A.J. Jenkins, but Ward at least had the scouts' buzz that he was as good as his draft position. And though it maybe redundant to some to have a third safety, Baalke said last night the Niners play with nickle personnel about 60% of the time and Ward will be competing for that 5th db spot, which would essentially make him a starter. On top of that, it provides depth at safety for two players, Bethea and Eric Reid, who have shown themselves to be injury prone.
The two things that have me most excited about the pick are Ward's coverage abilities and his tackling. With the Niners running so much Cover 2 man, they need players with instincts and skills who can track receivers from a solid trail position and then have the ability to make plays when the ball comes their way. While I have been seeing that Ward has some trouble tracking the ball in the air, Cover 2 man alleviates some of these problems because theoretically, you have someone over the top at all times who can help on the deep throws. And though he was a safety in college, he seemed to play a lot in the box, meaning he will be more accustomed to the demands of a db covering a receiver or tight end with a two way go, one of the toughest things to do in man.
His tackling also has me drooling, as he does a great job of being physical despite his size, really sizing up people in the open field and attacking their waist. To me, that is a very important thing to see, as he won't be missing tackles because he is an ankle grabber and also fits into the Niners philosophy of targeting and fielding a great tackling defence. He also seems to do a good job of balancing the line between going for big hits and making the solid tackle, something that minimizes the risk of missed tackles.
http://youtu.be/xJCN2kOy4Uk
He does have a slight frame, weighing only 191 pounds, and it something of a concern as he did get pushed around at times, including against Florida St in the 2012 Orange Bowl. If the Niners can get him up to around 200-205, he will have a better chance to handle the beating he could get from playing in the slot and having to take on tackles and tight ends in the run game.
For the raves he has gotten about his coverage ability, there are some whispers of less than ideal lower body fluidity, hip movement and such that is crucial for man to man, but as I mentioned before, the help in the Cover 2 man scheme will mask some of these flaws. When the main knock is size but the player is said to more than have the ability to start and succeed, I will always take the football player over the prototype with less skill.