In this series of articles, I am going to attempt to help new fans of American football select their team of choice in the NFL/EFLI as they begin following the fast growing sport. The teams have been split into four categories for your benefit;
Bandwagon teams – These are teams that the bandwagon fans are quick to jump on; teams that will likely have a lot of success in the coming years. Bandwagon teams do not have to have a rich history, but they do need to be able to win now. These teams will mostly have very talented rosters, and without a doubt they will have a talented starting quarterback. You'll be interested in picking one of these teams if you don't like watching your team lose.
Almost bandwagon teams – The name speaks for itself. These are teams that always have a chance to be successful, but who have not managed it consistently enough in recent years to merit a bandwagon following. Some will have great quarterbacks and poor teams, while others might have the rest of the team but not the quarterback. Whatever the case is, they show a lot of promise…
•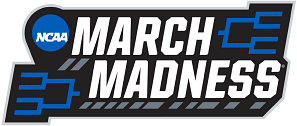 Optimists – These teams don't look like they are capable of winning a Super Bowl any time soon, but in the uncertain climate of the American Football, you never know. At least a few of these teams will likely make the playoffs in the next couple of years.
Tragedists – This is the basement of the league. These teams show little quality and little hope, and only fans interested in adopting the most desperate and tragic of franchises should look to find their new team here.
We all have our own special reasons for choosing a sports team. For anyone living outside America, geography doesn't really come into it. We look, instead, at popularity of the team, style of play, colours, logos, mascots, individual players or anything else that piques our attention. I myself landed on my NFL team (the New England Patriots) purely by accident. They were playing in the first game of American football that I ever watched on TV, and knowing nothing, I selected them as my team simply because they had "England" in their name. It can often be that simple.
Not knowing what each of you will look at in deciding your team, I have tried to provide as much detail as possible. Today, we will be looking at the teams in the bandwagon category…
Bandwagon Teams
Sometimes, new fans just want to pick a team that is going to be fighting for a championship every year. You want to see your team win, right? That's what makes it so interesting, isn't it?
Well, if you are looking for the very best of the best in the NFL, look no further than this list of teams. These powerhouses of American football are sure to keep you engaged and entertained all season long, and hopefully, will give you something to cheer about when the Super Bowl comes around in February.
New England Patriots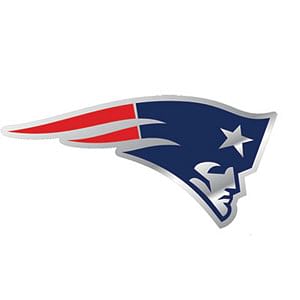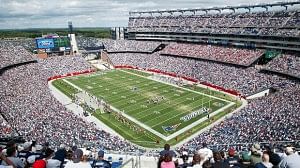 Gillette Stadium, home of the New England Patriots
Colours: Blue, Red and Grey
Mascot: Pat Patriot
Stadium: Gillette Stadium
Home City: Foxborough, Massachusetts
Super Bowl wins: 3 (6 appearances)
Records over last 5 years: 61 wins, 19 losses, 5 playoff appearances
Best Players: Tom Brady, Rob Gronkowski, Vince Wilfork
About the team: The New England Patriots are the classic team of the bandwagon fans.
With 8 appearances in the AFC Championship game (the Semi-Final), 5 appearances in the Super Bowl (with potentially a 6th coming this weekend) and three Super Bowl championships (2001, 2003, 2004) in a little over a decade, the Patriots are the most successful team in recent NFL history by some distance. The last time the Patriots had a losing season was 2000. Unsurprisingly, that has drawn a lot of fans their way. Supporters of this team expect to win their division and make the playoffs every year, and most of the time that expectation is met.
A warning, however. The Patriots have been the powerhouse of the NFL because of two people – quarterback Tom Brady and Head Coach Bill Belichick. They are considered by most to be among the best ever at what they do, but both are probably within a few short years of retirement. If you select this team to root for, don't expect the good times to last that long. Once Belichick and Brady are out of the picture, there is no telling what will happen to this franchise.
As a franchise the Patriots are fun to watch, but boring to listen to. Whilst the quick-paced and pragmatic offense is fun to view on the field, off the field the players very rarely produce sound bites of any worth in the media, and are probably the most secretive team in the league. Their fan base is extensive and international, and for the most part quietly arrogant. This, along with a controversy known as "spygate" (I'll let you look that up on your own), makes New England one of the most hated teams in the NFL.
Click here for their 2013 highlights.
San Francisco 49ers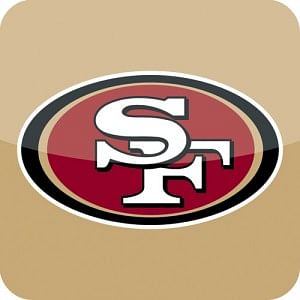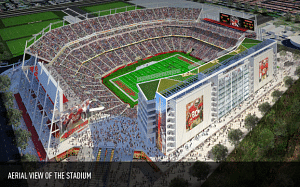 A graphical projection of Levi's Stadium, home of the 49ers from 2014 and currently under construction
Colours: Red, Gold
Mascot: Sourdough Sam
Stadium: Levi's Stadium (as of 2014)
Home City: San Francisco, California
Super Bowl wins: 5 (6 appearances)
Records over last 5 years: 50 wins, 29 losses, 1 tie, three playoff appearances
Best Players: Patrick Willis, Navarro Bowman, Vernon Davis
Bio: Between 1981 and 2002, a span of 22 seasons, the San Francisco 49ers won five Super Bowls and went to the playoffs 18 times. Between 1983-1998, they had 16 winning seasons in a row. With Joe Montana, Jerry Rice and Steve Young, they created a legacy that echoes through the NFL. This is a team that was always expected to win.
However, the turn of the century was not kind to the 49ers. Between 2003 and 2010, the team did not have a winning season, and the glory days of old seemed to be fading from memory. Enter Jim Harbaugh.
Harbaugh, a former NFL quarterback, was named the Head Coach before the 2011 season and hasn't looked back since. In his first season he overachieved immensely, losing the NFC Championship game to the eventual Super Bowl winning Giants. He was awarded Coach of the Year for his efforts. In his second season, he went a step further, but lost in the Super Bowl to the Baltimore Ravens. This season, he has his team back in the Championship Game, with a shot at getting back to the Super Bowl. This is a team rounding back into its pre-21st century form.
With a plethora of talent behind him, Jim Harbaugh and his team are set to become a huge success in the NFL. His quarterback, Colin Kaepernick, has already won 4 playoff games in his first two seasons, and is still only 26 years old. His defense is loaded with talent and is consistently one of the top five defenses in the league. They hit hard, they play tough and they run fast.
The offense is less exciting, running more than passing in 2013. However, with Colin Kaepernick at quarterback, games are rarely dull. The young player is supremely quick, and can take off and run when the opportunity presents itself, producing heart-in-mouth moments for neutrals as well as fans.
With a new home in 2014 in Levi's Stadium and a roster stacked with talent and promise, the 49ers are set for a bright and electric future in the years to come.
Click here for their 2013 highlights.
Denver Broncos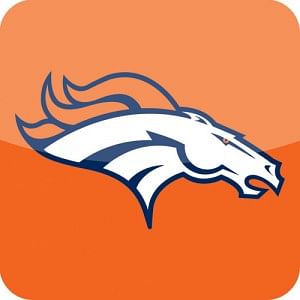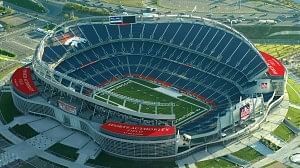 Sports Authority Field at Mile High, home of the Denver Broncos
Colours: Orange and Blue
Mascot: Miles
Stadium: Sports Authority Field at Mile High
Home City: Denver, Colorado
Super Bowl wins: 2 (6 appearances)
Records over last 5 years: 46 wins, 34 losses, 3 playoff appearances
Best Players: Peyton Manning, Von Miller, Demaryius Thomas
Bio: Denver have just completed a 2013 season that saw their offence, led by quarterback Peyton Manning, break a number of NFL records. Manning himself had the single greatest season in NFL history, throwing for a record number of yards and touchdowns in sensational style, and at the tender age of 37.
The Broncos have only recently been taken over by Peyton Manning, who from 1999 to 2011 played for the Indianapolis Colts, winning a Super Bowl there in 2006. Since taking his talents to the thin air of the Colorado mountains, he has continued his reign of excellence. The Broncos have the best assortment of offensive weapons in the NFL, and are set to be a threat to the rest of the league for years to come.
A word of caution comes with this team, however, as it did for the New England Patriots. At 37 years of age, Peyton Manning is likely to retire in the very near future. Once he does, there is no guarantee that the Broncos can maintain their excellence, given that before he showed up the team only made the playoffs once in the past six seasons. Having said that, while Manning is in charge, they are a real threat to win the Super Bowl every year.
Click here for their 2013 highlights.
Seattle Seahawks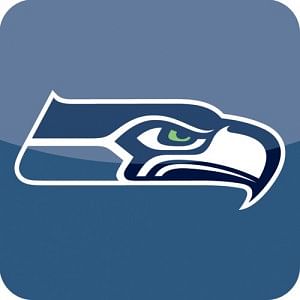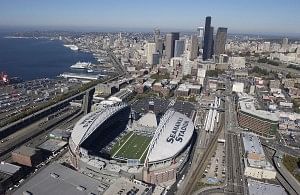 CenturyLink Field, home of the Seattle Seahawks and the loudest outdoor sports stadium in the world
Colours: Blue, Green and Grey
Mascot: Blitz
Stadium: CenturyLink Field
Home City: Seattle, Washington
Super Bowl wins: 0 (1 appearance)
Records over last 5 years: 43 wins, 37 losses, 3 playoff appearances
Best Players: Marshawyn Lynch, Earl Thomas III, Richard Sherman
Bio: The Seattle Seahawks are fast becoming the trendy team in the NFL. Entering the 2013 season they were considered to be the most talented team in the NFL, and have done nothing to disprove that theory since, playing this coming weekend in the NFC Championship game for the right to play in the Super Bowl. They have an enthusiastic coach in Pete Carroll, and a roster full of talent and attitude behind him.
Their defensive backs are the most skilled in the league, and have been nicknamed the "Legion of Boom" because of their ferocious style of play. Their running back, Marshawyn Lynch, is one of the most physical runners in the game, and carries the affectionate nickname "Skittles", due to the fact that he eats a lot of skittles during games.
Beyond that, they have an exciting young quarterback in Russell Wilson, part of a new generation of smaller, faster quarterbacks who are able to run with the ball as well as throw it. However, the offensive play is not always exciting. The Seahawks were one of only two teams who ran the ball more than they passed in the 2013 season. Their style of play is brutal, tough, and sometimes boring for a newcomer to watch. But it is effective.
Seattle shares an intense rivalry with the San Francisco 49ers. As the two best teams in the NFC conference and division rivals, they play meaningful games against one another every year. The two are quite similar, with mobile quarterbacks and terrifying defenses, and it has made for some hard hitting games with no love lost. As a cherry on top, the two head coaches have a dislike for one another as well, going back to their days as coaches in the college ranks.
The Seahawks are blessed with a very passionate fan-base, some say notoriously so. They regularly defend their team with vigour on social media, and this past season they set the world record for noise level in an outdoor sports stadium. Twice. This is a sports franchise with no room for fans with half an interest. They are true fanatics and they behave that way.
Click here for their 2013 highlights.