Anime Expo is considered the largest anime convention in North America, akin to San Diego Comic-Con for comic book fanatics and the mainstream geeky fandom. It is held in Downtown Los Angeles. The latest edition will take place from July 1, 2023, to July 4, 2023.
As this will be a large event, with Shin Megami Tensei's 30th anniversary being celebrated with a massive concert on July 1, it may be daunting to figure out what should be done first.
This guide covers everything from Anime Expo, including the schedule, guests of honor, and other things to expect from attendance. This includes details on the aforementioned anniversary concert and guests, including Nier: Automata creator Yoko Taro.
---
Anime Expo 2023: All you need to know
Schedule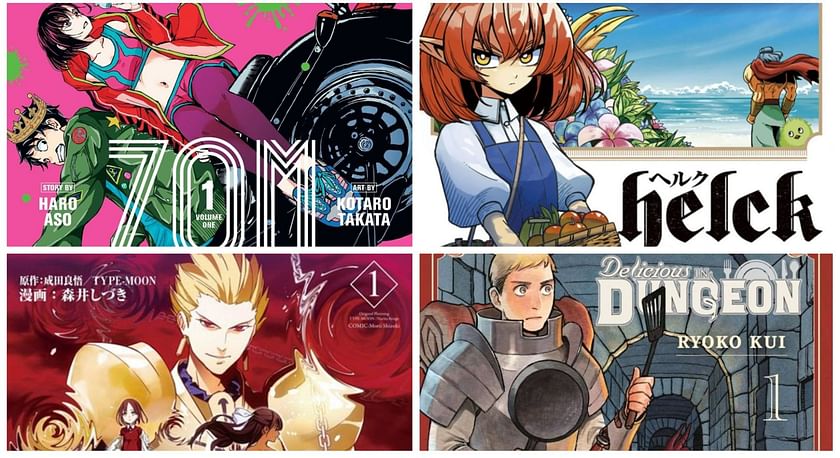 A quick disclaimer before proceeding with Anime Expo's four-day schedule: all of these events are subject to change without notice. They are likewise subject to the room being cleared or not. For more information, please check out Anime Expo's 2023 schedule on the Anime Expo website. The con runs from July 1 to July 4.
Anime Expo's Welcoming Ceremonies will commence on July 1 at 10:30 am. From there, the convention will begin in earnest. The main Day 1 highlights for the more anime enthused are meeting the creator of Bungo Stray Dogs, Kafka Asagiri, at 11:00 am. The Eminence in Shadow S2 is likewise set to have its world premiere at 12:15 pm.
There's also the Zom 100: Bucket List of the Dead World Premiere at 12:30 pm, The HELCK NA premiere at 1:30 pm, and the Delicious in Dungeon premiere at 1:45 pm. Other anime include the Level 1 Demon Lord and One Room Hero premiere at 5:30 pm and the world premiere of Fate/strange Fake -Whispers of Dawn at 7:00 pm.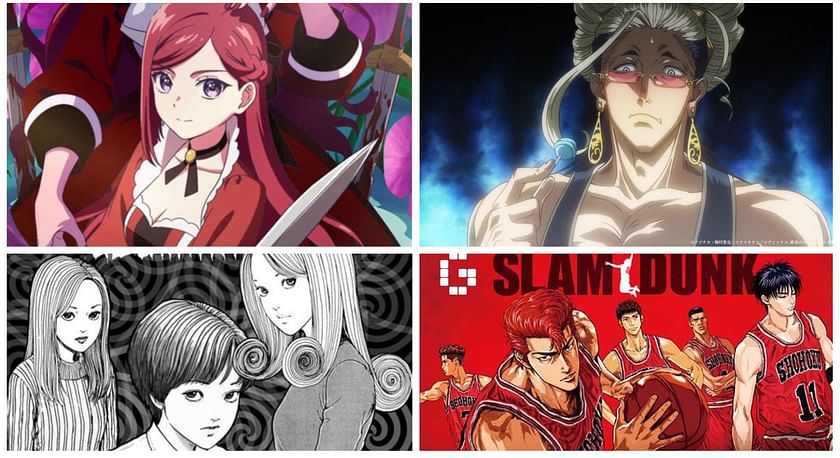 Day 2's schedule will begin promptly at 10:00 am with a manga publishing roundtable featuring the editor-in-chief of JUMP+, among others. For anime lovers, there are the Production I.G. and WIT Studio panels featuring Uzumaki at 10:00 am. There's likewise the North American premiere of The Most Heretical Last Boss Queen: From Villainess to Savior! at 12:00 pm.
There's also the Record of Ragnarok II premiere at 1:00 pm, the Kaina of The Great Snow Sea movie premiere at 4:30 pm, and the Dub premiere of One Piece's 1000th episode. Finally, the Viz industry panel at 4:30 pm will provide information on various series like Chainsaw Man, Spy x Family, and more.
Day 3 will kick off with a morning ATLUS west panel and a new isekai anime project shown off by Warner Brothers Japan and Wit Studio at 10:00 am. There's also the first reveal of the Story of a High School Girl and her Robot Companion around the same time and Mega64's 20th-anniversary panel at 11:00 am.
Sports anime fans might get a kick out of seeing the North American premiere of THE FIRST SLAM DUNK movie at 12:00 pm before it hits the US and Canadian theaters in the summer. There are plenty of other things on Day 3, like AX Cinema Nights showcasing Satoshi Kon's works at 5:30 pm.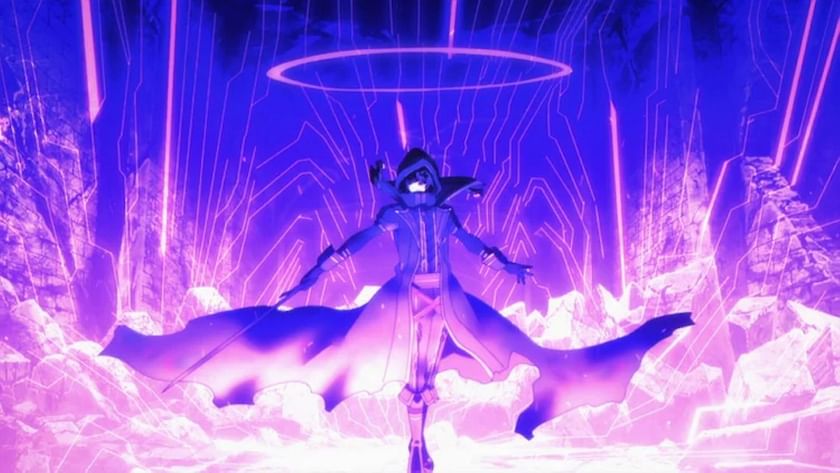 The final days of anime cons are always bittersweet, but Anime Expo 2023 has more than a few things on its final day. The first is a Hideo Kojima fan panel at 10:00 am, followed up by the Eminence in Shadow Season 2 Dub Premiere at 11:00 am. There is likewise a Cyberconnect2 panel for fighting game fans at 12:00 pm.
Other standout panels include the Charity Auction from 1:30 pm to 4:00 pm, a panel dedicated to Kingdom Hearts lore at 1:00 pm, and a love letter to Tokyo Pop at 1:30 pm. Closing ceremonies go from 4:00 pm to 5:00 pm.
---
Guests of honor
As per usual for one of the biggest anime conventions, Anime Expo 2023 is set to have some rather superlative guests of honor. The aforementioned Yoko Taro, the creator of the Nier and Drakengard series of video games, is one of them. Taro has also worked on manga, Drag-on Dragoon specifically, and is the president of his own game studio Bukkoro.
The second guest of honor is Jin (Shizen no Teki-P), a Japanese musician, producer, lyricist, novelist, and screenwriter best known for the Kagerou Project mixed media franchise. He's also produced and written several different Vocaloid songs, mostly for Hatsune Miku and IA.
The third guest of honor is Hiroyuki Seshita, whom CG anime and manga fans should be familiar with. He participated in making Final Fantasy: The Spirits Within and others like Knights of Sidonia, Godzilla: Monster Planet, and Lupin III vs. Cat's Eye.
The fourth guest of honor at Anime Expo 2023 is Soul Eater creator Atsushi Ohkubo. Soul Eater is absolutely fondly remembered as a fun anime, and so is Fire Force in both anime and manga form. He's likewise going to be the character designer for the original TV anime KamiErabi GOD.app, collaborating with Yoko Taro.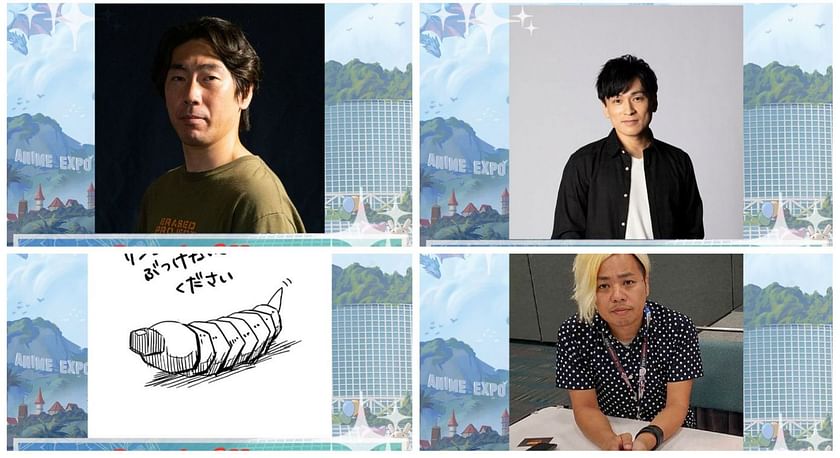 The fifth guest of honor includes Zom 100: Bucket List of the Dead mangaka Kotaro Takata. The mangaka will be taking a deep dive with the premiere screening at a Viz panel on Saturday, July 1, at 12:30 pm. He was also an artist on I Am Sherlock.
The sixth guest of honor is Pokemon GO and Nintendo character designer Yusuke Kozaki. Kozaki has worked on many titles, including Fire Emblem Awakening, No More Heroes, Super Smash Brothers, and Tekken 7. He will have an art exhibition and will be at the con from July 1 to July 2.
Ichigo's Kurosaki's Japanese voice actor Masakzau Morita also joins as a guest of honor. Morita lent his voice to Titus in Final Fantasy X. Morita likewise has done Shin in Kingdom and Barnaby Brooks Jr. in Tiger and Bunny. Catch him on July 2 at the Viz panel and July 3 at the Bleach TYBW panel.
Bungo Stray Dogs' manga author and novelist Kafka Asagiri is likewise attending as a guest of honor. He made his debut with Bungo Stray Dogs in December 2012 and has gone on to pen Ayane Shinomiya Never Makes an Error and Guilty Children.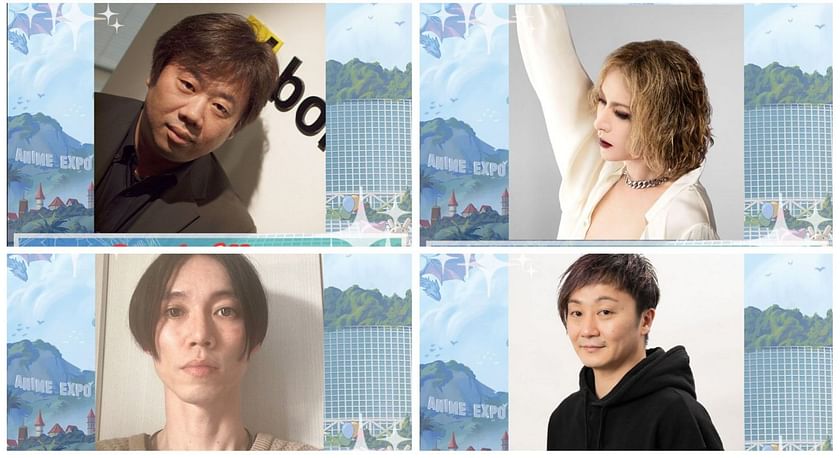 Studio BONES co-founders Masahiko Minami and Toshihiro Kawamoto will join up as well. Miniami worked with Sunrise on The Vision of Escaflowne and Cowboy Bebop. Kawamoto has worked on Mobile Suit Gundam 0083: Stardust Memory, Wolf's Rain, and Noragami, among others.
The director of Pompo the Cinephile, a love letter to filmmaking an anime, Takakury Hirao, will be attending a screening of the film on Saturday, July 1. Hirao is known for working on God Eater and Garden of Sinners, among other works for Madhouse and Ufotable.
Other guests of honor include the Chief Animation Director, Animation Producer, and Director of The Ancient Magus' Bride Season 2, music superstar YOSHIKI, who also led rock bands X Japan, The Last Rockstars, who did the music for Attack on Titan, and Kazutaka Kodaka, who designed and wrote the Danganronpa series of games.
---
What to expect from Anime Expo 2023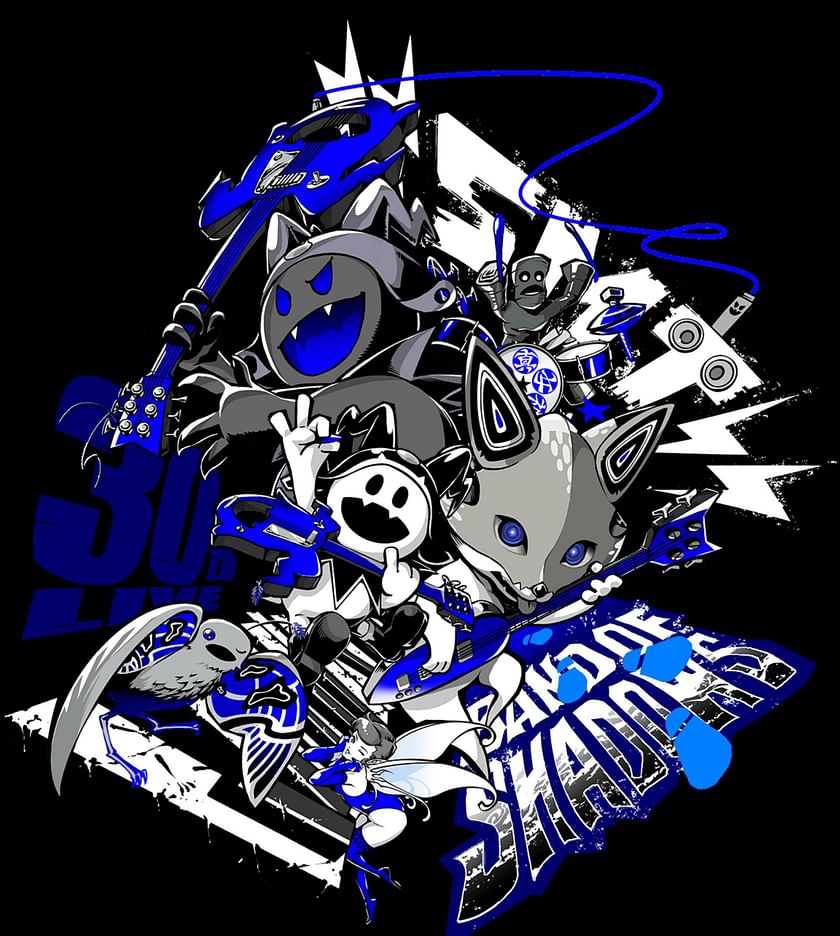 One of the first things to expect from Anime Expo 2023 is the Shin Megami Tensei 30th Anniversary concert happening from 8:00 pm to 10:30 pm on July 1. Entitled SMT 30th Live: Band of Shadows, the concert is for adults 18+ and requires both an event concert ticket as well as an Anime Expo Attendee badge and a government-issued ID.
As a general notice, all ticket sales are final for all events, and no late entries, refunds, or exchanges will be provided for missed shows. Likewise, any and all 18+ events require a wristband, a government-issued ID, a ticket to the event itself, and an Anime Expo badge. For more information, please check out the Anime Expo website under Ticketed events.
Here are the ticket prices for the concert itself, including the pre-show VIP reception that begins at 5:00 pm and includes early access and voice actor meet and greets:
Pre-Show VIP reception: $125 (begins at 5 pm, limit 1 per person, event voucher must have a ticket and Anime expo badge in attention to event voucher)
$95 VIP Pit (Standing)
$85 VIP Balcony
$70 GA Floor (Standing)
$50 GA Balcony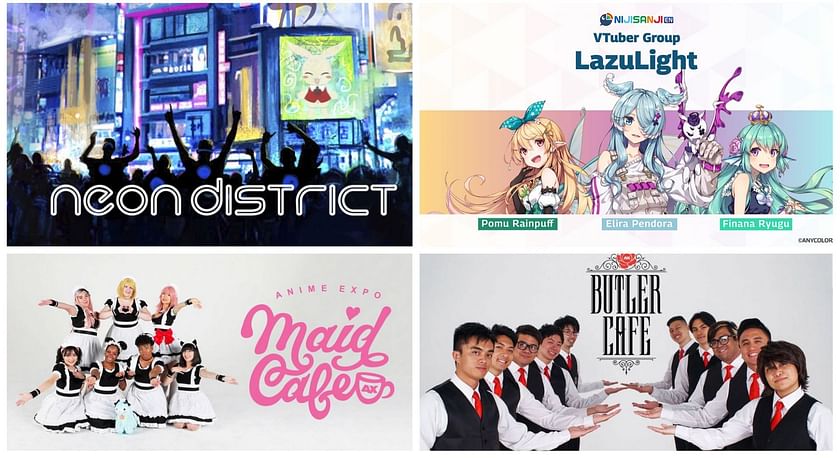 In addition to that concert, there are several other ticketed events, including:
AX Summer Fest, an all-ages musical spectacle featuring Japanese rock bands Cö shu Nie (Jujutsu Kaisen; Tokyo Ghoul) and Mili (Ghost in the Shell: SAC_2045; Goblin Slayer). Also featuring Japanese musical guests Yameii Online, Mii, Mirei, and Welksie going from Sunday, July 2, 2023, at 7:00 pm to Monday, July 3, 2023, at 12:00 am PDT. Tickets start at $50 for GA Balcony, $55 for VP Balcony, and $60 for GA floor. Must have a valid AX Summer Fest Event ticket and a valid Anime Expo 2023 badge.
The 2023 Masquerade and World Cosplay Summit USA finals are basically a huge Cosplay contest and double event that gets streamed worldwide. It runs from Sunday, July 2, 2023, at 7:00 pm to Monday, July 3, 2023, at 12:00 am PDT, and tickets are required with the Anime Expo attendee badge. Tickets run in tiers here: Block C tickets are $7, Block B tickets are $12, and Block A tickets are $17.
Neon District is a massive rave event headlined by Taku Takahashi (m-flo) alongside other dance music acts straight from Japan like Beignet (Nor + YUC'e), TORIENA, and more. The event is 18+ and thus requires a ticket, a valid Anime Expo badge, an Anime Expo 18+ wristband (can be obtained from any Information Services booth, Ticketing booth, or event operations locations in room 508), and a valid government-issued ID showing the date of birth (required by security and for alcoholic drinks at the bar). The event runs from Monday, July 3, 2023, at 8:00 pm to Tuesday, July 4, at 1:00 am PDT. Tickets are $45.
An all-ages (and 18+) maid cafe. Maids, moe, dances, and other performances make this one of the most popular shows and events in Anime Expo. It's so popular that, at the time of this writing, the 18+ event is sold out. General admission to the general 2023 maid cafe is $23.00, the photo op voucher is $10. There are various times for this one, please see the Anime Expo website for availability.
An all-ages (and 18+) butler cafe. The gender-flipped variant of the maid cafe, the butler cafe offers the same fun and excitement as the maid cafe. Both versions still have tickets available at the time of writing, please see the Anime Expo website for ticket availability. The tickets for the general 2023 Butler Cafe are $23.00, and the photo op voucher is $10.00. The 18+ event is $33.00 for general admission, $10 for the photo op voucher, and $12 for the Kabe-don photo op voucher.
Other events to see are the massive Artist Alley consisting of over 550+ artists, the Exhibit gallery featuring over 300 exhibitors, video gaming, AMV competitions, game shows, manga lounges, industry autographs, premieres of various anime such as a new Studio Trigger title called Delicious in Dungeon, various V-Tuber panels featuring such talent as Ironmouse and Projeckt Melody, Q&As and various 18+ panels for the more adult inclined in the evenings.
---
Anime Expo 2023 is sure to be fun for all ages involved when it begins in less than a month on July 1, 2023. As mentioned before, there was no real way to fit every single panel or premiere or Q&A in the full unabridged schedule onto this article without compromising the readability or potentially making it as large as the Anime Midwest article.
For those who are looking forward to it and want to maximize the fun, a few last considerations: badges and tickets should be purchased in advance for the convention and events on Anime Expo's website. Follow all health guidelines, and behave as civilized as possible.
Sportskeeda Anime is now on Twitter! Follow us here for latest news & updates.
Edited by Rachel Syiemlieh