Jujutsu Kaisen chapter 209 spoilers reveal that the upcoming chapter will take readers back to the situation in the colonies on November 14, beginning with Tokyo No. 1 colony. The previous chapter confirmed Kenjaku's victory over Yuki and Choso at the Star Corridor on November 16, making it evident that the villain will soon move forward with the next step of his plan.
The leaked spoilers for Jujutsu Kaisen chapter 209 brought characters like Higuruma and Hazenoki back under the spotlight, revealing how the remaining players in the colony are dealing with the foreign soldiers. This article discusses every new sorcerer introduced in the colonies during the Culling Game in Jujutsu Kaisen.
Disclaimer: This article contains spoilers for the Jujutsu Kaisen manga.
---
A list of every major sorcerer introduced during the Culling Game in Jujutsu Kaisen
1) Rin Amai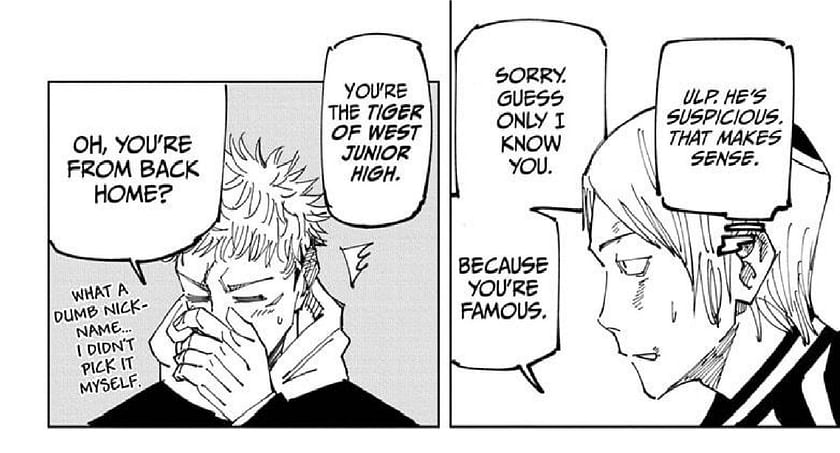 Rin Amai is one of the first players introduced in the Culling Game. First appearing in chapter 161 of Jujutsu Kaisen, Rin is portrayed as a weak-willed individual who analyzes the behavior of those around him to avoid becoming a target for bullies. He first encountered Yuji in his hometown of Sendai when the latter stood up to some bullies and quickly overwhelmed them.
Rin recognized Yuji in Tokyo No. 1 colony and revealed that he had been turned into a sorcerer and forced to participate in the Culling Game before helping the pink-haired teenager and leading him to Higuruma. Rin appears in Jujutsu Kaisen chapter 209 raw scans, hiding as he sees foreign soldiers entering the colony and attacking sorcerers.
---
2) Hiromi Higuruma
Yuji and Megumi entered Tokyo No. 1 colony in search of Hiromi Higuruma, one of the first Culling Game players to secure 100 points. Previously an attorney who willingly took on difficult cases, Higuruma eventually lost faith in the justice system.
The attorney's pent-up negativity and resentment awakened his cursed technique, enabling him to exorcize several cursed spirits before entering the Tokyo No. 1 colony and killing over 20 players who attacked him.
When Yuji encountered Higuruma on November 12, the latter was already on the same level as a grade 1 sorcerer and could use Domain Expansion. At the end of his confrontation against Yuji, Higuruma used up his points to add a new rule and allow points to be transferred between players.
Higuruma appears once more in Jujutsu Kaisen chapter 209 spoilers as the new players begin entering the colonies.
---
3) Remi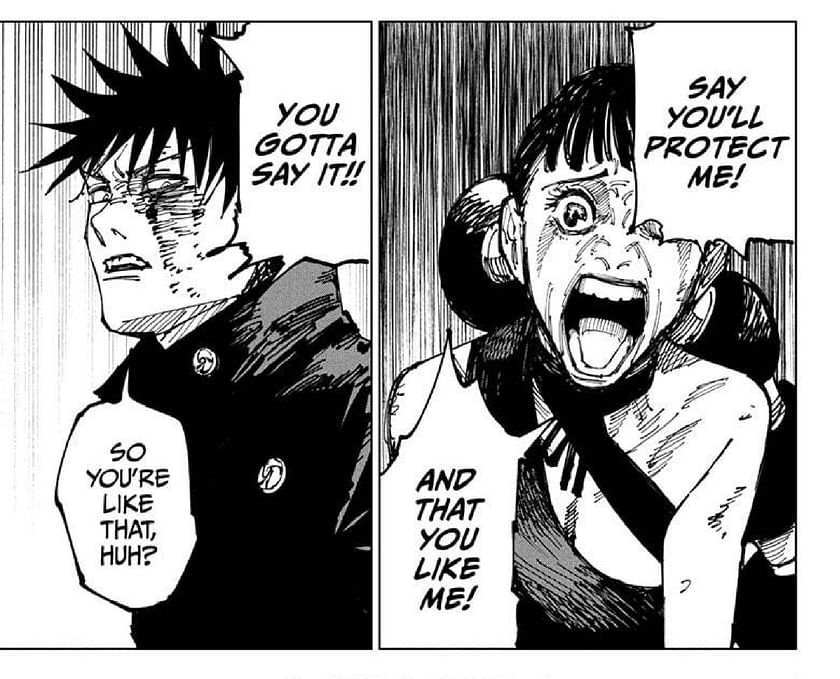 Another player introduced in the Tokyo No. 1 Colony was Remi, who tricked Megumi by insisting she knew of Higuruma's whereabouts and led him to Reggie Star instead. She is portrayed in the series as a cowardly individual with a fairly weak cursed technique who deludes herself into thinking that men will protect her because of her attractive appearance.
Remi is also the first sorcerer shown to be captured by the soldiers in the raw scans for Jujutsu Kaisen chapter 209, being first electrocuted and then injected with some sort of chemical.
---
4) Iori Hazenoki
Iori Hazenoki was introduced as one of Reggie Star's associates in the Tokyo No. 1 arc of Jujutsu Kaisen. A sorcerer reincarnated by Kenjaku, Hazenoki's violent personality lends itself very well to the kill-or-be-killed mindset of the Culling Game. His cursed technique allows him to use his organs and body parts as explosive devices while using Reverse Cursed Technique to grow them back.
Hazenoki was forced to fight Takaba, who appeared unexpectedly to assist Megumi, but refused to keep fighting when he realized that Reggie had been killed. Jujutsu Kaisen chapter 209 provides a glimpse of Hazenoki killing one of the soldiers trying to capture him, which is in keeping with Reggie's assessment that the explosive sorcerer would kill anyone if they made him angry enough.
---
5) Reggie Star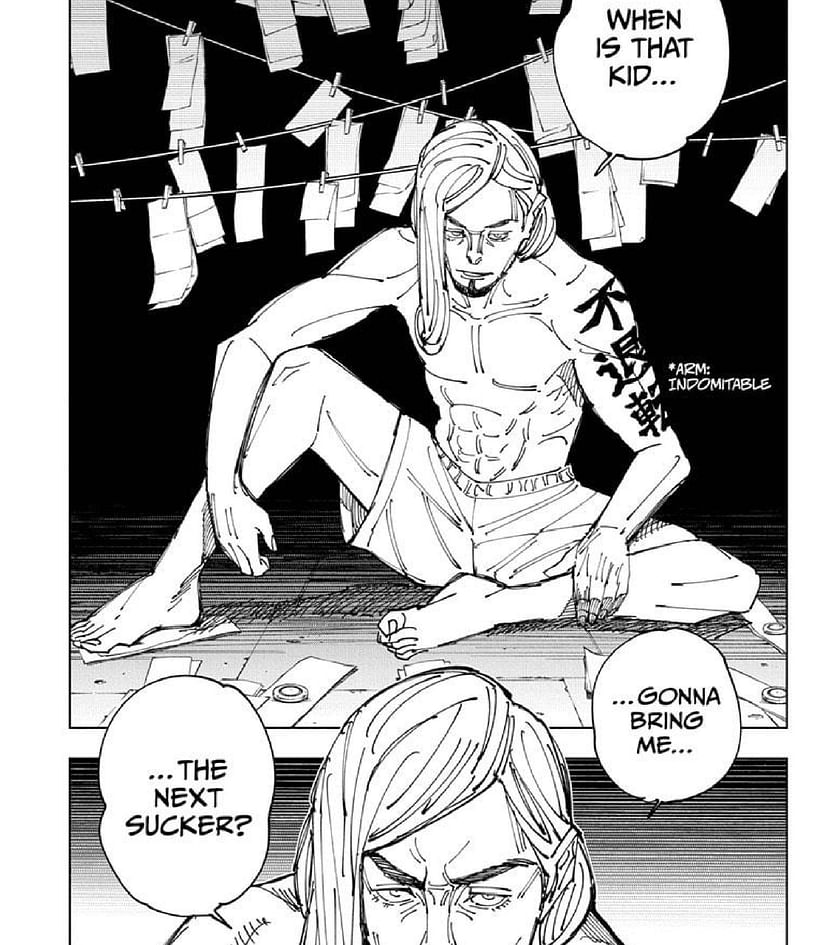 Reggie Star was a reincarnated sorcerer who was also the primary antagonist of the Tokyo No. 1 Colony arc of Jujutsu Kaisen. He formed alliances with strong players like Hazenoki and collected points by eliminating weaker sorcerers, using Remi to lure possible targets to his hideout.
The sorcerer tried to ally with Megumi but decided to kill the Ten-Shadows user when his attempts at negotiation failed.
Reggie was also the only Culling Game player who suspected that Kenjaku would drop a "bomb" when only the strongest players remained and was convinced that the plan to force the evolution of non-sorcerers was a secondary or tertiary motive at best.
His suspicions were confirmed when Kenjaku manipulated foreign countries into sending military forces into the Culling Game when almost every colony had reached a deadlock. After being defeated by Megumi, Reggie transferred all his points to his opponent as a show of respect before dying.
---
6) Fumihiko Takaba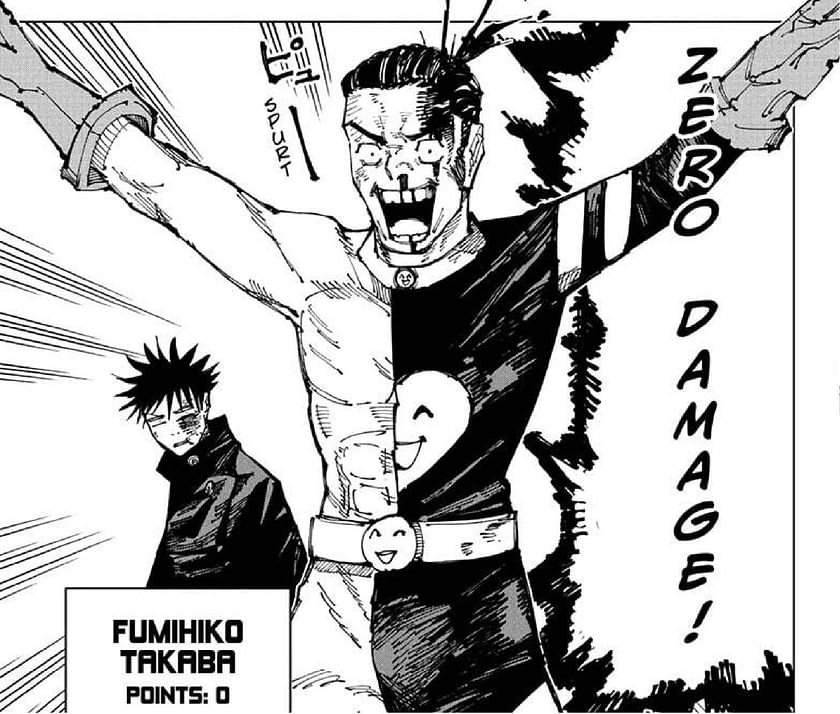 Fumihiko Takaba is a modern sorcerer whose cursed technique was awakened at the beginning of the Culling Game in Jujutsu Kaisen. He is a 35-year-old failing comedian who believes that he is one of those comedians who are funny rather than one of those who think they're funny.
His conviction is also the foundation of his cursed technique, which allows him to manipulate reality based on his belief that something will be funny. Takaba first appeared in Tokyo No. 1 Colony to assist Megumi because he found it unfair that the latter was being cornered by two opponents.
He began fighting Hazenoki, constantly cracking jokes which annoyed the latter and prompted him to eventually abandon the fight.
Takaba later met Yuji, located Hana carrying an unconscious Megumi, and joined forces with them. Jujutsu Kaisen chapter 209 spoilers show him facing the invading soldiers and acting as a diversion while Megumi gears up to attack the enemy.
---
7) Hana Kurusu
Although not much is known about her, Hana Kurusu is easily one of the most important players in the Culling Game. Known to have been alive even a thousand years ago, Tengen revealed in the Perfect Preparation arc of Jujutsu Kaisen that Hana is capable of flying and can extinguish all cursed techniques.
This ability even allows her to open the back gate to the Prison Realm, which is the only remaining way to free Satoru Gojo. Hana appeared in Tokyo No. 1 Colony and rescued Megumi, who had collapsed after fighting against Reggie.
It was during her conversation with Yuji, Megumi, and Takaba that the "Angel" finally revealed themselves as a talking mouth appearing on Hana's face or hand in a manner uncannily similar to how Sukuna often manifests on Yuji's body.
---
8) Dhruv Lakdawala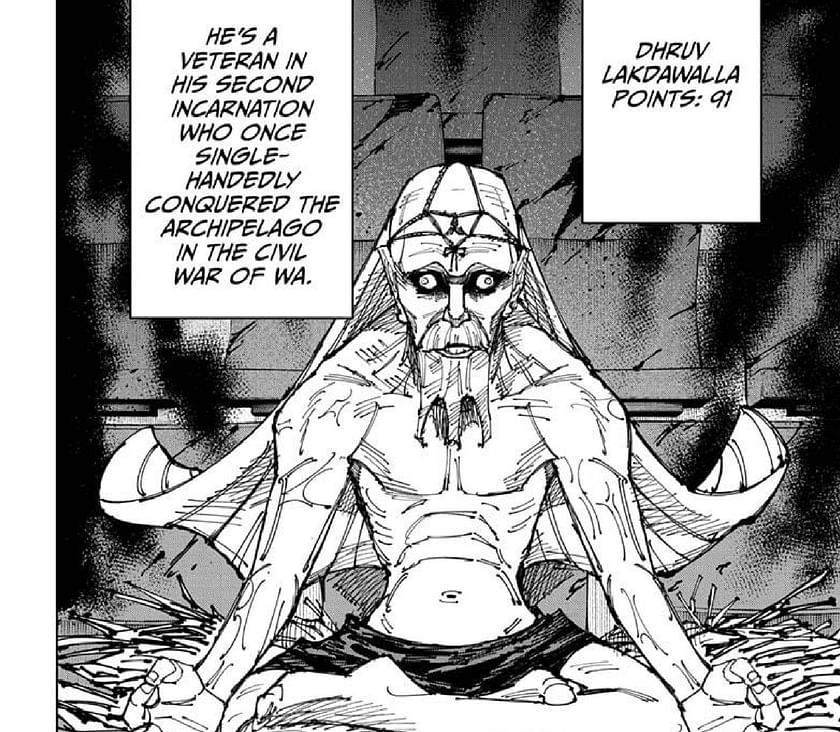 Dhruv Lakdawala was one of the three sorcerers initially involved in a four-way deadlock in the Sendai Colony. Dhruv was a veteran sorcerer who had single-handedly conquered the nation during the Civil War of Wa and struck a deal with Kenjaku to be reincarnated.
However, Jujutsu Kaisen chapter 173 showed Yuta Okkotsu killing off the veteran jujutsu user and copying the latter's technique before moving on to fight Kurourushi.
---
9) Ryu Ishigori
Ryu Ishigori is a sorcerer from 400 years ago who was reincarnated by Kenjaku to participate in the Culling Game. He was introduced in the Sendai Colony arc of Jujutsu Kaisen, where he remained stuck in a four-way deadlock until Yuta's arrival. Ryu is motivated to fight by his sense of hunger for a fulfilling battle against an opponent he considers worthy.
He was delighted to find such a fighter in Yuta and compared their fight to eating an extravagant dessert. After being defeated by the modern sorcerer, Ryu gave up all his points as a gesture of gratitude for fulfilling his insatiable hunger, although he considered it a weakness when Yuta refused to kill him.
---
10) Takako Uro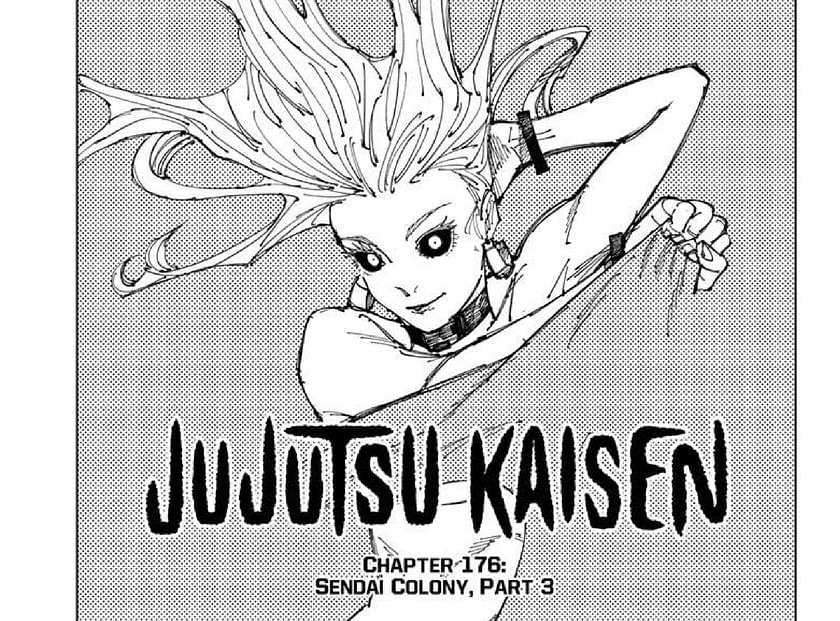 Takako Uro is the fourth reincarnated sorcerer to be stuck in the Sendai Colony deadlock of Jujutsu Kaisen. In her previous life, 1000 years ago, Takako was the captain of the Sun, Moon, and Stars squad, a group of elite assassins dedicated to the Toh.
During her fight against Yuta, the latter's apparently self-sacrificial stance prompted her to call him a Fujiwara. Her rant revealed that she believed that someone from the Fujiwara clan had betrayed her.
It is unclear why Takako associated Yuta, who is a descendant of Sugawara no Michizane, with the Fujiwara clan despite them being rival clans. Takako was eventually defeated by Ryu Ishigori since the latter wished to fight Yuta one-on-one. Jujutsu Kaisen chapter 181 revealed that Yuta had refused to kill Takako as well, just taking all her points instead.
---
11) Charles Bernard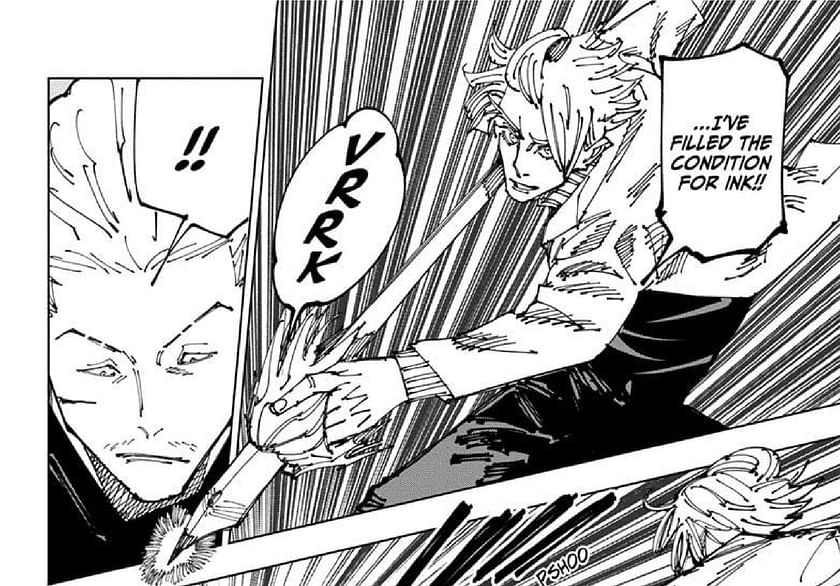 Charles Bernard is a modern sorcerer introduced in the Tokyo No. 2 Colony arc of Jujutsu Kaisen. He is the first opponent Hakari encountered and fought against while entering the Culling Game. Being of French origin but born and raised in Japan, Charles is an otaku and an aspiring mangaka whose cursed technique awakened at the beginning of the Culling Game.
The Shibuya Incident ruined the sorcerer's chances of becoming a mangaka, and he held both curses and sorcerers responsible for it. He asked Hakari to give him a reason to fight, so the latter insulted his ambitions. Charles was eventually defeated, but Hakari didn't kill him.
---
12) Hajime Kashimo
Hajime Kashimo is one of the strongest players in the Culling Game, having killed over 40 players in Tokyo No. 2 Colony. He is a 400-year-old sorcerer who agreed to Kenjaku's proposal to be reincarnated as a player in the modern era to seek out Sukuna and fight him.
A flashback revealed him as an old man expressing his dissatisfaction with fighting opponents he could defeat easily and showed Kenjaku approaching him with the prospect of fighting the King of Curses. In the modern era, Hakari was the first player that Kashimo found interesting due to the unique nature of his technique and the abrasive quality of his cursed energy.
Skilled in close-range combat, Kashimo was eventually defeated after he refused to use his cursed technique, declaring that he could use it only once and wished to save it for his fight against Sukuna.
Jujutsu Kaisen chapter 190 showed him joining Hakari and Panda as an ally in return for the chance to fight Sukuna when they meet up with Yuji again.
---
13) Hagane Daido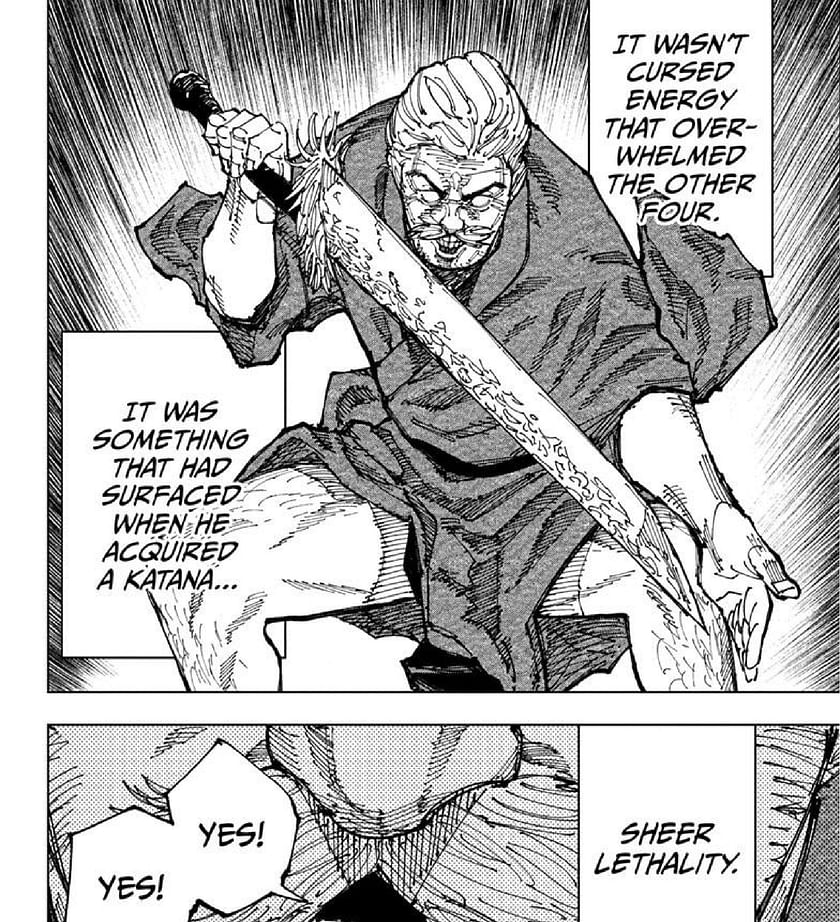 Hagane Daido is a reincarnated Culling Game player introduced in the Sakurajima Colony arc of Jujutsu Kaisen. A nameless master swordsman with no cursed energy, Daido shocked Maki with his skill while wielding her Split-Soul katana against the cursed spirit Naoya, whom he could not even see.
Daido's ability to see "everything else" apart from curses frustrated Maki and made her realize that she had not reached her real potential. Daido and Miyo assisted Maki in her battle against Naoya, motivated by their desire to fight strong opponents.
---
14) Rokujushi Miyo
Rokujushi Miyo is a sumo-obsessed reincarnated sorcerer who first appeared in the Sakurajima Colony arc of Jujutsu Kaisen. The manga portrayed him as someone willing to fight in a sumo match with anyone willing to humor him, regardless of their age and gender.
He asked Maki to fight him after interrupting their fight against Naoya since the cursed spirit was too preoccupied with defending against Daido's relentless attacks.
Once inside his Simple Domain, Miyo acted as an impromptu mentor for Maki and helped her face her limits and overcome them. They continued to engage in almost a thousand matches within a single moment in the outside world, with Maki emerging out of the domain after defeating Miyo and finally being on the same level as Toji, capable of sensing "everything else."
---
Final thoughts
This list includes every major Culling Game player who leaves an impression on readers and might play a significant role in later chapters of Jujutsu Kaisen. Lesser characters like Haba and Hanyu, whom Yuji first encountered after entering Tokyo No. 1 colony, and Chizuru Hari, who Megumi killed, have not been included since they played little to no role during their appearances in past chapters.
Sportskeeda Anime is now on Twitter! Follow us here for latest news & updates.