IPL 2015: Duds XI
5.43K //
23 May 2015, 02:38 IST
After the end of every tournament, the most lucrative exercise is to pick the tournament's Best XI. However, choosing a Duds XI is often the more interesting one. Let's take a look at the non-performers in IPL8.
Note: Only the players who have played 4 or more matches have been considered. Also, the IPL team selection method has been followed i.e. a maximum of 4 overseas players and a minimum of one uncapped player has been picked.
Openers: Virender Sehwag and Murali Vijay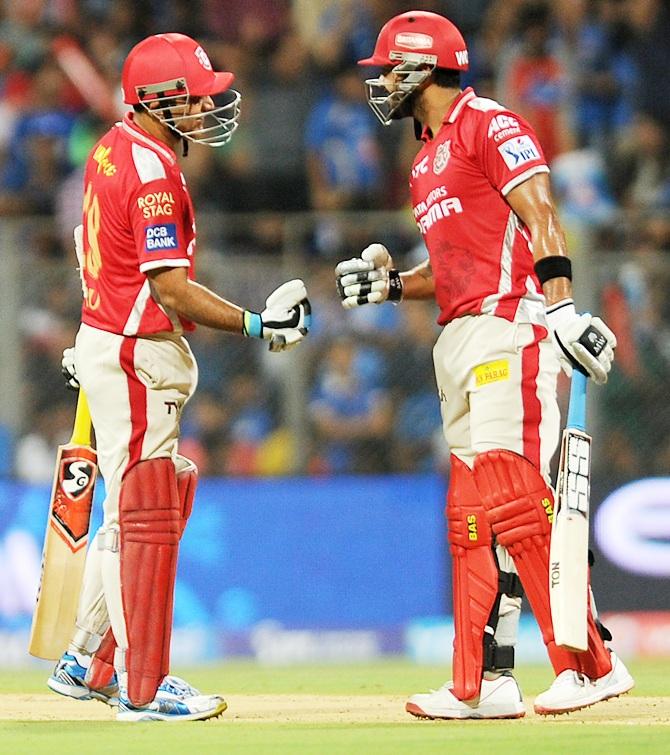 The Kings XI opening pair makes it to the list quite comfortably. Their IPL started in nightmarish fashion with the partnership lasting just one ball in their first match. Things did not improve much thereafter and both openers were forced to spend time on the reserve bench at some point in the tournament.
Individually, they suffered from different issues. While Vijay was guilty of throwing away starts, Sehwag struggled to get going.
Vijay crossed 20 in seven of the 11 matches that he played but never crossed 40. Sehwag, on the other hand, was dismissed for 2 or less five times in eight games. Failure of both their openers meant Kings XI never had a good start and struggled throughout the tournament, finishing bottom with only 3 wins.
Middle order: Glenn Maxwell, Yuvraj Singh, Dinesh Karthik, Suryakumar Yadav
Glenn Maxwell was the poster boy of the last IPL. He was expected to deliver the goods again after a brilliant run in the World Cup. However, the Big Show turned out to be a No Show in IPL 8.
He started the tournament with his customary "start smashing from ball one" style and later switched to a more sedate "get your eye in" method. Neither worked and he had only 2 scores of over 15 (both against KKR) in the entire tournament to show for his efforts.
Yuvraj Singh and Dinesh Karthik were the top two buys in IPL8 auction (like in the IPL7 auction). Their performances, though, made their team owners look rather foolish. Yuvraj scored a couple of fifties but his share of low scores was too high for his team's liking.
Dinesh Karthik might complain of lesser opportunities to bat but it was his abysmal performances that saw him slide down the RCB batting line-up as the tournament progressed. Consistent performances by uncapped players Mandeep Singh and Sarfaraz Khan only accentuated his failures more starkly.
Another batsman who slid in the batting line-up as the tournament progressed was KKR's Suryakumar Yadav. The young batsman's audacious stroke play caught everyone's attention in the last IPL. He was duly rewarded with a promotion in the batting order this year. But Yadav's performance paled after the first game as his cheeky shots often were the cause for his downfall.
---
All-rounders: James Faulkner, Ravindra Jadeja
James Faulkner got the Royals eliminated last season bowling two knee high full tosses on leg stump in the last over against Mumbai Indians. He had a poor season with the ball that year and managed an even worse season this year. The man of the match in the World Cup final had an economy rate approaching 10 and his lacklustre performances made the Jaipur outfit the worst death bowling unit of the tournament.
It is hard to fathom how he kept one of Chris Morris and Tim Southee out of the XI throughout the tournament, considering that unlike last year, his batting was also pretty average this time.
Probably the only continuous selection that was more baffling than Faulkner's was Jadeja's. What was even more baffling was the fact that he was trusted to bat ahead of Faf du Plessis and Dwayne Bravo in some matches. CSK's tremendous faith in Jadeja, however, did not bear much fruit as the all-rounder had slim returns with both bat and ball for the major part of the season.
Bowlers: Mitchell Johnson, Dale Steyn, Ishant Sharma
It is not often that you see the two best bowlers in this kind of a list, but Johnson and Steyn make the cut comfortably with their clueless performances.
After two terrific seasons in 2013 and 2014, Johnson hit the rock bottom in 2015. Mitch was expected to lead the young Kings XI bowling attack. He performances, however, were not worthy of even a support bowler. Despite not bowling in the powerplays or at the death in most of the matches, his economy rate was over 9. In fact, MJ was caned equally in every match until he was released mid-season by KingsXI.
Like Johnson, Steyn also had two outstanding seasons in the IPL. He was almost unplayable in 2012 and 2013. But things started heading southwards from 2014 when AB de Villiers, MS Dhoni and even an out-of-form Yusuf Pathan feasted on his bowling. Add to that a poor World Cup and the addition of the red hot Trent Boult to the Sunrisers setup, and lesser game time for Steyn was inevitable in 2015. In his limited appearances, Steyn went for almost 9 an over and proved to be a liability for the team.
Ishant Sharma played only 4 matches but was equally poor in each of them. He started the season bowling 4 no balls in 3 overs in the Sunrisers' opening game and was promptly dropped. He returned to play three more matches but continued to leak runs and almost failed to defend 28 runs in the final over against Kings XI. Bowling with an economy rate of over 11 in the tournament, Sharma was the easiest pick in the XI.
Duds XI Full team: Virender Sehwag, Murali Vijay, Glenn Maxwell, Yuvraj Singh, Dinesh Karthik (w), Suryakumar Yadav, James Faulkner, Ravindra Jadeja, Mitchell Johnson, Dale Steyn, Ishant Sharma