| | |
| --- | --- |
| Relationship | Name |
| Father | Tirlokchand Raina |
| Mother | Parvesh Raina |
| Elder brother | Naresh Raina |
| Elder brother | Mukesh Raina |
| Elder brother | Dinesh Raina |
| Elder sister | Renu Raina |
| Wife | Priyanka Chaudhary Raina |
| Daughter | Garcia Raina |
| Son | Rio Raina |
Suresh Raina was a part of the Indian squad that won the 2011 Cricket World Cup. The left-handed batsman was known for his vital contributions in all three departments of the game. Raina retired from international cricket on August 15, 2020.
Suresh Raina was born on November 27, 1986 in Muradnagar, Uttar Pradesh. He belongs to a Kashmiri Pandit family. Raina made up his mind to become a cricketer when he was 14 years old.
Table of Contents
Suresh Raina's Father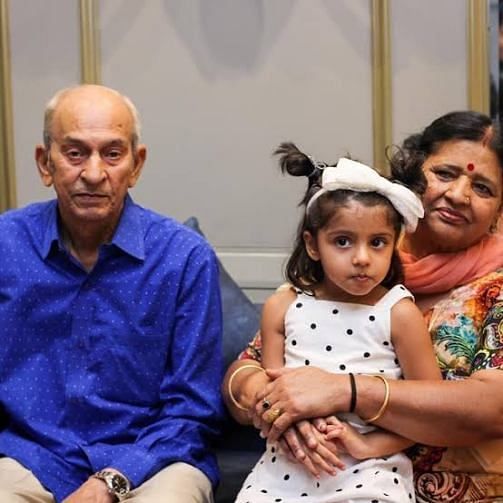 Image source: Primesworld.com
Suresh Raina was born to Tirlokchand Raina and Parvesh Raina. His father was a retired army officer who had an expertise in making bombs in an ordnance factory. Since Suresh belonged to a military background, he has always maintained discipline. His ancestral village is Rainawari, a union territory in Jammu and Kashmir. Raina's family later on shifted and settled in Murdanagar in Uttar Pradesh's Ghaziabad district during the late 1990s.
The former Indian cricketer lost his father on Feb 6, 2022 due to cancer. Trilokchand Raina was battling the disease for a long time before he passed away at his residence in Ghaziabad.
Retired Indian spinner Harbhajan Singh offered his soulful tribute to Raina's father. The cricketer wrote, "Very sad to hear Suresh Raina's father @ImRaina RIP uncle ji," through social media.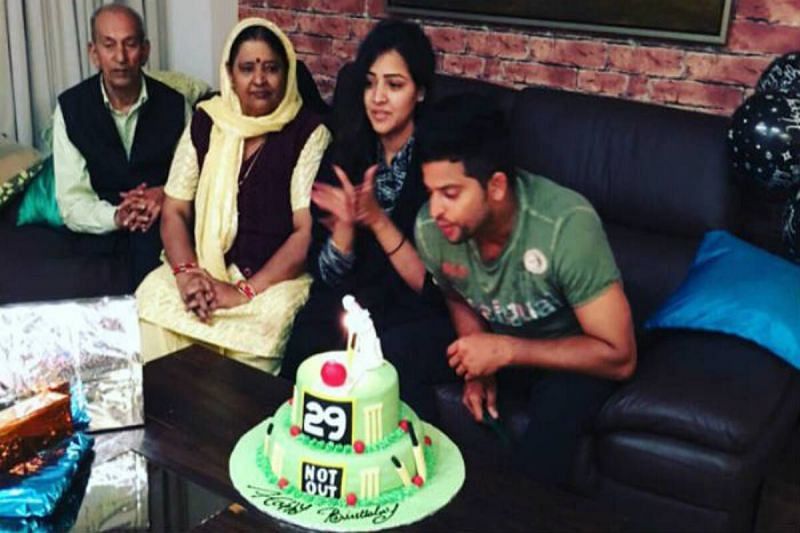 Image source: Static.india.com
Suresh Raina's Mother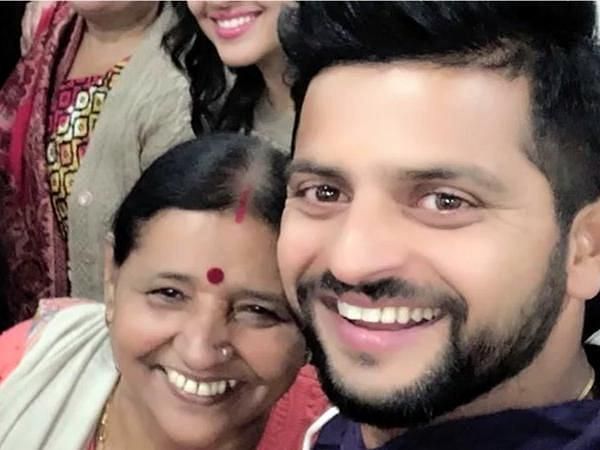 Image source: Circleofcricket.com
Suresh Raina's mother's name is Parvesh Raina. In one of his interviews, Suresh credited his mother Parvesh for his success. He said that whatever he has achieved in life is because of his mother.
In the same interview, Raina expressed his regret that he could not spend much time with his mother since he used to spend most of his time in boarding school.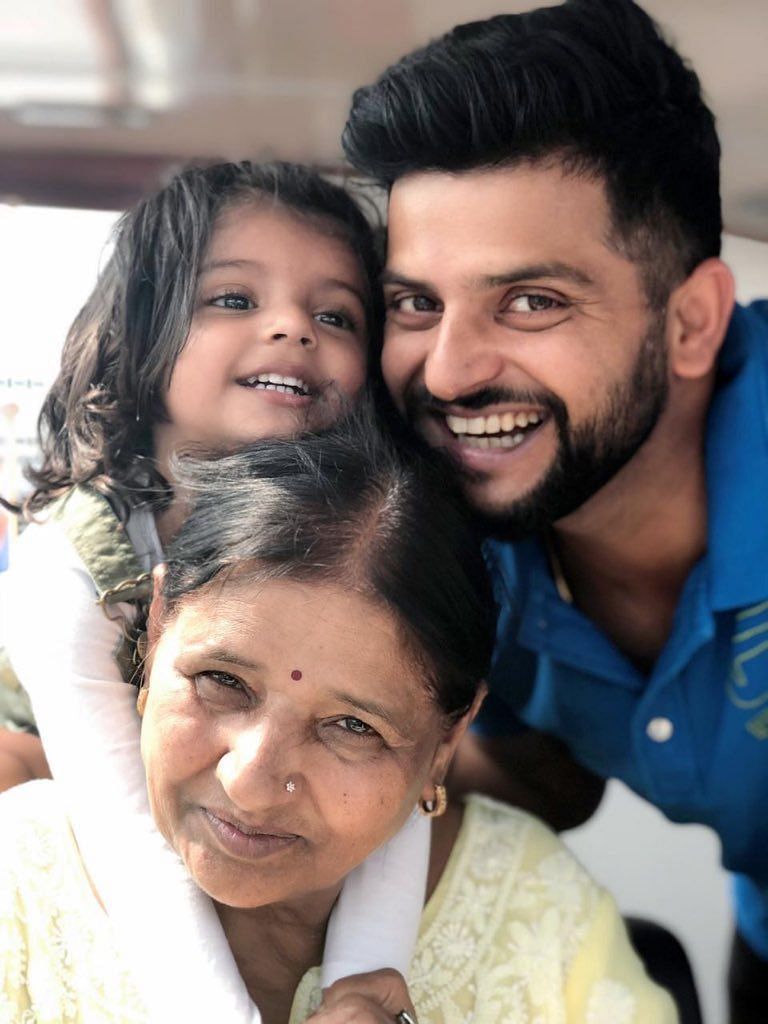 Image source: Twimg.com
Suresh Raina's Elder Brothers
Naresh Raina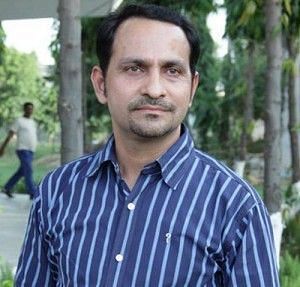 Image source: Celebritykick.com
Mukesh Raina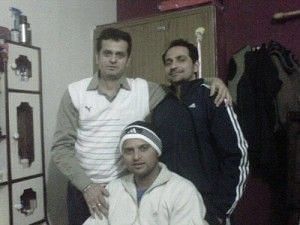 Image source: Celebritykick.com
Dinesh Raina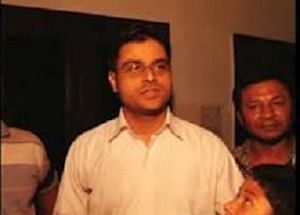 Image source: Celebritykick.com
Suresh Raina has three elder brothers. Not much is known about their personal lives. The names of his elder brothers are Dinesh Raina, Mukesh Raina and Naresh Raina.
Suresh Raina's Elder Sister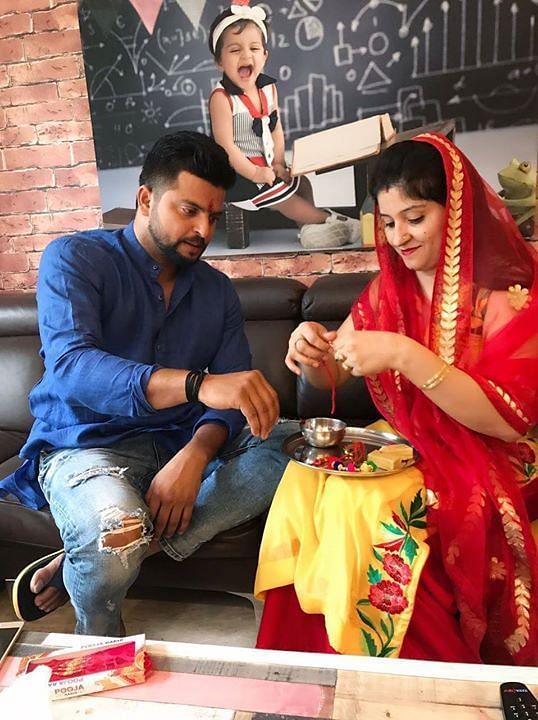 Image source: Pinimg.com
Suresh Raina seems very close to his elder sister Renu. The all-rounder celebrates the Rakshabandhan festival with her. While he has not posted many pictures with his three brothers on social media, Raina posts photos with his sister Renu on almost every Rakshabandhan. In 2020, he penned an emotional Twitter post for her sister on the occasion of Rakshabandhan. In the caption, Raina wrote, " "Wishing everyone a Happy & Blessed Raksha Bandhan! Renu, you will forever be my favorite companion! Blossom I promise that I will, forever be there for you. To all the brothers and sisters, let's celebrate this bandhan of love".
Suresh Raina posted a heartwarming picture with her sister on Instagram while wishing Bhaidooj in 2022. The brother-sister duo can be seen together where Raina is feeding Renu a sweet with his hands. He even captioned the post with the hashtag, #brothersisterlove.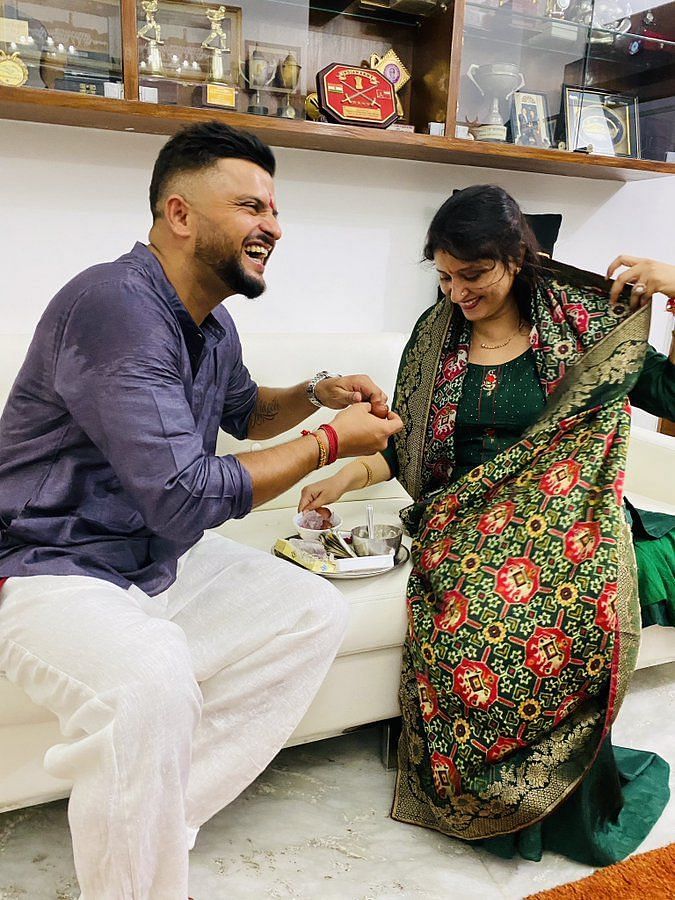 Image source: Twimg.com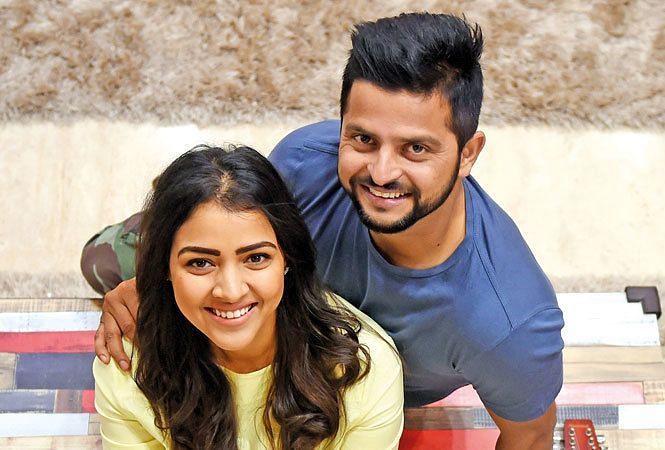 Image source: Sportslibro.com
Suresh Raina is married to his childhood friend Priyanka Chaudhary. She was born in Rajnagar, Ghaziabad, Uttar Pradesh. Priyanka has worked as a banker, software engineer and social worker in her life. Her father was a sports coach, while her brothers are engineers. In the year 2007, she joined Wipro as an IT professional. After completing her studies, Priyanka moved to the Netherlands to pursue her banking job. Then in 2011, she started working in Accenture as an IT Consultant.
Raina and Priyanka have known each other since childhood. In the year 2008, the two met at Delhi Airport for just five minutes at the time when Raina was leaving for Bangalore for an IPL game. The two got married on 3 April 2015.
When asked about his wife Priyanka in an interview, Raina said, "I have known Priyanka for long, but in the middle, I didn't have to be in touch with her. I remember meeting her at the airport for five minutes in 208. She was flying back to Holland (where she currently works) and I was going to Bangalore for an IPL game, and we met at the Delhi Airport for just five minutes. Usse pehle main usse bachpan mein mila tha."
In one of his interviews, Raina spoke of his marriage with Priyanka being an arranged one, " Priyanka's father was my sports teacher in Ghaziabad and my mom was very close to her mother. I'll call it more of an arranged marriage because our families have known each other for a long time".
Further stating about his marriage with Priyanka, Raina said, " I didn't know. Mom called me in Australia and told me that my marriage has been fixed with one of my childhood friends. Maina kaha kaun hai. Then I spoke to Priyanka on the phone. Before the Word Cup, I had told some of my teammates about my wedding after my mom told me that everything had been finalized."
Priyanka is a mother of two kids. She first gave birth to a daughter named Gracia and then a son named Rio. Priyanka has close to 1 million followers on Instagram. She had appeared on The Kapil Sharma Show with her husband Suresh Raina.
In 2017, Priyanka founded a company along with her husband Suresh Raina under the name, Maate Natural Babycare. The brand provides natural and vegan products for babies.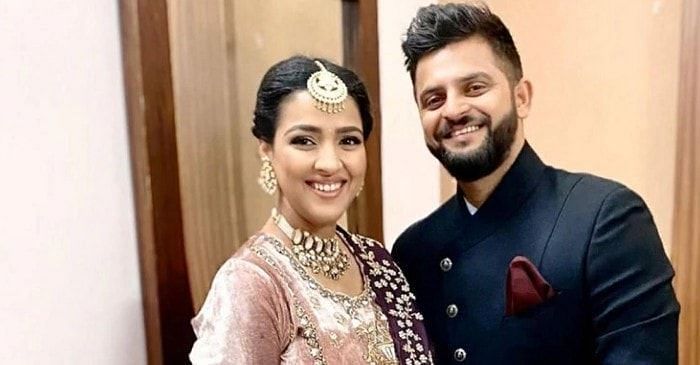 Image source: Crickettimes.com
In November 2017, she gave a TED talk at a TED event organized by TEDxWhitefield.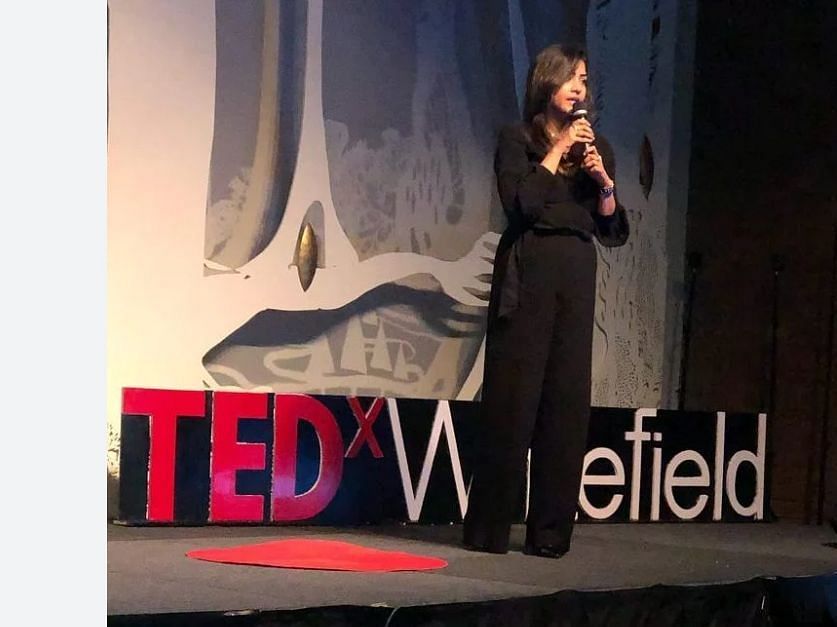 In the same year, she also became the cover face of Child magazine.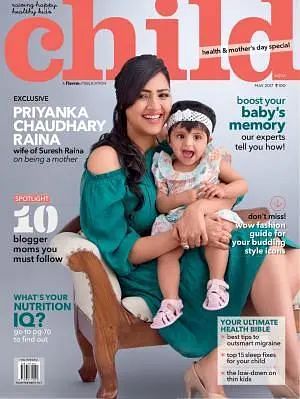 The next year, Priyanka launched "The Priyanka Sharma show" on Red FM.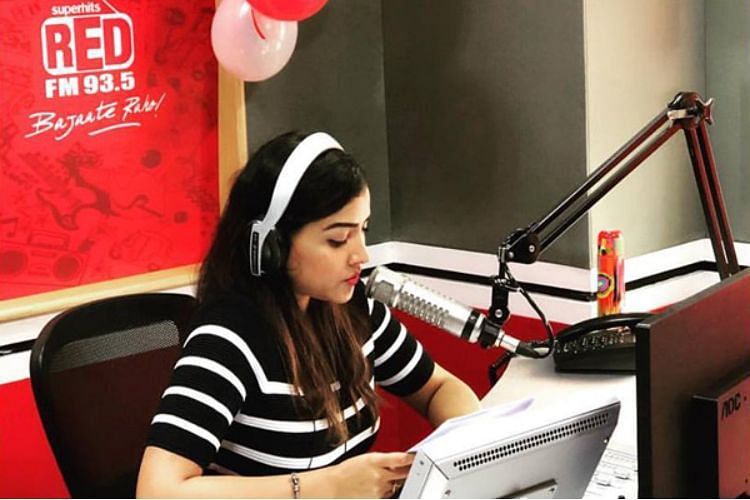 Suresh Raina and his wife Priyanka Chaudhary Raina appearing together on 'The Kapil Sharma Show'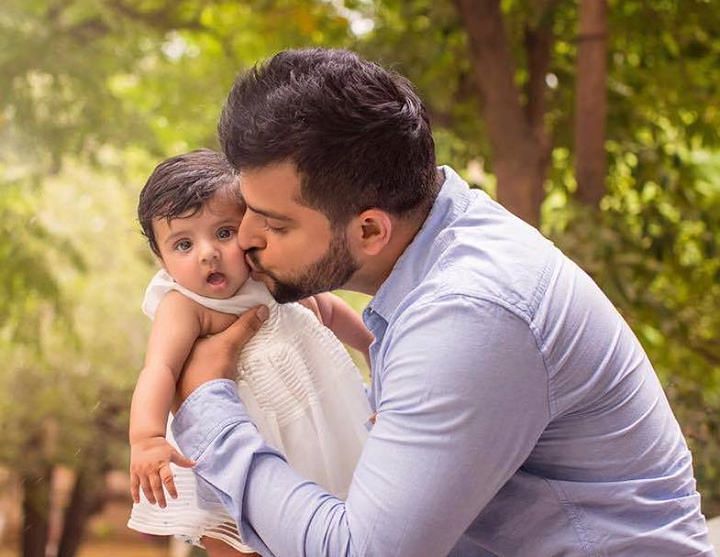 Image source: Pinimg.com
Suresh Raina and Priyanka have one daughter named Gracia Raina. She was born on May 15, 2016. He missed an IPL game for the first time in nine years because of Gracia's birth in 2016. He went to the Netherlands to be with his wife when she gave birth.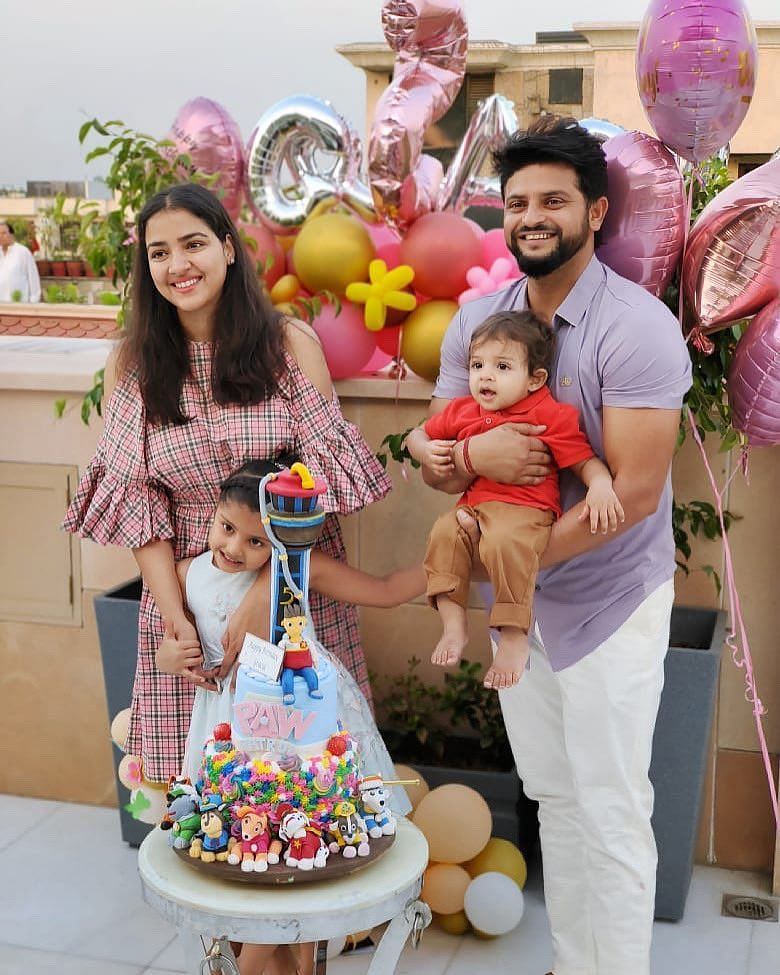 Image source: Twimg.com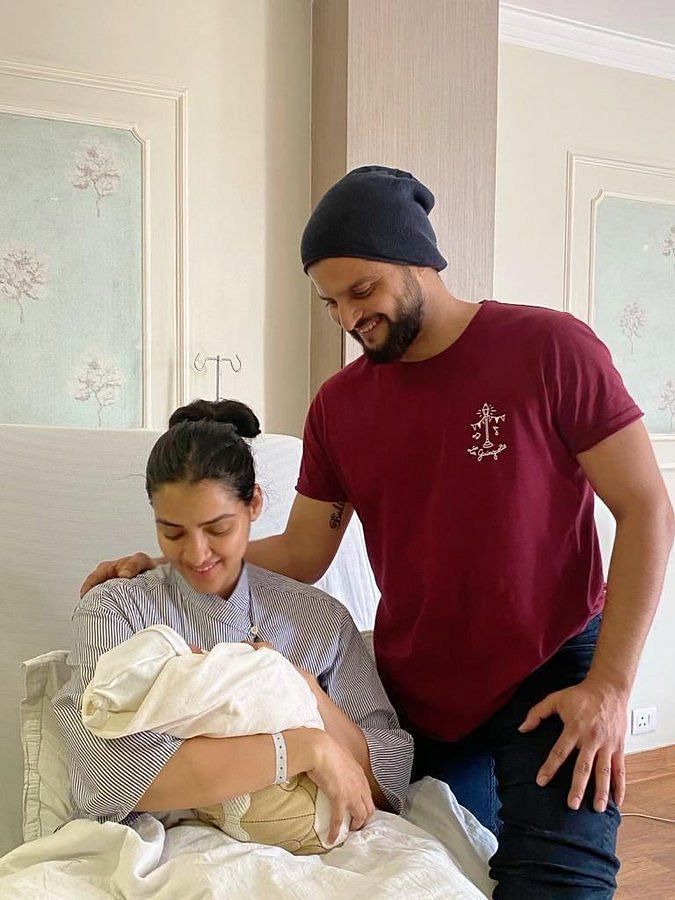 Image source: Circleofcricket.com
Suresh Raina and Priyanka welcomed their first son on March 23, 2020. The couple named their son Rio, which means River. Rio Raina recently celebrated his 1st birthday.
Image source: s3.india.com
Other Similar Pages