| | |
| --- | --- |
| Name | Virat Kohli |
| Virat Kohli Net Worth | US$ 127 million |
| Age | 33 |
| Residence | Mumbai |
| Marital Status | Married |
| Spouse | Anushka Sharma |
| Source of wealth | Professional cricket, brand endorsements |
| Salary | US$17.5 million |
| Brand Endorsements | Wrogn, Myntra, Puma, Digit Insurance, MRF, Vivo, Blue Tribe, Manyavar, Hero MotoCorp, Fastrack, TVS, Fair and Lovely, Pepsi Ad, Flying Machine, Boost Energy Drink, Amaze Inverters and Batteries, Shyam Steel, Adidas, Clear Anti-Dandruff Shampoo, MuveAcoustics, Hyperice, Cinthol, Celkon Mobiles, Tissot, Too Yumm, Mobile Premier League, Wellman, Great Learning, Google Duo, Fire-Blott, Uber India, Sun Pharma's Volini, Toyota, Herbalife Nutrition, Fastrack, Audi India, Philips India, Vize, Himalaya, American Tourister. |
| Endorsement Earnings | $33.9 million |
| Charity | Virat Kohli Foundation (VKF), Charity football, Social media campaigns |
| Philanthropy | Athlete Development Program Foundation |
One of the greatest cricketers to have ever played this sport, Virat Kohli's net worth in 2023 is estimated to be US $127 million.
According to Sportico, Kohli's annual earnings are estimated to be $33 million as of November 2022 and he is currently the 61st World Highest Paid athlete in the world. The former skipper was ranked No.14 in the world based on his endorsements alone as of November 2022.
Virat Kohli's Salary
Virat Kohli earns from a whole host of sources. He earns INR 7 Crore annually as part of the A+ category in the BCCI's list of central retainers.
Apart from this, Kohli takes home INR 15 Crores for representing the Royal Challengers Bangalore in the Indian Premier League.
However, a significant chunk of his earnings comes from his social media posts and brand endorsements. As of 2022, Kohli is 14th on the list of highest paid stars on Instagram as the former Indian captain earns $1,088,000 per post.
Overall, Kohli earns over 17.5 million dollars per year.
Virat Kohli Endorsements
Virat Kohli endorses a catalogue of brands which include Toothsi, Noise, Avās Living, Blue Tribe, Rage Coffee, Fire-Boltt, Digit Insurance, Vivo, Vize, Great Learning, Blue Star, Wellman, Himalaya, Myntra, Google Duo, Mobile Premier League, Puma, Hero MotoCorp, Wrogn, MuveAcoustics, Too Yumm, Tissot, Audi India, Manyavar, Sun Pharma's Volini, Royal Challenge Alcohol, MRF Tyres, Uber India, Valvoline, Remit 2 India, Philips India, Boost Energy Drink, Shyam Steel, Amaze inverters and batteries, Hyperice, American Tourister Colgate, Herbalife Nutrition, Fire-Boltt, Pepsi, Munch, UPI Chalega, Fastrack, Celkon Mobiles, Cinthol, Adidas, Toyota, and Clear Anti Dandruff Shampoo.
According to Economic Times, Virat Kohli is said to charge between INR 7.5 Crores to 10 Crores a day for endorsing a particular brand.
Click here to know more about Yuzvendra Chahal Networth.
Virat Kohli Investments
Virat Kohli started his journey as an investor at the age of 25 when he bought stakes in a London-based social media startup called Sports Convo, aimed at bridging the gap between sports stars and their fans.
This was two years after the Indian cricketer launched the 'Virat Kohli Foundation', which aims at providing facilities to budding sportspersons' from all over the country.
In 2019, Virat invested in a Bengaluru-based company called Galactus Funware Technology Pvt. Ltd, which owns the fantasy website called Mobile Premier League (MPL).
Kohli has also invested in a fashion startup called Universal SportsBiz (USPL). He invested a whopping INR 19.30 Crores in the startup in October 2020.
In addition to this, Kohli also owns gyms, fitness centres and restaurants all over the country. His recent most-talked-about investment is in an online insurance aggregator Digit Insurance. The company is currently valued at $3.5 billion.
The cricketer has also invested in Puma's One8 brand, Chisel Fitness, Wrogn (a fitness brand) and is also a co-owner, alongside Jaydev Mody and Akshay Tandon, of ISL team FC Goa.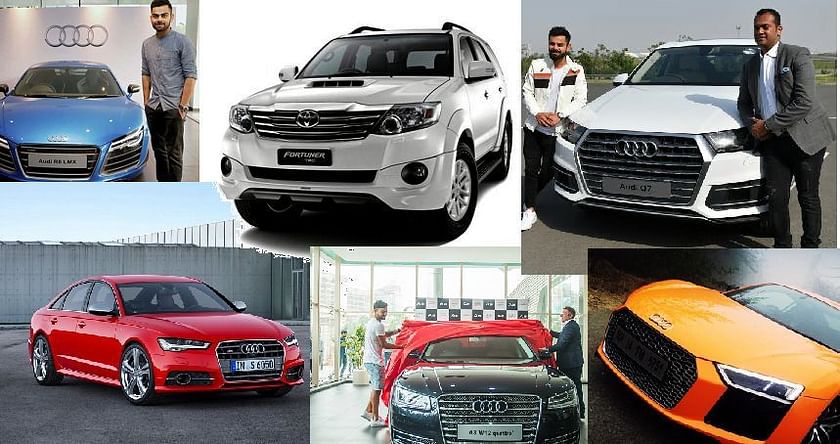 Expenditure
In September 2022, Virat Kohli and his wife, Anushka Sharma, bought an 8-acre farmhouse in AliBaug for a staggering amount of INR 19.24 Crores.
| | |
| --- | --- |
| Age | Source of wealth |
| 33 | Professional cricket, brand endorsements |
| Salary | Brand Endorsements |
| US$17.5 million | Toothsi, Noise, Avās Living, Blue Tribe, Rage Coffee, Fire-Boltt, Digit Insurance, Vivo, Vize, Great Learning, Blue Star, Wellman, Himalaya, Myntra, Google Duo, Mobile Premier League, Puma, Hero MotoCorp, Wrogn, MuveAcoustics, Too Yumm, Tissot, Audi India, Manyavar, Sun Pharma's Volini, Royal Challenge Alcohol, MRF Tyres, Uber India, Valvoline, Remit 2 India, Philips India, Boost Energy Drink, Shyam Steel, Amaze inverters and batteries, Hyperice, American Tourister Colgate, Herbalife Nutrition, Fire-Boltt, Pepsi, Munch, UPI Chalega, Fastrack, Celkon Mobiles, Cinthol, Adidas, Toyota, and Clear Anti Dandruff Shampoo. |
| Residence | Married to |
| Mumbai | Anushka Sharma |
| Net Worth | Charity |
| US$ 127 million | Virat Kohli Foundation (VKF), Charity football, Social media campaigns |
Similar Other Pages