| | |
| --- | --- |
| Age | 32 years |
| Net Worth | INR 41 crores or $5 million |
| IPL Salary | INR 6.5 crores |
| Residence | Gurugram, Haryana, India |
| Marital Status | Married |
| Yuzvendra Chahal wife | Dhanashree Verma |
| Endorsements | Playing11, Acuvue, Nike, Clove Dental, FanCraze, Rooter, Moj |
| Sources of Income | Professional Cricket, Endorsements, lifestyle venture 'CheQmate' |
Yuzvendra Chahal is a professional Indian cricketer who plays at the International level and in the IPL. Chahal is a former U12 national Chess champion and has also fulfilled his dream of representing India in the game of Cricket. His net worth in the year 2022 is approximately INR 41 crores.
Yuzvendra Chahal Salary
Chahal is currently placed in the BCCI's C Grade for the year 2022-23. As a result of poor performances in the recent phase, the leggie has slipped down from the B grade. Therefore, he earns INR 1 crore from the BCCI annually.
IPL Salary
After being with Royal Challengers Bangalore for 8 years, Chahal was released before the IPL Mega Auction held in 2022. Following a tough bidding war, Rajasthan Royals bought the right-arm leggie for ₹6.5 crores in the mega auction. In 2023, Chahal was successfully retained by the Rajasthan Royals after his terrific performance in the 2022 IPL in which he won the purple cap.
Yuzvendra Chahal Endorsements
The 32-year-old endorses a variety of brands across various fields. His brand endorsement fee is estimated at around INR 1 crore. Some of those brands are the fantasy cricket app called Playing11, contact-lens brand Acuvue, the sporting-equipment brand Nike and Clove Dental.
hahal is known for his antics of making fun of his fellow teammates and showcasing his creative side off the field. He has extended this side of his by collaborating with creative platforms like the game streaming platform, Rooter and a short video app, Moj.

Along with these two, the leg-spinner from Haryana has joined FanCraze, an NFT platform. Before Chahal, Indian cricketers Rohit Sharma, and Ravichandran Ashwin also collaborated with the brand.
Chahal revealed his association with the company through an Instagram post, "I'm excited to announce my exclusive partnership with FanCraze with whom I step into the cricketing metaverse. You can now get to own the most iconic moments of my career and life's journey and build your NFT collection with FanCraze".
The platform heartily welcomed the Indian spinner through their Instagram handle, "Yuzi, the Spin Wizard sets foot in the cricket metaverse with FanCraze! Spinning through batsmen defences, one of the world's best T20 spinners, Yuzvendra Chahal will be exclusively launching his personal NFTs on FanCraze."
Cricket fans would be able to own some of Yuzi's biggest cricketing moments with the option of sharing and even trading them with other NFT users.
Click here to view Virat kohli Net Worth.
Yuzvendra Chahal Investments
The former Chess player has joined hands with High Times Solutions to start a lifestyle brand called 'CheQmate' in May 2019. This is Chahal's first-ever entrepreneurial venture.
Yuzvendra Chahal House
Chahal has a beautiful house in Gurgaon where he lives with his parents, sister, and wife. The luxurious house is quite big in space with an elegant wooden staircase having steel railings. The walls are painted in light-tone colors, complimenting the aesthetic of the place. There are several paintings in the rooms and hallway.
Yuzvendra Chahal Cars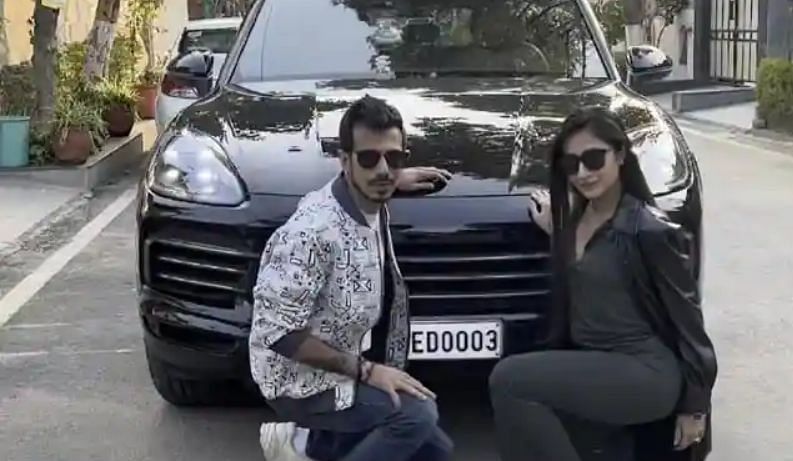 Yuzvendra Chahal has a number of expensive and exotic cars lined up in his garage. He owns Porsche Cayenne S which is priced at INR 1.93 crore. The leg spinner also has a Mercedes-Benz C-Class priced between INR 55-66 lakh. His two most expensive automobiles include a 6.22 crore Rolls Royce, and a 6.25 crore stunning Lamborghini Centenario.
Yuzvendra Chahal Other Sources of Income
The only other known source of income for Chahal is the prize money earned through 'Man of the Match' and 'Man of the Series' performances.
Yuzvendra Chahal Charity
Chahal indulged in a charity event including Vishwanathan Anand and other chess players to raise INR 8.8 lakhs for the waste-pickers' community during the COVID-19 pandemic.
FAQs
1) What is the salary of Yuzvendra Chahal?
A. Yuzvendra Chahal earns an annual salary of INR 1 crore from the BCCI for playing for India and INR 6.5 crore from Rajasthan Royals in the IPL.
Other Similar Pages