| | |
| --- | --- |
| Real Name | Jimmy Donaldson |
| DOB | May 07, 1998 |
| Height | 6ft 3inches |
| Net Worth | $25 million (as of 2022) |
| Source of Wealth | Professional Gamer, Content Creator, Online Streamer |
| Address | Greenville, North Carolina |
MrBeast is an American YouTuber, entrepreneur, and philanthropist. He is known for his extravagant stunts and challenges that fetches the winner with a lot of money. The philanthropic streamer started producing content in 2012 but rose to fame in 2017 after his "counting to 100,000" video earned tens of thousands of views in just a few days, and has become increasingly popular ever since, each of his videos gaining tens of millions of views. He is also the co-creator of Team Trees, a fundraiser for the Arbor Day Foundation, which has raised over $72 million. Alongside his main channel on YouTube, MrBeast has several other channels with over 84 million subscribers.
How much money does MrBeast make?
It is estimated that the American YouTuber makes $76.9K - $1.2M per month and around $922.4K - $14.8M annually through his YouTube channels. Forbes also tagged his channel as one of the most popular and most viewed channels in 2019 and 2020. MrBeast also earns money by endorsing several products. He has promoted products like Quidd, CSGO Lotto, Tik Tok etc. Apart from that, he also earns money by selling merchandise through his website.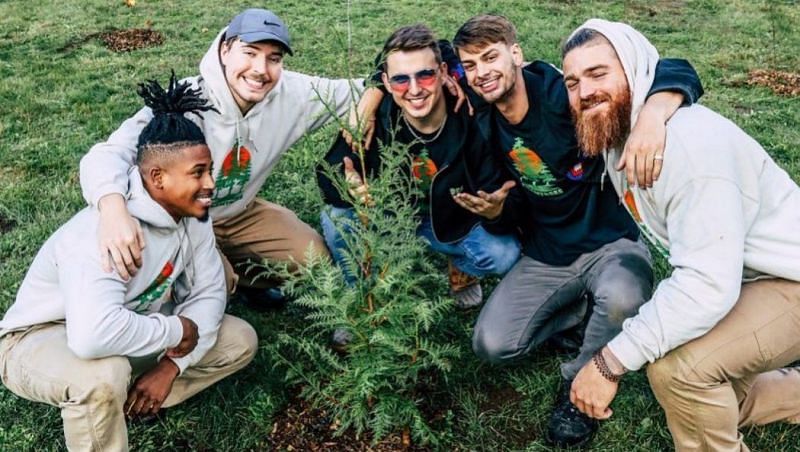 Team trees
On October 25, 2019 at 19:00 UTC, Donaldson and former NASA engineer and YouTuber Mark Rober organized a collaborative fundraising challenge event on YouTube called #TeamTrees. The goal of this project was to raise $20 million for the Arbor Day Foundation by January 1, 2020 and plant trees "no later than December 2022". In exchange, the organization would plant one tree for each dollar raised. Every donation goes to the Arbor Day Foundation, which pledges to plant one tree for every dollar. Notable YouTubers such as Rhett & Link, Marshmello, iJustine, Marques Brownlee, The Slow Mo Guys, Ninja, Simone Giertz, Jacksepticeye, and Smarter Every Day brought attention to this idea. Trees began to be planted in October 2019 in national parks of the United States. On December 19 of that year, the $20,000,000 goal was surpassed, and as of May 27, 2020, the project reached over 22 million dollars. The project has also received large donations from corporate executives Jack Dorsey, Susan Wojcicki, Elon Musk, and Tobias Lütke. Companies such as Discovery, Verizon, Plants vs. Zombies, and the nation of Ukraine have also pitched in to help.
Earnings as a YouTuber
MrBeast's main channel has over 89 million subscribers which is able to get an average of 11 million views per day from unique sources. It can get an average of $55,000 per day ($20 million a year) from the ads that run on the videos.
In 2020, during the beginning of the pandemic, MrBeast started a gaming channel that grew to over 12 million subscribers and has accumulated over 1.6 billion views. In the channel he does gaming whereby he films himself playing games like Minecraft and Among Us. He has collaborated with big YouTubers like PewDiePie, Valkyrae etc. The channel can get 7 million views per day and should be able to generate an estimated revenue of $35,000 per day ($13 million a year) from the ads that appear on the videos.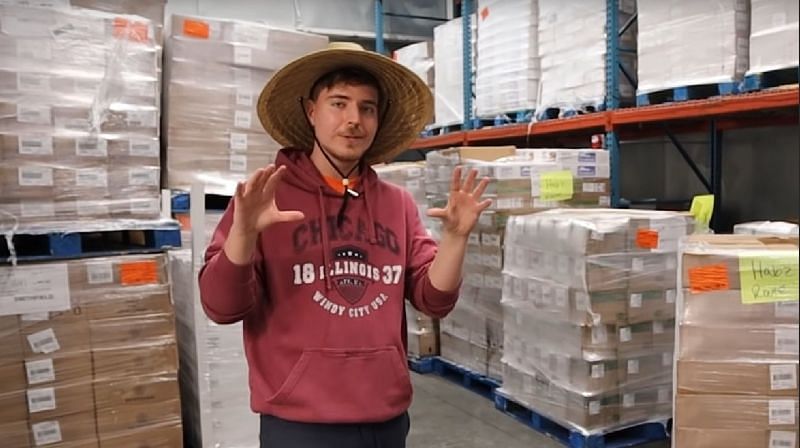 Charity
Over the years MrBeast has donated or raised tens of millions of dollars to various charities. His stunt videos have donated items to homeless shelters, the Veterans Army Wounded Warrior Program, Saint Jude Children's Research Hospital, and a local animal shelter in Los Angeles. For example, a December 2018 video donated $100,000 worth of clothing and other items to homeless shelters.
His generous donations include tipping a pizza delivery guy a whopping $10,000. He also tipped a waitress $10,000 after spending a mere $1 on a water bottle. He has donated thousands of dollars to channels on Twitch and has also donated 100 cars and paid off student loans for several students.
FAQs
Q. How many channels does MrBeast have?
A. 7 Channels. They are as follows:
MrBeast (56M)
Beast philanthropy (1.8M)
MrBeast Gaming

(15.5M)

MrBeast Shorts

(5.5M)

Beast Reacts

(4.5M)

MrBeast 2

(2M)

MrBeast 5998
Q. Is MrBeast married?
A. His relationship status is unknown. However, he has dated Instagram model Maddy Spidell.