Tight end is one of the positions in that NFL that requires a diverse skill set. The best ones in history are able to produce like a wide receiver in offensive passing schemes while contributing as an important blocker in rushing attacks.
One of the best players in this position, Rob Gronkowski, recently announced his retirement, for the second time. Many had hoped for him to return to NFL and recreate his outstanding partnership with his friend Tom Brady.
While Gronkowski has decided to not take that option, it doesn't detract from his position among the greatest tight-ends in the history of NFL. For the present-day NFL fans, he might be the most highly-regarded player in that position.
•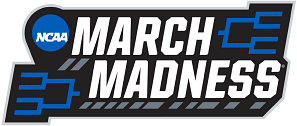 However, Gronkowski was far from being the only high-quality tight-end in his time in the league. Even today, the league has a rich assortment of highly capable players at this position.
There are currently nine tight ends enshrined in the Pro Football Hall of Fame and at least a couple more that will be inducted in the relatively near future. Of all the greats who have played the position, here are, arguably, the five best in NFL history.
Of course, such classifications are always open to debate and there are many players whose supporters will want them to be considered as among the five greatest. Still, few can dispute the greatness of the five players mentioned below.
---
#5 Travis Kelce, Kansas City Chiefs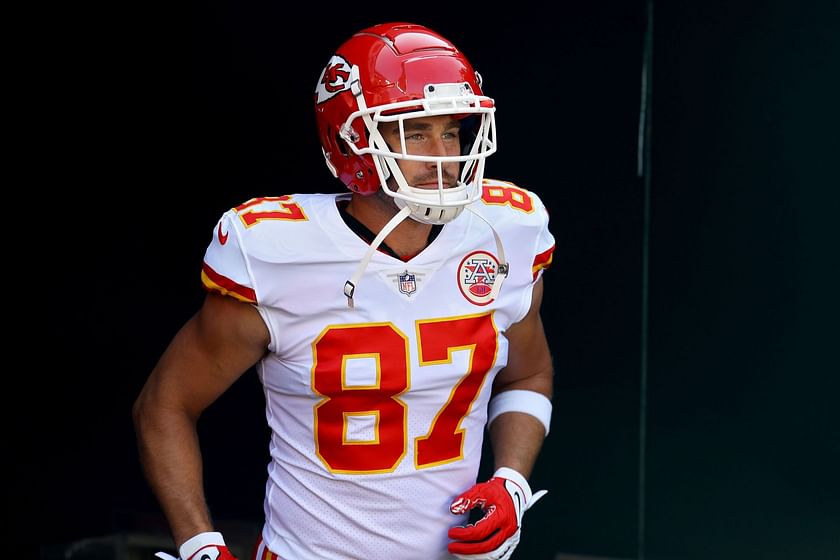 Travis Kelce is one of the best tight ends in the current generation of players. His receiving statistics have been as good as any wide receiver in the NFL over the last decade.
He is currently averaging 88 receptions for 1,125 yards and seven touchdowns per season.
Kelce has been selected to the Pro Bowl in each of the last seven seasons and has been chosen as an All-Pro in each of the last six seasons. He is already one of the most productive tight ends ever and is still going strong.
---
#4 Kellen Winslow, San Diego Chargers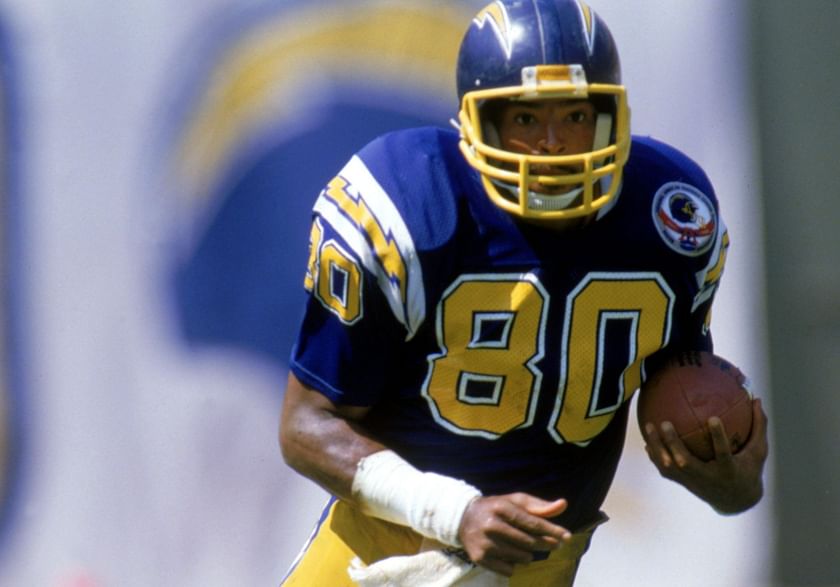 Kellen Winslow is widely credited with revolutionizing the tight end position. He transitioned them from mostly blockers into potential offensive weapons that could be utilized like receivers and create difficult defensive matchups for opponents.
During his time with the San Diego Chargers, Winslow was selected to five Pro Bowls and four All-Pro teams. He led the NFL in receptions twice while eclipsing 1,000 yards in three seasons during an era where the tight ends were mainly considered as extra blockers.
#3 Antonio Gates, Los Angeles Chargers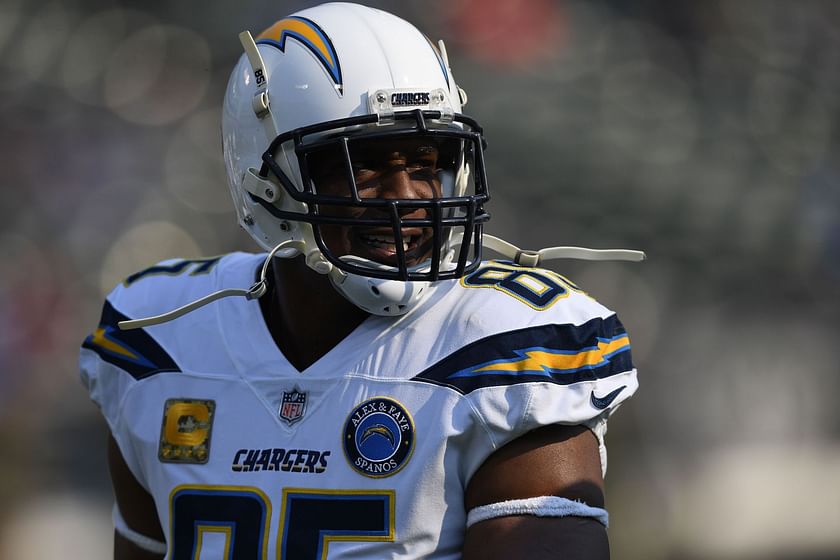 Antonio Gates was one of the most dominant tight ends in the NFL. He eclipsed 50 receptions and 500 receiving yards in 13 consecutive seasons, including a stretch of 700+ receiving yards in eight consecutive seasons.
During his peak, Gates was selected to the Pro Bowl in eight consecutive seasons, while also being chosen as an All-Pro in five of them, including three straight first-team selections. His 116 career touchdown receptions are the most ever for a tight end.
---
#2 Rob Gronkowski, New England Patriots and Tampa Bay Buccaneers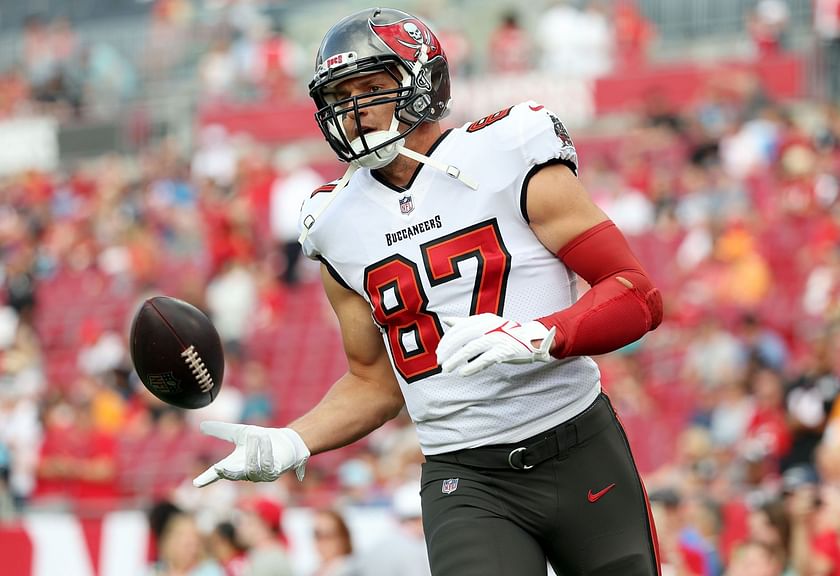 Rob Gronkowski spent the first nine seasons of his career with the New England Patriots, where he won three Super Bowl rings. He was selected to the Pro Bowl five times while also being chosen as a first-team All-Pro four times.
Gronkowski spent the final two years of his career with the Tampa Bay Buccaneers, where he added a fourth Super Bowl ring to his legacy. In total, he exceeded 65 receptions, 1,050 receiving yards, and 10 touchdowns in four different seasons during his legendary career.
In 2011, Gronk became the first TE to lead the league in receiving touchdowns (17). He also possessed the record for most receiving touchdowns and receiving yards in the postseason for a tight end, with 14 and 1,389 respectively.
His quality has shone in the Super Bowl brightly. Gronkowski has the most combined receptions (23) and most receiving yards (297) for a TE on the biggest stage in football.
---
#1 Tony Gonzalez, Kansas City Chiefs and Atlanta Falcons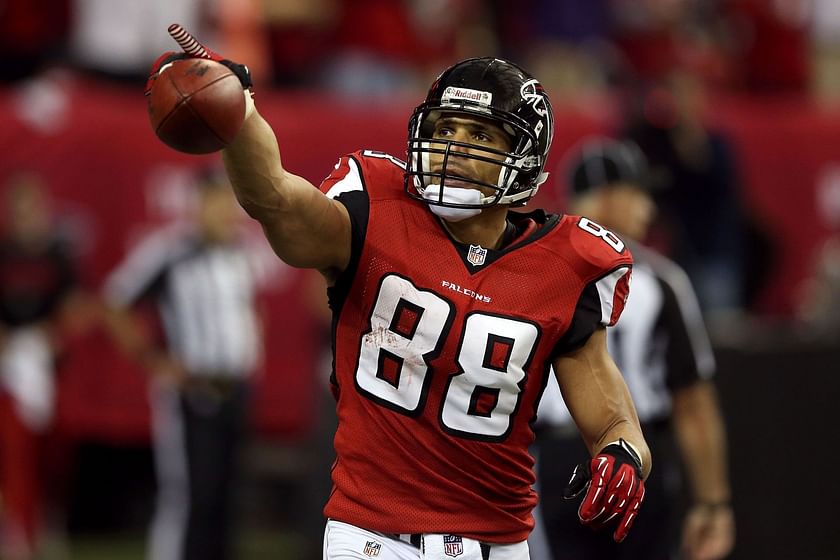 Tony Gonzalez is the greatest tight end in NFL history. His accomplishments are unmatched by any other player in the position as he dominated for nearly two decades.
He owns the majority of receiving records among tight ends, including 1,325 receptions for 15,127 yards. In his career, Gonzalez lost only two fumbles on 1,327 touches.
Gonzalez was selected to the Pro Bowl an incredible 14 times, including a stretch of 10 consecutive seasons. He was selected to 10 All-Pro teams and was inducted into the Pro Football Hall of Fame in 2019 - truly an NFL legend.
Edited by Akshay Saraswat