UEFA Champions League Articles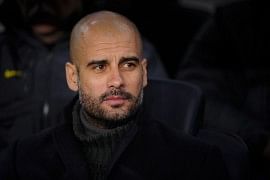 Pep Guardiola will need to keep Bayern Munich on their toes against Real Madrid Unlike the first semi final of  Champions League, ...
Cristiano Ronaldo will make a return from injury to face Bayern Munich in a crucial first leg clash Madrid, April 23 (IANS) Real Madrid ...
Highlights from the first leg of the UEFA Champions League semi-final between Atletico Madrid and Chelsea which ended in a stalemate after both of ...
An injured John Terry of Chelsea leaves the field with medical staff in the first leg of the UEFA Champions League semi-finals against Atletico ...
Peter Cech will miss the rest of the season after he dislocated his shoulder on landing awkwardly after colliding with Atletico's Raul ...
Souvik Roy Chowdhury
Apr 23
Cesar Azpilicueta of Chelsea and Arda Turan of Club Atletico de Madrid battle for the ball during the UEFA Champions League Semi Final first leg ...
Combined XI from the Real Madrid – Bayern Munich game Real Madrid and Bayern Munich are two of the most illustrious clubs in the history of ...
Jose Mourinho vs Diego Simeone – The managerial battle I am not going to waste my time, and yours, providing a tactical preview to the games ...