Selfish. Thug. Cancer. Team Killer. Ball hog. Washed up. Threw his wife out naked then hunted her down with a gun. Drunk. Gambler. Broke. Really? Here are quotes/stats on both sides of these issues; judge for yourself.
*
I can't think of any other athlete who has been so indiscriminately vilified by the media, right from the time he was a teenager in high school till the present day. One would have hoped that after putting together a unquestionable Hall of Fame career, the questions would cease. But they just keep coming for Allen 'The Answer' Iverson.
•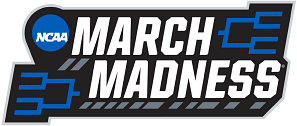 As Scoop Jackson has said on Iverson's personal problems: "What makes the book "Push" (on which the movie Precious was based) so hard to read is not the fact that all those things happened to the main character, but that they happened (it seemed) all at once. The unthinkable incidents were never-ending. It seemed with every turn of the page, Precious' life just got worse – then worse. At some point you begin to believe, "This can't be real, because all this can't actually happen to one person."
"If this were a book or a screenplay, you'd be forced to believe this couldn't all be happening to one person at once, then detach yourself from it. But this isn't fiction. This is not "The Life and Times of Bubba Chuck." This is this man's life. Real life."
To add to his problems, the media has always descended on Iverson like a pack of vultures. To them he is perpetually fresh roadkill served on a welcome mat. Sometimes it seems like the vultures have portable eyries that hover around him, allowing for speedy descent the moment they get a whiff of blood. In fact when he was accused of 'terrorist activity' among 13 other charges, the eyries were right out on his front lawn. Look how absurd it got:
Allen Iverson: "There were media people camping out in front of my house with lawn chairs and video cameras. They were having cookouts. There were helicopters flying over my house all day. They put a picture of my dog in the newspaper, because they couldn't get a picture of us."
One could go on and on about the bias and the unfairness and about how overblown his alleged issues are. However, I'm not presenting my opinions as an essay in the following piece. Instead, I've put together quotes and stats to show both sides of the issues people seem to have with him, and I have tried keeping my personal opinion to a minimum.
The man himself has said, "Either love me, or hate me. I don't want anything in between." Forget for a moment all that you know or think you know of the man. Forget Allen Iverson existed. Just read both sides of the story with an open mind, judge for yourself as if you were reading about a stranger, and then form an opinion.
Allen Iverson: "It's a bad feeling when people try to get to know who you are but (have) already got a vision of what they think you really are."
Who is he really? Read these topics and decide for yourself.
Contents:
1. Issues with his game and image1.1. Me, myself and Iverson. Selfish ball-hog who can't make his teammates better.1.2. Defensive liability.1.3. Chucker. Inefficient scorer.1.4. Cancer. Team-killer. Can't make his team better.1.5. Washed up. Has lost a step. Can only contribute off the bench.1.6. Looks like a thug.1.7. Practice? We talkin' bout practice?
2.Recent decline2.1. Stint with the Detroit Pistons.2.2. "Denver Nuggets got better after Iverson was traded for Billups."2.3. Stint with the Memphis Grizzlies.
3. Some discussions about Allen Iverson in the media
4. Allen Iverson 'allegedly…'- He allegedly threw his wife naked out of his house.- He is broke- Compulsive gambler- Drinks like a fish- He has been banned from two casinos in Detroit.
5. Criminal past- Bowling Alley Brawl- Caught speeding with drugs and a gun- Allegedly threw his wife out naked and barged into one of his apartments with a gun looking for her.- Iverson's bodyguard beat up somebody
6. Stats
7. Quotes about Allen Iverson
8. Quotes from Allen Iverson
(scroll down or press Ctrl+F and enter the index number, then click 'next' to jump to the topic)
When he was 18 years old, to illustrate 'propaganda' in social studies, Iverson drew an illustration to show how others were seeing him through portrayals in the media – as an angel and a devil. In that spirit, on the left column you can see the anti-Iverson side of the issue, and on the right column the pro-Iverson side of it.
1.1. Me, myself and Iverson. Selfish ball-hog who can't make his teammates better
Here's a look at the labels given to Iverson and how his career assists per game stack up against some players who are seen as being more of team players than Iverson:
(an assist is a pass which directly leads to a made shot)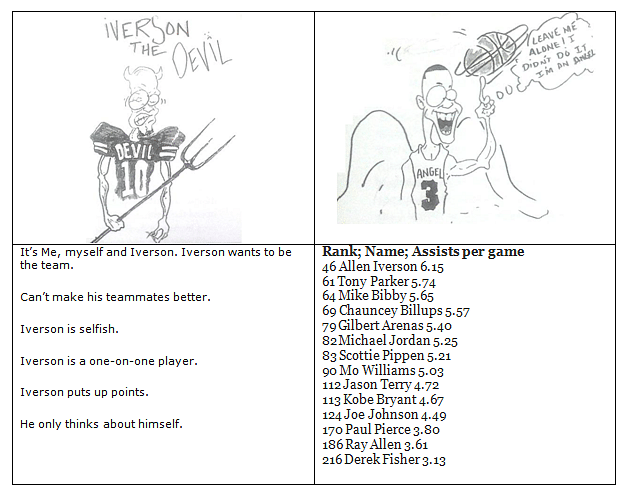 All the players below Iverson in the list are taller than him. All had teammates who were better shooters and finishers then Iverson's teammates were. Parker, Bibby, Williams and Fisher are supposed to be playmakers, yet Iverson averages more assists then any of them while scoring more than just about everyone not named Jordan or Chamberlain (until 2008). Iverson averaged over 7 assists per game five times, including his rookie season (7.5). John Stockton averaged 12.5 points and 8.5 assists in the 1997-98 season when the Utah Jazz made it to the NBA Finals. Iverson averaged 33 points and 7 assists, and 30 points and 7.9 assists in the 2005-06 and 2004-05 seasons respectively.
1.2. Defensive liability
Because of his small frame, Iverson has sometimes been pointed out as a weak link on defense. Especially later in his career when people have been looking to throw whatever they can at him. Here's a look at Iverson's defensive rating (points allowed per 100 possessions. For context, the best ratings are near 100) in 2008-09 season: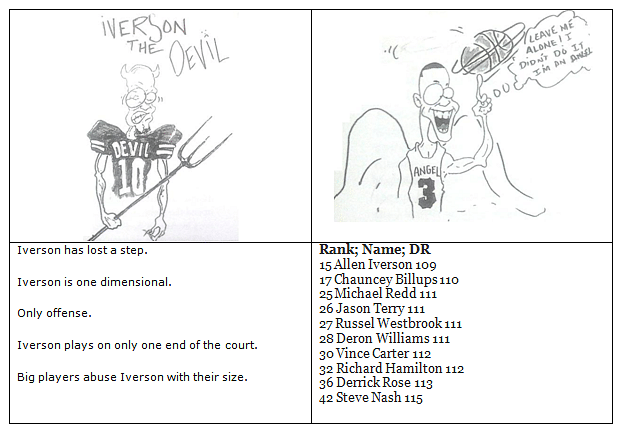 Being on a good defensive team can help boost this rating. Ray Allen jumped from a career average of 109 to 106 in Boston. But to those who think that Iverson's stats are good in this regard because he was on the Pistons, look at Rip Hamilton who is 32nd on this list and he was on the Pistons too. Anyway, Allen Iverson's career defensive rating is 106. They say defense is all about effort. No one, not even his most extreme detractors, has ever called Iverson out on his desire and will to win. He goes all out on both ends of the floor at all times, falling and diving all over the court. He has yet to be accused of lack of effort.
People may point out that Iverson is barely 6 feet tall and hence a liability on defense. Consider the following two quotes on Iverson's defense; the first quote is from Michael Curry, Iverson's head coach in Detroit and the second one is from his school days.
"Defensively he's taking the challenge. He knows that we expect him to give maximum effort on defense. We don't want him worrying about his fouls. You go out there and play hard defensively. Defensively he's done the things we've asked."
"So we like him to fight the post and do a good job. I thought the other night when Rasul Butler posted him he began to fight him and [New Orleans] kind of went away from it. He had a post up with Rudy Gay the other night and took an offensive foul and [Memphis] completely went away from trying to post him."
The following is an excerpt from Iverson's biography Only The Strong Survive: The Odyssey of Allen Iverson.
"Bethel vs Woodbridge. Woodbridge's Damion Keys (6-4″, 250 pounds) had 18 points in the first half and Iverson's Bethel were down by 11 and he had 3 fouls. At the start of the second half, Iverson asked to guard Keys. Woodbridge started by dumping the ball down low to Keys, and on two straight possessions Iverson darted out from behind him to steal the ball and go the other way for a layup. Bethel won. When he came into the NBA, Iverson's size was thought to be a major liability; bigger guards, the thinking went, would exploit him under the basket. It has never happened because Iverson has never let it. Iverson uses his quickness to offset his weaknesses.
People may point out that Keys wasn't an NBA-level talent. Read about the time Bethel went up against Maury High and the future number 1 draft pick, Joe Smith. Smith played for the Lakers last year:
Of Maury's 50 total points, Joe Smith scored 37 of them. With 2 1/2 minutes left, Iverson switched to guard Smith, making for a comical sight. Amazingly, there was Iverson, pushing Smith out of the lane, keeping him from getting position down low. Smith's teammates looked for him a couple of times but Iverson wasn't allowing Smith an angle to receive an entry pass and someone else wound up taking the shot. Iverson held Smith scoreless down the stretch and Bethel eked out a 52-50 win.
Another indication of defense is steals per game. Some may disagree and say and that it's actually the opposite, as stealing involves gambling and leaving your man while you play the passing lane. Another way to look at it, though, is that it puts pressure on the opposition as they have to be wary of the thief. And of course, it leads to transition offense.
Speaking of gambling, even the best shooters only make about half their shots. Every shot is a gamble with varying odds. The game of basketball is all about gambling. Calling out a player who led the league in steals three times for gambling on defense is disrespectful.
I'd add a table comparing Iverson's steals per game with other players, but he is the 7th all time in SPG, more than any current player. So that would be a little pointless.
1.3. Chucker. Inefficient scorer.
Here are Iverson's PER stats. A quick word on Player Efficiency Rating: it takes into account positive accomplishments, such as field goals, free throws, 3-pointers, assists, rebounds, blocks and steals, and negative ones, such as missed shots, turnovers and personal fouls.
| | | |
| --- | --- | --- |
| Rank | Name | PER |
| 46 | Allen Iverson | 20.92 |
| 50 | Paul Pierce | 20.71 |
| 55 | Carmelo Anthony | 20.31 |
| 56 | Steve Nash | 20.20 |
| 81 | Ray Allen | 19.17 |
| 87 | Chauncey Billups | 19.06 |
| 91 | Deron Williams | 18.95 |
| 106 | Tony Parker | 18.52 |
| 116 | Jason Kidd | 18.25 |
| 145 | Jason Terry | 17.60 |
| 172 | Lamar Odom | 17.09 |
| 173 | Andre Iguodala | 17.07 |
| 189 | Richard Hamilton | 16.78 |
| 225 | Joe Johnson | 16.29 |
Some have said the PER ratings can be padded by volume scorers. It is skewed if you accept the premise that the weight given to made 2 pointers (1.65 points) and missed shots (0.72 points) is unduly in favour of players who take more shots.
Here is another form of statistic – Offensive Win Shares. It quantifies the share a player contributed towards victories. While Paul Pierce, Chauncey Billups, Ray Allen and Steve Nash are all above Allen Iverson in offensive win shares ranking, take a look at those below him:
| | | |
| --- | --- | --- |
| Rank | Name | Offensive Win Share |
| 77 | Allen Iverson | 60.87 |
| 83 | Jason Kidd | 59.91 |
| 103 | Chris Paul | 54.81 |
| 107 | Dwyane Wade | 53.74 |
| 136 | Michael Redd | 47.06 |
| 144 | Manu Ginobili | 46.09 |
| 172 | Tony Parker | 41.63 |
| 183 | Richard Hamilton | 39.81 |
| 187 | Joe Johnson | 38.45 |
| 191 | Gilbert Arenas | 38.18 |
| 209 | Carmelo Anthony | 36.50 |
| 215 | Deron Williams | 35.81 |
| 225 | Kevin Martin | 35.11 |
| 241 | Baron Davis | 33.50 |
Seems that Iverson maybe an efficient player on offense after all, if you accept either of the above two statistical measures. Even if one doesn't agree with their complete accuracy as a indicator, they have got to mean something to some extent.
People point to his FG percentage of 42.5%. Kobe Bryant averages 45.4% and you don't hear about him as much as you do about Iverson. Does the gap of 2.9% make that much of a difference?
One thing everyone can agree on is that even when a player is having a bad shooting night, he can make up for it by getting at the free throw line. Allen Iverson is 10th all time in free throws made. He averages 8.9 free throws per game with a career high of 11.5 in 2006.
For those thinking 2006 Finals and Wade, Iverson did all that in the face of this:
http://www.youtube.com/watch?v=o4Q0IB5mdOE
1.4. Cancer. Team-killer. Can't make his team better.
Take a look at the 2000-01 Philadelphia 76ers. Their second leading scorer was Dikembe Mutombo (11.7 ppg), followed by Aaron McKie (11.6 ppg). Talk about a woeful supporting cast. No one else, except Iverson and those two, averaged double figures in points in the regular season. In the playoffs, those two picked it up; Mutombo registered 13.9 and McKie 14.6. But again, no one else averaged over double figures.
Take Allen Iverson out of that team and they would be lottery-bound in the next year's draft. With him, take a look at their accomplishments that year:
Win-loss: 56-26 (tied for second best in the league)
Coach of the Year: Larry Brown
Sixth Man of the Year: Aaron McKie
Defensive Player of the Year: Dikembe Mutombo
All led by the MVP, Allen Iverson. They made it to the Finals where they lost to the Lakers after taking Game 1 behind Iverson's 48 point outburst. Making your team better means taking them where they couldn't reach by themselves. Allen Iverson did that in 2001, his fifth year in the league. That season alone should have ended all talks about his ability to mesh into and lead a team.
Here's what he did in Game 1 of the 2001 Finals vs a team which was undefeated in the Playoffs:
http://www.youtube.com/watch?v=79WSHpMU894
1.5. Washed up. Has lost a step. Can only contribute off the bench.
"Everybody made a big deal out of me coming off the bench. It wasn't even an issue until it happened in Detroit. No one ever talked about me coming off the bench. That episode in Detroit gave people something to talk about." - Allen Iverson.
In the season before being traded to Detroit, Iverson averaged 26.4 points on 45.8% shooting with 7.1 assists and 2 steals. Those are extraordinary numbers by any standard. For some reason, the very next year the media decided that Iverson was old and had lost a step. They cited his reduced numbers as a Piston. Of course by reduced we mean reduced compared to his previous gargantuan numbers. Take a look at Iverson's numbers as a Nugget and as a Piston, and look at the numbers of Mo Williams. People raved about Williams; he even got on the all-star team as a replacement. His numbers are almost identical as Iverson's numbers in Detroit.
| | | | | | |
| --- | --- | --- | --- | --- | --- |
| Name | Year | PPG | FG % | APG | SPG |
| Allen Iverson | 2007-08 | 26.4 | 45.8 | 7.1 | 2 |
| Allen Iverson | 2008-09 | 17.5 | 41.7 | 5 | 1.6 |
| Mo Williams | 2008-09 | 17.8 | 46.7 % | 4.1 | 0.9 |
So why did Iverson average such 'low' numbers?
Said Iverson: "I was doing an interview once and they said, 'Allen, you only scored 17.5 last year, and that's great for somebody else, but for you, that's underachieving.' And I'm like, 'But are you even thinking about the team I'm on?' You got Rasheed. You got Tayshaun [Prince]. You got Rip. You got [Rodney] Stuckey. All these dudes are scorers. Where am I going to get 25 points a night? When I got to Detroit, Rip was like, 'You'll be happy around here if you get 12 shots a game,' and that's the way it was. That's all I'm trying to say. Before you start criticizing, just look at the situation. Just look at it for what it really is."
Here's a look at some starters who are old and yet started for their teams last year (present age mentioned; they were a year younger last year):
| | | |
| --- | --- | --- |
| Name | Team | Age |
| Jason Kidd | Dallas Mavericks | 38 |
| Grant Hill | Phoenix Suns | 38 |
| Derek Fisher | Los Angles Lakers | 36 |
| Steve Nash | Phoenix Suns | 37 |
| Vince Carter | Phoenix Suns | 34 |
| Ray Allen | Boston Celtics | 36 |
| Paul Pierce | Boston Celtics | 34 |
| Ben Wallace | Detroit Pistons | 36 |
| Mike Bibby | Miami Heat | 33 |
| Andre Miller | Portland Trailblazers | 35 |
Allen Iverson is 36 years old and throughout his career, Iverson has personally accomplished more than all of those players. The talk of him coming off the bench started when he was 34.
"They're trying to put me in a rocking chair already." - Iverson.
Some people say he's lost a step. He's less quick these days when he's averaging 17.5 ppg. Said Iverson: "All I thought about was the people that know basketball, how they could look at the game and could easily see what was going on. They could see that this wasn't all Allen Iverson's fault. Like I really lost a step that drastic in one year. That dramatic. Really?"
How does this sound: "Kobe Bryant ought to come off the bench. He's lost a step. He's in the way of Shannon Brown's development." Absurd, isn't it? Why isn't it absurd that the same is being said of Iverson?
Maybe his highlights as a Piston can provide some clues:
1.6. Looks like a thug
Charles Barkley:"If a well-dressed white kid and a black kid wearing a 'do-rag and throwback jersey came to me in a job interview, I'd hire the white kid. That's reality."
Maybe that's what Iverson wanted to change. The perception of those who can't afford to wear suits. If the sole purpose of a suit is to communicate that the wearer is well-off, Iverson more than served that purpose with his bling. Jewels. Ice.
According to the Washington Post, the spark for the new dress code was a dinner in honour of the US Olympic basketball team in Belgrade. While the Serbian national team wore matching sports jackets, many of the NBA players arrived in an assortment of sweat suits, oversize jeans, diamond earrings and platinum chains. Larry Brown, the coach, was said to have been so embarrassed he considered sending some of the worst dressed players back to their hotel.

Speaking of embarrassing:

Larry Brown, back in the day. Fashion is relative.

The employer does have the right to dictate the dress code of their employees.
"I don't wear a suit. I'm not clean cut. And I get knocked for that. Now all of a sudden I wear a suit are you gonna love me then? I'm still gonna be the same person. It would not change a person's character regardless of what type of clothing they wore. Associating hip hop styles of dress with violent crime, drugs, or a bad image is racist." -AI
Iverson: "I had my cornrows; now you see police officers with cornrows. That used to be the look of the suspect [laughs]. So that part of it makes me feel good because I know I had to take a beating for other guys to be accepted the way they are.
"My whole career is based on a person that stood up for what he believed in, and I'm not talking about basketball. Somebody that stood up for what he believed in, whether he was right or wrong."
1.7. We're talking bout practice?
The 'Practice Press Conference' is one of the most memorable ones in sports history. Take it out of context and it sounds childish. Look at some quotes from the very same press conference on the right:
| | |
| --- | --- |
| | |
| The part you can see on Youtube, with 4 million views:"If Coach tells you that I missed practice, then that's that. I may have missed one practice this year but if somebody says he missed one practice of all the practices this year, then that's enough to get a whole lot started. If I can't practice, I can't practice. It is as simple as that. It ain't about that at all. It's easy to sum it up if you're just talking about practice."We're sitting here, and I'm supposed to be the franchise player, and we're talking about practice. I mean listen, we're sitting here talking about practice, not a game, not a game, not a game, but we're talking about practice. Not the game that I go out there and die for and play every game like it's my last but we're talking about practice man. How silly is that?"Now I know that I'm supposed to lead by example and all that but I'm not shoving that aside like it don't mean anything. I know it's important, I honestly do; but we're talking about practice. We're talking about practice man. (Laughter from the media crowd) We're talking about practice. We're talking about practice. We're not talking about the game. We're talking about practice. When you come to the arena, and you see me play, you've seen me play right, you've seen me give everything I've got, but we're talking about practice right now." | The part people don't talk about:"When you lose, there is a whole bunch of room for negativity. Y'all wonder why I don't say that I'm the franchise player…I don't feel like I'm the franchise player because look as this press conference. I mean look at what we're talking about. That's why I say I'm not the franchise player. I feel like I'm the best player out here…the best player in the world. Franchise players don't go through this. I'm the MVP and I have to worry about trade talk."I ain't going nowhere…let him talk. I am upset about being here having this conversation, that's it. From me being here, that's it. I am not upset with you or any of y'all here right now. That's your job. I am just upset because I am here. That's it. I'm hurt because I'm hurt. All of the rest of the soldiers that went to war with me on the court this year are enjoying their summer. I know that I don't do everything right. I do a lot of [expletive] that ain't right. I know I do. I am just like y'all though. I am just like you. I might be better or I might not be but I am human just like you."My daughter is 7-years-old. Ask yourself, if your daughter had to listen to people talk bad about that daddy or mother all the time, how would you feel, honestly? This is what my daughter goes through at school. She comes home and says her teacher said daddy don't leave. Daddy, the girl in my class says you're getting traded. All for a game, a [expletive] game."A lot of y'all can't put your feet in my shoes because you can't handle it. But just try to stick your feet in my shoes. It does not have to be a [expletive] day, just try for a minute and try to deal with what I do in my life. My best friend is dead and we lost. And this is what I have to go through for the rest of the summer until the season is all over again. This is what I got to go through…this is my life in a nutshell." |
| Iverson said the word 'practice' way too many times. | Notice that throughout the tirade Iverson never once threw his teammates under the bus, none of whom could command a double team or hit jumpers with high consistency. |
Said Iverson: "That was a day that I honestly wish never would have happened. I didn't mean it like I don't care about practice or anything like that. I was just saying 'We're having a press conference and that's all you all are talking about is practice.' That's all they were asking me about. The press conference wasn't about that. And I got frustrated and that's the way I reacted. And the worst part about that whole thing is when a kid comes up to me and says 'Allen, I don't like practice either' and I gotta straighten the kid right then."
"There's no way you can accomplish all the things that I've accomplished in this league without practice."
2. Recent Decline
Since the 2008 season, people have pointed to Iverson's movement between teams as an evidence of his recent decline. It started with the Pistons.
2.1. Stint with the Detroit Pistons
Recap: As a Piston, Iverson started off well. However, he had a back injury and when he came back he was told to come off the bench. That did not sit well with him. The team didn't play too well but they made it to the playoffs. Iverson did not play in the playoffs because of an injury. Critics hopped on to the notion that Iverson is now past his prime and is only suited to be a bench player. They went further and blamed Detroit's collapse (the Pistons had made it to the Eastern Conference Playoffs 6 times in a row) on Iverson.
Here are both sides of the story:
ESPN Tim Leger(On the play of the Pistons without Iverson in the starting lineup)"They are playing their best basketball of the season. Now Iverson has to accept it (bench role) for the good of the team or else he's going to look like a selfish player if he can't come back and try to fit in. At this point he doesn't have any choice."
Rip Hamilton, Pistons teammate: "Michael Curry (Pistons coach) lied to us a million times. He sat me and A.I. down one time and was like, 'I'm going to lean on both of you the whole year, just don't go to the media. Say you'll do whatever for the team and blah blah blah.' This was a week before he brought me off the bench. He lied. So I feel for what Allen said. I think the person that we had didn't know how to take advantage of (our roster). Instead of taking advantage of it, he killed it."Another player, Antonio McDyess, Pistons teammate:"Allen is a great player. We are trying to adjust and I think we need to play within him, not him playing within us. That's just how I feel. We don't want to take anything away from his game. He's such a great player, such a great scorer, we all around him have to make the adjustment."
"As a reserve with this team, playing as well as they have with a win over Denver, they will have beaten 3 of the top 6 teams in the NBA consecutively. This team finally has some momentum, it looks like a dangerous team now in the postseason. Iverson has no choice but to accept and as a player on that second unit."
Fact: Iverson scored at least 24 points in four of his first five games with Detroit and they won 3 of those 5 games, including a win over the Lakers. Later the Pistons went on to beat the Cleveland Cavaliers and San Antonio Spurs. With Iverson, the Pistons went on a 7 game win streak, with wins over Orlando Magic and Chicago Bulls. Iverson hit a game winner with 0.2 left to beat the OKC Thunder during this streak.Soon after, they beat the Denver Nuggets led by Billups.
"These guys had camaraderie, chemistry and unity before he got there. He interrupted that. It wasn't all his fault but he has no choice but to accept it (bench role)."
Allen Iverson: "They told me, straight up, 'Allen, we would never disrespect you or your career like that,' by making me come off the bench. That's what they told me to my face. And after that, I never thought about it again. I just went back to playing. Then, they came to me saying that they felt it would be in the 'best interest of the team' if I came off of the bench behind Rip. After that, they told me that if I didn't come off the bench, the team was going to lie down on [not play with] me. When he told me that, that's when I felt that this was the worst career move I'd ever made and it was the worst year of my career. If you are a head coach and you feel strongly about this, what would make you think that I want to be around these guys? Especially if you are telling me that they don't want to be around me like that?I'd never been on a team where a coach told me the guys gave up on me. You know what I mean? And I kept this under wraps the whole time … because I didn't want to bad-mouth any of those guys.I don't have [anything] bad to say about the organization, especially Joe [Dumars, the team president]. I never had a problem with Joe. He's a stand-up person that I have love for and respect. He was not part of any of the problems I had in Detroit.""But for [the coach] to tell me these things and for him to go back on his word like that, it was the hardest and the roughest season I've ever had."
2.2. "Denver Nuggets got better after Iverson was traded for Billups"
After Iverson was traded to the Pistons for Chauncey Billups, the Nuggets were lauded for the move. It was said that Billups is the anti-Iverson, he can make a team better and he's a much better fit for Denver. Here's a look at how much better the Nuggets got:
| | |
| --- | --- |
| | |
| Denver Nuggets With Iverson | Denver Nuggets With Billups |
| 2007 Playoffs: Nuggets lost to the eventual champions, San Antonio Spurs | 2009 Playoffs: Nuggets beat the New Orleans Hornets and the Dallas Mavericks and lost in the Conference Finals to the eventual champions, Los Angles Lakers. |
| 2008 Playoffs: Nuggets lost to the eventual Western Conference champions, Los Angles Lakers. | 2010 Playoffs: Nuggets lost to the Utah Jazz in the first round, who lost to the Lakers in the next round. |
| -While Iverson and the Pistons didn't get anywhere, Billups lead them to 4 more wins in the regular season and to the Western Conference Finals. | -Billups played with a supporting cast which was better than the one Iverson played with. Billups had a healthy Nene to play with in addition to Chris Anderson, Dahanty Jones, Arron Afflalo and Ty Lawson. |
Said Iverson: "You have to look at the situation; you have to look at everything for what it is. Now, when I was there, we won 50 games and got beat by San Antonio [in the playoffs] the first year. The next year we win 50 games, and start off in the playoffs against the Lakers. Kobe has a monster series, and we get beat by them. Now last year, when I'm not there, they win, what, 54 games? — four more games during the regular season — and who did they face in the first round? Dallas. With a healthy Nene. Now, I'm not taking away anything from what they did, because they did a great job and they had a great playoff run. I mean, they were excellent. But the situation was different, totally different. It was more than just a difference in one player. But no one is going to look at it that way. No one is going to look at it that way when it comes to me. Because it's easy to point the finger at this dude right here."
Look at how much better the Nuggets got. In Billups' third year with the Nuggets, he and Carmelo Anthony were traded to the New York Knicks, where they got swept by the Miami Heat in the first round.
2.3. Stint with the Memphis Grizzlies
Recap: Iverson played three games with the Memphis Grizzlies. Coach Lionel Hollins made him come off the bench.
2009- 3 Games
Michael Heisley, owner of the Grizzlies:"We made it clear that he would have to earn time because we've moved down the road. He wasn't angry about that. He was disappointed. I don't want you to think I'm not deeply disappointed. I am. But in no way am I going to put it on Allen. If he hadn't been injured during training camp it may have been different, because he would have had a chance to prove that he deserved to play more minutes."
Allen Iverson: "From my experience in basketball, no guy was given a job in training camp anyway. You had to earn it. Anyway, I don't want anybody to give me anything. I've earned everything that I've accomplished in my life as far as playing time and being a starter. I think I deserved it. I had no problems with the hamstring. I had a problem with my butt sitting on that bench for so long. I'm not a bench player. I'm not a sixth man.Look at my résumé and that'll show I'm not a sixth man. I don't think it has anything to do with me being selfish. It's just who I am."
The Grizzlies wanted to limit Iverson's minutes because of his injury as he clearly wouldn't have been effective playing injured and it could have gotten worse.
Iverson is one of the toughest players to ever play the game. He's famous for playing through a variety of injuries. Once when his team hid his jersey so he wouldn't play injured, he went to the store and bought one. In high school, after spraining his ankle, he saw every doctor in Hampton in search of one who would give him the go-ahead to play. Playing injured has never been an issue with Iverson.In the three games Iverson played for the Grizzlies, he came off the bench and was benched in crunch time. He played an average of 26 minutes and even scored 18 on 8-12 shooting with 7 assists in one of them.
3. Some discussions about Allen Iverson in the media
The media coverage on Allen Iverson has been surprisingly inconsistent and sketchy as you can see:
http://www.youtube.com/watch?v=n7DmBZJFKVM
| | |
| --- | --- |
| | |
| TNTCharles BarkleyBarkley: He's going to have to come off the bench and realize that no team is going to start him and let him dribble around and be the number one player. Those days are over.Kenny Smith: Can't New Jersey Nets, who are on a 16 game losing streak and New York Knicks who are 3-11 use him?Barkley: "If he goes to those teams, they are basically saying that 'We're not going to win, he's coming in to sell tickets. If he goes to the Knicks they are going to win 20 games, if he goes to New Jersey they're going to win 20 games." | It seems presumptuous for Charles Barkley to predict the impact of a sure-fire Hall of Fame player on two different teams, and predict the same exact outcomes in both situations. Also, insinuating that those teams will only sign him to sell tickets, and that signing him is an acknowledgment that he won't help them to win is even more presumptuous and absurd. |
| TNTKenny Smith (when Iverson played) 2009"People are scared of him. Because of the baggage. He represents what the hip hop culture was and that comes with the tattoos the cornrows, entourage and the defiance." | TNTKenny Smith (after Iverson retired), late 2009On being asked if he thinks the entourage is the reason why Iverson is unsigned. "He don't have a entourage! Its 2010."On being asked if people are afraid that he'll mess up the chemistry of the Grizzlies.Kenny Smith: "What chemistry does Memphis have?"On comparison with Marbury, he yelps "What? Allen Iverson could average 25 points in his sleep!" |
| ESPNJalen Rose (when Iverson played)2009-"But his style of play as a PG and a SG may lead to him at his point of his career not only coming off the bench for the Pistons but wherever he is next season." | ESPNJalen Rose (when Iverson retired)2009-"When you become a cultural icon you're making a lot of people upset and a lot of people can't wait for you to fall down so they can step over you. If you're a team that needs scoring and needs to put people in the seats, Allen Iverson is your guy." |
| ESPN Writer,J.A. AdandeJan 2009-"Of course, there isn't a single player as difficult to incorporate into a new system as Iverson. The experiment with Carmelo Anthony in Denver didn't work out. He dominated the ball too much, played at a speed no one else could keep up with, and didn't do enough to get everyone else involved. Now he has to follow a pattern that's been set before him. The older veteran yielding, acknowledging he can no longer dominate, helping out where he can." | J. A. Adande (1 year, 2 months earlier)Nov 2007"He might be playing the most efficient ball of his career right now. While his scoring average (23 points per game) is the third-lowest of his career, his assists average (7.3 per game) ranks among his highest. Despite his arrest record off the court, no one has ever accused him of grand theft contract come game time. He still puts on one of the best shows in the NBA." |
One of the more biased ones is this one from J.A. Adande arguing that Jennings can't come into his own unless Iverson is out of the way. They aren't even on the same team. Here are some excerpts:
"In order for Jennings to truly grow into that role, Iverson has to go. It's the natural order of things. Perhaps I've been watching too much "Lost" or other time-traveling science fiction shows, but I believe you can't have the past and future versions of the same person actually meet. It disrupts the space-time continuum. Ok, perhaps that's speculation based on imaginary issues. On a more practical level we do know that two objects can't occupy the same space at the same time."
"If Jennings is to have his own legend, sooner or later Iverson had to make way for him. It might as well be now."
I can't even begin to try and make sense of that.
Here is a blatant sign of disrespect from the media. This is the graphic they aired to compare the two players who were traded: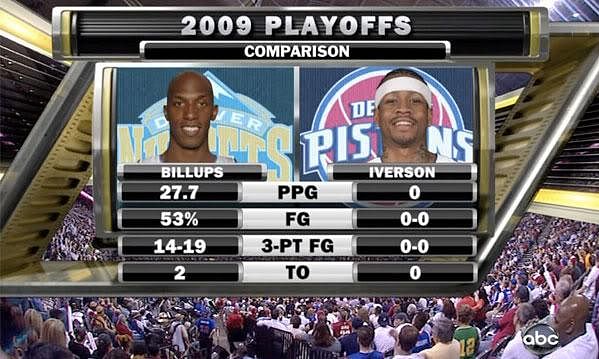 Oh, and Iverson didn't play a minute in the playoffs as he was injured. Then they went on to joke that at least he has fewer turnover than Billups has.
Can you imagine the backlash if the same thing was done with Jordan or Bryant?
4. Allen Iverson 'allegedly…'
It would be funny if it were not this serious. Black comedy. They say he's broke by all accounts except his own. Whose accounts? They don't mention that. And whose accounts should one listen to? The man himself or anonymous sources? When did they turn into 24 News Channel?
Here are some of the more outrageous allegations from prominent newspeople, outrageous even by Iverson's usual media standards.
| | |
| --- | --- |
| | |
| Hit a girl on the head with a chair in the bowling alley brawl. | "For me to be in a bowling alley where everybody in the whole place know who I am and be crackin' people upside the head with chairs and think nothin' gonna happen? That's crazy! And what kind of a man would I be to hit a girl in the head with a damn chair? I wish at least they'd said I hit some damn man."- AI |
| Threw his wife out the front door of their home, naked and then went hunting her down with a gun. | "I don't want anyone to see my wife naked period. Like 'Oh look! There goes AI's wife. She's naked!'. What makes you think I'm going to throw her out of the house for everyone to see?"- AI |
| He has been banned from two casinos in Detroit, MGM Grand and Greektown casino."He is a bad loser, and he loses a lot, often throwing his chips or cards at the dealer. He has been warned about improper behavior at the tables repeatedly. He is often loud and disruptive, according to witnesses, rude to dealers, other players and the wait staff." | Greektown casino spokesman Riley Meredith said Iverson has not been banned from the casino, nor did he know if Iverson has ever been warned about improper behavior at the casino. And MGM Grand Detroit spokesman Jamaine Dickens also said Iverson has not been banned from that casino and added he is unaware of any behavior problems involving the athlete at MGM Grand. |
| Went overseas to play because of the money. Broke by all accounts except his own- Kate Fagan. | "I would be a damn fool to blow that much money and have five kids to take care of. One thing I do have, and I can say, is that I do have money. A lot." |
| Compulsive gambler. Will gamble his life away. | "The whole situation with them talking about me having gambling problems? I haven't gambled in years [laughs].You find out when dealing with people that doesn't have nowhere near as much money as you, that a lot of people who don't have that money and can't fathom it, would never understand. If I had that much to lose and I know it, then it's not a problem for me."- AI |
| Has a drinking problem. Will drink himself into oblivion | "I've never been reprimanded for any alcohol issues, I've never had a DUI or anything like that. I drink casually just like everybody else. But one person says that in the media and then everybody lose their minds." -AI |
That one person being referred to by Iverson is probably Stephen A. Smith.
Usually I refrain from bad mouthing anyone, especially in my articles. But I can make exceptions to quotes like this: "If numerous NBA sources are telling the truth — and there's no reason to believe they'd do otherwise in a situation of this magnitude — Iverson will either drink himself into oblivion or gamble his life away."- Stephen A. Smith.
Drink himself into oblivion. Gamble his life away. Did the 'numerous sources' appraise him of that? How do you arrive at such a conclusion? Talk about far fetched.
Iverson and Smith collaborated on many of Smith's interviews. Iverson printed his retirement letter first on Stephen's website, where Stephen called it a 'breaking exclusive news piece'. Iverson had a 40+ minute talk on Stephen's now-cancelled TV show 'Quite Frankly' on which he was the first guest. Point being, Allen Iverson gave him an unprecedented level of access and now Smith is kicking the man when he is down.
Who does something like that?
5. Criminal past
Judging by the rap he gets, Iverson might as well be a axe murderer who punches babies when he is not murdering people with his axe.
Look at both sides of the issue, then decide: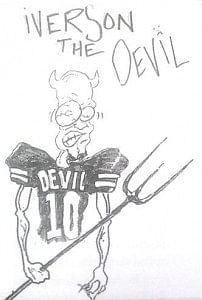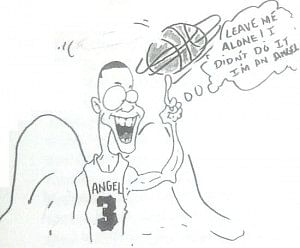 1993: Bowling Alley BrawlAs a 17 year old, Iverson was tried and convicted through a seldom used statute 'Maiming by mob'. He got 15 years with 10 years suspended. For a brawl. He spent four months in jail.Maiming by mob was a statute used to protect African-Americans from lynch mobs. Iverson was granted clemency after four months by Governor Doug Wilder. Later an appeals court overturned the conviction as the evidence against him was inconclusive.1997: Caught speeding with drugs and a gunIverson was in a car which was speeding and there was marijuana in the car. The officer charged Iverson with carrying a concealed weapon.Iverson wasn't driving. He didn't know about the drugs. He claimed that the .45-caliber Glock was right out in plain view on the floor in front of his seat. He didn't even know the people he was with, they were guys he met at a party and they were taking him to a recording studio they had access to.Iverson was charged with carrying a concealed weapon and he got three years probation.Iverson pleaded no contest to the concealed weapons charge in exchange for avoiding prosecution on a misdemeanor marijuana-possession charge.2002: Allegedly threw his wife out naked and barged into one of his apartments with a gun while looking for her.Tom Knott, Washington Times"America cannot say it wasn't warned if something truly bad happens to Iverson's naked wife."Ann Iverson (AI's mom):"That's hearsay. Did Tawanna (AI's wife) tell you that? Those are rumours. Where did you get that from?"Iverson was charged with four felonies and ten misdemeanors. All of which fell apart in court.Philadelphia Mayoral spokesman,Frank Keel: "It's playing in the opposite direction. There are some detectives within the rank and file of the police department who may actually be a bit overzealous about nailing Allen Iverson in this thing."Philadelphia District Attorney,F. Emmitt Fitzpatrick: "An arrest should never have been made." (1)A few days before his arraignment, Iverson threw an all night party at his mansion while the gaping media looked on.(1)Jim Spencer, Newport News Daily News: "It's not even arrogance, its contempt for which Iverson will never be punished.""I went outside to shoot jumpers with my son and they said that I had a party. Like I can't go and shoot jumpers with my son? I'm having a party?"Police leaked to the press that blood had been found in one of Iverson's cars.It turned out to be jelly from one of the kid's sandwiches.Howard Kuntrz, Washington Post.Headline: "FEW BOOS FOR GUN WAVING ATHLETE"Not even Iverson's accusers claimed that he waved a gun.2007: Iverson's bodyguard hits a manIverson's bodyguard beat up a man. Iverson and his guard were ordered to pay $260,000. Iverson was accused of failing to supervise his security teamHis guard got into a fight. He didn't. He was accountable but it ought not to tarnish his reputation.
Source: (1) Only the Strong Survive
He was wrongfully jailed for four months. To sum up the charges which stood, a misdemeanor charge of carrying a concealed weapon for which he got three years probation and a charge of negligence in controlling his overzealous bodyguard for which they had to dish out $260,000.
What an OG! Straight up gangsta in the hood!
6. Stats
Here are Allen Iverson's Hall of Fame worthy numbers:
97 Rookie Of The Year97 Rookie Game MVP97 All Rookie First-Team7 x All-NBA Selection3 x steals champion (01, 02, 03)4 x NBA Scoring Champion (99, 01, 02, 05)11 x NBA All-Star2 x NBA All-Star Game MVP (01, 05)2001 NBA MVP1983 Career Steals (12th all-time)5624 Career Assists (4th Actively)24,368 Career Points in just 914 games played (17th all-time)One of only 5 players in NBA History to average at least 30 ppg and 8 apg in a seasonCareer Average of 2.2 SPG (7th all-time)Career Average of 6.2 APGCareer Average of 26.7 PPG (6th all-time)
In spite of playing reduced minutes in the last few seasons, Iverson still holds the 4th spot in minutes played per game, behind Wilt Chamberlain, Bill Russel and Oscar Robertson.
You don't amass those stats without being one of the greatest to ever play the game. Some are even questioning his place among the all time greats.
7. Quotes about Allen Iverson
Iverson: "I've always said, just go ask my teammates if you want to know about me. Go ask the guys that I've played with. Don't ask or get information about me from people who are not in the locker room or not around me all of the time. Then you'll get legit answers."
Take a look at some quotes about Allen Iverson from his teammates, coaches and other players:
- "I don't know what the deal is out there… That man has been playing 40-some minutes a game his whole career. To have to come off the bench and play 18 minutes, that's a big difference when you still can play 40. That's a big problem out there in Detroit out there right now.'' - Anthony carter, former Denver teammate.
- "I'd like to say I played as hard as he did but I couldn't. I couldn't put my effort up against him. I don't know how many people in the league could. He's a special talent, a special player." Sixers center, Todd MacCulloch.
- "Everybody talked about competing pound for pound. He was just one hell of a competitor. I don't care what he weighed or how tall he was, he sacrificed his body a lot and took a pounding and played hurt a lot." - Spurs coach Gregg Popovich (who was an assistant on the 2004 Olympic team)
- "I was looking forward to going up against him. Hopefully he does get another shot. That would be something I'd never forget, and I could one day tell my kids that I got to play against a guy that was my idol." - Bucks guard Brandon Jennings
- "Say it ain't so, I'm hearin BubbaChuck is retiring?!?! Well OG u changed the game bruh the best 6 foot n under player ever, ull be missed" – Warriors guard, Anthony Morrow
- "One of my favorite players is Allen Iverson. He is bright, street smart, and deeper than people think. He is loyal to people to a fault. What he has done as a player speaks for itself. He is one of the great players in the NBA." - Red Auerbach, ex-Celtics coach ( who coached Iverson in his Rookie All-Star game.)
- "He wants to do whatever it takes to win. I love to play with him." - Pacers All-Star Jermaine O'Neal
- "I think we are witnessing one of the great careers in the NBA, put on by one of the most talented, tough and big hearted guys out there." - Former 76ers- head coach Jim O'Brien
- "I'd pay to watch Allen play." - Former Lakers head coach Phil Jackson
- "I've never seen Allen when he didn't give a coach everything he had." - Former Georgetown head coach John Thompson
- "His overall game has gotten better, and it's taken the focus off how many shots he's taken and how many points he's scored." - Former teammate Eric Snow
- "I'd say Allen Iverson is the best player in the NBA, and I don't think it's even close." - Knicks guard Stephon Marbury
*
How can he be a team cancer and yet be so beloved around the league?
8. Quotes from Allen Iverson
Read about his perspective on some problems he faced.
On being wrongfully sent to jail
"I asked my grandma, 'If God knows I didn't do what they accused me of doing, why is he letting this happen to me?' And I'll never forget it. She said, 'Never question what God does.' And after that, I never did again.
"I went through what I went through because God said 'Go through it'. I'm not saying I did the things they accused me of, but for my part and my actions, I deserved to be exactly where I was.
"I'll always remember what those people did to me in Hampton. And I think about it because that's one of the reasons I'm here right now. It just made me stronger. I don't know if I would be as strong without that incident."
On the media bias:
"I understand that they aren't coming from a frame of trying to be neutral with me. Off the top, they are coming from a negative place when it comes to me. That's what my wife always says. They [are] not going to give me or someone like me the benefit of the doubt.
"I learned that you guys — when you guys are on a panel talking about say, basketball, it's got to be one guy anti-somebody and one guy for somebody. That's what interests people. People going back and forth against each other. I used to sit there and watch shows and be like, 'Oh, he's an a–hole.' Then I'd be like, 'Hold up, this man is just doing his job. He's tryin' to feed his family.' I used to get mad at guys that would write articles about me, but then I realized that it ain't him! He just has a job to do. And it took so long for me to understand that. Because I was always thinking it was all about me. Like people were just s—— on me. And I know now it's not like that. At least not all of the time. I used to be like, 'Yeah, it does bother me, but I'm not going to let [them] know.' People feed their families being what they are, that's how I have to look at it."
On…something existential:
"I don't have an ego. I don't get on TV talking about, 'Allen Iverson is the greatest basketball player that ever played.' Turn the TV on and watch and judge for yourself. I don't have no ego with teammates. I'm me. I'm satisfied with who God made as a basketball player, a person, husband, father, friend. I'm me, and I don't have a problem with people."
On his loyalty to his 'entourage':
"You want to know why I don't get rid of my friends? Well, I'll tell you why. While I was locked up, they took care of my mom and my sister. And they took care of them the whole time when I was in school at Georgetown, when I couldn't. Financially and physically. Anything my mom wanted, they got her."
On the struggles as a Detroit Piston, in spite of not getting to play as he's used to
"Character is going to come into play. It should have already. We are going to see what guys are made of. What type of players we are, what type of professionals we are, what type of teammates we are toward each other. This is the time we find out what type of team we are. Guys in this situation could start to point fingers and play the blame game."
"It's nobody's fault but all of ours. All of us are to blame. It's everybody's fault from the coaching staff to the players. Everybody needs to take responsibility. Once we step up and do it as a unit, we can turn this thing around."
*
Note that not once is he ducking responsibility, nor is he blaming anyone for anything.
The bottomline is that Iverson had a Hall of Fame career. Coming from extreme poverty, he has made something of his and his family's lives. The amount of criticism dogging every single step he takes is beyond absurd and there is a double standard with him in the media.
To wrap up, here's the last exchange from the aforementioned interview with Scoop Jackson:
Jackson: I've always said, if anybody really knew your real true story — if you let anybody in, if your true life story was told — Oprah would be calling you immediately to get you on her show. The world would be like, "OMG, we didn't know."
Iverson: (Long pause) "It'll all come out once it's all over. Because then people will come out and take the time to listen. It's more dramatic when it's all over. [I'll] call my movie, or whatever I do, 'Misunderstood'. Because you all don't understand me. I learned that a long time ago; people just misunderstand me. You have to take time to understand somebody. You can't be like, 'Yeah, man, I seen Allen Iverson on TV, and he's an a–hole!' Well (he speaks as if he's talking to that person), 'Do you know him?' 'No.' 'Have you ever seen him play?' 'Naw, but I know he's an a–hole. I seen it on the Best Damn Sports Show. So he must be an a–hole.' They'll judge me for something I did when I was 24 years old, not the responsible 34-year-old Allen Iverson with a wife and five kids. They'll judge me off of one thing, one time, off of just last season. … It's not fair, but I understand, because they don't know. No one knows the person that I really am. That's just the way it is."
By now, the first picture of him carrying luggage doesn't seem too appropriate. He wouldn't put on such a woebegone expression. Here's a better illustration: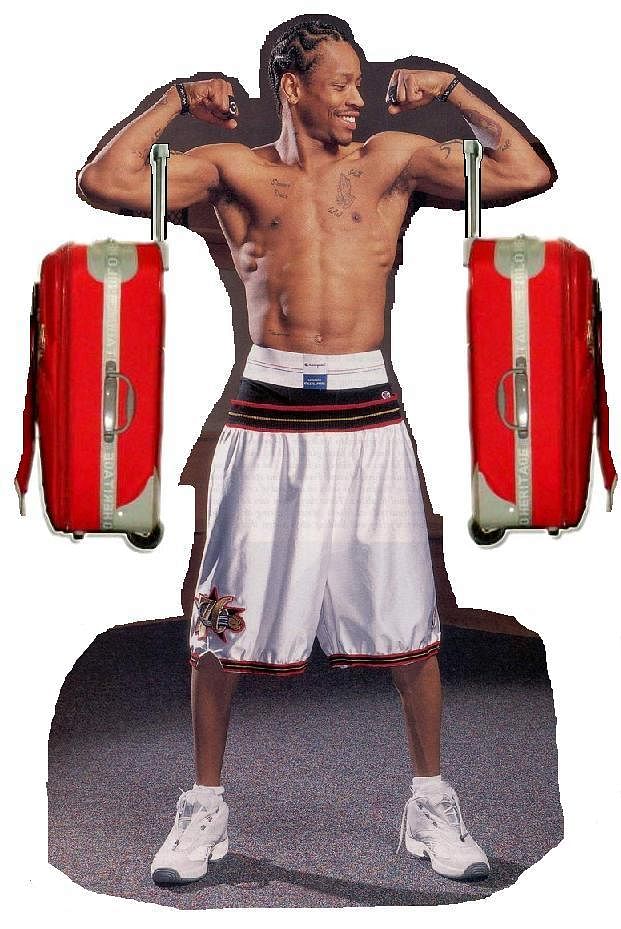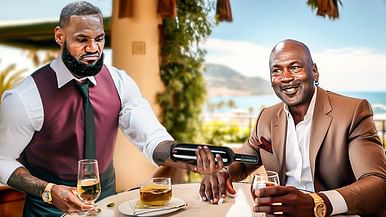 How is Michael Jordan officially richer than NBA's 10 richest players?!